February 6, 2014
Aerospace & Appliance Warranties:
From airplanes to air conditioners, each industry has a typical cost of warranty based on the product it makes and what kind of customer it attracts. Business-to-business products such as airplanes have lower expense rates than consumer-facing products such as home appliances.
For years we've struggled over the question of what to do with the warranty cost data of very large companies in multiple industries. Wherever they go, they can skew the data and make an entire industry look just like them.
So why not look at multiple disparate industries at the same time, and see how the multi-industry conglomerate fits into each of them? Therefore, may we present our first-ever cross-industry warranty report focused on the major U.S.-based aerospace and appliance manufacturers.
For this week's analysis, we began with a list of 164 companies that have a significant manufacturing presence in either the aerospace industry, the heating, ventilation and air conditioning industry, or the home appliance industry. The reason for this strange mix is that several large companies are in two of those three distinct industries, so the crossover in terms of warranty costs is significant.
Manufacturing Conglomerates
Of our 164 companies, 94 have a presence in the aerospace industry; 39 are in the HVAC industry; and 37 are in the appliance industry. Astute readers will note that the sum of those three exceeds 164. That's because six are in two of those industries.
For instance, United Technologies Corp. through its Carrier unit is a major player in the HVAC industry, while through its Pratt & Whitney, and Sikorsky units is a major player in the aerospace industry. Honeywell International Inc. is likewise heavily involved in aerospace and HVAC. Crane Co. is a supplier of both aerospace and refrigeration parts, as is John Bean Technologies Corp.
The real problem is that United Technologies is such a big part of multiple industries that whatever category we put them in, they have a significant effect on that industry's warranty metric totals and averages. So what we're going to do is provide separate data on United Technologies, on the rest of the aerospace category, and on the rest of the appliance/HVAC category.
This of course means that at some points we'll be double-counting certain companies. But that's unavoidable, because all manufacturers provide only one set of company-wide warranty metrics to the U.S. Securities and Exchange Commission in their financial reports. They don't break it down by subsidiary or division, or by product type.
Therefore, if we put United Technologies in the aerospace category, we're inevitably also including Carrier's warranty expenses. If we put United Technologies in the HVAC category, we're also including some helicopter and jet engine warranty expenses.
However, as we shall see, the warranty metrics of these seemingly dissimilar industries have a lot in common. So rather than mixing apples and oranges, it's more like we're mixing Granny Smith and McIntosh apples.
Claims Paid
In Figure 1, we've provided totals for claims paid in each of the three groups: Appliance/HVAC, United Technologies, and Aerospace. Readers seeking data on just the Appliance/HVAC should disregard the Aerospace data, while those who want to look at just Aerospace should disregard the Appliance/HVAC data.
Figure 1
U.S. Aerospace, HVAC & Appliance Industries
Warranty Claims Paid, 2003-2013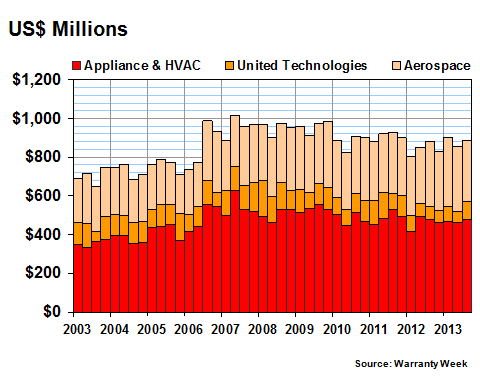 Using that approach, the claims payments of the appliance and HVAC manufacturers (including United Technologies) hit a peak of $751 million in the second quarter of 2007. They have never exceeded $700 per quarter before or since, and in fact have been declining steadily ever since.

In the third quarter of 2013, these 76 companies paid out $567 million to honor their warranty claims. Their lowest claims total in recent years came in the first quarter of 2012 ($496 million), though their totals were lower than that for several quarters back in 2003 and 2004.

The claims payments of the 94 aerospace companies, meanwhile, hit a peak of $476 million in the first quarter of 2008, though they have remained relatively flat ever since at a level of around $400 million per quarter. United Technologies, with its claims payments averaging $105 million per quarter over the past 11 years, is a much more significant component of those totals.

In the third quarter of 2013, the aerospace companies paid out $412 million in claims. In the past 15 quarters, their totals have ranged from $358 million to $436 million, but the average has stuck close to $400 million.

So basically, what we're saying is that the appliance/HVAC industry pays out around $2.3 billion a year in claims, while the aerospace industry pays out around $1.6 billion a year. Once the year-end data for 2013 arrives in late March, we will see whether we're over or under those annual averages.

Compared to the automotive and new home warranty metrics we've covered in recent weeks, the industries we're covering this week show only slight effects of the most recent recession. As we'll detail below, the decline in claims payments has more to do with manufacturers reducing warranty costs than it does with customers reducing purchases.
Accruals Made
The warranty accrual metrics in Figure 2 don't seem to show much of a dip at all. In fact, the accruals made by these 164 companies peaked in the final quarter of 2012, and have exceeded $1 billion per quarter at least once in each of the past three years. Before that, their collected totals (no double-counting) exceeded the $1 billion mark twice in 2006 and twice in 2007. But they've never dipped below $800 million in any quarter in between (which they did at least once a year between 2003 and 2006).
Figure 2
U.S. Aerospace, HVAC & Appliance Industries
Warranty Accruals Made, 2003-2013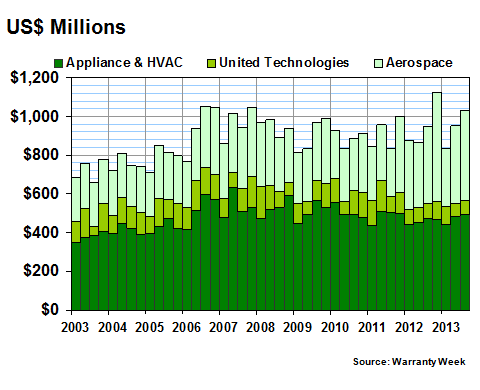 Again, let's look at the appliance/HVAC industry including United Technologies, and the aerospace industry including UTC. Of course, this means they'll be double-counted. But it doesn't change the trend by much.
The appliance/HVAC industry did hit a definitive peak in accruals in 2006 and 2007, and has been slowly reducing the amount set aside each quarter to pay future warranty costs. The aerospace industry peaked in 2012, and may surpass that record in 2013 once the fourth quarter data is in. But that, as we'll see below, has a lot to do with the problems Boeing is having with its new generation of jets, and the additional accruals they require.
The appliance/HVAC category set aside $600 million or more in most of the quarters between 2006 and 2011. That didn't happen in any quarter from 2003 to 2005, nor has it happened since the end of 2011.
The aerospace companies have set aside $500 million or more in only four of the past 43 quarters. It happened once in 2007, and once in each of the past three years. In most quarters, the accruals total has remained close to the claims total, and both have remained close to the $400 million mark.
As a Percentage of Sales
The metric we're not showing is product sales revenue. So far in 2013, these 164 companies have seen sales climb by about 5%. However, that's only an average, of course. Among the top 10 manufacturers on this list, sales are up 15% at United Technologies and are up 10% at Boeing, while both Textron Inc. and L-3 Communications Corp. have seen sales fall by about two percent. The other six are closer to the average.
If we take the claims and accrual data in Figures 1 and 2, and divide it by the corresponding sales figures for manufactured products, we can calculate the percentage of sales that goes towards warranty costs. In Figure 3, we've done that, for both the 94 aerospace companies and the 76 appliance/HVAC companies.
Figure 3
U.S. Aerospace, HVAC & Appliance Industries
Average Warranty Claims & Accrual Rates
(as a % of product sales, 2003-2013)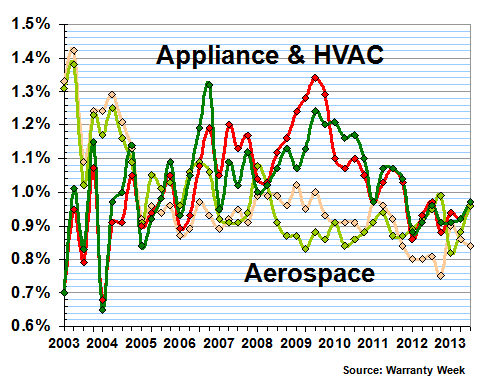 The most striking aspect of the chart is how close the claims and accrual rates are for these two seemingly different industries. A big reason for their similar claims and accrual rate is the simple fact that each pair includes all the company-wide data for United Technologies, Honeywell, Crane and John Bean, as well as two other smaller companies that are in multiple industries. Given their weight, it's inevitable that the pairs of lines would be so close.
Industry Benchmark?
However, what that also suggests is that while we have no way of knowing for sure, we suspect that the claims and accrual rates of Carrier are close to the claims and accrual rates of the aerospace side of United Technologies. We suspect that one percent, plus or minus 0.4%, is a good benchmark for warranty costs in both the aerospace and HVAC industries. It's the appliance industry that's typically higher than that.
In Figure 4, we've charted the balance in the warranty reserve funds of these 164 companies at the end of each of the past 43 quarters. In the aerospace industry, the total has been steadily rising, surpassing the $4.6 billion mark for the first time in the third quarter of 2013. In the appliance/HVAC industry, it's been falling for two years, having surpassed the $4.0 billion mark in each of the four quarters of 2011.
Figure 4
U.S. Aerospace, HVAC & Appliance Industries
Warranty Reserves Held, 2003-2013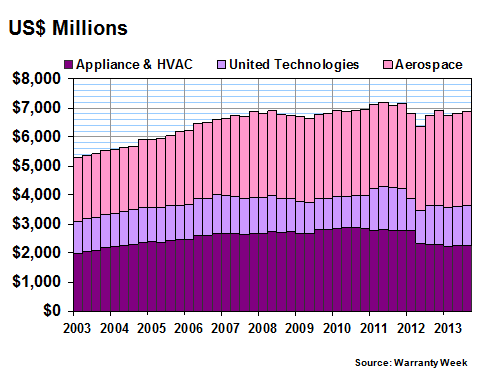 United Technologies is a big reason for the peak in the appliance/HVAC category. During all of 2011, it kept more than $1.4 billion in its warranty reserve fund. It never did before, and it hasn't since. However, in the aerospace category, UTC's reserve reduction was more than offset by the increases of Boeing and others, especially in the most recent few quarters.
The Top Companies
It probably makes a lot of sense to look at the individual players. And let's start by taking a look at the claims and accrual rates of United Technologies over the past 11 years. That will explain a lot.
As can be seen in Figure 5, UTC's claims and accrual rates were highest in 2003 and lowest in 2013. In between is a decade of warranty cost-cutting. The company can now boast of seven consecutive quarters in which both its claims and accrual rates have been below one percent of revenue. The only other time that either warranty metric was below one percent for consecutive quarters was in 2010. So this seems to be something of a best-case scenario.
Figure 5
United Technologies Corp.
Average Warranty Claims & Accrual Rates
(as a % of product sales, 2003-2013)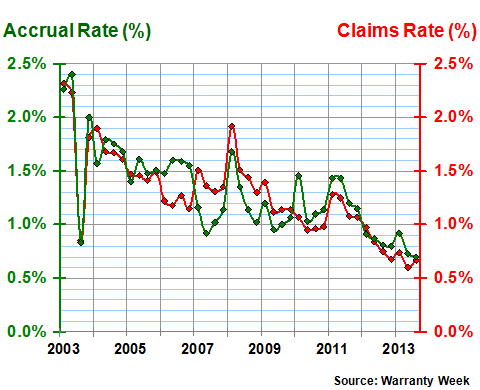 In contrast, the past seven quarters have not been kind to the folks at Boeing. New generations of passenger jets have driven up warranty costs significantly. But it's not too significant. While its claims and accrual rates remained below one percent from 2005 to 2011, they haven't risen by that much above one percent in the years since. And the claims rate, at least, was up around 1.2% when we began collecting this data back in 2003.
Figure 6
Boeing Co.
Average Warranty Claims & Accrual Rates
(as a % of product sales, 2003-2013)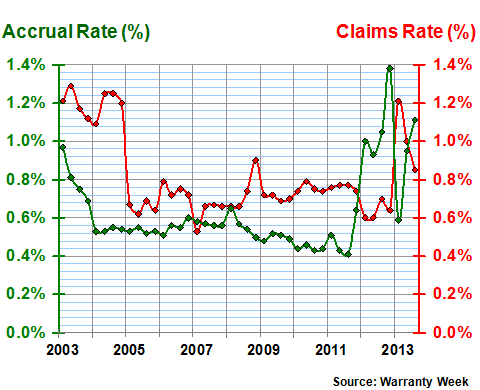 In Figure 3, we see what at first seems to be another worrisome rise in warranty costs at Johnson Controls. But again, it's not that bad. This time, rather than a new generation of products, the reason is an acquisition of a completely new product line.
Buying An HVAC Manufacturer
In 2005, Johnson Controls acquired York International, a top manufacturer of HVAC and refrigeration equipment. Previously, the company was primarily a manufacturer of electronics and interior systems for passenger cars, which typically generates a very low level of warranty costs. But add to that a new product line of HVAC equipment that typically requires upwards of one percent of revenue to be spent on warranty costs, and the picture changes as can be seen below.
Figure 7
Johnson Controls Inc.
Average Warranty Claims & Accrual Rates
(as a % of product sales, 2003-2013)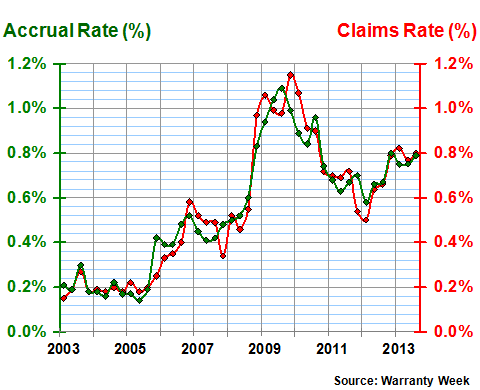 The good news is that once its claims and accrual rates peaked in 2009 (remember, it's an automotive parts supplier so the recession hit that side of the business hard), Johnson Controls' warranty costs began to decline. It's now seen its fourteenth consecutive quarter in which both its claims and accrual rates have been below one percent. And in its most recent fiscal year, which ended on September 30, 2013, product sales were up 2.5%.
Another Warranty Cost-Cutter
On the appliance side of the house, Whirlpool has had a series of timing-related warranty cost anomalies over the past 11 years. But if we disregard the two spikes and the two chasms in its claims and accrual rates, we can see a general downward trend.
Figure 8
Whirlpool Corp.
Average Warranty Claims & Accrual Rates
(as a % of product sales, 2003-2013)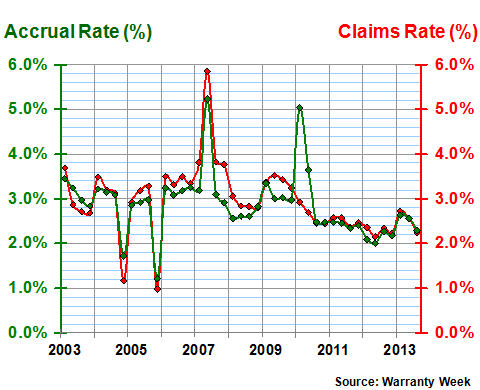 Let's put it this way. The company's long-term average claims and accrual rates are both just under three percent. We've taken 86 measurements of them over the past 43 quarters. Of those, 36 were above three percent and 50 were below.
Of the 50 rate measurements below three percent, only 14 came from the years 2003 to 2007. And four of those came in the chasms. The remaining 36 measurements below Whirlpool's long-term rate average came since 2008, including 28 of the 30 measurements made since 2010.
Then again, this illustrates what we mentioned before: while aerospace and HVAC manufacturers typically see claims and accrual rates close to one percent, the appliance makers are significantly higher. In fact, if there were any crossovers between passenger car makers and appliance manufacturers, we'd consider putting those together.
Business-to-Business vs. Consumer-Facing
It seems to be a function of who the manufacturer is facing. If they're selling to another business, either as an OEM in the aerospace industry selling to a commercial airline, or as a supplier selling parts to another manufacturer, they can expect sub-one-percent warranty costs. If they're selling manufactured goods to consumers, two to three percent is more likely.
Readers who would rather see separate charts for appliances/HVAC and aerospace should send a message to the editor. And so you pay a price for the request, please also indicate in your message whether you think United Technologies should be counted as an aerospace manufacturer, as an HVAC manufacturer, or as both.