April 24, 2014
Auto Parts Supplier Warranty Report:
Turns out it's the large truck and bus manufacturers and their engine, axle and transmission suppliers who haven't done much to reduce their warranty expenses over the past decade. Passenger car makers and suppliers of auto parts besides drivetrain components have done a much better job of cutting costs.
Usually, when we analyze the product warranty expense data reported by automotive manufacturers, we compare the OEMs to their suppliers. This year, we're taking a different approach: slicing up the OEMs by the size of the vehicles they build and dividing their parts suppliers into drivetrain vs. not drivetrain groups.
In last week's newsletter, we reached the conclusion that while the passenger car makers were very successfully cutting their warranty expenses, the heavy truck and large vehicle makers were not. This week, we're finding that it's the drivetrain component manufacturers (who typically sell their products to those large vehicle makers) that aren't cutting costs, while other types of automotive suppliers generally are.
To arrive at this conclusion, we began with a list of 158 auto parts suppliers, and divided them into two groups: 26 that manufacture primarily engines, axles and transmissions, and 132 others that make other parts and components for cars, trucks, motorcycles, construction equipment, farm vehicles, golf carts, forklifts, street sweepers, and other types of on- and off-road vehicles.
Key Warranty Metrics
We collected four essential pieces of data from each company's financial statements: claims paid, accruals made, reserves held, and product sales revenue. And we divided claims and accruals by sales to produce two more warranty metrics: the claims rate and the accrual rate. We did this 44 times for each company: extracting the data from three quarterly financial reports and one annual report per company for each of the past 11 years.
The drivetrain manufacturers are led by the likes of Cummins Inc., Eaton Corp., BorgWarner Inc., Allison Transmission, and Dana Holding Corp. The group we're calling "other parts suppliers" include companies such as Johnson Controls Inc., Standard Motor Products Inc., Delphi Automotive, TRW Automotive Holdings, and numerous others.
We specifically excluded several truck engine suppliers such as Caterpillar and Navistar from this week's list, because we counted them in last week's newsletter as leading automotive OEMs anchoring the large vehicle category. Repeating them again this week as drivetrain suppliers would have doubled or even tripled the size of that segment, depending upon the metric in question.
However, this week we did include some companies normally counted in other industries, because a significant portion of their warranty expenses come from the automotive industry. For instance, Johnson Controls is paying mostly HVAC warranty expenses, but also some auto expenses. Harman International Industries makes consumer electronics, but also provides quite a few car audio systems. Sherwin-Williams Co. is well-known for its paints, but automotive finishes are also a big part of its product line.
Still, even without the heft of Cat and Navistar, the drivetrain manufacturers pay a significant share of the industry's total warranty expenses. In Figure 1, we've detailed the past 11 years of warranty payments. In recent years, the drivetrain manufacturers have paid almost half the claims of their entire industry, a significant change from the 2003-2008 period when they paid as little as 30% of the industry's total claims.
Figure 1
Auto Parts Supplier Warranties
Claims Paid by U.S.-based Companies
(in US$ millions, 2003-2013)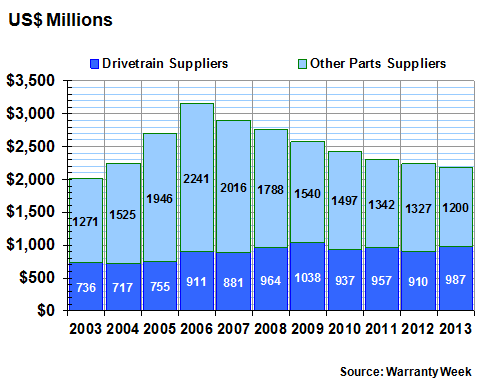 The bulge in claims paid by the "other" suppliers in 2005 to 2007 has lots to do with Johnson Controls' acquisition of York International, and absorption of its warranty-intensive HVAC product line. In other words, some of it is probably non-auto-related. But significant increases in claims payments were also reported during those years by auto-only manufacturers such as TRW Automotive, Cooper Tire, and others that had nothing to do with acquisitions outside the auto industry.
Also note that the other parts suppliers have paid a declining amount of claims every year since 2006, while the drivetrain suppliers have more or less paid the same amount, year after year. In other words, the main reason the drivetrain segment's share is approaching half is because they haven't cut out as much claims expense as the others have over time. They're staying the same while their "other" peers are cutting costs.
Same Story With Accruals
It's essentially the same story with warranty accruals, with a few minor differences. With this warranty metric, the drivetrain manufacturers have also been on an even keel since 2006, more or less, except perhaps for the recessionary downturn in 2009, when accruals dipped in sympathy with sales. And in a case of perfect timing, the maximum accrual total for the drivetrain manufacturers ($1.061 billion) came in 2008, exactly a year before their maximum claim payment total ($1.038 billion).
Figure 2
Auto Parts Supplier Warranties
Accruals Made by U.S.-based Companies
(in US$ millions, 2003-2013)
The 132 non-drivetrain parts suppliers saw their maximum accruals occur in 2006, the same year as their maximum claims payments. Also, their bulge years, in which their segment made more than $2 billion in accruals, were the same: 2005 to 2007. It's probably for the same reasons: the non-automotive acquisition by Johnson Controls, combined with strictly automotive-related accrual increases by Delphi, Advance Auto Parts, Goodyear, and others.
However, there have been a few years recently in which accrual totals increased a bit from the previous year's total, unlike the constant decline seen with claims. For instance, the other parts suppliers group saw accrual increases in three of the past four years, though the 2011-2012 increase was very small.
Warranty Expenses Compared to Sales
Now let's take the data from Figures 1 and 2 and compare it to product sales data, to derive the claims rate and accrual rate as a percentage of sales revenue. In Figure 3, we see the same kind of spike in claims that was in evidence with some of the OEMs covered in last week's newsletter. That is caused primarily by a decline in sales, though claims actually did rise from $964 million in 2008 to $1.038 billion in 2009.
The more important news in Figure 3 is that the drivetrain manufacturers, after seeing their warranty expense rates rise dramatically in 2009, saw them decline again in 2010, and saw them decline even further in 2011, back into the "normal" range that they occupied from 2003 to 2007: 0.6% to 0.9% of product sales.
Figure 3
Drivetrain Manufacturers
Average Warranty Claims & Accrual Rates
(as a % of product sales, 2003-2013)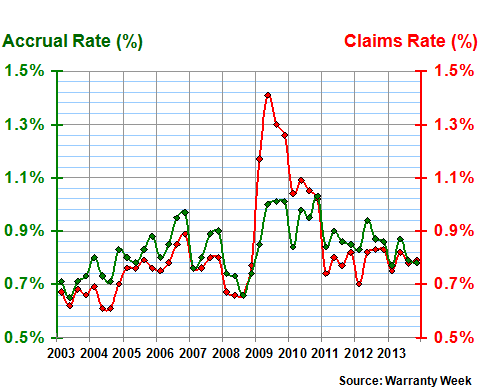 The rest of the auto parts suppliers also for the most part have kept their claims and accrual rates in that 0.6% to 0.9% range. But they went outside that range at completely different times. Their expense rates rose above "normal" in 2006, and have been below "normal" from 2003 to 2004, and then again from 2011 to 2013.
In fact, in Figure 4 we see that both the claims and accrual rates for the other parts suppliers were below 0.5% by the end of 2013. That's their lowest-ever claims rate, and their second-lowest accrual rate (which they achieved at the end of 2012).
Figure 4
Other Auto Parts Suppliers
Average Warranty Claims & Accrual Rates
(as a % of product sales, 2003-2013)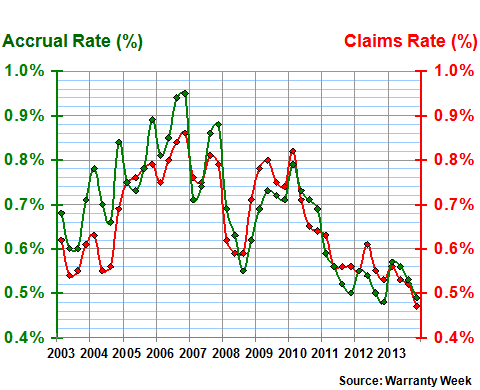 The last four years are significant, in that the other auto parts suppliers have seen both declining claims payments (Figure 1) and record low claims rates (Figure 4), combined with mostly declining accruals (Figure 2) and low accrual rates (Figure 4 again). This suggests that product reliability has increased, since the manufacturers are not only setting less aside each year, but also a smaller fraction of their sales revenue.
In contrast, the drivetrain manufacturers are paying out a similar amount for claims year after year (Figure 1) and are setting aside a similar amount of accruals each year (Figure 2) and their expense rates haven't changed much over the past decade (except for that recessionary blip of 2009-2010). This suggests that drivetrain product reliability is generally the same, and expense rates are generally remaining proportional to sales.
Warranty Reserves Remain the Same
Finally, let's take a look at warranty reserve fund balance totals. In Figure 5, we've added together the year-ending balances of the 26 drivetrain manufacturers and the 132 other parts suppliers, and we seen similar results as with the other warranty metrics: the drivetrain manufacturers have been about the same for six years, while 2006 and 2007 were the biggest years for the other suppliers. In other words, the drivetrain manufacturers aren't reducing their warranty reserve balances while the others are.
Figure 5
Auto Parts Supplier Warranties
Reserves Held by U.S.-based Companies
(in US$ millions, 2003-2013)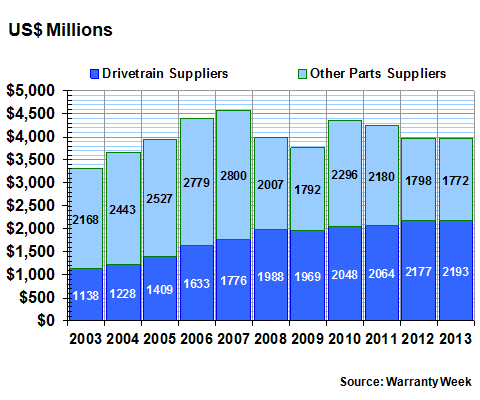 One group's balance reduction cancels out the other's balance increase. Combined together, the 158 suppliers have kept their warranty reserve balance between $3.8 billion and $4.5 billion during six of the last eight years. Their combined balances rose above $4.5 billion in 2007 and fell below $3.8 billion in 2009, each time by only small margins.
The year-ending balance for the drivetrain suppliers has increased in nine of the last ten years, and hit a new record high of $2.193 billion at the end of 2013. This is precisely the opposite of ideal. You want the record high to be in the distant past, and you want current levels to be falling, or at least not rising.
That's the case for the 132 other parts suppliers: at the end of 2013 they had $1.772 billion in reserves -- their least amount ever. In addition, their claims payment totals and claims rates were at record lows in 2013, while their accrual totals and accrual rates were close to their record lows.
So on three of the five warranty metrics we track (claims total, claims rate, and reserves total) they're at record lows now, while for the other two metrics (accrual total and accrual rate), they're very close to it. Compare that to the 2013 levels of the drivetrain manufacturers: 10th smallest claims total, 7th lowest accrual total, and 11th lowest reserves total, combined with claims and accrual rates only a tiny bit below their 11-year average.
Combining the Trends
Last week, we said most of the warranty cost-cutting was coming from the passenger car OEMs, with the large vehicle makers remaining about the same and the small vehicle manufacturers paying out more. This week, we're saying that the drivetrain manufacturers are remaining about the same while the other parts suppliers are cutting costs.
Combine those two trends and you have this: the passenger car OEMs and their suppliers are cutting costs by remarkable amounts, while the large vehicle OEMs and the drivetrain suppliers they generally work with aren't doing much to reduce their warranty expenses.