May 1, 2014
Computer Industry Warranty Report:
Thanks to the popularity of smartphones, Apple is now the largest warranty provider in the U.S. But most other computer makers are cutting warranty expenses, as are most disk drive makers. Even Microsoft is getting over the Xbox warranty calamity it suffered through a few years ago.
In the computing industry, traditional laptop and desktop computers are declining in price, declining in sales, and declining in warranty cost. But the smaller the units get, the less that pattern holds, until you get to handheld smartphones, which are increasing in price, increasing in sales, and increasing in terms of warranty expenses.
Until the smartphone came along, traditional computer manufacturers were cutting warranty costs year after year. Now, those costs are increasing again, with expense rates having hit bottom in 2012. Individual manufacturers continue to cut costs, but the industry as a whole is seeing warranty costs rise.
To reach these conclusions, we began with a list of 158 U.S.-based companies that are involved in the computer industry in some way: 25 that make or made the computers themselves, 44 that make or made data storage systems such as disk drives and flash memory, and 89 manufacturers of computer peripherals such as monitors, printers, terminals, card readers, cash dispensers, and point-of-sale systems.
Lots of Attrition Since 2003
In some of these sub-categories, there has been a severe amount of attrition since 2003, with many of the companies either going out of business or merging with another manufacturer. In some cases, a computer hardware manufacturer was acquired by a computer software manufacturer that feels it is unnecessary to follow accounting rules related to warranty expense disclosures. In other cases, an American company was acquired by an international company that is not subject to U.S. accounting regulations.
And in one very big deal last year, a major American computer manufacturer was taken private by its management and investors. That frees them of the need to file quarterly financial statements and annual reports with the U.S. Securities and Exchange Commission, which is the source of all the data in this week's newsletter. And so, absent any new warranty expense data from them, the now-private company will be taken off the list of reporting companies.
In Figure 1, we've taken 11 years of claims payments by these 158 companies and divided it into three sub-categories: computer OEMs, data storage, and peripherals. In an industry where the total amount of claims paid in 2013 topped $8.5 billion, the OEMs paid 86% of the total while the data storage companies paid about 9% of the bill and peripheral makers paid the remaining 5%.
Figure 1
Warranty in the Computer Industry
Claims Paid by U.S.-based Companies
(in US$ millions, 2003-2013)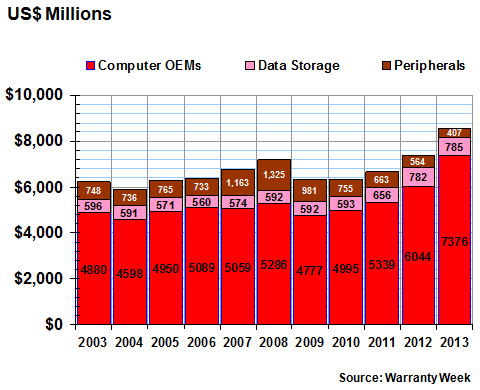 Of course, not all the claims payments by the data storage and peripheral makers were made to the computer OEMs. Most of these companies have extensive end user sales operations, in addition to supplying the OEMs. In this respect, it is very different from the automotive business, where the line between OEM parts suppliers and aftermarket parts providers is more definitive.
However, we would propose that when it comes to warranty expenses, the data storage providers are somewhat like the drivetrain suppliers of the automotive industry, while the peripheral makers are somewhat akin to the makers of interiors, brakes, seating, safety and entertainment systems. In other words, in both industries the consumer-facing OEMs absorb the most warranty expenses and the highest expense rates, followed by their drivetrain makers, and then by the makers of all the other components.
Smartphones Taking Over?
Besides the fact that many of the data storage and peripheral manufacturers have their own thriving consumer-facing businesses, there is one other major difference between the computer business and the automotive business: the smartphone. If one thinks of these as incredibly miniaturized handheld and pocket-sized versions of yesterday's desktops and laptops, there is as yet no equivalent in the automotive industry: Personal helicopters? Self-driving smart cars?
The reason we mention this is because what looks like a radical rise in computer OEM claims payments in Figure 1 is really nothing more than the growth of Apple's iPhone business. We'll get into more detail about that later, but the trend is even more pronounced in Figure 2, where the total amount of accruals made by the OEMs have nearly doubled from 2009 to 2013.
Figure 2
Warranty in the Computer Industry
Accruals Made by U.S.-based Companies
(in US$ millions, 2003-2013)
It's not all Apple, but the other major OEMs such as Hewlett-Packard, Dell and IBM have been reducing their claims and accrual totals since 2009. And it's not all smartphones and tablets, because even Apple has been selling laptops, digital music players, and peripherals since 2009, and paying the resulting warranty expenses. But it would be accurate to say that the rise in OEM claims and accruals since 2009 is mostly Apple and mostly smartphone-related.
The other two categories are following different patterns. The data storage companies are seeing their claims and accrual totals rise slowly in step with sales, while the peripherals makers are paying out less each year. Data storage makers paid out $785 million in claims in 2013 and set aside $702 million in accruals -- both of them setting new record high totals for that computer industry sub-category. However, as a percentage of sales, their warranty expenses are down, as we shall see in a few slides.
The Xbox 360 Warranty Disaster
Meanwhile, as we shall also see in a few slides, the list of peripherals makers in this instance includes Microsoft, and Microsoft's hardware business includes the Xbox 360. And that product launch was among the biggest warranty disasters of the past decade, peaking in 2007-2008. So it's no wonder that warranty expenses are now declining in that sub-category. The totals and averages are now simply returning to normal.
In Figure 3, we've taken the computer OEM totals from Figures 1 and 2 and turned them into percentages of sales. In Figure 4, we've done the same for the data storage totals from Figures 1 and 2. And in Figure 5, we've done the same with the peripherals totals from Figures 1 and 2.
The shape of the graph in Figure 3 resembles a check mark, in that for ten years, from 2003 to 2012, the average claims and accrual rates of the group continued to decline, but in 2013 they began to rise again. Both the average claims rate and accrual rate of the OEM group hit their minimums in the third quarter of 2012: 1.9% and 1.95%, respectively.
Figure 3
U.S.-based Computer OEMs
Average Warranty Claims & Accrual Rates
(as a % of product sales, 2003-2013)
In 2013, both warranty metrics have risen above three percent at times. That's a level they haven't seen since 2009. We'd suggest that it's primarily another sign left by the rise of the smartphone and its higher-than-a-desktop rate of warranty expense generation. In Apple's case, it simply means that dollar-for-dollar, an iPhone generates more warranty expense than a Macintosh.
Reducing Warranty Expense Rates
In the data storage industry, there's no such trend in evidence. Sure, the technology is slowly turning towards flash memory, but that trend hasn't yet had much of an effect on the average claims or accrual rates, which are still dominated by traditional hard drive technology. But eventually it will, if flash memory and solid state storage vendors such as SanDisk can keep their claims and accrual rates well below one percent while the hard drive companies such as Seagate and Western Digital remain well above one percent.
What we see in Figure 4 is a group of companies that have managed to reduce their warranty expense rates over time. And unlike with the OEMs, there's no upturn in the most recent few years. Then again, there's been no sustained decrease either, with expense rates remaining about the same since 2010.
Figure 4
U.S.-based Data Storage Companies
Average Warranty Claims & Accrual Rates
(as a % of product sales, 2003-2013)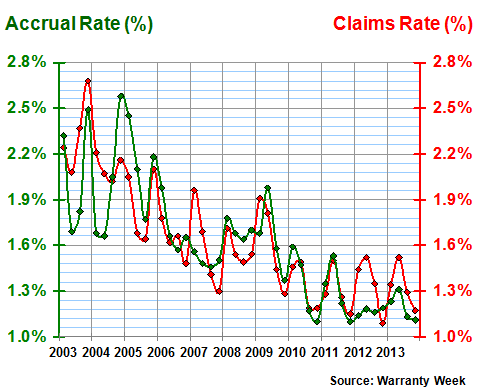 The most surprising aspect of the data in Figure 4 is the seemingly seasonal pattern in the data. Who knew that disk drive sales and repairs followed such a seasonal pattern?
However, what's more important is the annual trend towards lower highs and lower lows, bringing the average expense rates down from the 2.0% to 2.5% range in 2003 to 2005 to the 1.0% to 1.5% range in 2010 to 2013. Despite the highest expense totals in a decade (from Figures 1 and 2), these data storage vendors are enjoying some of the lowest expense rates of the entire period. This suggests that sales have risen and so has product reliability.
Also, if we take a look back at the April 17 and April 24 newsletters, we can see the echoes of a pattern seen in the automotive industry: Computer OEMs are to automotive OEMs as data storage companies are to drivetrain manufacturers. And the other non-drivetrain parts suppliers are the analog of the peripheral manufacturers.
Just as in the automotive industry the drivetrain suppliers have warranty expense rates far above those of other suppliers but close to the expense rates of the OEMs, so too do the data storage companies. And it makes sense: disk drives and storage systems are like the transmissions and gearboxes of computers. And they're the most likely components to fail, need repairs, and to generate warranty costs.
Peripherals Back to Normal
With peripheral manufacturers, the big news is old news. In 2007, Microsoft set aside a massive amount of funds to cover the expected cost of Xbox 360 warranty work, and in the next few years the bills came due. But after that spike, things are slowly returning to normal.
Figure 5
U.S.-based Peripherals Manufacturers
Average Warranty Claims & Accrual Rates
(as a % of product sales, 2003-2013)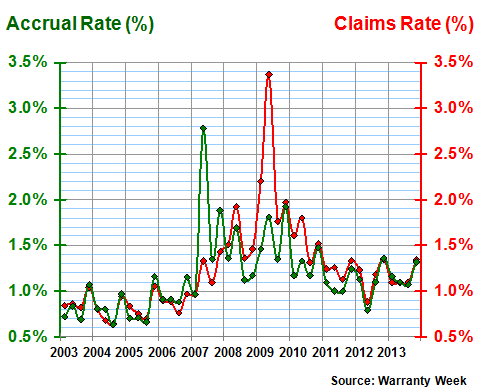 The most unsettling aspect of the data is how expense rates seem reluctant to fall back below the one percent level, as they were pre-Xbox. So perhaps there's now a "new normal" level of 1.0% to 1.5%, where expense rates have been since 2010 and seem likely to stay?
These trends are evident in Figure 6 as well, which tracks the closing balance in the warranty reserve funds of the 158 companies. The reserves of the computer OEMs has been growing year after year, while the reserve balance of the peripheral makers is at a new low after peaking in 2007.
By the end of 2013, computer manufacturers and their suppliers had more than $7.3 billion in their warranty reserve funds. This sounds like a lot but is in fact much less than they spent last year on either claims ($8.6 billion) or accruals ($9.9 billion).
Figure 6
Warranty in the Computer Industry
Reserves Held by U.S.-based Companies
(in US$ millions, 2003-2013)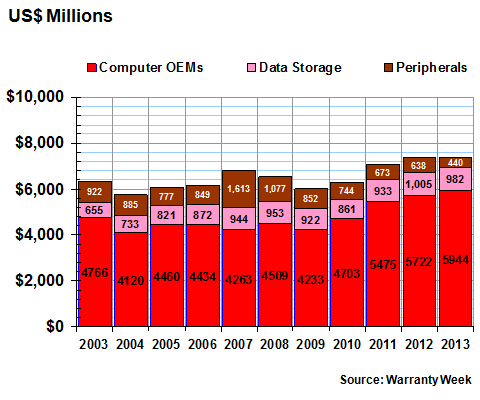 In the past 11 years, the annual claims and accrual totals of these manufacturers has exceeded their reserves 20 out of 22 possible times. The only exceptions came in 2009, when reserves exceeded accruals, and in 2011, when reserves exceeded claims. In every other instance, the amount of cash flowing into and out of the warranty reserve funds each year exceeded the end-of-year balance.
In other words, the warranty reserve funds of these computer manufacturers are a bit on the light side, containing only enough funds to pay for 10 or 11 months of claims, at current rates of spending. However, given that most of their warranties expire after 12 months, perhaps this is the appropriate level for their industry? It's just a much thinner cushion than we've seen in the aerospace, appliance/HVAC, or automotive industries, which tend to keep enough reserves on hand for multiple years.
Warranty Expense Market Share
Finally, we wanted to illustrate some of these trends in a different way, by portraying the "market share" some of the larger companies would have if accruals could be measured that way. In Figures 7 through 9, we've taken the top warranty providers in each sub-category, and assigned them a share of the totals listed in Figure 2.
For instance, in Figure 2 the computer OEMs made $8.8 billion in warranty accruals in 2013. Let's assume this is 100% of the accruals in the computer OEM sub-category. Of that total, Apple made $5.75 billion in accruals and HP made $2 billion in accruals. So their "market shares" of the $8.8 billion total would be 65% and 23%, respectively.
Notice the incredible growth in Apple's "market share" over the past decade. Back in 2003, Apple accounted for only 2% of $5.168 billion in accruals. By 2007, when the iPhone launched, its share was up to 5% of the $5.051 billion total. But then in 2010 its share hit 21%, rising to 42% in 2012 and 65% last year. That's why we're saying that most of the growth in warranty expense totals has come from the smartphone.
Figure 7
U.S.-based Computer OEMs
Accruals Made per Year
(as a % share of the totals in Figure 2)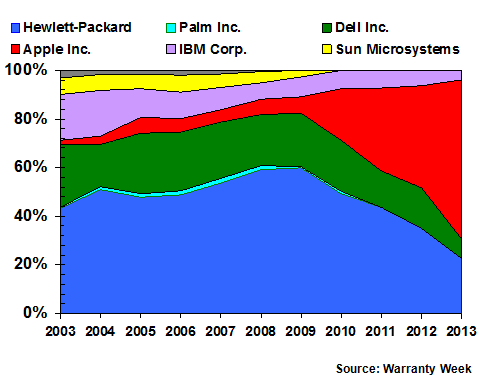 With the $5.75 billion it set aside in the four quarters of calendar 2013, Apple is now accruing more than General Motors and Ford combined. And with an accrual rate approaching four percent of product revenue, Apple also is setting aside a much larger proportion of its sales than either GM or Ford. Like we said, smartphones may not cost as much as cars, but dollar-for-dollar, they generate more warranty expense.
The only other computer OEMs with visible "market shares" in 2013 were IBM (4%) and Dell (8%). Gateway Inc. fell off the list in 2008. Sun Micro ceased reporting when it was acquired by Oracle Corp. in 2010. Palm Inc. was gone in 2011. And in 2014, that list will get even shorter. Dell went private six months ago in October, so it won't be reporting its warranty expenses any more.
Data Storage Industry Turnover
In the data storage sub-category, there are two acquisitions to note. Sun Micro acquired Storage Technology Corp. a few years before itself being acquired by Oracle. And Seagate acquired Maxtor in 2006.
There are, however, a few new and emerging companies worth noting. NetApp Inc. began reporting its warranty expenses in 2007, and has grown into the fourth-largest warranty provider in this sub-category since that time. And SanDisk Corp., one of the largest providers of flash memory products, has slowly grown into one of the top 100 warranty providers over the past decade, joining the others in the chart below.
Figure 8
U.S.-based Data Storage Companies
Accruals Made per Year
(as a % share of the totals in Figure 2)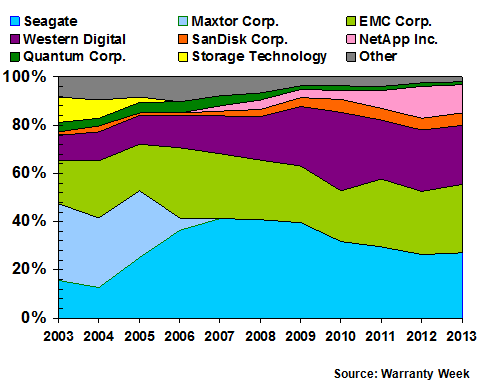 Note that while Western Digital's share has grown, Seagate's share has declined, especially from the levels seen when it and Maxtor were separate companies. Both companies have maintained steady warranty expense rates, more or less. So that shift would also be seen in terms of product sales, if this were a true market share chart.
In our third sub-category, the rise and fall of the Microsoft Xbox 360's manufacturing excursion can be seen plainly. Notice how Microsoft's "market share" comes out of nowhere, rises to 6% in 2006, soars to 61% in 2007, and then slowly fades away and disappears again. In fact, Microsoft discontinued reporting its warranty expenses in early 2012.
Figure 9
U.S.-based Peripherals Manufacturers
Accruals Made per Year
(as a % share of the totals in Figure 2)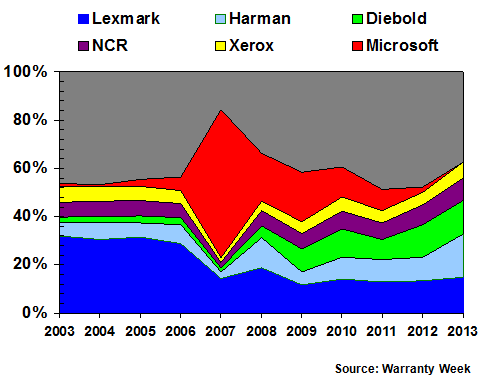 So with three different sets of metrics, for three different sub-categories, three trends are clear: With the computer OEMs, most if not all of the recent growth of expenses and expense rates is attributable to Apple's iPhone. With the data storage vendors, slow but steady warranty cost-cutting is the main trend. And with the peripheral makers, things are getting back to normal now that the Microsoft Xbox 360 is a fading memory.