May 8, 2014
New Homes & Building Materials Warranty Report:
As sales recover, warranty expense rates are getting back to normal for the builders. But some of their suppliers, such as the makers of electrical and plumbing fixtures, are now enjoying the results of a decade of warranty cost-cutting.
The builders of new homes were severely impacted by the recent recession, but are now getting back to normal as sales-to-warranty cost ratios return to their baselines. But some of their suppliers have done a remarkable job of cutting their warranty expenses year after year, so as their sales rise they're enjoying some of their lowest expense rates in history.
We started this week's analysis with a list of 178 U.S.-based companies that are heavily involved in the building trades in some way. Of those, 59 were the actual builders of homes, including site-built homes, mobile homes, and recreational vehicles. And 119 were their suppliers.
Twenty-nine of those suppliers made fixtures, such as electrical and plumbing parts and systems, fireplaces, pools, bathtubs, and elevators. Thirty-four made furniture: cabinets, mattresses, pillows, chairs,, desks, tables, decks, and railing. And the remaining 56 made other building materials such as tiles, shingles, carpet, flooring, doors, windows, paint, siding, and the tools used to build the homes.
Including United Technologies
The missing components are the appliances and heating/cooling systems which we covered in the April 10 newsletter and include here by reference. But there is a considerable amount of overlap between them and these. For instance, we're including United Technologies Corp. here because of their Otis elevator and escalator, and Chubb and Kidde fire safety and security systems interests, while the Appliance/HVAC Report included them for the sake of their Carrier operations.
Of course, we also included United Technologies in the April 3 Aerospace Warranty Report, because of Sikorsky and Pratt & Whitney, so there's quite a bit of overlap between several of our industry categories. But since each company makes only one top-level warranty expense report, and they don't break it out by division or product line, there's no reliable alternative besides including or excluding all of it.
In Figure 1 we've outlines the total claims payments in our four building trades categories. All four are showing the effects of the recession, with their peaks well behind them. But notice how the peak years for claims payments are all different: It came in 2006 for the new home builders, in 2007 for furniture, in 2008 for fixtures, and in 2009 for building materials.
Figure 1
Warranty in the Homebuilding Industry
Claims Paid by U.S.-based Companies
(in US$ millions, 2003-2013)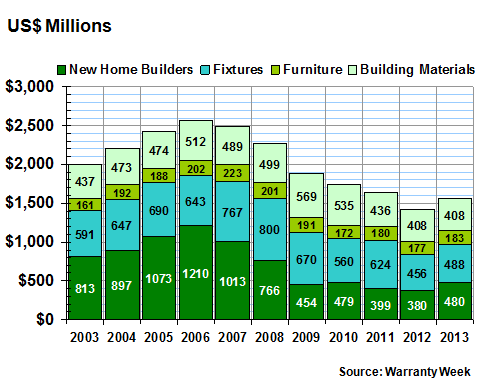 The overall total peaked in 2006 at $2.57 billion, and was down almost exactly $1 billion from that level in 2013. Some of the biggest contributors to that decline were Lennar Corp. (down 69%), Armstrong World Industries Inc. (down 51%), Masco Corp. (down 32%), and D.R. Horton Inc. (down 31%). But it also was impacted by the decimation of some of the RV and mobile home makers, such as Champion Enterprises Inc., Monaco Coach Corp., and Fleetwood Enterprises Inc. If they're no longer in business, they're no longer paying claims.
The recession also left its mark on the warranty accrual totals tabulated in Figure 2. One notable difference is that the peaks came a year or two earlier for three out of the four categories, reflecting the way warranty accounting is done: The accrual is made at the time of sale, anticipating the expense in the future, while the claim is paid at the time of repair or replacement, which is always some time after the sale.
So the new home builders peaked in 2005; the fixtures peaked in 2006; the furniture peaked in 2007; and the building materials peaked in 2008. It's as if the recession spread from the top down: from the finished product to the suppliers.
Accruals Rising Again For Some
Accruals, because they're made at the time of sale, usually are closely aligned with sales volume. If you build fewer houses, you need less accruals. If your sales are cut in half, so are your accruals. Claims are less closely coupled to sales, because of the time lag between sales and repairs. So it makes sense that accruals began to decline before claims, as the recession took hold.
In Figure 2, accruals are rising again for the new home builders and the makers of fixtures, though neither is anywhere close to where they were back in the heyday. Increases usually signal sales gains, and in fact the builders as a group saw a robust 36% jump in revenue last year! Individually, Lennar was up 52%; KB Home was up 35%; D.R. Horton was up 33%; and NVR Inc. grew by 32%.
Figure 2
Warranty in the Homebuilding Industry
Accruals Made by U.S.-based Companies
(in US$ millions, 2003-2013)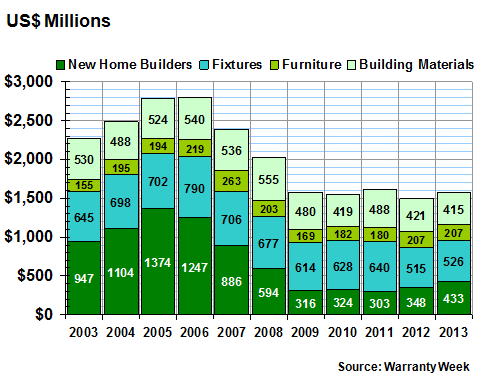 Accruals were down for the makers of building materials, and about the same for the makers of furniture and mattresses. Building materials sales were down by about one percent, while sales of furniture were up by almost 10%. So that means accrual rates did not keep pace with sales, which implies that something else changed, such as product reliability or repair costs.
The thing is, in Figures 3 through 6, we're comparing one year's warranty expenses to the same year's sales, over the past 11 years. So if you're paying for repairs on last year's sales with this year's money, and sales are declining, that's going to artificially boost your claims rate. But it should have little effect on the accrual rate, since that's always proportional to sales, unless there's been a change in repair costs.
Conversely, once the recovery begins and sales begin to rise again, you have more new units than old units under warranty. So claims rates should fall, while accruals remain the same. And once things get back to normal, the claims rate and accrual rate should once again be about the same.
Warranty Expenses as a Percent of Sales
In Figure 3, we can plainly see the effect of this phenomenon. As homebuilders began to see sales plummet in 2008 and 2009, their claims rates shot up and finally peaked in early 2010. Then, as sales began to recover, claims rates receded back to normal. But all the while, the accrual rate remained stuck close to 1.1% of sales revenue.
Figure 3
New Home Builders
Average Warranty Claims & Accrual Rates
(as a % of product sales, 2003-2013)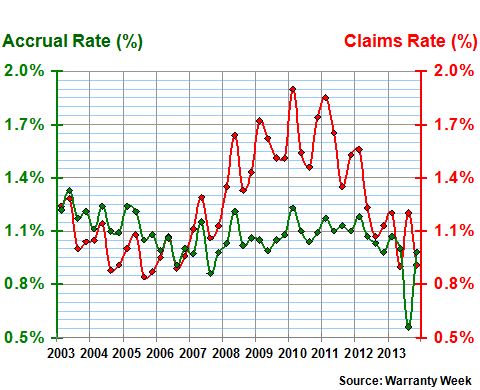 That sudden decline in accruals in mid-2013 is a bit of an anomaly. Blame it on Thor Industries Inc., one of the largest remaining builders of RVs and motor homes, which made no net accruals in the final quarter of its fiscal year. In fact, rather than make any accruals, it instead took $193 million out of its warranty reserve fund at that time -- in effect a negative accrual. And that was enough to take a notch out of the 2013 data, dropping the group's accrual rate from the usual level to just 0.6% during that one quarter. However, in Thor's fiscal first quarter (our calendar fourth quarter), accrual rates went back to normal and so did the industry averages.
We should also note that most of this warranty expense rate data shows significant seasonality. The expense rates rise in the cold months and fall in the warm months of each year. This is also sales-driven, in the sense that even if warranty costs are exactly the same during each quarter of the year, sales aren't. And since we divide the expense by sales to calculate the percentages, the data rises and falls like a radio wave year after year. The more important trend to look at is the average for the entire year, and how that compares to previous years.
Long-Term Warranty Cost-Cutting
For the makers of fixtures, the story has been one of constant and effective warranty cost-cutting, as can be seen in Figure 4. Except for that fleeting spike in 2008, their warranty claims and accrual rates have been dropping for multiple years, although the seasonal effect is plain to see here too.
Figure 4
Manufacturers of Fixtures
Average Warranty Claims & Accrual Rates
(as a % of product sales, 2003-2013)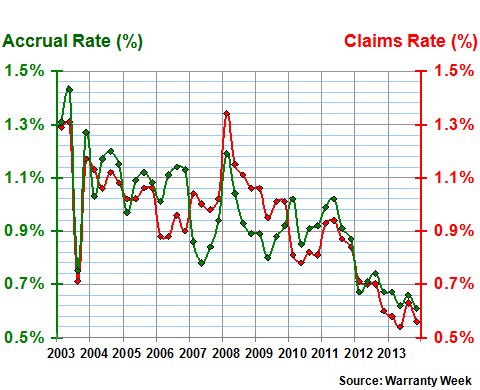 If you go back to Figures 1 and 2 and look at the totals, you'll see that the makers of fixtures saw much smaller declines in claims or accruals in terms of dollars than did the homebuilders. In fact, both warranty metrics didn't hit bottom until 2012.
Now, combine that with the rates seen in Figure 4, and you're seeing the combined effects of both increasing sales and decreasing expense rates. For the homebuilders, sales rose and accrual rates stayed the same, suggesting no big changes in product reliability or repair costs. But for the makers of the electrical and plumbing fixtures, sales rose and expense rates fell, suggesting that they're making a better product than before. The net effect is declining expense rates, falling below 0.7% in 2012 and again in 2013.
Rising Expense Rates
For the furniture makers, the opposite is true. In Figure 5 we see expense rates that have gradually risen over the past 11 years, except for the occasional and temporary drops below 0.6%.
Figure 5
Furniture & Mattress Manufacturers
Average Warranty Claims & Accrual Rates
(as a % of product sales, 2003-2013)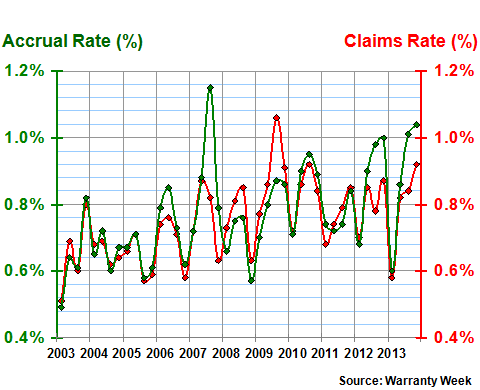 This group's accruals bottomed out in 2009 (see Figure 2) and their claims bottomed out a year later (see Figure 1). So as those charts show, in the last few years, their warranty expenses have been slowly rising in dollar terms.
This group's sales were actually up a strong 13% in 2013, while claims rose only $6 million (4%) and accruals were actually down by about $120,000 (-0.1%). That happened because companies such as Tempur-Pedic International Inc. acquired competitors such as Sealy Corp. in 2012, but then accrued less in 2013 than the separate companies did the year before.
However, that year-to-year improvement doesn't change the long-term trend, as can be seen in Figure 5. An upward trend in rates means more repair costs per unit sold. And an upward recent trend in dollar terms means it can't be blamed on the recession.
Two-Year Drop Ends
For the makers of basic building materials, 2013 was a year where expense rates got back to normal after an unusual drop in 2011-2012. As can be seen in Figure 6, expense rates were fairly level from 2003 to 2010. Then they fell noticeably for the two years after that. Now they've returned back to where they were, more or less.
Figure 6
Makers of Building Materials & Tools
Average Warranty Claims & Accrual Rates
(as a % of product sales, 2003-2013)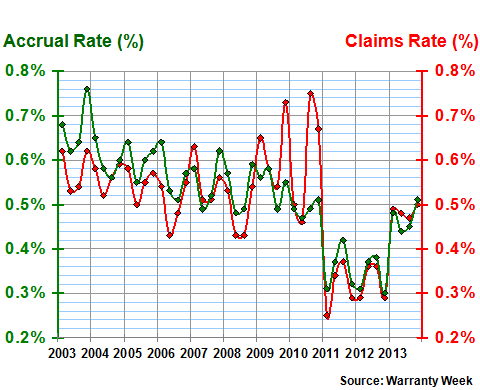 A good example of the companies that produced this effect is Ply Gem Holdings Inc., a top manufacturer of windows, doors and siding. Sales were up 22% in 2013, but claims were up by 25%. So its claims rate rose a bit.
Another is Louisiana-Pacific Corp., makers of wooden boards and panels as well as siding. Warranted product sales were up 18% last year, but accruals more than tripled, from $5 million in 2012 to $18 million in 2013. This caused the company's accrual rate to rise from 0.6% in 2012 to 2.1% last year.
Warranty Reserve Fund Balances
Finally, let's take a look at the warranty reserve fund balances of the 178 companies over the past 11 years. In Figure 7, we can see that their combined balances peaked at $4.2 billion in 2006, and then bottomed-out at $3.25 billion in 2010.
Figure 7
Warranty in the Homebuilding Industry
Reserves Held by U.S.-based Companies
(in US$ millions, 2003-2013)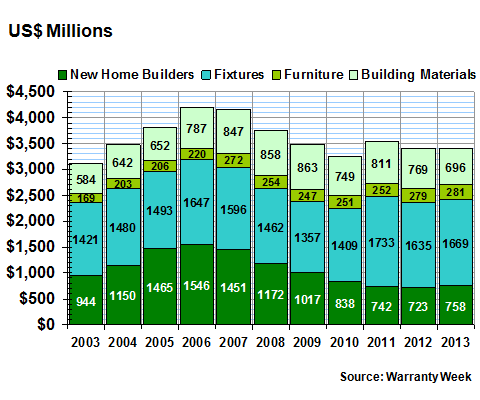 Notice the outsized balances reported by the fixtures manufacturers. That's the one place where the hefty size of United Technologies skews the data noticeably. Their 2013-ending balance of $1.36 billion comprises more than 80% of the group's total. In fact, their warranty reserve fund was more than 11 times larger than number two Masco's $121 million balance. Had we not included UTC, the fixture group's 2013-ending balance would have ended 2013 with a balance of $310 million, up $7 million from 2012. And of course, most of those UTC reserves are being held to pay claims on HVAC equipment and aerospace products -- not elevators or security systems.
So let's disregard the fixtures companies for a moment, and look at the other three categories. For the homebuilders, reserves grew in 2013 to $758 million, larger than the balance in either 2011 or 2012 but still only about half the balance seen in 2006-2007. The furniture companies also saw warranty reserves increase in 2013, to a new high of $281 million, up $2 million from 2012.
Many Small Declines in Reserves
However, the makers of building materials saw their reserves drop to $696 million, their lowest balance since 2005. But it wasn't any one company that cut its reserves by a mammoth amount. Rather, there were lots of small declines, such as RPM International Inc., the makers of Rust-Oleum protective paints, which cut its reserve balance from $15.1 million at the end of 2012 to $9.3 million at the end of 2013, because claims rose to levels that depleted more funds than the company expected.
Overall, though, it's the makers of fixtures that proved to be the best long-term warranty cost cutters, and the makers of mattresses and other furniture that turned out to be the worst. The actual homebuilders themselves are trying to get back to normal, as sales begin to recover.