June 26, 2014
Tavant Partners with Salesforce.com:
As a platform heavy with sales force automation tools drives deeper into after-sales service and support, it gains a partner with a very deep base of knowledge in warranty management. And Tavant, gains a pathway into cloud computing and software as a service.
Tavant Technologies and Salesforce.com Inc. have teamed up to bring advanced warranty management functionality to the Salesforce1 platform.
Tavant has become an ISV partner, making its warranty management solution available as a native app on the Force.com platform, which is already used by many companies for their customer service, product support, and help desk functions, in addition to sales force automation and customer relationship management (CRM).
By doing so, Tavant is enabling Salesforce customers to broaden their existing Service Cloud management platform, which already provides a call center agent with extensive connectivity to email, phone, social media, to also include warranty management functionality. The result is an increased capability to serve customers and to improve overall customer satisfaction.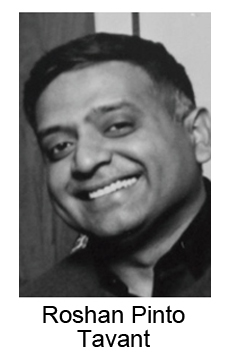 Platform of Choice
Roshan Pinto, the practice director of service operations at Tavant Technologies, said the decision to become an ISV partner was driven both by the worldwide success of Salesforce.com as well as the company's decision to open up its highly-horizontal platform to vertical applications such as Tavant Warranty.
"Salesforce has become the platform of choice for sales force automation and service automation," Pinto said. "Both large and small enterprises look at it as one of their preferred options in terms of an enterprise platform."
Tavant Technologies has been a major sponsor of Warranty Week since early 2011. It was founded in California in 2000, with a regional headquarters in India. In addition to warranty management software, the company also develops solutions for the financial, retail, and entertainment industries.
Salesforce.com is a San Francisco-based company founded by a former Oracle Corp. executive and three others. It went public ten years ago this month, on the strength of its Web-based customer relationship management platform. Its ticker symbol on the New York Stock Exchange, in fact, is CRM.
As of January 2014, the company employed 13,300 people worldwide. Outside of San Francisco (where the company is constructing Salesforce Tower, which at 1070 feet will be California's tallest building), Salesforce.com has regional headquarters in Singapore, Japan, and Switzerland. Most of its customers are U.S.-based, but in recent years Europe and Asia/Pacific have accounted for about 30% of total revenue.
Cloud Computing
Salesforce.com competes with numerous other CRM software companies, but Salesforce.com was one of the first to deliver software as a service, also called cloud computing. Rather than having to buy and operate their own networks and servers, Salesforce.com's customers need only a connection to the Internet, which connects them to the applications and data that Salesforce.com hosts for them.
CRM software and services are an essential part of a call center's operations. And of course, call centers are a significant part of the warranty management industry, at least in industries where consumers, repair organizations and dealers must contact the manufacturer to initiate a warranty claim.
However, CRM and warranty management have traditionally been separate functions, until now. Even Salesforce.com's own applications do little more in terms of warranty management than keeping track of call records and warranty expiration dates, so that this data is handy when a customer calls in again.
Srinivasa Giridhar, the program manager of service operations at Tavant Technologies said the objective is to integrate Tavant Warranty into Salesforce, not only from a communications and workflow handling standpoint, but also in terms of warranty domain knowledge. For instance, Tavant Warranty adds functionality such as analytics, forecasting, and performance metrics, as well as a business rules engine and parts tracking.
Therefore, in this instance, Tavant Warranty is making itself available to those who wish to manage the end-to-end warranty lifecycle on the Force.com platform. Until now, that platform was focused primarily on CRM and had only basic warranty functionality. And it was focused primarily on sales. Now it is adding more post-sales service functionality. So warranty needs to be a part of that.
Years ago, when software companies such as SAP, Siebel, PeopleSoft, (and later Oracle) came into the warranty management business, they developed platforms that were "a mile wide and an inch deep," as one competitor said at the time. What keeps Tavant going is how deep its platform is in terms of just that narrow space we call warranty management. Now, that depth of knowledge can be added into a Salesforce1 customer's platform.
Integrating the Platforms
Giridhar said the decision to integrate Tavant Warranty with Salesforce was driven by two factors: First, the incredible growth and worldwide adoption of the Salesforce1 platform, and second, the decision by Salesforce.com to open up its platform to outside developers through Application Programming Interfaces (APIs). These APIs, in turn, allow developers such as Tavant to create their own highly custom administrative dashboards, such as the one pictured below.
Figure 1
Tavant Warranty
Admin Dashboard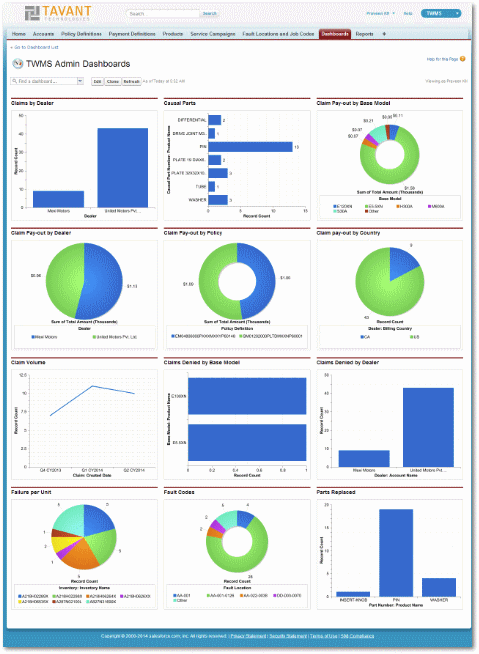 Source: Tavant
Pinto said he's not aware of any other warranty management software company that's decided to integrate its product with the Salesforce1 platform. He said most of Tavant's competitors are still trying to sell their own platform, so they're less likely to team up with a company such as Salesforce.com.
"We did evaluate the option of building our own cloud," he added. "But we realized that doing that was only going to dilute our other service offerings. So, for our cloud-based offering, we decided we would leverage a market leader, and build something on Force.com."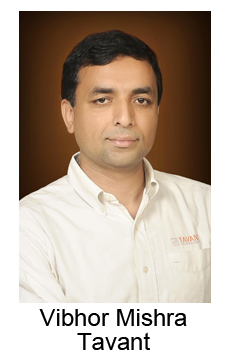 In the fiscal year ended January 31, 2014, Salesforce.com's subscription and support revenue grew 33% -- its third consecutive year of 30%+ growth rates. That brings the company's subscription and support revenue total up to $3.8 billion, most of it tied into annual contracts with low and declining attrition rates. Gartner Inc., in its annual CRM market share report, has pegged Salesforce.com as the world's top CRM software provider for two years running.
Deeper Relationship
Vibhor Mishra, Tavant's head of marketing, said the discussions about teaming up began a few years ago when Tavant itself became a Salesforce.com customer. "We have been talking to them about a much deeper relationship, because they have a very good platform. And then we figured out that many of our customers in the U.S. would want that kind of expertise and freedom of being in the cloud, and not having a big IT team to manage the whole set-up."
Tavant Warranty On-Demand is a cloud-based offering that will be priced per user. Salesforce customers that are interested in using it would log in to the AppExchange and request an installation. Both the Salesforce.com and Tavant sales force will spread the word about the availability of the warranty management app in the AppExchange.
Meanwhile, the Tavant Warranty enterprise product as is now sold separately from Salesforce will continue on its own course. "This doesn't change what we're doing on the Tavant enterprise product platform," Pinto said. "But what we are realizing as we gain more insight into the marketplace is that there is a significant customer base that is continuing to enable their overall distribution channel on Salesforce. And we believe that our domain knowledge can add tremendous value to customers who are on the Salesforce platform, who want to leverage what Salesforce has to offer, along with the warranty domain knowledge we have and the feature set we will continue to build on this platform."
Tavant Warranty On-Demand for the Salesforce1 Platform is available now. Pinto said it includes most of the functionality found in the enterprise product, including warranty claims management, administration, parts return, inventory management, warranty intelligence, custom dashboards, policy and campaign management, and claims processing automation.
Figure 2
Tavant Warranty Modules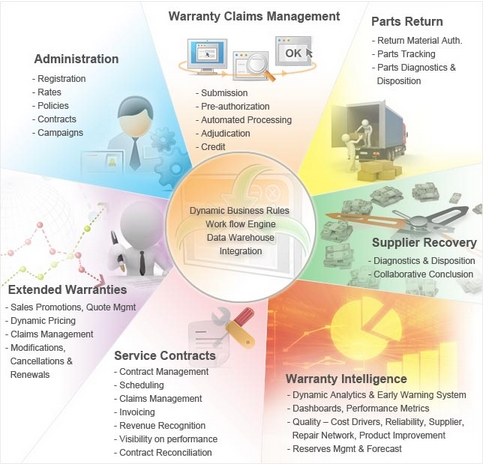 Source: Tavant
Tavant, already known for promising an aggressive installation timetable for its enterprise warranty platform (an ability to go live within 90 days), will be able to deliver warranty functionality even faster with this software-as-a-service model. The most significant challenge will continue to be the orderliness of the company's existing warranty data -- in whatever format it might be in -- and how easily it can be imported into the new Tavant application.
Usually, the warranty data has to be cleaned up in some fashion before it's imported into the new system. However, assuming that the customer is already using Service Cloud, there isn't a new system as much as there's new functionality on the existing system. And the system is hosted, so there's no need to install new servers or data storage.
"The biggest pole in the tent is usually on the data migration side," Pinto said. "And we definitely believe that what we can enable through Salesforce here will help reduce the amount of time from a data migration perspective."
In addition, he said, Salesforce.com has opened up its development platform in a way that will help speed Tavant's addition of new features. So if there's an advanced feature a specific customer wants, usually there's an existing custom object that Tavant can reuse to deliver it.
Priced Per User
Pricing will depend upon the size of the deployment, Pinto said. It will be calculated on a per-user basis, he noted, just as is done with the Salesforce1 platform now. "But I think we can comfortably say there will be at least a 20% drop in deployment costs," he said, as compared to the enterprise configuration, especially in terms of initial up-front costs.
"I don't want to quote a number right now. It's too early to essentially quantify that," he said. "But we definitely believe that customers who are already on the Salesforce platform could be at a cost advantage, especially if the users they plan to distribute the warranty app to are also currently Salesforce.com users."
The biggest cost savings comes from the cloud computing approach itself, Pinto said. Rather than having to buy servers and database management software and then hosting the installation themselves, Salesforce users are buying software as a service, so they only need to invest in the terminals and the connection to the cloud. Call center agents can use desktop PCs, while salespeople and others in the field can use laptops, mobile phones or tablets. So there's a far lower up-front cost required, assuming they already have their own terminals and mobile devices.
"It makes a lot of sense to offer this as an option for those kinds of companies," Pinto said. "If they're already paying a fee to enable a platform like Salesforce, then enabling warranty on the same platform gives them the advantage of having one place for their dealers and distributors to go to, and having one face, and one source of information to understand your customer from end to end."
---
Vacation Break Planned
For the first time ever, Warranty Week is moving its summer vacation shut-down to early July. Therefore, we won't be publishing newsletters on either July 3 or July 10. But we'll return on July 17 with a look at warranty expense rates in the forklift and material handling industries.