July 17, 2014
Warranty Accruals per Vehicle:
Though currency fluctuations are a major factor, in 2013 both GM and Ford accrued less per vehicle sold than any of the European or Japanese OEMs. And though BMW and Daimler command a higher price per vehicle, they've accrued less and less per unit over the past decade as they continue to cut warranty costs.
The biggest shock in this edition of our annual comparison of the warranty costs of the top worldwide auto manufacturers comes when everything is converted into a single currency. In terms of U.S. dollars set aside per vehicle sold, the American manufacturers have taken leadership away from the Japanese in recent years.
However, when we look at warranty expense as a percentage of revenue, some of the Japanese and European OEMs still place better than the Americans. And although safety recall rates have recently accelerated for several OEMs, there's still good news for most of them in the report that follows.
We began our annual comparison with a list of ten passenger car manufacturers that includes the Volkswagen Group; Daimler AG; BMW AG; Fiat S.p.A.; PSA Peugeot Citroën; Toyota Motor Corp.; Honda Motor Co. Ltd.; General Motors Co.; Ford Motor Co.; and Tesla Motors Inc. For each OEM, we gathered three essential metrics from the most recent 12 editions of their respective annual reports: worldwide automotive sales revenue, vehicles sold worldwide, and warranty accruals made per year worldwide. With these figures in hand, we calculated two key ratios: accrual rates as a percentage of sales, and accruals made per vehicle sold (in both their native currencies and in U.S. dollars).
There were plenty of additional variables to consider, such as what to do about the truck revenue of Daimler, or the motorcycle revenue of BMW, or the motorcycle and generator revenue of Honda. In the end, to keep it simple, we assumed that warranty expense arises at an equal rate across each company's product line. So if the accrual rate for Honda's cars was 1.4%, we assumed it was also 1.4% of the sales price of its motorcycles and generators.
There are three currencies involved: euro, yen, and dollars. As you will see below, we kept the figures in their native currencies for Figures 1 through 7, and then converted them all into U.S. dollars only for Figures 8 and 9. The exchange rates we used for each year came directly from the annual reports of the manufacturers themselves.
Focus on Accruals
But why focus on warranty accruals and not on claims? The reason has to do with the nature of warranty expense accounting. Claims are paid when a vehicle is repaired under warranty. Depending upon the duration of a given manufacturer's warranties, an expense incurred in 2013 could arise from a vehicle sold in 2009, 2010, 2011, 2012, or even 2013. And more importantly, it is impossible for an external observer to know the age of each vehicle when it incurs those warranty expenses.
Furthermore, some passenger car warranties expire after a given distance driven, as opposed to a given number of years. And even the duration of these warranties is not consistent for a given manufacturer across diverse markets such as Europe, North America, Australia, China and Japan. So it is impossible for an external observer to calculate the number of vehicles under warranty at any given point in time. And therefore any calculation of the average claims cost per vehicle under warranty per year is nothing but a good guess.
In contrast, accruals are supposed to be made at the time a vehicle is sold, based upon the manufacturer's prediction of its future warranty costs. So if a manufacturer sells a given model with a three-year warranty, and expects that warranty to cost $100 the first year, $200 the second year, and $300 the third year, they're supposed to set aside $600 at the time the vehicle is sold. If it turns out their estimates are too high or too low as time goes by, they're supposed to make or take away funds to cover the difference.
We're not accountants, and the actuaries among us are probably seething by now at this oversimplification. But if an external observer knows the number of vehicles sold and the amount of accruals made in any given year, a simple calculation of the accruals made per vehicle is possible. Again, over the long term the estimate upon which it is based may turn out to be too high or too low. But we're not measuring the rightness or wrongness of the estimate -- only its size.
Four Groups of OEMs
To make the charts easier to read, we chopped the ten OEMs into four groups. First, we grouped the accrual rates of the top three German OEMs, which are detailed in Figure 1. All are based upon a simple ratio between warranty accruals made and worldwide automotive sales revenue. As such, they are merely an average across each product line. The true accrual rate for a given product might be higher for motorcycles or trucks than for passenger cars, and it might be lower in China than in Europe or North America. But these are the averages.
Figure 1
Three German Auto OEMs
Warranty Accrual Rates, 2002-2013
(as a % of product sales)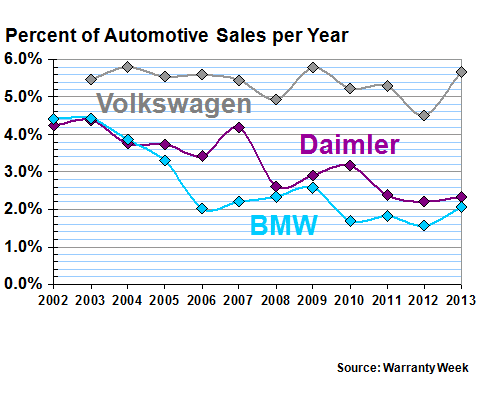 Note that Volkswagen has been pretty consistent around five percent, though its accrual rate rose to 5.7% in calendar 2013. With a diverse geographic spread as well as a product line that ranges from Skodas to Bentleys, it's impossible to pin down the source of this rise. But it's the company's highest accrual rate since 2009.
Daimler and BMW, in contrast, have been pretty consistent about reducing their respective accrual rates over the last 12 years. There are some bumps in the road along the way, but now both companies look to be comfortably embedded in a range of 2.0% to 2.3% of sales. However, note also that both companies' accrual rates rose in 2013, with BMW's also being the highest seen since 2009.
Two More European OEMs
In Figure 2, we're tracking Fiat and PSA Peugeot Citroën. The latter is new to the group this year, thanks to the work done by a Warranty Week reader from Sweden. He spotted warranty data in a PSA annual report, and wrote in to inquire why the company wasn't included in similar reports in years past, such as July 11, 2013 and July 12, 2012.
"The quality of French made cars are not, I think one can say, generally regarded to be of the highest order and, at least in the past, many French cars were a bit odd with strange solutions," he wrote. "However, PSA have been striving to improve their quality control and introduced their version of Lean called l'Andon and to my knowledge the first model completely constructed using this quality system was the 3008, introduced in 2009."
So we looked into it, and voilà, there was the warranty data in the notes of the company's annual report. But it went back to only 2005, so we have no PSA warranty data for the years 2002 to 2004. Likewise, in Figure 1 there's no data for VW in 2002. But what's striking in this debut for PSA is how similar its accrual rates look to Fiat's, when conventional wisdom would have pegged them to be more like VW.
Figure 2
French & Italian Auto OEMs
Warranty Accrual Rates, 2002-2013
(as a % of product sales)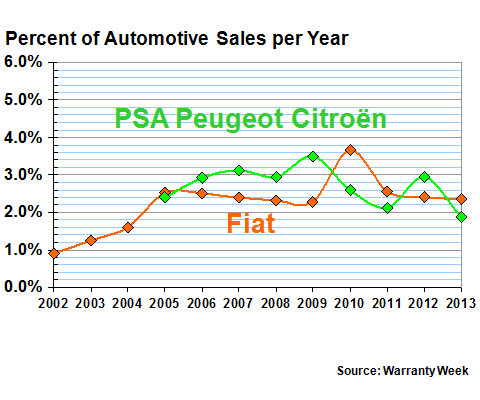 The streets of Paris are clogged with relatively small and inexpensive passenger cars such as the Fiat 500, the Peugeot 108, and the Citroën C1, darting in and out of traffic lanes like they're scooters. One of the smallest seen on the road was the 7,240-euro Renault Twizy, an electric model which has only one seat in the front and one in the back. But that's not surprising, given the reality of $8.00/gallon gasoline prices.
By the way, now that Fiat owns all of Chrysler, the company also now consolidates its own warranty figures with its acquisition's. So in reality, we're tracking 11 OEMs in total, including four based in North America: GM, Ford, Chrysler, and Tesla.
Missing OEMs
Readers in the past have asked why there's no data from Nissan, Hyundai, Suzuki, Mazda, Mitsubishi, or Renault, or from any of the Chinese manufacturers. The reason is that no warranty data has yet been found in the annual reports of these companies. If it exists, readers are urged to point it out so we can include it in next year's report.
Still, the worldwide market coverage represented here is significant, comprising something on the order of 60% of the world's production of passenger cars and nearly 70% of all light trucks, according to data compiled by the International Organization of Motor Vehicle Manufacturers. And if we count Fiat and Chrysler together, we now have coverage for 7 of the top 10 OEMs worldwide.
In Figure 3, we've taken the accrual rates of each European company, and applied them to the number of vehicles they manufactured and sold worldwide. That in turn produces a figure for accruals made per vehicle sold, denominated in euro per vehicle.
Figure 3
Five European Auto OEMs
Warranty Accruals per Vehicle, 2002-2013
(in euro per vehicle per year)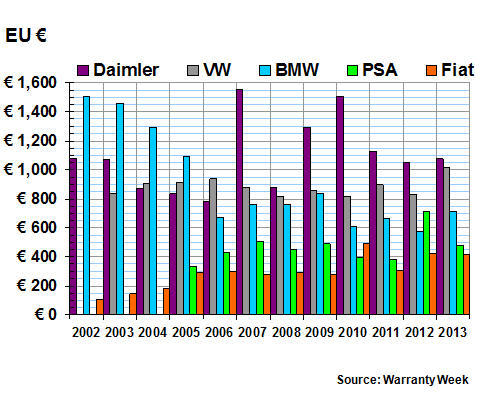 Again, PSA looks pretty good, second only to Fiat within the European group in terms of accruals per vehicle sold. But also note that manufacturers such as Mercedes-Benz and BMW typically sell higher-priced luxury models than either Fiat or PSA. And their "white glove" customer service programs (not to mention the free donuts) incur higher costs per warranty repair event.
So don't be shocked by their relatively higher accrual rates per vehicle. When you sell a vehicle for 46 thousand euro, two percent equates to almost a thousand euro. When your average selling price is 15 thousand euro, two percent is only 300 euro. That's a big difference in warranty cost per vehicle, though the accrual rates in terms of the percentage of revenue are identical.
The Luxury Factor or Not?
Figures 1 and 2 are normalized for selling price, while Figure 3 is not. Still, isn't remarkable that both Fiat and PSA are accruing less than half as much per vehicle as are Daimler and BMW? And VW is higher than its peers both in terms of its accrual rate as a percentage of sales and per vehicle sold. The company sold only 11,000 Bentleys last year, so it can't be the luxury factor. Besides, Fiat also owns Ferrari and Maserati, and both Peugeot and Citroën are also now making those big and expensive American-style SUVs.
Next we turn to Japan, where there are two different stories to tell. Toyota is recovering from the cost of its safety recalls, a peak from which its warranty costs continue to decline. And Honda, which used to have the lowest warranty costs in the known world, is seeing its warranty costs slowly climb.
Figure 4
Two Japanese Auto OEMs
Warranty Accrual Rates, Fiscal 2003-2014
(as a % of product sales)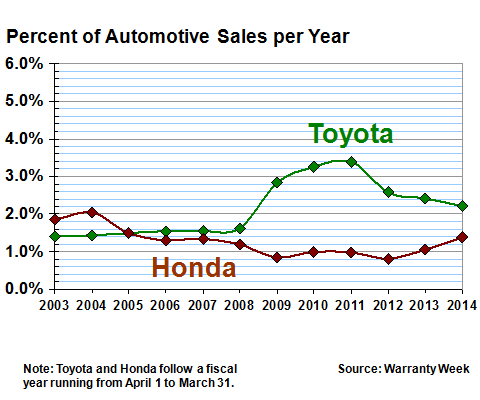 Both companies end their fiscal years on March 31, so what's quoted for 2014 is really data from the months of April 2013 through March 2014. In Figures 8 and 9, we're going to time-shift those fiscal years back by three months so they correspond with the calendar. But since we're comparing apples to apples in Figures 4 and 5, we'll stick with the fiscal year format.
In terms of accruals per vehicle, Toyota is recovering from a rough five years, as can be seen in Figure 5 below. But Honda also has begun to see its warranty accruals per vehicle climb from what looks to be an all-time low in fiscal 2012 (the year ending on March 31, 2012).
Figure 5
Two Japanese Auto OEMs
Warranty Accruals per Vehicle, Fiscal 2003-2014
(in yen per vehicle per year)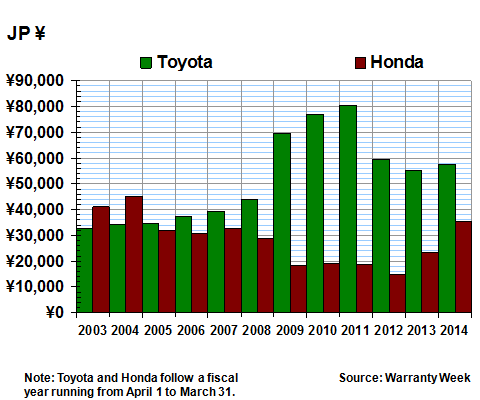 Again, everything is in Japanese yen, with no currency conversions made by us. That was done only for Figures 8 and 9, based on the exchange rates used by the companies themselves in their annual reports.
In Figures 6 and 7, no currency conversions are necessary, since everything is expressed in U.S. dollars. Of course, Ford and GM do some sort of conversions themselves when they sell vehicles in Europe or Australia and those vehicles incur warranty costs. But it's not necessary for us to know how they do it in order to calculate their worldwide averages.
Maturing Accrual Rates?
We're also including Tesla, which is orders of magnitude smaller than either GM or Ford in terms of units sold. But it's interesting to note that the electric car maker's warranty accrual rates started out high but were comparable in both 2011 and 2012. In 2013, however, Tesla went back over three percent, while both GM and Ford saw slight declines in their accrual rates.
Figure 6
Three American Auto OEMs
Warranty Accrual Rates, 2002-2013
(as a % of product sales)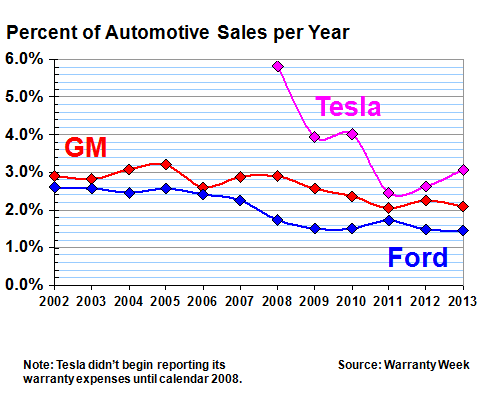 We really should call these the company's initial accrual rates, because both GM and Ford are now correcting for past under-accruals. Ford had to add $625 million in catch-up accruals in 2013, while GM had to add $123 million. That means the accrual rates per vehicle in Figure 7, which are based solely on these initial accruals and not on the subsequent changes in estimate, are a little lower than perhaps they should have been.
Figure 7
Two American Auto OEMs
Warranty Accruals per Vehicle, 2002-2013
(in US dollars per vehicle per year)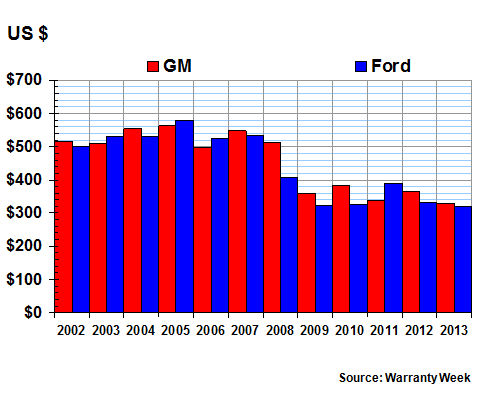 Still, look at Ford, which in four of the last five years has accrued close to $325 per vehicle sold. GM's accruals per vehicle have been more in a range of $330 to $360 per vehicle. But for both companies, those averages are down from the more than $500 per vehicle accrual rates seen a decade ago. Even with the recent errors in estimates, both companies have made incredible reductions in the cost of each vehicle's warranty coverage.
Comparing Apples to Apples?
Now we get into something of a mess, both literally and figuratively. There are a number of reasons these comparisons are misleading. First, they reflect the rise and fall of the U.S. dollar. Second, they are not normalized for the average selling price of each company's vehicles. And third, manufacturers such as Toyota and Ford only recently began including the cost of both warranty and recalls, while others such as GM have always included both together.
Figure 8
Nine Top Worldwide Auto OEMs
Warranty Accruals per Vehicle, 2002-2013
(in US dollars per vehicle per year)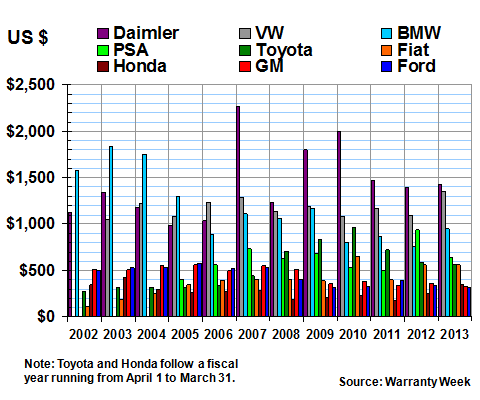 Still, isn't it remarkable that the range seen over the past 12 years goes from a high of US$2,270 per vehicle seen for Daimler in 2007 to a low of $320 per vehicle seen for Ford in 2013? And actually, Fiat, Toyota and Honda have gone below $300 per vehicle in some of the years covered by this chart.
But the biggest mess is caused by the quantity of data included. Even with the missing data for these nine OEMs over the past 12 years, there are still 104 separate data points included in Figure 8.
So to make it easier to interpret, in Figure 9 we've included just the accruals per vehicle calculated for 2012 and 2013 (fiscal 2013 and 2014 for Toyota and Honda). Here, without the clutter, it's much easier to discern the year-to-year changes. PSA saw its accruals per vehicle decline the most, while Honda saw its accruals per vehicle rise the most. GM was also down significantly, while Toyota, Ford and Fiat were down by lesser amounts. Daimler was up slightly, while VW and BMW were up significantly.
Figure 9
Nine Top Worldwide Auto OEMs
Warranty Accruals per Vehicle, 2002-2013
(in US dollars per vehicle per year)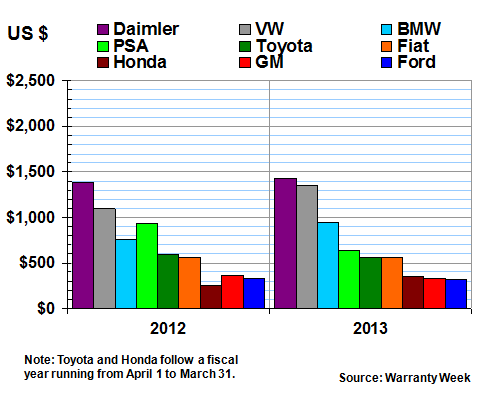 And this is where the shock factor comes into play. Yes, the Japanese currency is now up to 103 yen per dollar, after having been as low as 82 per dollar in fiscal 2012. And yes, the euro is back up to $1.33 now after going as low as $1.05 per euro in 2002, and as high as $1.46 per euro in 2007 (the same year Daimler's accruals per vehicle soared to US$2,270). But still, who would have guessed that both GM and Ford would come in lower than Toyota, Fiat, or Honda last year?
How'd You Like Them Apples?
By the way, although Toyota and Fiat looked to be about the same in 2013, Fiat had a 40-cent advantage per vehicle. And after normalizing for price per vehicle (in other words, looking at only the percentage rates in Figures 1, 2, 4, and 6), both BMW and PSA are lower than GM, and Honda is still a bit lower than Ford.
So in a way, after the data is normalized, now we're comparing apples to apples, as opposed to pommes vs. ringos vs. Äpfels. And from that perspective, Honda still has the lowest accrual rate among these OEMs in terms of the percentage of sales spent on warranty. And GM is still in the middle of the bushel, midway between Toyota and BMW.
Perhaps it makes more sense to look at each company compared only to itself? And to look at the only accrual data normalized for price per vehicle? Perhaps there are just too many other variables to allow us to compare one company's warranty expenses to another's?
On that basis, looking strictly at the trend lines, Daimler and BMW, along with GM and Ford, have more or less consistently reduced their warranty costs as a percentage of sales since 2002. They're the cost-cutters. Meanwhile, VW, PSA and Honda have remained about the same over the past 12 years, and Fiat and Toyota are recovering from warranty costs that were rising until recently.