July 31, 2014
Material Handling Equipment Warranties:
Most of the companies that manufacture equipment to handle, move and store materials have kept their warranty expense rates below one percent. But a few have expense rates far above that level, and some have expense rates that rise and fall dramatically.
Material handling equipment is a term that contains its own definition. Basically, it's equipment that is used to handle, move and store materials such as products in a warehouse, food in a factory, and minerals in a drilling/mining area.
However, material handling equipment is an industry category whose warranty expense rates we haven't previously tabulated. Part of the reason is that most of the trucks and forklifts involved in the business of moving materials around were counted as vehicles in other industry categories. Much of the pipelines and conveyor belts used in the mining/petroleum and food/farm industries were counted as part of the equipment used in those respective industries. That didn't leave a lot behind to be called "material handling equipment."
New Industry Categories
Until recently, we tracked the product warranty expenses of U.S.-based manufacturers in 14 different industry sectors plus a 15th that we simply called "Other," which held all the companies that didn't seem to fit into any of the other 14 categories. But beginning with the 2013 annual data, we have created three more categories that we call "Material Handling," "Security Equipment," and "Sports Equipment."
At the same time, we made an effort to reorganize the entire list so that all 1,228 current and former companies that we track can be said to best fit into at least one of the 17 categories. And all 17 categories fit into one of the three major sectors: Vehicles, High Tech, or the Building Trades. In other words, there's no more "Other" category. Every company now belongs to at least one primary industry category. The 17 categories are:
Vehicles:

Automotive OEMs
Auto Parts Suppliers
Aerospace

High Tech:

Computer OEMs
Telecom Equipment
Data Storage Systems
Computer Peripherals
Semiconductors & Printed Circuits
Medical & Scientific Equipment
Consumer Electronics

Building Trades:

Appliances & HVAC
New Home Builders
Building Materials
Power Generation Equipment
Material Handling Equipment (new)
Sports Equipment (new)
Security Systems (new)


Depending upon the warranty metric involved, the vehicle sector usually accounts for around 45% of the total, while the high tech sector accounts for about 40% and the building trades account for the remaining 15%. Of the three new industry categories we're adding into the building trades sector, material handling equipment is by far the largest.
There are 42 companies whose primary industry category is "Material Handling." And then there are an additional 19 companies that fit better into a different primary category, but also have a significant presence in the material handling industry. For instance, Columbus McKinnon Corp. is counted primarily as a supplier of building materials. Hyster-Yale Materials Handling Inc., Astec Industries Inc., and Terex Corp. are in the large vehicle category with other automotive OEMs. Manitowoc Co. Inc. is counted primarily in the appliance industry. And both Textron Inc. and FMC Technologies Inc. are counted primarily as aerospace companies.
Crossing Over to Construction Equipment
This week, we're going to detail the warranty expenses of just the 42 companies that aren't also counted in other categories. However, keep in mind that the warranty expenses of the additional 19 companies that cross over from another category into this one are more than ten times as much as what we're counting here. But if we included them, we'd be counting warranty expenses arising from many more industries than just material handling equipment. In fact, almost half the expenses would come from just one company: Caterpillar Inc.
In Figure 1 we're counting the warranty claims totals for the 42 companies for the past 11 years. In addition, being as we're more than halfway through 2014, we're also including an estimate for the full year, based on taking just the first quarter's claims expense total and multiplying it by four.
Figure 1
Material Handling Equipment Warranties
Claims Paid by U.S.-based Manufacturers
(in US$ millions, 2003-2014)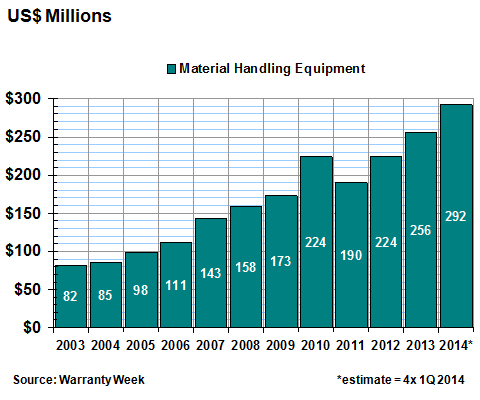 What's clear from the chart is that this industry sector has shown almost linear growth since 2003, except for the 2010-2011 period. And there, it looks as if one of the companies might have time-shifted some of its 2011 expense into 2010. We'd point the finger at the mining equipment company Joy Global Inc., which had higher claims totals in 2010 than it did in either 2011 or 2009.
However, one of the largest material handling equipment companies was acquired midway through 2011, so its disappearance probably accounts for some of the 2011 drop. Bucyrus International Inc. was acquired by Caterpillar in July 2011, so only its first-quarter-2011 warranty expenses were reported publicly before that time. And though Caterpillar is an important player in material handling equipment, we're not counting its warranty expenses primarily in this category.
Warranty Accruals
In terms of warranty accruals, it's much the same story. However, as can be seen in Figure 2, the downturn continued into 2012, after accruals temporarily peaked at $212 million in 2010 -- a level they didn't surpass again until last year.
Figure 2
Material Handling Equipment Warranties
Accruals Made by U.S.-based Manufacturers
(in US$ millions, 2003-2014)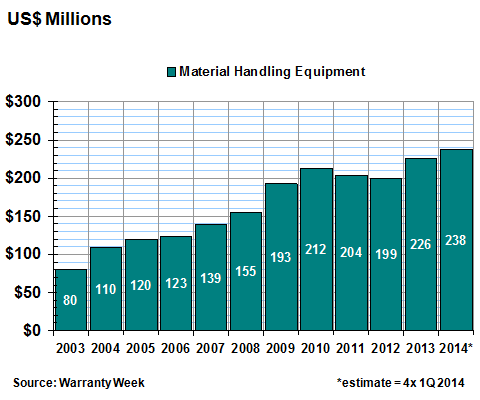 Again, the acquisition of Bucyrus was a significant contributor to the downturn, taking away something on the order of $40 million a year in warranty expense from the category. However, Joy Global also reduced its accruals in 2011, as did several smaller players such as Mueller Water Products Inc., Geospace Technologies Corp., and PMFG Inc. (formerly known as Peerless Manufacturing Co.).
As a Percent of Sales
The better way to measure warranty expenses is as a percentage of product sales. The material handling equipment companies tend to pay an average of well under one percent of their product sales revenue in warranty expenses. However, as can be seen in Figure 3, those percentage rates have recently been rising for both claims and accruals.
Figure 3
Material Handling Equipment Manufacturers
Average Warranty Claims & Accrual Rates
(as a % of product sales, 2003-2014)
From 2003 until 2008, the average claims rate for the industry never rose above 0.7% of revenue, and the average accrual rate rose above that mark only once, in the final quarter of 2005. That was a tough quarter for companies such as Tesco Corp. (the oil and gas equipment company, not the supermarket chain), which had an unusually high accrual rate at that time.
As for the rates rising recently, that can't be pinned on any one company. Instead, it looks like expense rates are generally rising across the industry, though a few such as conveyor belt manufacturer Key Technology Inc. have seen their expense rates rise to surprisingly high levels.
Warranty Reserves
The fourth warranty expense metric we track is the balance left in the warranty reserve funds of all the manufacturers at the end of each financial period. Unlike the other metrics, this one has a clear peak and an unclear trend in recent years.
Figure 4
Material Handling Equipment Warranties
Reserves Held by U.S.-based Manufacturers
(in US$ millions, 2003-2014)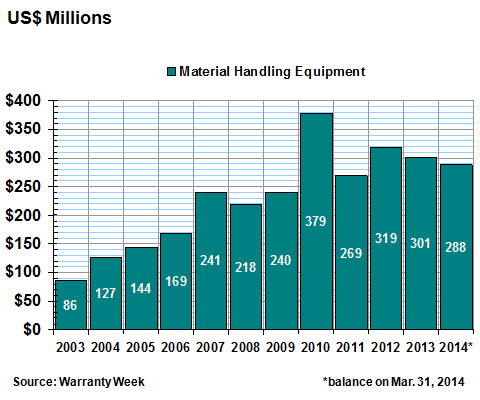 Warranty reserves for these 49 companies peaked at the end of 2010 at a level of $379 million. We note that Bucyrus was just about to exit the category at that time, and they took their $171 million in reserves with them to Caterpillar. So that explains much of the 2011 drop. But it doesn't explain why reserve levels dropped in 2013, and did so again in early 2014 (our most recent measurement was made at the end of March).
Finally, as this is our inaugural report on the material handling equipment industry, we thought we'd detail some of the top contributors to the category. In Figure 5, we're looking at the quarterly warranty expense rates of Joy Global over the 45 quarters from the beginning of 2003 until the first quarter of 2014.
Figure 5
Joy Global Inc.
Average Warranty Claims & Accrual Rates
(as a % of product sales, 2003-2014)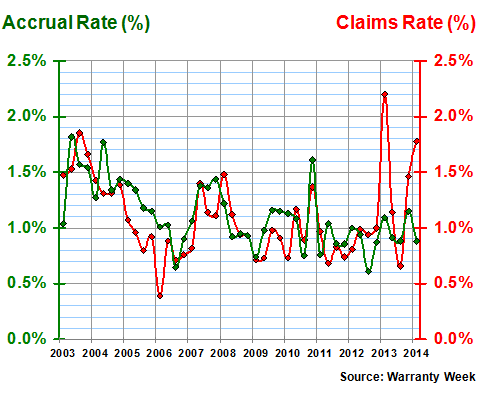 As can be seen in the chart, Joy Global has reported a relatively high claims rate for the past two quarters, as well as for the first quarter of 2013. No reason was mentioned in its financial statements for the sudden rise, though it previously added $10 million to its reserve total after the acquisition of LeTourneau Technologies Inc., a mining equipment competitor.
Flowserve Corp., meanwhile, has a much flatter and a generally declining trend line in its warranty expense data, as can be seen in Figure 6. The company reports its warranty expenses only once a year, though, which is why every adjacent group of four data points are the same. Also, because we'll have to wait until after the end of 2014 for an annual report, there's no new data for the first quarter of 2014.
Figure 6
Flowserve Corp.
Average Warranty Claims & Accrual Rates
(as a % of product sales, 2003-2013)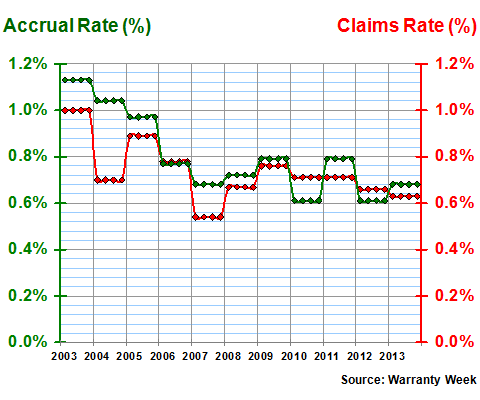 A comparison of Figures 5 and 6 shows why the industry averages seen in Figure 3 are so low, compared to several other industries. Many of the largest players in material handling have managed to keep their warranty expense rates at or below one percent. We suspect it's much higher for some of the forklift manufacturers, but their company-wide warranty expenses are generally counted in other industry segments such as automotive or aerospace.
But look at the warranty expense rates of Key Technology, as detailed in Figure 7. The company has seen its expense rates gyrate wildly between two percent and five percent over the past few years. For instance, its accrual rate was 5.6% at the start of 2011. By the start of 2012 it had fallen to 1.6%. By the middle of 2013 it was back up to 4.9%.
Figure 7
Key Technology Inc.
Average Warranty Claims & Accrual Rates
(as a % of product sales, 2003-2014)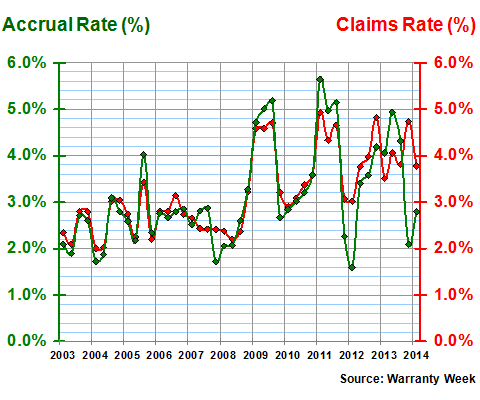 The company has not done much to explain why warranty expenses rise and fall so dramatically from one quarter to the next. But at least the company admits that it happens. This statement is taken from one of its quarterly financial reports from 2011:
"As a percentage of net sales, the gross profit decrease from the corresponding quarter a year ago was significantly related to the adverse impact of higher than expected costs associated with specific large projects and complex customer applications. These costs have been reflected in the company's warranty expenses and allowances for warranties for the three months ended March 31, 2011. The company continues to address these issues by strengthening project management and product validation processes, in addition to implementing specific technical product enhancements. The company believes these actions will be successful in reducing the effect of these cost issues on future results."
In other financial statements, the company states that its increased warranty expenses are due to higher sales. And indeed, product sales were up about 14% in fiscal 2013. However, the expense rates in Figure 7 take account of changes in sales. In fact, they're calculated by dividing the expense by the sales total. So the expense rates, particularly the accrual expense rate, should not budge as sales rise or fall, unless there's also been a change in product reliability or repair cost.
New Company
Xylem Inc. was spun off from ITT Corp. on January 12, 2011, along with Exelis Inc., an aerospace and defense company. Xylem, which takes its name from the part of a plant that transports water and nutrients, is engaged in the business of building infrastructure for the delivery of drinking water and the removal of wastewater. It includes the operations of former ITT subsidiaries such as Goulds Pumps, YSI, and Flygt.
The data in Figure 8 begins with the first quarter of 2010 and extends to the first quarter of 2014. After Xylem was spun off in 2011, it began reporting its own warranty expenses, and also included year-ago data from 2010. As can be seen from the chart, claims have generally remained within a range of 0.8% to 1.0% of sales, though the company's accrual rate went significantly below that level in early 2014.
Figure 8
Xylem Inc.
Average Warranty Claims & Accrual Rates
(as a % of product sales, 2010-2014)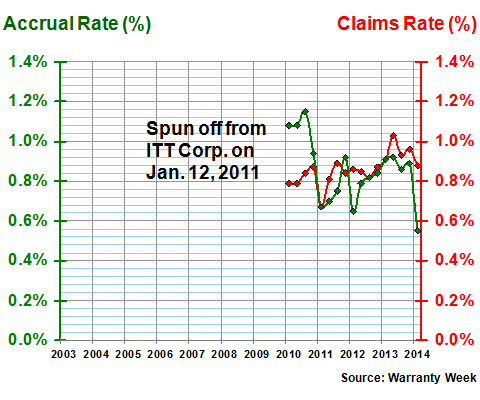 Again, Xylem's warranty expense rates are in keeping with the industry averages seen in Figure 3. This makes Key Technology look all the more out of place. In fact, in the quarter ended March 31, 2014, Key Technology was the only one of the 49 companies with an accrual rate above one percent. It and Joy Global were the only two with accrual rates over one percent at the end of calendar 2013.
If we were to widen our list to include more of the forklift, hauler, loader, pump and pipeline companies now in the other industrial categories, we'd have more companies with expense rates over one percent. In fact, all four of the largest material handling equipment companies that aren't on this list -- Caterpillar, Textron, Manitowoc, and Terex -- are paying between one and two percent of their revenue for warranty costs.
However, we doubt that most of their warranty expenses arise from their material handling equipment product lines. If there were a way to isolate just that portion and include it on our list, we would. Any thoughts or ideas?