August 7, 2014
European Manufacturers' Warranties:
While most international manufacturers don't disclose their warranty costs, some of the largest European warranty providers do. And their warranty expense rates aren't tremendously different from those of their American competitors.
Warranty is a worldwide operation, although most of the attention is focused on U.S.-based manufacturers. Part of the reason for the U.S. focus is the existence of very specific U.S. accounting rules governing disclosure of warranty expenses, which causes most American manufacturers to disclose their warranty costs in their financial statements on a quarterly basis.
However, some international companies get swept up in those requirements as well. Either because they sell shares of stock in New York, have sold bonds on U.S. exchanges, or because they simply want their financial statements to follow Generally Accepted Accounting Principles, these non-American companies also include details about their warranty expenses in their annual reports.
This week, we're going to provide snapshots of seven European companies that disclose their warranty costs in their annual reports. In next week's newsletter, we'll provide snapshots of seven Asian companies that do the same. And these 14 companies can be added to the snapshots in the July 17 newsletter, where we profiled five European and two Asian car manufacturers, which along with their American peers produce something on the order of 60% of the world's cars and 70% of the world's light trucks.
When all is said and done, between these international companies and their U.S.-based competitors, we think we're now able to measure the product warranty expenses of a majority of the world's manufacturing output in several industries, including aerospace, appliances, passenger cars, consumer electronics, computers, and telecom equipment. In fact, we think we now know the world's largest warranty provider, and it's not an American company. But more on that later.
In all the company snapshots below, we've tried to concentrate on the relative size of the warranty expenses, comparing them to product revenue and expressing them as a percentage. That way, there's no need for currency symbols or foreign exchange conversions. And by the upward or downward slope of the percentages, or by the flatness of the lines over the past decade, one can tell whether warranty expenses represent an increasing, decreasing, or constant share of a given company's sales revenue.
European Telecom Equipment
Let's start with some of the European telecom companies. The LM Ericsson Telephone Co., based in Sweden, has done an amazing job of reducing its warranty expenses over the past decade, as can be seen in Figure 1. Back in 2003 it was setting aside four percent of its product revenue as warranty accruals, and was spending about 2.6% of its revenue on warranty claims. By 2008, both those expense rates were below one percent.
While the rates crept up a little bit after bottoming out in 2008, they've once again been on a downtrend for the past few years. By 2013, both the company's claims and accrual rates were down to around 0.8%. That's not the lowest they've ever been, but it's the fourth year in which both of the company's warranty expense rates have been below one percent.
Figure 1
LM Ericsson Telephone Co.
Average Warranty Claims & Accrual Rates
(as a % of product sales, 2003-2013)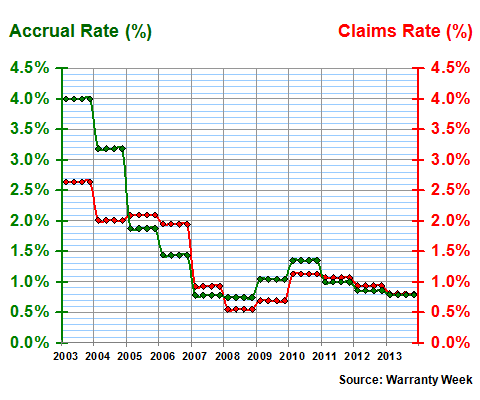 Ericsson claims that around 40% of the world's mobile network traffic now runs through networks using its equipment. Despite its current emphasis on mobile and wireless, Ericsson has for decades also been a major supplier of traditional landline equipment to telephone companies around the world, competing with Bell Telephone and Nortel, among others. In fact, the company was founded before there were telephone companies in Europe -- in 1876, as a telegraph equipment repair shop. And in 2005, it squared its past with its present when it acquired many of the assets of Marconi Corp., which pioneered wireless telegraphy a century ago.
Alcatel and Lucent
One of Ericsson's main competitors has always been Alcatel SA, which is now part of the European-American company called Alcatel-Lucent. Lucent is descended from the Bell System's telecom equipment manufacturing arm, Western Electric, while Alcatel is the French successor to the Compagnie Générale d'Electricité (CGE). Alcatel and Lucent merged in 2006, and also acquired assets from Nortel.
Figure 2 contains the warranty expense rates of Alcatel on its own from 2003 to 2006, and then the combined Alcatel and Lucent expenses since the merger. Sharp-eyed readers will notice that Alcatel used to report its warranty expenses twice a year when it was on its own. So the data points during that period come in identical pairs. Since 2007, though, it has converted to once-a-year disclosures, so from that point on each series of four data points are the same.
The last few years have not been kind to the company's warranty department. Its highest-ever warranty accrual rate came in 2012, and its warranty claims rate has been above three percent for three of the past four years. The good news, however, is that both its claims and accrual rates dropped noticeably in 2013, though both are still much higher than they were in the days when Alcatel was separate from Lucent.
Figure 2
Alcatel-Lucent
Average Warranty Claims & Accrual Rates
(as a % of product sales, 2003-2013)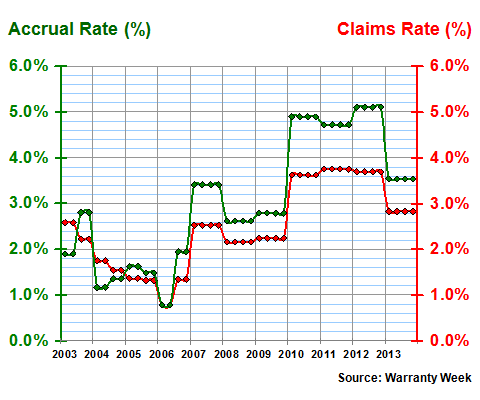 Lucent, meanwhile, also used to report warranty expenses on its own. Back in 2003, the company had relatively high expense rates, with claims coming in around 3.5% of product revenue and accruals around 2.0%. Both rates dropped to around one percent in 2004 and 2005, but the company's claims rate rose back up to around two percent in the quarters before the merger.
The Rest of Nokia
Nokia Corp. is the European telecom equipment company that has undergone the biggest change of all in recent years. Late last year, Nokia announced it would sell its mobile phone business to Microsoft Corp., in a deal that was completed in April of this year.
In Figure 3, one can see the effects of this massive divestiture on the remainder of the company's warranty accounting. There's very little product revenue left in the company, and very little warranty expense left to compare against it. The company's revenue dropped from 30.2 billion euros in 2012 to 12.7 billion euros in 2013. Warranty claims dropped from 596 million euros in 2012 to 31 million euros in 2013, and accruals dropped from 340 million to 65 million. The expense rates dropped accordingly.
Figure 3
Nokia Corp.
Average Warranty Claims & Accrual Rates
(as a % of product sales, 2003-2013)
It's hard to believe that at times during the 1990s, Nokia was Europe's largest company of any kind in terms of market value. It was a pioneer in mobile telephony and in fact may have invented the mobile data network as well as interconnections between mobile phones and email networks. And at times during the past decade, it was the world's leading manufacturer of mobile phone handsets, launching iconic models such as the Nokia 1100 and its cousin the 1110, of which some half-billion were produced and sold worldwide.
Now, much of that legacy passes to Microsoft, which ironically has already discontinued the public disclosure of its warranty expenses now that the amount of Xbox warranty work has dropped back down to normal levels. But with the launch of the Surface and other handheld hardware, not to mention the addition of the Nokia product line, we can't see how its auditors will continue to allow Microsoft to dismiss its warranty costs as immaterial, and therefore not worth reporting.
Electrolux Appliances
Next we turn our attention to one of Europe's largest household appliance manufacturers. Electrolux AB, like Ericsson, is based in Sweden and reports its revenue and warranty expenses in Swedish kronor. But since we're using just the percentages and not the currencies, it doesn't have an effect on the data in Figure 4.
For most of the past 11 years, Electrolux has enjoyed a slowly but surely declining warranty expense rate. Claims and accrual rates were around one percent from 2003 to 2007, but have been heading lower ever since. In 2013, the company spent just over 0.7% of its product revenue on warranty claims and set aside just under 0.7% in warranty accruals. It was the company's lowest-ever accrual rate and its second-lowest-ever claims rate, coming in just above 2004's level.
Figure 4
Electrolux AB
Average Warranty Claims & Accrual Rates
(as a % of product sales, 2003-2013)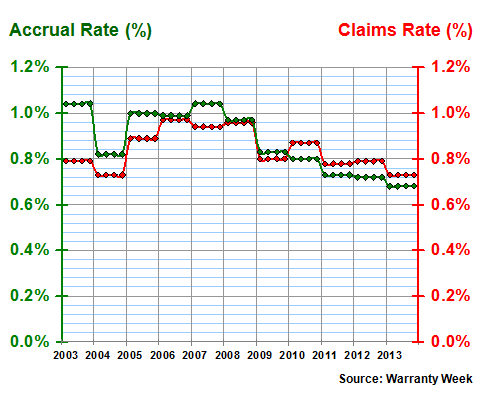 Electrolux started out in 1901 as a company named Lux that manufactured kerosene lamps for railway stations. Then it began to diversify into household appliances. The Lux 1, the company's first vacuum cleaner, was launched in 1912. Electrolux has since that time become a major provider of appliances not only across Europe, but also in the U.S., Canada, Brazil and Australia as well. Among the brand names the company controls are Tappan, Philco, White-Westinghouse, Kelvinator, Gibson, Eureka, and Frigidaire.
Pennsylvania Dutch
CNH is another European company with a long history in the U.S. Its name, in fact, comes from the merger of Case and New Holland, the latter of which was based in New Holland, Pennsylvania. Meanwhile, Case was founded in 1844 in Wisconsin by a farm equipment manufacturer named Jerome Increase Case.
Over the next century-and-a-half, Case and New Holland were merged and mixed and acquired and divested by a variety of owners including Tenneco, International Harvester, Sperry, Ford, and finally Fiat. Most of the data in Figure 5 comes from the entity known as CNH Global N.V., but the data since 2012 is for an entity called CNH Industrial N.V., which includes CNH Global as well as some of the truck and powertrain operations spun off from Fiat and merged into the company at that time.
Figure 5
CNH Industrial N.V.
Average Warranty Claims & Accrual Rates
(as a % of product sales, 2003-2013)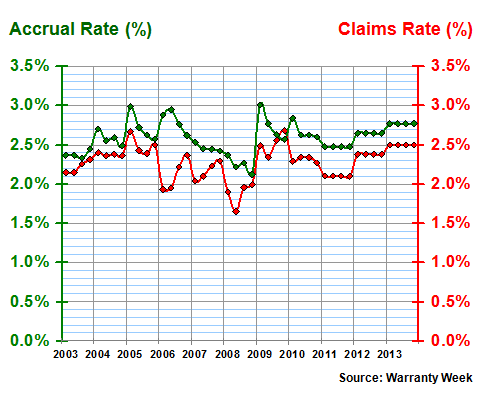 We're not including revenue figures here, but we note that the biggest change from CNH Global to CNH Industrial came in the form of a massive boost in revenue. Product sales for CNH Global were just over US$18 billion in 2011. Product sales for CNH Industrial topped US$31.5 billion in 2012, and US$32.6 billion in 2013.
Yet the claims and accrual rates in Figure 5 were little changed during the transition. In other words, the warranty expense rates of CNH Global, Iveco, and all the other pieces that went into CNH Industrial were comparable, and the sum of the parts grew proportionally in terms of both revenue and warranty costs.
We should note that during the entire period from 2003 to 2010, CNH Global was reporting its warranty expenses on a quarterly basis. That's why the company's warranty expenses look more volatile before the merger than afterwards. However, keep in mind that except for that curious drop in claims in 2008, the company has done a remarkable job of keeping its warranty expense rates relatively steady at rates between two and three percent.
Industrial Automation Equipment
Siemens AG and ABB Ltd. together are more or less the European equivalent of the American conglomerate General Electric Co. These are the companies that compete for much of the power generating equipment business, including renewable energy market segments such as wind power and solar. GE and Siemens compete in medical equipment and transportation equipment. GE and ABB compete in equipment for electrical utilities. And all three compete in the industrial process automation equipment market.
In Figure 6, we've charted the warranty expense rates of Siemens. Note that the company used to disclose its warranty expenses on a quarterly basis until September 2006. Since then, it has switched to an annual schedule. And since its fiscal year ends on September 30, the expense rates we've calculated for each group of four consecutive quarters are stretched over the fourth quarter of one calendar year and the first, second and third quarters of the following calendar year.
Figure 6
Siemens AG
Average Warranty Claims & Accrual Rates
(as a % of product sales, 2003-2013)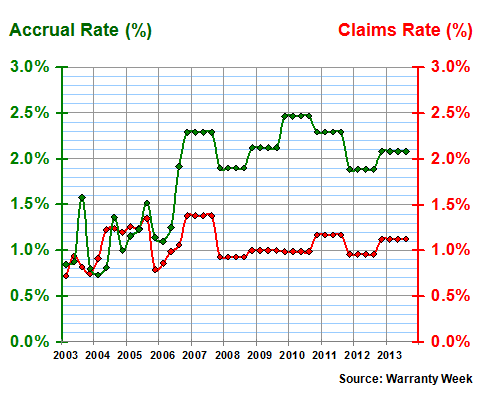 If anything, Siemens is the most predictable and consistent of the European warranty providers we're profiling this week. Its claims rate has always been steady near one percent and its accrual rate has remained close to two percent since at least late 2006.
However, as a result of the gap between its claims and accrual rates, or more precisely the excess created by accrual rates that always exceed claims rates, the company has been accumulating unspent and unneeded warranty funds, which it periodically has to remove from its reserve fund. It took 683 million euro out of its warranty reserve fund last year; 847 million euro out in fiscal 2012; took out 845 million euro in fiscal 2011; and removed 554 million euro in fiscal 2010. Wouldn't it be much easier to just reduce accruals to more realistic levels to begin with?
Neither Up Nor Down Trend
ABB, meanwhile, well we just don't see a trend in the company's warranty expense data. What at first looks like spikes in accruals in 2006 and 2009 are mere molehills that look like mountains only because of the stretched vertical scale used in making the chart. There's an upward trend in claims rates from 2003 to 2007, but there's been little change ever since. Accrual rates exceeded claims rates from 2003 to 2010, but that pattern reversed itself from 2011 to 2013.
Figure 7
ABB Ltd.
Average Warranty Claims & Accrual Rates
(as a % of product sales, 2003-2013)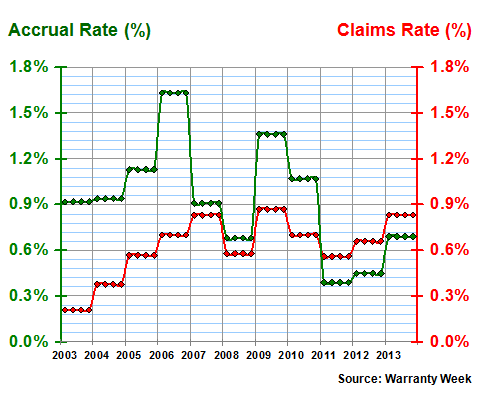 Absent any currency figures, it's difficult to tell which are the largest warranty providers of Europe. But among these seven companies, plus the five European automakers included in the July 17 newsletter, we think we've got 12 of the largest warranty providers of Europe in our sights. Although we've avoided currency conversions, we just can't resist the urge any longer.
US Dollar Conversions
In dollar terms, the automakers are clearly the largest of the European warranty providers. In 2013, Volkswagen AG spent close to US$9.5 billion worldwide on warranty claims, making it perhaps the world's largest warranty provider. We can't think of one that could be larger.
Apple is around US$4 billion; General Motors is around US$3 billion; and Ford is around US$2.3 billion. So to put it another way, at current exchange rates, VW spends more on warranty claims per year than Apple, GM and Ford combined. And they're the U.S. numbers one, two, and three.
Meanwhile Daimler AG, Fiat S.p.A., PSA Peugeot Citroën, and BMW AG each spent between US$1.3 and US$3.1 billion on warranty claims, at current exchange rates. That means VW spent more on warranty claims worldwide in calendar 2013 than the four of them combined. But of course, there are differences in unit sales volumes, product line, geographies and other factors that make direct comparisons problematic. Still, that's another way of saying that nobody comes close to VW, in terms of being the world's largest warranty provider.
After the five automakers, Siemens comes next on our European list, with calendar year spending on warranty claims totaling around US$1 billion a year. Then comes CNH at US$815 million. ABB is next at US$390 million, followed closely by Alcatel-Lucent at US$381 million. Then it's a bit of a drop to Ericsson at US$142 million and Electrolux at US$119 million.
Nokia, which used to outspend even some of the car companies in its heyday, is almost off the chart at only US$41 million spent on warranties in 2013. We follow the warranty expenses reported by roughly 36 more international manufacturers, and six of those spent more than US$41 million last year. In other words, Nokia is no longer among the world's largest.
As we said, next week we'll profile seven Asian warranty providers. Six of them are based in Japan and one is based in India. Three are manufacturers of passenger cars and heavy equipment, while four are consumer electronics and computer companies.