August 14, 2014
Asian Manufacturers' Warranties:
While most consumer electronics products have relatively low warranty expense rates, as a percentage of revenue, computers generate as much warranty cost as passenger cars and major appliances.
Warranty is a worldwide operation, although most of the attention is focused on U.S.-based manufacturers. Part of the reason for the U.S. focus is the existence of very specific U.S. accounting rules governing disclosure of warranty expenses, which causes most American manufacturers to disclose their warranty costs in their financial statements on a quarterly basis.
However, some international companies get swept up in those requirements as well. Either because they sell shares of stock in New York, have sold bonds on U.S. exchanges, or because they simply want their financial statements to follow Generally Accepted Accounting Principles, these non-American companies also include details about their warranty expenses in their annual reports.
Seven Asian Manufacturers
This week, we're going to provide snapshots of seven Asian companies that disclose their warranty costs in their annual reports. In last week's newsletter, we provided snapshots of seven European companies that do the same. In the July 17 newsletter, we profiled five European and two Asian car manufacturers.
In all the company snapshots below, we've tried to concentrate on the relative size of the warranty expenses, expressing them as a percentage of product revenue. That way, there's no need for currency symbols or foreign exchange conversions. And by the upward or downward slope of the percentages, or by the flatness of the lines over the past decade, one can tell whether warranty expenses represent an increasing, decreasing, or constant share of a given company's sales revenue.
Let's start with Sony Corp., the inventor of handheld consumer electronics. Long before Apple was making iPods, Sony launched the Walkman, which made personal music portable more than 35 years ago. It's also been a pioneer in videotapes, floppy disks, compact discs, memory sticks, and numerous other portable storage technologies.
Sony traces its origins back to an electronics shop opened in Tokyo in May 1946. The company's name was changed to Sony in 1958, and Sony Corp. of America opened two years later. It began exporting transistor radios, soon to be followed by televisions, cameras, and all sorts of consumer audio and video equipment.
Before calculating the company's warranty expenses, we first have to subtract out all the entertainment revenue from films and music, as well as all the finance revenue. We really want to look at just the units that produce televisions, cameras, Vaio laptop computers, the PlayStation game consoles, and other electronics equipment. We don't want to look at the services, media, or software. And in the year ended March 31, 2014, that meant subtracting more than a third of the company's total revenue, which in turn raises the company's warranty expense rates.
Paying For Computer Repairs
Another thing that raises the company's warranty expenses is its presence in the laptop computer industry. Unlike transistor radios and CD players, this product line generates some serious warranty expense, comparable to what we see with passenger cars and major appliances.
In Figure 1 we see a gradually rising expense rate, peaking in terms of both the claims and accrual rate in the most recently completed fiscal year. It should come as no shock to hear that earlier this year, Sony decided to divest its computer business, allegedly because of poor sales, but possibly also because of high repair costs.
Figure 1
Sony Corp.
Average Warranty Claims & Accrual Rates
(as a % of product sales, 2003-2014)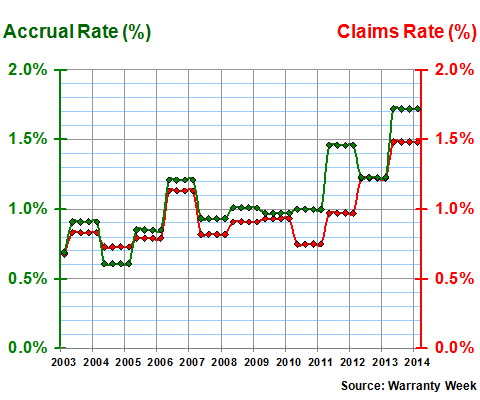 We've always maintained that the home computer business is different from the rest of the consumer electronics landscape. Sure, there have been some disasters with rear projection televisions and with new market entrants that forgot to make spare parts (condolences to the service contract sellers who were the last to know that). But for the most part, today's consumer electronics are either very reliable or dead on arrival. When you open the box, either it's going to work for a long time or it doesn't work at all.
Low Loss Ratios?
This makes the sale of extended warranties rather lucrative. Those failures out of the box are exchanged by the retailer, and sent to landfill. A very low percentage fail under the initial product warranty, and then very few fail under the extended warranty. So warranty work is unlikely. And low loss ratios are highly likely.
That's not so with major appliances or personal computers. For those kinds of products, manufacturers have to plan on spending two or even three percent of revenue on warranty claims. But for televisions and other digital electronics? Even one percent is high.
The proof of this is right here above and below. In the Sony chart above, what we see is the cost of computing creeping up on a company that makes highly reliable consumer electronics. But in the chart below, we see Panasonic Corp. managing to score a new low tide mark with the warranty expense rates reported in its most recent fiscal year.
Panasonic's warranty expense rates weren't ever that high to begin with. The peak, if we can call it that, came in the recessionary year ended March 31, 2010, when its claims rate hit 0.6% and its accrual rate topped out at 0.7%. Now those rates are at 0.3% and 0.4%, respectively. It's not zero, but it's awfully close.
Figure 2
Panasonic Corp.
Average Warranty Claims & Accrual Rates
(as a % of product sales, 2003-2014)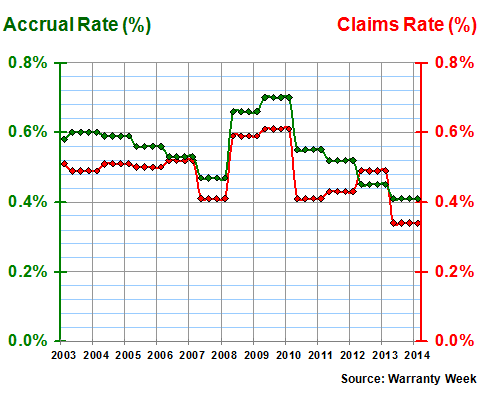 Panasonic got its start in southern Japan in 1918, making light fixtures under a different company name that we shall not write for fear of an overzealous spam filter misinterpreting its meaning. The company jumped into consumer electronics 70 years ago and began importing TVs to the U.S. in the 1960s, and has accumulated brands such as National, Technics, Emerson, and Sanyo along the way. It took on the Panasonic brand name as its corporate identity in 2008.
Sure, Panasonic has a line of rugged laptop computers and tablets called the Toughbook and the Toughpad. But they're not a major part of the overall product line, and besides, they're engineered to withstand drops, spills, dust and grime, and to perform in the harshest environments. In other words, they're not warranty expense magnets, like regular laptops are.
It's likely that once the Vaio product line is off the Sony books, its warranty expense rates will drop down to approach Panasonic's. But let's not rely on Panasonic alone to support our theory that sub-one-percent warranty expense rates are normal for consumer electronics companies. Let's keep going.
High Quality Cameras
Canon Inc. got its start as a camera manufacturer in Tokyo in 1937. And as Sony is to TVs, Canon is to cameras. In fact, their innovation and reliability are such that they even command a premium on the used equipment market.
In Figure 3, there's a clear problem in the product line from 2007 to 2009. But again, as with Panasonic, let's look at the magnitude of the peak. We're talking 0.75% of revenue going towards warranty accruals in 2008, and about 0.7% in both 2007 and 2009. That peak would be at the low end of Sony's numbers.
Figure 3
Canon Inc.
Average Warranty Claims & Accrual Rates
(as a % of product sales, 2003-2013)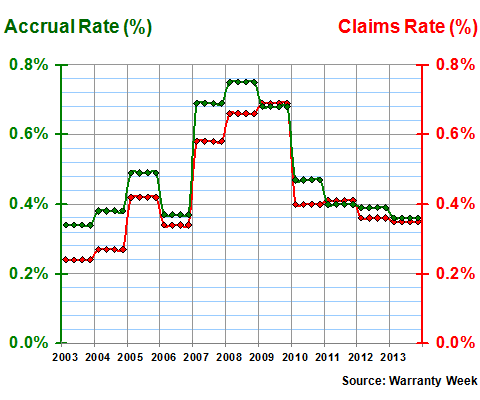 Also, Canon's warranty expense rates have fallen back to around 0.4% in the past four years, though they were a bit lower than that back in 2003 and 2004. Oh, and we should mention that while it is traditional for Japanese companies to end their fiscal years on March 31, Canon is one of the few that follows the calendar year. That's why in Figure 3 we have 11 years and 11 pairs of rates, all in neat columns. Sony and Panasonic are shifted one quarter forward.
Wide Range for Hitachi
In Figure 4, the warranty expense rates of Hitachi Ltd. may look a bit chaotic. That's because, over the years, the company has changed its warranty expense reporting schedule several times. From 2003 until early 2008, Hitachi released its warranty data twice a year, with each report covering two quarters. But then from 2008 to 2011, it changed to a quarterly frequency. Since then, the reports have been annual.
Except for that chaos in the middle, the company's warranty expense rates have been declining for a decade. However, keep in mind that those peaks and valleys would have been flattened out considerably by either once-a-year or twice-a-year reporting. And again, as with Canon, the peaks aren't really that high -- never getting above one percent.
Figure 4
Hitachi Ltd.
Average Warranty Claims & Accrual Rates
(as a % of product sales, 2003-2014)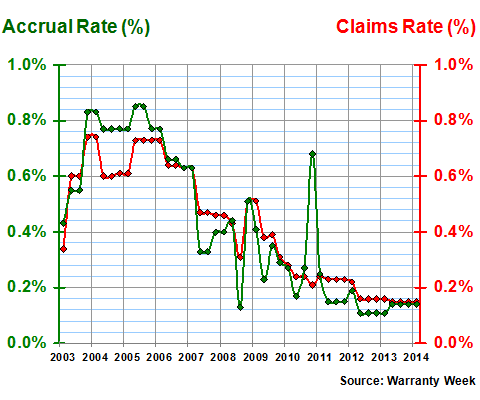 Hitachi is a bit different from the others. While it makes televisions in competition with Sony and Panasonic, its product line is much wider. In fact, it competes with everyone from United Technologies to Caterpillar to Whirlpool to General Electric with a diverse product line that includes elevators, construction equipment, home appliances, and even nuclear power plants.
The point is that it wouldn't be accurate to call Hitachi a consumer electronics company like the other three detailed above. But it does have a presence in consumer electronics. And as can be seen in Figure 4, it also has managed to keep its warranty expense rates below one percent for over a decade.
The Tata Conglomerate
More typical warranty expense rates can be seen in Figure 5, which documents a decade of warranty data from Tata Motors Ltd., the car, truck and bus maker based in Mumbai, India. It's part of the family-owned Tata Group, which was founded in 1868 by Jamsetji Nusserwanji Tata. Other members of the diverse group of steel, chemical, and industrial companies make everything from Tetley tea to Titan watches.
Tata Motors, however, is very specifically focused on vehicles. It has traditionally focused on trucks and other commercial vehicles, but then two things happened: First, it entered the Indian market for inexpensive and small passenger cars, and second, it acquired the British luxury car manufacturer Jaguar Land Rover Ltd.
That acquisition took place in 2008. And from a warranty perspective, it dramatically changed the parent company, which went from consumer electronics-like levels of warranty expense to claims and accrual rates closer to 3.5%. And this time, the change really is dramatic. It's not an optical illusion caused by a rather narrow vertical scale. The company's claims rate really did nearly quintuple overnight, as the then-defect-prone British carmaker became a new part of the family.
Figure 5
Tata Motors Ltd.
Average Warranty Claims & Accrual Rates
(as a % of product sales, 2003-2014)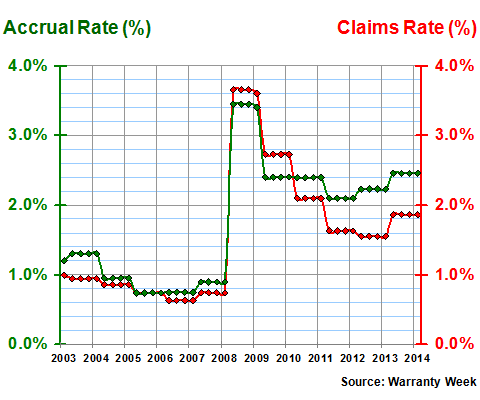 The good news is that Tata's expense rates have never again reach the heights they did in 2008. In fact, they've stabilized at a much lower level in the five fiscal years since then. And compared to some of the OEMs we covered in the July 17 newsletter, one could even say that Tata's warranty expense rates are now once again below average, given their industry.
Construction Equipment
Next we get to a pair of Japanese heavy equipment makers. Komatsu Ltd., with nearly two trillion yen in annual revenue, is the larger of the two, while Kubota Corp., founded in 1890, is the older of the pair.
Komatsu is a leading worldwide competitor of Caterpillar, in both construction and mining equipment. It was started as a mining equipment company in 1921, but it's also diversified into farm machinery and material handling equipment. In Figure 6 we see a company that has managed its warranty expense rates well, keeping them mostly between one and two percent of revenue.
Figure 6
Komatsu Ltd.
Average Warranty Claims & Accrual Rates
(as a % of product sales, 2003-2014)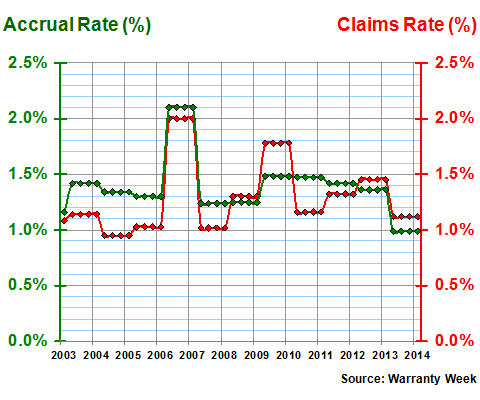 That is another attribute it shares with Kubota: the utter predictability of its expense rates. They never rise much, and they never fall much. In contrast, some of the American heavy equipment manufacturers such as Caterpillar and Deere & Company, not to mention the European-American company we profiled last week, CNH Industrial N.V., have seen their expense rates vary by much more from year to year. But if we measured them only once a year as well, it's possible they would produce similarly flat lines.
Figure 7
Kubota Corp.
Average Warranty Claims & Accrual Rates
(as a % of product sales, 2003-2014)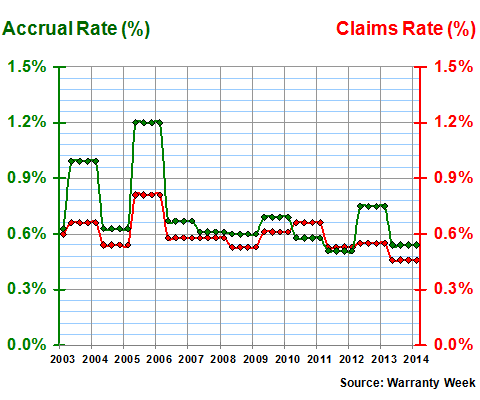 Again, the reason for the lack of curves in most of these charts is the fact that most of the international companies that report their warranty expenses at all do so only once a year. And like many other Japanese companies, both Komatsu and Kubota end their fiscal years in March, so their data is time-shifted by one quarter.
Worldwide Warranty Providers
Last week we profiled seven European manufacturers, and this week we profiled seven Asian manufacturers. And then last month we included seven European and Asian automotive OEMs along with two American OEMS. And if we were to add in all the U.S.-based truck and heavy equipment makers, along with the U.S.-based computer and telecom equipment makers, as well as all the U.S.-based appliance and HVAC makers, we think we'd have achieved coverage of the warranty metrics of a majority of the world's output in those industries.
The biggest omissions from the list of warranty expense-reporting companies are firms such as Samsung and Nissan. For the most part, everyone else is either reporting the warranties they have, or they don't have warranties.
And there is a huge part of the economy that doesn't involve warranties. In general, there are no product warranties involved in the operations of the oil companies, chemical companies, mining companies, banks, investment companies, electrical utilities, phone companies, apparel makers, food companies, entertainment companies, or the retailers, except perhaps as a customer of one of the manufacturers.
However, before we get angry letters from AutoZone and John Lewis, there are some retailers that add their own superior warranties on top of the meager guarantees issued by the manufacturers of some of the products they sell. And the retailers are deeply involved in the sale of extended warranties. Plus, there are lots of software and service companies that are lately getting into hardware sales, especially in industries such as mobile phones and tablets/readers.
The Worldwide Warranty Total
The point is, most of the world's warranty providers now announce their warranty provisions. In 2013, we estimate that approximately 550 U.S.-based manufacturers spent about $26.3 billion on worldwide warranty claims, representing about 1.25% of their US$2.1 trillion in product sales.
With these 21 European and Asian manufacturers, plus around 35 smaller international manufacturers that also report their warranty expenses, we think we have an additional US$32.5 billion spent on claims last year, against another US$1.8 trillion in sales of manufactured goods.
Add those together and you have US$58.8 billion spent on US$3.9 trillion. And that, we reckon, is more than half the world's total claims paid and products sold, and represents a 1.5% worldwide average claims rate.