September 25, 2014
Mining Equipment Warranties:
Things haven't been the same for mining equipment warranty expense rates since the recession started, though they're now close to getting back to normal. The problem is that so many of them also make construction equipment, and that market was impacted severely by the downturn.
Every year or two, we get around to counting up the warranty expenses of the manufacturers of mining equipment. The problem is that most of them make much more than just mining equipment, so they usually get covered more frequently elsewhere, in other industry categories.
This week, however, our interest in mining equipment companies was piqued by Monday's news that Siemens AG is planning to acquire the Dresser-Rand Group Inc. for $7.6 billion in cash. That acquisition will take out one of the top ten warranty providers on our list of 44 companies. So we wanted to say goodbye with a snapshot of how things stand now.
Mining & Construction Equipment
We started with a list of 44 U.S.-based companies that manufacture mining equipment and oil & gas handling equipment. There's an extensive crossover between this group and the construction equipment manufacturers, with companies such as Caterpillar Inc., Terex Corp., and Manitowoc Company Inc. leading both groups.
With most companies having reported their warranty expenses for the second quarter ended in June 2014, we now have 11-1/2 years of data on hand. In Figure 1, we've charted the quarterly claims payments of the mining equipment companies for the past 46 quarters.
Figure 1
Mining Equipment Product Warranties
Claims Paid by U.S.-based Companies
(in millions of dollars per quarter, 2003-2014)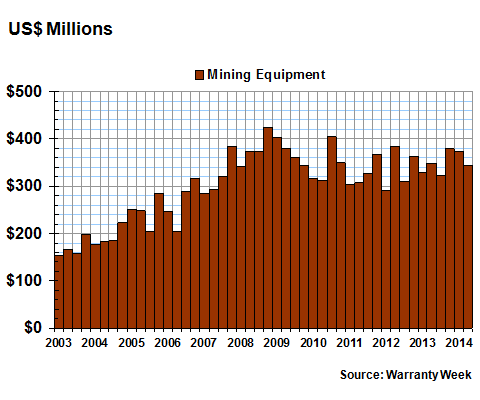 It's clear from the chart that they still haven't quite gotten back to the levels of late 2008 and early 2009, when claims payments peaked at levels above $400 million per quarter. In the first half of 2014, claims were up about 6% to $717 million, compared to $676 million in the first half of 2013.
On an annual basis, 2013 was up about two percent from 2012 levels, while 2012 was up about 3.5% from 2011 levels. But 2008 is still the peak year for claims payments, followed by 2009.
Different Story With Warranty Accruals
The story is slightly different with warranty accruals made by the mining equipment companies. As can be seen in Figure 2, there was a curious peak in accruals in the middle of 2011, when the $515 million quarterly total was more than $130 million above either the quarter before or the quarter after it. Except for that anomaly, caused in large part by an accrual spike at Caterpillar, the second-place peak came at the end of 2008 -- the beginning of the great recession.
Figure 2
Mining Equipment Product Warranties
Accruals Made by U.S.-based Companies
(in millions of dollars per quarter, 2003-2014)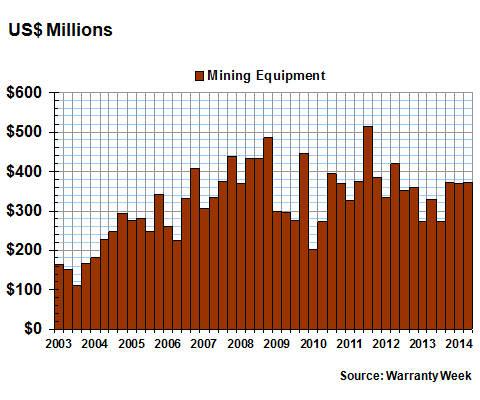 The trough came five quarters later, at the start of 2010, when once again a sudden change in accruals by Caterpillar drove the industry total to an extreme. But once again, the quarters immediately before and immediately after that anomaly were at more typical levels.
During the first half of 2014, accruals were way up, climbing from $602 million in the first half of 2013 to $742 million in the same period of this year. But the whole of 2013 was something of an aberration, with accruals down by 15% from 2012 levels. So if anything, the mining equipment companies have shown a propensity for sudden surges followed by sudden declines in their accrual levels.
Warranty Expense Rates
It's not always tied to changes in product sales volumes. As can be seen in Figure 3, the average expense rates for the mining equipment industry are far from flat, with claims rates falling from 2.2% in 2009 to 1.0% in 2012, and accrual rates falling from 1.9% in 2008 to 1.1% in 2013.
Figure 3
Mining Equipment Product Warranties
Average Warranty Claims & Accrual Rates
(as a % of product sales, 2003-2014)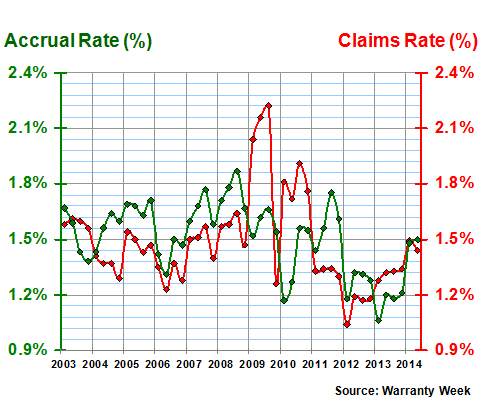 Notice that expense rates in the first half of 2014 are above the levels of both 2012 and 2013, while the claims rate in particular is at its highest level since 2010. Product revenue is flat, so the rising percentages imply rising levels of warranty work rather than falling sales.
Warranty Reserve Balances
In Figure 4, we're tracking the balances left in the warranty reserve funds of the 44 companies at the end of each quarter. Surprisingly, the industry's peak came in the second half of 2012, when warranty reserves rose above the $2 billion level for the first and only time. But there's also a secondary peak in late 2008 and early 2009, followed by that familiar recessionary trough.
Figure 4
Mining Equipment Product Warranties
Reserves Held by U.S.-based Companies
(in millions of dollars per quarter, 2003-2014)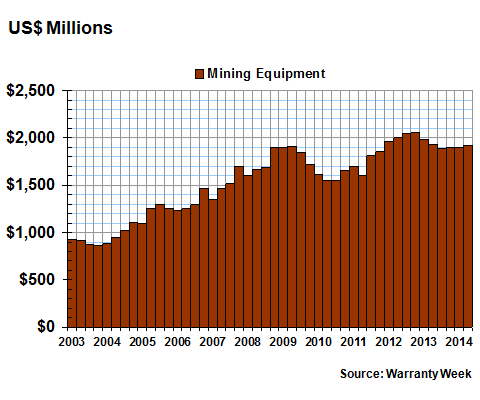 The balance as of June 2014 was $1.92 billion, down about $16 million from the balance at the end of June 2013. And it was about $133 billion below the peak seen at the end of 2012. Big declines at Caterpillar, Joy Global Inc., and Cameron International Corp., among others, were partially offset by big increases in reserve levels at Colfax Corp., Circor International Inc., and Astec Industries Inc.
Farewell to Dresser-Rand
Now let's look at some of the individual companies on the list. We'll start with the Dresser-Rand Group, whose recent acquisition by Siemens spurred the topic of this week's newsletter. As can be inferred from the company's name, it was formed as a joint venture between Dresser Industries and Ingersoll Rand back in 1986. In the three decades since, it's passed through the hands of both Halliburton Co. and a private equity firm, which spun it back out as a public company in 2005.
In Figure 5, there is no warranty data for 2003, and the warranty data for the first two quarters of 2004 is estimated from six-month data. That's because the papers filed in advance of the initial public offering, which took place in August 2005, contained some year-ago data, which covered most of 2004 but none of 2003.
Figure 5
Dresser-Rand Group Inc.
Average Warranty Claims & Accrual Rates
(as a % of product sales, 2003-2014)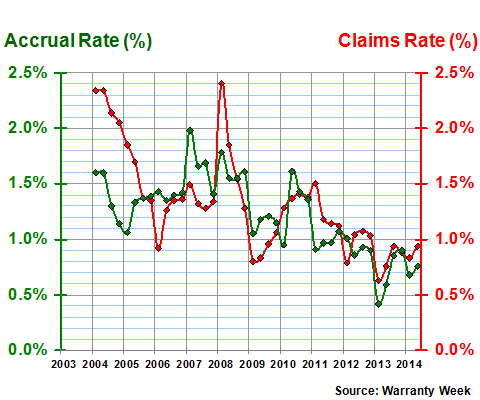 As has been the theme of the mining equipment industry, the expense rates in Figure 5 show quite a bit of quarter-to-quarter volatility. However, viewed from a distance, the data suggests an overriding downward trend, with expense rates in 2013 and 2014 being among the lowest the company has ever reported. All in all, it's a good way to make an exit, and to join a company that's known for its steady warranty expense rates.
Increasing Volatility
Joy Global, on the other hand, displays the opposite tendency. From 2003 to 2012 its warranty expense rates have been somewhat steady. But as can be seen in Figure 6, its expense rates and particularly its claims rate has been somewhat chaotic in the last year and a half.
Figure 6
Joy Global Inc.
Average Warranty Claims & Accrual Rates
(as a % of product sales, 2003-2014)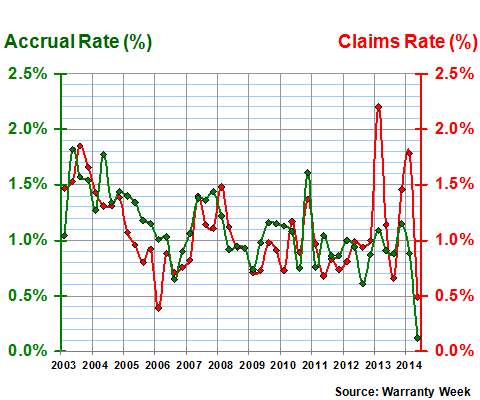 Joy Global's highest claims rate came at the beginning of 2013, and its second-lowest claims rate came in the second quarter of 2014. Its accrual rate hasn't gyrated as wildly, but the 0.1% accrual rate seen in the most recent quarter is unusually low. Then again, its claims rate was also unusually low in the most recent quarter. So at least it's being consistent in that respect -- both its expense rates are falling to unusually low levels at the same time.
Caterpillar & Bucyrus
In Figure 7, we've taken the unusual step of charting two companies at the same time. That's because Caterpillar acquired Bucyrus International Inc. in 2011, in a deal worth $8.6 billion at the time. Though their product lines were similar, Caterpillar was more focused on construction equipment while Bucyrus was more focused on mining equipment.
Figure 7
Caterpillar & Bucyrus
Average Warranty Claims & Accrual Rates
(as a % of product sales, 2003-2014)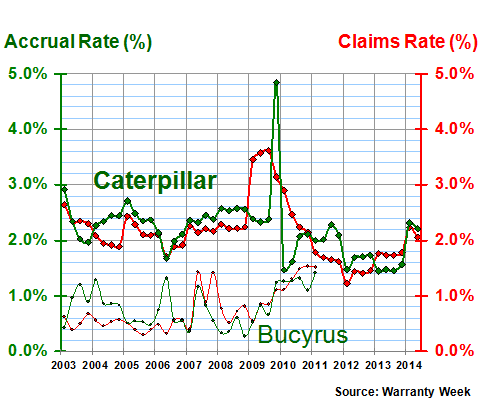 The most striking thing about Figure 7 is how Caterpillar and Bucyrus seem to have also merged their respective warranty expense rates. At the time of the acquisition, Caterpillar's rates were falling below two percent and Bucyrus' were rising above one percent. During 2012 and 2013, in fact, the combined companies' expense rates remained in a range of 1.5% to 1.7%.
Nowadays, the Caterpillar Global Mining organization is headquartered in Oak Creek, Wisconsin, and maintains its own website at http://mining.cat.com. It claims to offer the broadest line of surface and underground mining equipment in the industry, including the monster 797F mining truck, which can carry loads of up to 400 tons (363,000 kilograms). It's powered by a 106-liter, 20-cylinder, turbocharged Caterpillar C175-20 engine rated at 4,000 horsepower. A coat hook, heated seats, tinted windows, and a cup holder are included as standard equipment.
Atlas Copco, Sandvik & Metso
Finally, we wanted to include three European construction and mining equipment companies in the discussion. Two are from Sweden and one is from Finland. The two Swedish companies have long histories that go back to the 1800s, while the Finnish company was formed a relatively recent 15 years ago out of some assets then owned by the Finnish government.
The Swedish companies are Atlas Copco AB and Sandvik AB. The Finnish company is called Metso Corp.
All three companies manufacturer much more than just mining equipment. Atlas Copco makes tools, compressors, and generators, in addition to construction equipment. Sandvik is also involved in construction equipment and tools, and also manufactures steel tubing, conveyor belts, and thermal processing equipment. Metso also makes construction equipment, as well as process automation and flow control systems. It divested its paper and pulp businesses last year.
The reason we can include all three on the same chart, as we have done in Figure 8, is because only Metso does a good job of segmenting what is and what isn't a warranted product. About half of Metso's total revenue comes from services, so the claims and accrual rates we calculate are higher because we've deducted that non-warranted revenue from the calculation.
Atlas Copco and Sandvik probably also have some service revenue, as well as some non-warranted product sales. But they don't segment those adequately, so as a result, their calculates claims and accrual rates are much lower, because we're dividing by total revenue with no deductions.
Figure 8
Three European Mining Equipment Companies
Average Warranty Claims & Accrual Rates
(as a % of product sales, 2003-2013)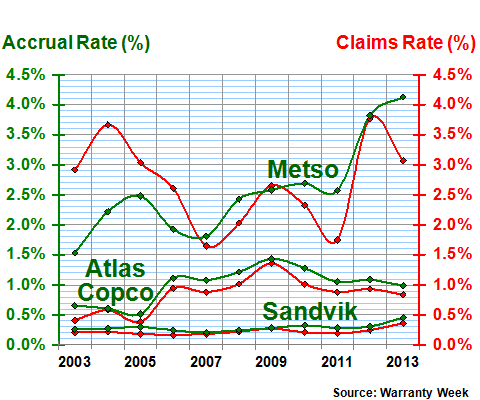 Metso has warranty expense rates comparable to Caterpillar's, though we probably shouldn't compare companies, especially those who operate under different currencies, different accounting rules, and different tax rates and labor rates. But the point is that Metso's expense rates fit well with those of their competitors, while Atlas Copco's and Sandvik's seem artificially low.
But again, that's probably a function of the product mix. Sandvik's Materials Technology business unit is making steel wire, tubes, pipes, strips, and bars that are not normally covered by product warranties. Atlas Copco has an equipment rental operation and a suite of training and maintenance services that don't generate external warranty expenses. But we have to count them because there's no segmentation in the annual reports.
Still, it's useful to be able to see a given company's expense rates over time. In Figure 8 we can see that Atlas Copco had elevated recession-related expense rates from 2008 to 2010, but is now actually a bit below its 2006-2007 expense rates. Metso is now actually at the high end of its 11-year track record, while Sandvik has remained relatively steady for the entire period (though recently it's also been at the high end of its range).