November 20, 2014
Truck, Bus & RV Warranties:
Most of the manufacturers are finding ways to reduce warranty costs, but some of the recent increases have been spectacularly huge. Still, the OEMs pay out more than their suppliers do, though the gap is narrower than it is in the passenger car industry.
With commercial vehicles, each major component is warranted directly by the manufacturer, which is different than the passenger car industry, where the final manufacturer's factory warranty covers the entire vehicle. This would seem to eliminate the inefficiency of supplier recoveries. particularly of labor costs, and should therefore reduce the warranty expense rate gap between the OEMs and their suppliers. But it doesn't.
In this week's newsletter we're considering the warranty expenses of highway truck manufacturers such as Navistar and Paccar, vocational truck makers such as Oshkosh and Federal Signal, bus and RV makers such as Navistar, Thor Industries, and Winnebago, diesel engine makers such as Cummins and Caterpillar, and other truck and bus drivetrain and parts suppliers such as Eaton, BorgWarner, Dana, Allison Transmission, Wabco and Meritor. It's a list of 52 companies in all.
More importantly, we're excluding the light truck and passenger car makers such as GM, Ford and Chrysler, which we covered in the past two newsletters. We're not including the makers of forklifts, motorcycles, ATVs, golf carts, or other small vehicles. We're also excluding the automotive suppliers that don't make huge diesel engines, truck axles, or parts and systems for the interiors of buses or RVs. And we're not including companies whose primary products are used off-road in industries such as farming or mining.
We're not including companies based outside the U.S. that nevertheless have significant sales operations within it, such as Volvo Trucks, Daimler, Volkswagen, Toyota, Tata, Scania, Henlys, and New Flyer Industries. And we're also not including the international farm, construction and mining equipment companies such as CNH, Komatsu, Kubota, Atlas Copco, and Sandvik. Their turn will come at a later date.
One Truck, Many Warranties
What's left is a list of U.S.-based truck, bus and RV manufacturers and their primary suppliers, particularly the drivetrain suppliers. What's different about them, as compared to the consumer-oriented passenger car makers, is how they each provide a separate warranty to their customers. Cummins or Caterpillar might separately cover their diesel engines, and Eaton and Dana might separately cover their transmissions and driveshafts from the vehicle and chassis coverage provided by OEMs such as Navistar or Paccar. In contrast, the coverage from passenger car OEMs such as GM or Ford is typically bumper-to-bumper.
What we wanted to see was whether this difference changes the relationship between the warranty expense rates of the OEMs and the suppliers in the truck industry. In passenger cars, we've seen a typical two-percent gap, where the OEMs are paying out around 2.5% of their revenue in warranty costs, while their suppliers are closer to 0.5%. With trucks, the gap seems to be about one percent, which is smaller but is still not immaterial.
In Figure 1 below, therefore, we're splitting the list of 52 companies into truck OEMs and truck suppliers. But because Caterpillar is a bit of both, and because its warranty expenses are so comparatively large, we're setting it off on its own. So there are 20 OEMs and 33 suppliers, with Caterpillar counted as both.
Caterpillar is a major supplier of not only complete vehicles used in mining and construction equipment but also diesel engines used in highway trucks. So it is both an OEM and a drivetrain supplier. Admittedly, its "yellow goods" OEM product line is more like the off-road businesses of companies we're excluding, such as Deere, AGCO and Terex, but how else to include a major diesel engine supplier?
However, with annual product revenues over $50 billion and annual warranty claims over $900 million, Cat by far the biggest of the bunch, accounting for a third or more of the entire truck industry's warranty costs. So if we counted it as only one or the other, as either OEM or supplier, it would double the size of that group. Better to set it off on its own, so it can be considered part of either category.
Caterpillar in the Middle
What we did, therefore, is to put Cat in the middle. If you think it should be a truck OEM, count the OEM and Cat slices together. If you think it should be a truck supplier, count those two pieces together. If you think it should be neither, look at just the top and bottom slices in Figure 1.
Figure 1
Truck, RV & Bus Warranties
Claims Paid by U.S.-based Manufacturers
(in millions of dollars per quarter, 2003-2014)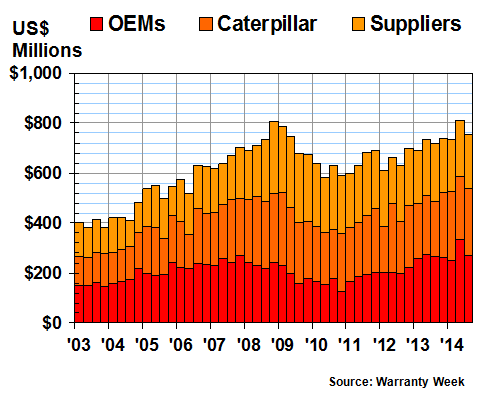 In the first nine months of calendar 2014, claims payments by the entire group of 52 companies grew by 7% to $2.3 billion. Claims payments grew significantly faster for Caterpillar, but actually fell for the other suppliers. The other OEMs saw claims grow close to the overall industry rate.
Besides Caterpillar, the truck manufacturers and suppliers that also saw big jumps in claims payments included Paccar, BorgWarner, and Thor Industries. The companies with the largest declines included Navistar, Dana and Allison. However, keep in mind that because sales might have grown or fallen at a different rate, the same outcome in terms of claims as a percent of sales is not a given.
Notice that total industry claims payments hit a new high of $810 million in the second quarter of 2014, finally surpassing the pre-recession high of $809 million seen in the final quarter of 2008. The bottom of the recessionary trough came in mid-2010, when manufacturers paid out under $600 million per quarter for the first time since 2006. We're not saying that rising claims are a good thing, but they are a sign of recovery.
Accrual Totals
With warranty accruals, there is usually a tighter coupling with sales totals. Unless product quality or the cost of repairs changes, accruals usually rise and fall in proportion to sales, so the accrual rate -- accruals as a percentage of sales -- remains unchanged.
In Figure 2, we can see that accruals have been rising. For the first nine months of 2014, accruals are up about 14% to $2.2 billion, compared to the first nine months of 2013. Both Caterpillar and the other OEMs saw faster rates of increase than the industry average, while the suppliers as a group actually saw accruals contract a little bit.
Figure 2
Truck, RV & Bus Warranties
Accruals Made by U.S.-based Manufacturers
(in millions of dollars per quarter, 2003-2014)
Besides Caterpillar, the biggest gains in accrual totals were reported by Paccar, Wabco Holdings and Dana. The biggest declines in accrual totals were seen at Navistar, Meritor, and Oshkosh. Thor, Ingersoll-Rand and Cummins kept accrual totals relatively unchanged.
Again, as with claims, accrual totals have once again surpassed their pre-recession highs. Accruals topped $839 million in the second quarter of 2014, which is higher than any quarter in 2008 or before.
However, there was one quarter in 2011 in which Caterpillar's extra-large accrual sent the industry total over $900 million for the first and only time. And there have been other occasions where both the other OEMs and the other suppliers saw higher totals. In fact, back at the end of 2004, Navistar increased its quarterly accruals to such a height that the OEMs set a record that has yet to be beat.
Compared to Sales Revenue
What matters more is how these warranty expenses relate to revenue. If sales are soaring, it's fine if warranty expenses are also soaring. It's a sign of high turnover. And if sales are plummeting, warranty expenses should also do so, except it doesn't always work out that way.
What we've done in Figures 3 and 4 is to take the list of 52 companies and once again divide them into two groups. Caterpillar is counted in both, so it's two groups comprised of 20 OEMs and 33 suppliers. In Figure 3 we're charting the claims rates of both groups, and in Figure 4 we're comparing their accrual rates.
Figure 3
Truck, RV & Bus OEMs & Suppliers
Average Warranty Claims Rates
(as a % of product sales, 2003-2014)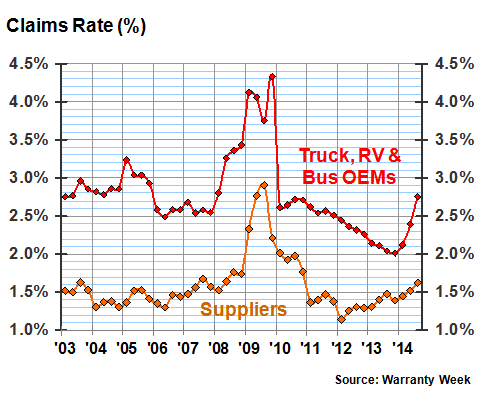 Note that at every point, in every quarter, the claims rates of the OEMs is always greater than that of their suppliers. The same is true of their accrual rates, in Figure 4, although their lines almost touch in 2009 and again in 2014.
Notice the big spike in claims rates seen in 2009, for both groups. This is what happens when sales dive during a recession. Those who bought equipment just before the recession feel an urgency to keep it in good working order, so claims rise a bit. But since sales are plummeting, you're fixing last year's units with this year's money, and the claims rate soars. As soon as sales get back to normal levels, so does the claims rate.
The more significant point is that in most periods, there's only about a one to 1.2 percentage point difference between the two groups. The long-term claims rates of the OEMs are close to 2.8%, and the suppliers are close to 1.6%. The OEMs' accrual rates are a bit lower, but the suppliers' average accrual rates are about the same as their claims rates. Even if you disregard the 2008 and 2009 data, the long-term difference between the two groups is about one percent.
Figure 4
Truck, RV & Bus OEMs & Suppliers
Average Warranty Accrual Rates
(as a % of product sales, 2003-2014)




In contrast, if passenger cars are included, the industry averages rise for the OEMs and fall for the suppliers. And the gap widens to about two percent over the long term, though it has lately narrowed because of stepped-up supplier recovery efforts by the OEMs.

In the trucking industry, the gap between the accrual rates of the OEMs and the suppliers has recently almost disappeared. At the end of September 2014, there was only 0.2% of space between them -- the closest they've been since 2009. With claims rates, because of the big jumps in the individual claims rates of major players such as Paccar, Caterpillar, Meritor, Oshkosh, and Wabco Holdings, the average percentage rates of both groups has been rising in 2014, and the gap has remained.

Now let's look at some of the larger players in the truck manufacturing industry. We covered Caterpillar in the September 25 newsletter and covered Navistar International in the November 13 newsletter, so two of the largest are off the table. On the basis of claims payments, next come Paccar and Cummins, so let's deal with them in order.
Paccar Sees Expense Rates Rise
Paccar, through its own brand as well as Kenworth, Peterbilt, DAF Trucks, and Leyland Trucks, is one of the world's largest truck OEMs. Truck and parts revenue topped $15.9 billion last year, and is up more than 11% for the first nine months of this year.
In terms of warranty expense, it's not Paccar's best year. Claims and accruals rose significantly since March, and Paccar has actually now surpassed Cummins to take third place behind Cat and Navistar on that unfortunate list. But as can be seen in Figure 5, the years from 2009 to 2011 were even more turbulent, with both higher highs and lower lows.
Figure 5
Paccar Inc.
Average Warranty Claims & Accrual Rates
(as a % of product sales, 2003-2014)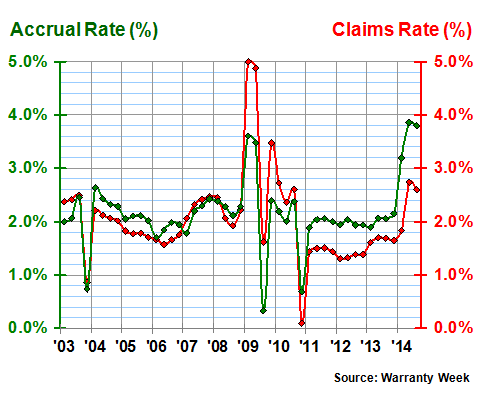 Cummins, on the other hand, has seen its warranty costs stabilize and even decline a bit since the recessionary chaos of 2009 and 2010. As can be seen in Figure 6, in early 2014 the diesel engine manufacturer reduced its accrual rate below two percent, and by the third quarter its claims rate was down to 2.2%.
Neither metric sets a record for the company, but it's clear that warranty expense rates in 2011-2014 are well below the levels of 2006-2008 or 2003-2004. The short and sudden drop in 2005, by the way, we believe is just a timing issue, where warranty expenses that should have been handled in the fourth quarter were instead handled in other periods.
Figure 6
Cummins Inc.
Average Warranty Claims & Accrual Rates
(as a % of product sales, 2003-2014)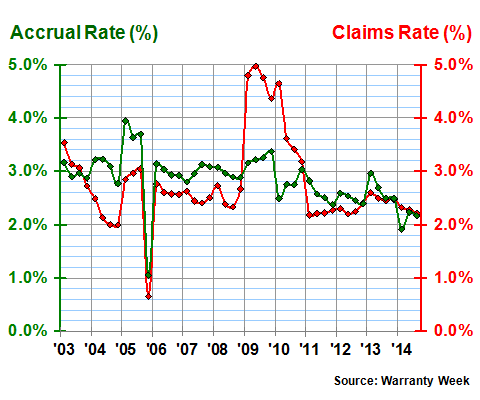 Eaton is a little different from the others in two respects. First, it is a major player in both the aerospace and the trucking industries, so not all of what's in Figure 7 is from transmissions and drivetrain components. Second, the company reports its warranty expenses only once a year, in its annual report. So we've spread out the expense rates over four quarters, to follow the format of the other companies.
And the news is good. Except for that period from 2007 to 2009 leading up to the depths of the recession, Eaton has been cutting its warranty expense rates year after year. We won't have any 2014 data until the company publishes its next annual report in February, but in the year ended December 31, 2013, the company saw both its claims and accrual rates fall below 0.5%.
Figure 7
Eaton Corp.
Average Warranty Claims & Accrual Rates
(as a % of product sales, 2003-2013)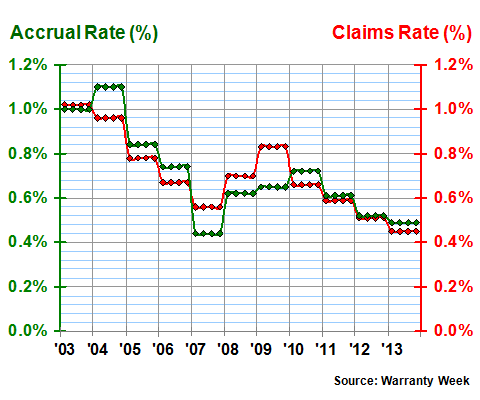 Dana is another warranty success story. Its claims and accrual rates are now half what they were just a few short years ago. However, as can be seen in Figure 8, its warranty expense rates were rising from 2003 to 2009. And its accrual rate actually hit bottom in 2012, and has been slowly creeping up ever since.
Dana's 0.2% to 0.6% expense rate range in recent years places it significantly below the industry average for truck part suppliers. Although it's not making the costliest components such as heavy duty diesel engines, it is part of the drivetrain sector. And in that part of the commercial vehicle industry, even 1.5% would be considered good.
Figure 8
Dana Holding Corp.
Average Warranty Claims & Accrual Rates
(as a % of product sales, 2003-2014)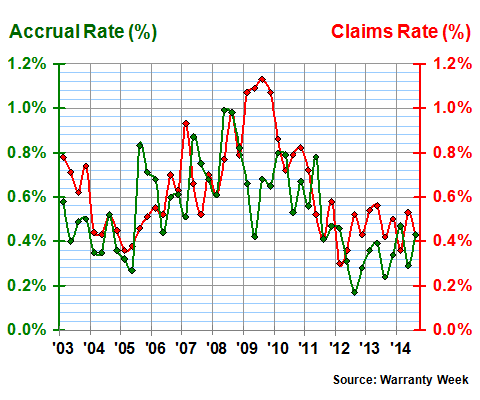 Take these four plus Cat and Navistar, and add in the data for Allison, BorgWarner, Meritor, Wabco, Oshkosh, Thor, and Winnebago, and you have almost 98% of the U.S.-based truck, bus, and RV industry's warranty expenses covered. A few of the larger players are having some trouble controlling their warranty costs this year, but in general most are keeping them under control or reducing them gradually.
The expenses themselves were rising until the recession hit, then they fell, and are now getting back to pre-recession levels. But because sales have risen faster than warranty costs for most of these manufacturers, the expense rates are lower now than they were before 2009. And even if they're not lower for some of the companies, they're less volatile and therefore more predictable.
---
Happy Thanksgiving Day!
Next week, the U.S. celebrates its Thanksgiving Day holiday, and in keeping with that schedule, we're going to skip a week on November 27 and publish our next newsletter on December 4. It's hard to believe the year is almost over, but the recently frigid weather is a reminder that winter is on its way. Stay safe if you're traveling, and stay warm if you're not, and we'll see you again next month.