December 4, 2014
Auto Parts Supplier Warranties:
Of course the drivetrain component manufacturers pay more in warranty costs than other kinds of automotive parts suppliers. But who knew that the automotive electronics manufacturers pay out almost as much as the drivetrain companies?
When it comes to warranty costs, the automotive OEMs and particularly the passenger car manufacturers pay the most and pay the highest percentage of their revenue. Their parts suppliers pay much less and do so at a much lower rate.

It's well-known that some of the companies that make diesel engines and other drivetrain components pay OEM-like warranty expenses. And those that make seats and tires and batteries pay much less. That's to be expected. But what's surprising to discover is that the expense rates reported by the makers of automotive electronics are closer to drivetrain levels than they are to those reported by the seat and tire companies.

To reach this conclusion, we started with a list of 158 U.S.-based companies that were either partially or exclusively manufacturers and suppliers of automotive parts to the OEMs that we've covered in the last few newsletters. We then separated the suppliers into three groups: 1) the drivetrain component suppliers that manufacture engines, transmissions, and axles for the OEMs; 2) the suppliers of electronic parts and components such as computers, semiconductors and entertainment systems; and 3) everyone else that makes parts and components for cars and trucks but doesn't fit into either 1) or 2).

There were 26 companies in the drivetrain category, led by Cummins, Eaton, Allison Transmission, BorgWarner, and Dana. There were 38 in the electronics category, led by companies such as Harman International, Trimble Navigation, ON Semiconductor Corp., Cobra Electronics Corp., and at least in the distant past, Motorola. And then there were 94 companies that fit into neither of those categories, made up of traditional parts suppliers such as Standard Motor

Products, Delphi, Visteon, O'Reilly Automotive, and Advance Auto Parts.
Three Supplier Groups
In Figure 1, the quarterly warranty claims payments of the auto parts suppliers are divided into these three groups. It's pretty clear that the drivetrain and traditional auto parts suppliers have been paying more or less the same amount per quarter for most of the past 12 years. It's the electronic component suppliers that have cut their claims cost, and much of that is from the carving up of Motorola.
Figure 1
Auto Parts Supplier Warranties
Quarterly Claims Paid, 2003 to 2014
(in Millions of U.S. Dollars)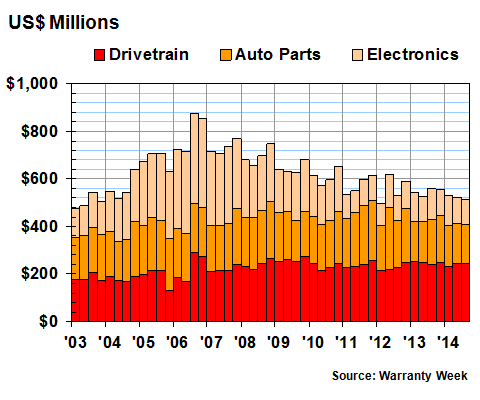 In 2010, the last full year in which Motorola reported its warranty expenses, the company paid out $301 million in warranty claims, up from $290 million the year before. But from 2011 to 2014, we have no data for the company or its spin-offs, so that reduces the typical quarter's total by about $75 million. And that's why the total for the electronics group suddenly drops from 2010 to 2011.
As we shall see, however, Motorola also caused the electronics group's average claims and accrual rates to be higher in 2010 and before than they were in 2011 and after. In other words, Motorola paid a larger percentage of its revenue in warranty expenses than did the other 37 companies in its category. And therefore it raised the overall averages. The company's successors are probably still paying out a lot, but the new owners have decided not to comply with U.S. accounting rules, so we have no data.
Warranty Accruals
It's much the same story with warranty accruals. The amount of accruals made per quarter by the drivetrain and the traditional parts suppliers has remained fairly steady over the past 12 years. But with the electronics component makers, there's a definite difference before and after Motorola, as can be seen in Figure 2.
Figure 2
Auto Parts Supplier Warranties
Quarterly Accruals Made, 2003 to 2014
(in Millions of U.S. Dollars)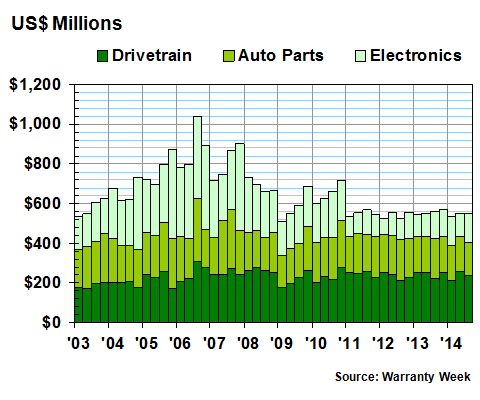 In the first nine months of 2014, the drivetrain and the other non-electronic parts suppliers together paid out about $1.22 billion in claims, down about 4% from the total in the same period of 2013. The electronics suppliers paid out about #344 million, which was also down about 4% from 2013 levels. Note that since neither year includes Motorola data, the decline cannot be explained away by their disappearance.
In terms of warranty accruals, the traditional portion of the business -- the drivetrain and non-electronic parts suppliers -- also saw their accruals fall in the first nine months of 2014. The total so far this year was $1.23 billion, down almost 5% from the same period in 2013, with the non-electronics and non-drivetrain suppliers seeing greater-than-average declines. The electronics suppliers, meanwhile, saw their accruals rise by about $33 million to $408 million. Again, Motorola is not part of these comparisons either.
There's always been a large gap between the claims and accrual totals and averages of the automotive OEMs and their parts suppliers. And that continues this year. In fact, because of all the safety recalls of passenger cars, which we covered in the November 6 newsletter, it seems to have widened a bit more this year, reversing the trend seen since 2009.
So far in 2014, the OEMs have accounted for 86% of the entire automotive industry's claims and 87% of the accruals, up from 83% of both totals during the first nine months of 2013. Meanwhile, the parts suppliers have seen their share fall to 14% of the claims and 13% of the accruals.
Warranty Expense Rates
In terms of warranty expenses as a percentage of revenue, both the drivetrain suppliers and the other non-electronic parts suppliers have seen their expense rates drop as well. And the OEMs such as GM and Ford have seen their expense rates rise. So that gap is widening as well.
In Figure 3 and 4, we've taken the claims and accrual data from Figures 1 and 2 and divided them by the corresponding product revenue data of each company. Figure 3 includes the claims and accrual rates for the 26 drivetrain and the 94 other parts suppliers, while Figure 4 contains the expense rates for just the 38 electronics suppliers.
We covered the drivetrain manufacturers in the truck and bus industry in the November 20 newsletter, so we won't repeat it again here. But what we found was that some of the drivetrain companies have relatively high and OEM-like warranty expense rates, which leads to the obvious conclusions that engines and transmissions often need repairs and those repairs are often costly.
What we're finding through this week's analysis is that the electronics suppliers seem to have drivetrain-like expense rates. In other words, it's not only the engines and transmissions that break often and cost a lot to repair. It's also the electronics, whether it's part of the engine control or the entertainment system.
In Figure 3, the drivetrain suppliers see the same kind of recession-related spike in their claims rate as the OEMs did in 2009. But ever since, their expense rates have been on a downtrend. In fact, in the first quarter of 2014 they saw their average accrual rate slip under 0.7% for the first time ever, while their claims rate came close to beating out a record low set in late 2005.
However, the other parts suppliers were even better off, in two respects. First, they never saw the recessionary spike in claims rates that the drivetrain manufacturers and the OEMs did. Second, their warranty expense rates have always been among the lowest of all within the automotive industry. And in 2014, they went lower than ever before, to a bit under 0.4%.
Figure 3
Auto Parts Supplier Warranties
Claims Paid & Accruals Made as a
Percentage of Product Revenue, 2003 to 2014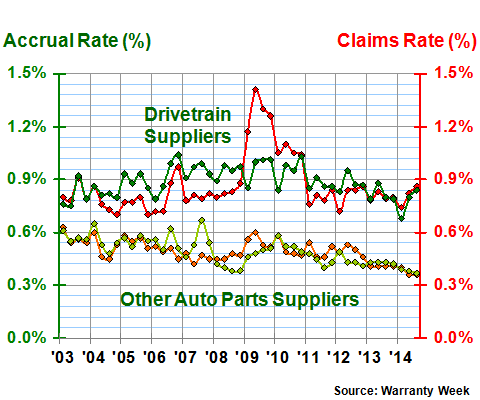 In other words, after the recession ended and automotive sales picked up once again, both of these groups found additional ways to cut their warranty expense rates. They didn't pay out a lot less per quarter (as Figures 1 & 2 demonstrate). But when sales rose, expenses didn't, so the percentage rates fell steadily.
In contrast, in Figure 4 what we see more than anything is the effect of the departure of Motorola from the statistics in 2010. From 2003 to 2010, the average expense rates of these automotive electronics companies rises then falls. From 2011 onward, they remain very close to 0.8%. And that's about the same expense level as the drivetrain manufacturers.
Figure 4
Auto Parts Supplier Warranties
Claims Paid & Accruals Made as a
Percentage of Product Revenue, 2003 to 2014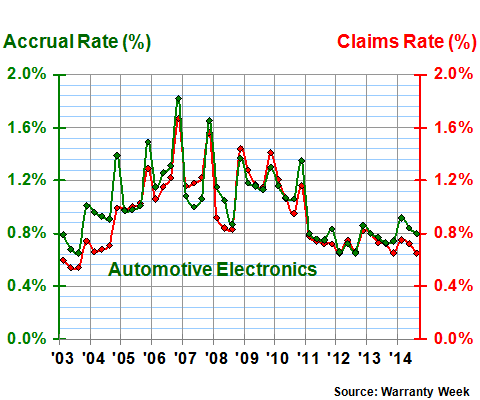 Even if we look at just the 2011-to-2014 data, the automotive electronics manufacturers seem to be paying about the same expense rates as the drivetrain manufacturers. And both these groups are paying more than the non-drivetrain, non-electronics parts suppliers. In other words, in terms of warranty, the drivetrain and the electronics are the most expensive parts of a vehicle to repair. That's not exactly an unknown fact, but it's nice to see it proven with hard data.
Individual Company Expense Rates
Now let's look at some of the individual companies that go into the calculations of the totals and averages seen above. Let's start with Standard Motor Products, which coincidentally is based only a few miles away from Warranty Week's offices. In Figure 5, it's somewhat surprising to see the aftermarket parts manufacturer's expense rates high and still rising. Usually, we call the five percent line the threshold between high and really high warranty expense rates. But as can be seen in the figure below, Standard Motor Products has rarely seen its expense rates go below that level.

Figure 5
Standard Motor Products Inc.
Claims Paid & Accruals Made as a
Percentage of Product Revenue, 2003 to 2014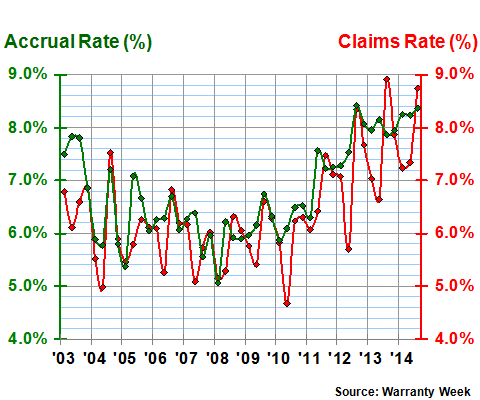 Typically, when a company has persistently high warranty expense rates, the reason can be found in its business model. For instance, with a company such as Lexmark International, which makes computer printers, the reason its claims rates have been at or above 10% most of the time is the way it prices its product line. The basic printer hardware is priced relatively low, in order to sell a steady stream of consumables. Warranty work is encouraged, and even next-day replacements are offered, because generous terms and conditions keep the customer happy, and a happy customer doesn't switch brands.
With aftermarket auto parts, there are two likely reasons. First, perhaps warranty claims are an easier way to return unsold parts. And second, perhaps the products fail more often than they should. We hope it's not the second reason, but is there a third? The company seems to have little to say in its financial statements about its high warranty expense rates. Perhaps investors haven't noticed?
Before and After Bankruptcy
In Figure 6, we're actually tracking two different companies: Delphi Corp. from 2003 until 2009, and Delphi Automotive plc from 2010 to the present. In between came a complex bankruptcy and a reorganization, from which the current company emerged. But for a long while, there was no warranty data for Delphi.
Figure 6
Delphi Automotive
Claims Paid & Accruals Made as a
Percentage of Product Revenue, 2003 to 2014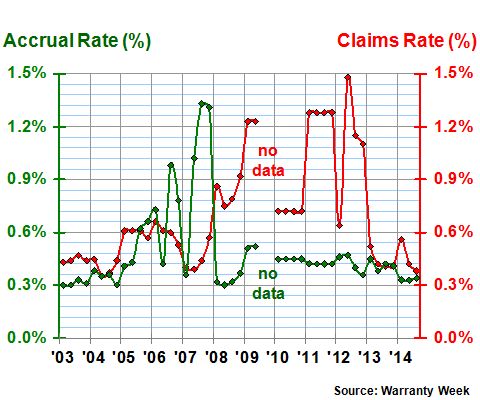 The reason the data for 2010 and 2011 is so flat is because when the new company emerged from bankruptcy and began filing financial reports in 2012, it released only annual data for the two previous years. However, it does fit in well with the quarterly data that has become available since then. The new company has kept its accrual rate close to 0.4% for almost five years, while its claims rate has now stabilized in a range of 0.5% to 0.6%. And the expense rates seen in 2013-2014 are very similar to the rates seen in 2003-2004.
Of course, Delphi was a spin-off of General Motors. Visteon was a spin-off from the Ford Motor Company. In Figure 7, it looks like the company's warranty expense rates have also recently stabilized at a low level after a rough period in 2006-2009. However, unlike Delphi, Visteon's expense rates were much lower back in 2003-2004 than they are now.
Figure 7
Visteon Corp.
Claims Paid & Accruals Made as a
Percentage of Product Revenue, 2003 to 2014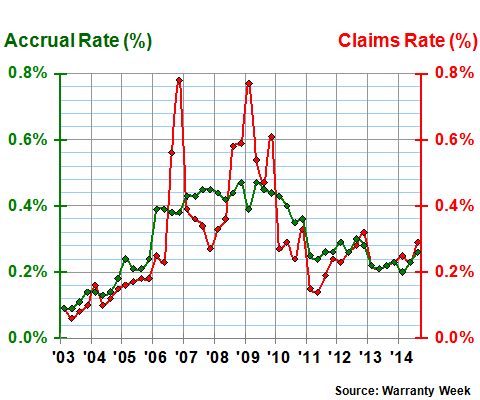 Finally, we wanted to include a snapshot for Cobra Electronics, a manufacturer of car radios, navigation equipment, and radar detectors for all sorts of vehicles. The reason is, we won't have this chance again. Carl Korn, the founder of Cobra Electronics, passed away in April, and in August the company was sold to private investors. Therefore, there isn't any warranty expense data for the third quarter of 2014, and there won't be any warranty data in the future (unless the new owners someday decide to go public).
Figure 8
Cobra Electronics Corp.
Claims Paid & Accruals Made as a
Percentage of Product Revenue, 2003 to 2014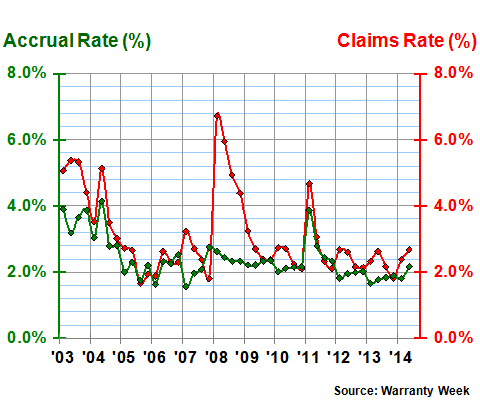 Usually, when we're looking at the electronics corner of the automotive industry, we look at a much larger company such as Harman International or Trimble Navigation. Both of them are consistently among the top 100 warranty providers across all industries.
In contrast, Cobra has never been among the top 100 warranty providers. The most it ever paid in claims was the $5.5 million in reported in calendar 2008. In the first half of 2014, it paid out only $1.35 million in claims, on sales of $50.1 million, for a claims rate of 2.7%.
In contrast, Harman paid out $57 million in claims on $5.35 billion in sales in its most recent fiscal year, for a 1.1% claims rate. As of mid-year, Trimble had the same claims rate as Harman, based on $10 million in claims paid on $912 million in first-half sales. The point is, Cobra may have been much smaller than them, but its warranty expense rates were much higher.
But it does illustrate the surprising result of this week's analysis. Within the automotive industry, the OEMs have the highest warranty expense rates, followed by their drivetrain suppliers. But at times, the suppliers of automotive electronics -- not only the electronics used for engine control and climate control but also the entertainment systems -- have paid out as much if not more than some of the drivetrain manufacturers.