January 8, 2015
Warranty Year in Review:
While some companies enjoyed record highs on the stock market, others suffered as rising warranty costs cut into profits. Some even went out of business. And top automakers once and for all proved how useless the TREAD Act is when it comes to protecting customers.
Every year starts with hope for the future and a look back at the past. In 2015, we look forward to at least three warranty-related trade shows and enough warranty-related news and analysis to fill 48 weekly editions of Warranty Week. And for a hint of what some of the top issues of the current year might be, let's take a look back at some of the top warranty-related stories of 2014.
January 2014
Let's start off in January 2014, when The Warranty Group celebrated its 50th anniversary at the NADA convention, and indirectly the vehicle service contract industry celebrated a half-century since its beginnings.
In 1964, Patrick Ryan founded Pat Ryan & Associates Company, a company initially specializing in automotive credit insurance sold through car dealerships, but which also pioneered the sale of vehicle service contracts to consumers. Later, the company changed its name to the Ryan Insurance Group, and merged with the Combined Insurance Company of America.
In 1987 the name of the merged companies was changed to Aon Corp., and the entity once known as Pat Ryan & Associates became the Resource Dealer Group. The extended warranty operations were moved into a division called the Aon Warranty Group, with the associated underwriting handled by the Virginia Surety Company Inc.
Then in late 2006, Aon sold Virginia Surety and the Aon Warranty Group for $498 million to Onex Partners, a Canadian investment company. And in 2007 Aon sold Combined Insurance to ACE Ltd., so it could focus on risk management, brokerage, consulting, and reinsurance services.
Now here's where this twisted story gets interesting. Onex held onto The Warranty Group until August of 2014, when it sold the operation to TPG Capital for $1.5 billion -- tripling its investment in about 7-1/2 years. In addition, The Warranty Group also paid Onex about $403 million in dividends over those 7-1/2 years, so its total return was much higher.
As 2014 ended, The Warranty Group is still headquartered in Chicago, but many of the industry veterans that were there during the Aon era have retired or were let go by the new owners. TPG Capital has had little to say about its acquisition, and its business continues more or less as usual. But the turnover has been noticeable.
Other smaller acquisitions also occurred within the extended warranty industry in 2014, such as the purchase of HSA Home Warranty by American Home Shield for $32 million in March. Sears Holdings was once rumored to be shopping around its repair service and extended warranty operations, but that effort was quietly ditched as the parent company's financial position darkened.
Meanwhile, Tiptree Financial announced its intent in August to acquire Fortegra Financial for $218 million. That deal was completed just last month. And just this week, it merged disparate groups such as Life of the South and ProtectCell into one single brand.
And as the year ended, several more deals were still in the works. For instance, the Automobile Protection Corporation, also known as APCO and sellers of the EasyCare brand of vehicle service contracts, was still for sale, with its owners at Stone Point Capital LLC reported to be seeking as much as $600 million for the market-leading VSC company.
February
This next one started small but became a huge story in 2014. In late February, General Motors Co. recalled 1.62 million cars due to a problem with their ignition switches turning to the off position. But then over the course of the next few months, this recall grew into a much wider scandal that brought into question the company's internal warranty analysis capabilities as well as the government's ability to spot patterns in the warranty data they demand from manufacturers each quarter.
In 2002, the Transportation Recall Enhancement, Accountability, and Documentation (TREAD) Act was passed by Congress, setting up an Early Warning Reporting regime at the National Highway Traffic Safety Administration. The system compiled quarterly spreadsheet lists of all warranty claims, complaints, injuries, and deaths into a database that could be searched for signs of recurring defects. It was designed to eliminate the kinds of multi-year delays that were seen in previous years with safety investigations of Ford vehicles equipped with certain Firestone tires.
The theory was that by organizing the failure data into a searchable electronic format, patterns could be seen sooner and recalls could begin earlier, thus reducing the number of deaths and injuries by reducing the lag time between manufacture and correction. But the system failed, as multiple news organizations from CBS News to Bloomberg News noted in a series of scathing articles. And then both the acting administrator of NHTSA and the chairman of GM were raked over the coals during congressional hearings.
By June, the scandal had peaked, with GM pinning the blame on switch engineer Ray DeGiorgio, and multiple other executives in the company's chain of command announcing either their retirement or their intention to spend more time with their families and pursue other interests. The cost of their blunders was expected to exceed $3.75 billion, as we detailed in a Nov. 6 newsletter.
In the chart below, taken from the Nov. 6 newsletter, the company's normal warranty accruals are coded in dark green, while its recall expenses are in bright green and other warranty expenses are in yellow. For the first three quarters of 2014, the bright green and yellow-coded items exceed $3.75 billion, while the normal accruals total $1.9 billion. Therefore, this recall has turned out to have almost tripled GM's warranty expenses over the short term.
Figure 1
GM's Product Warranties
Quarterly Accruals Made, 2003 to 2014
(in Millions of U.S. Dollars)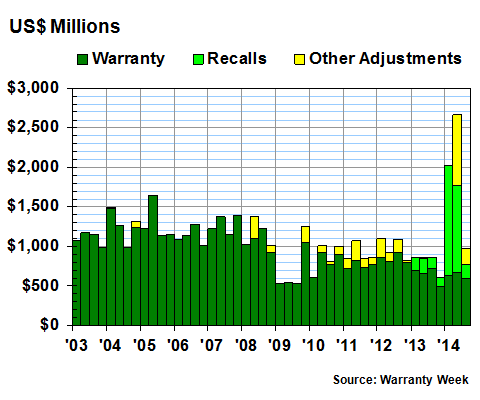 However, also please note that the extra expenses diminish considerably after June 30. Perhaps not coincidentally, in late June, attorney Kenneth Feinberg, who had previously served as the government-appointed administrator of victim compensation funds for the 9/11 terrorist attacks, the BP oil spill, and the Boston Marathon bombing, was appointed to oversee payments to victims of the GM ignition switch defect. And that's a sure sign it's winding down.
March
Every year since 2005, warranty industry professionals have gathered at the annual Warranty Chain Management Conference, which last year was held in San Diego from March 11 to 13. It was the third time the conference met in the Hyatt Regency Mission Bay Spa and Marina, having convened there in 2011 and 2013 as well. Highlights included a conference track focused on vehicle service contracts, multiple presentations on warranty best practices, and a series of legal and regulatory updates from top industry attorneys.
This year, the WCM is moving to Miami for the first time, and is celebrating its 10th anniversary in style, at the Hilton Miami Downtown, from March 10 to 12. Workshops take place all day on Tuesday the 10th, followed by a meeting of the Global Warranty and Service Contract Association at 4pm and a WCM welcome reception from 7 to 9pm. And if none of that can coax you into an early arrival, there's always the tropical sun, which is likely to be even more appreciated after what looks to be a long and cold winter.
Speaking of environmentalism, March was also the month in which franchise auto dealers really began to hammer away at Tesla Motors over its direct-to-consumers sales model, under which the company opens and operates its own showrooms. One of their primary arguments against this model was that only auto dealers could effectively perform warranty work, a line of attack that was picked up and repeated by CNN Money, ABC News, and the Associated Press, among others.
In an op-ed piece carried in The Californian newspaper, NADA VP Jonathan Collegio said franchise dealers are the most logical entities to process warranty and recall claims. "Because dealers get paid by factories to perform warranty and recall work, they are incentivized to take the side of their customers," he wrote. "These incentives do not exist with factory-owned stores."
But then in a counter-move that some said would help their chances of being chosen as the site of a proposed Tesla battery plant, other states began to explicitly legalize that very same direct sales model. And even in New Jersey, where the governor had previously told Tesla to "talk to the hand," a bill advanced that would legalize the direct sales model for cars.
Later in 2014, Tesla CEO Elon Musk announced the Infinite Mile Warranty, which placed no limit on either the number of miles driven or the number of owners of the vehicle during its eight years of warranty coverage. Immediately, the speculation grew in the financial press about how much this move would cost the company. But even as they predicted the impact of rising warranty costs on Tesla's earnings, they remained very bullish on the company's stock.
April
In April, it was Best Buy's turn to get beat up by securities analysts for their rising warranty costs. But actually, the retailer had itself set off the smack-down with a warning buried in a press release in late February that made multiple mentions of its increasing mobile warranty expenses. It just took the analysts seven or eight weeks to read the entire announcement.
But then they struck. Guru Focus said "an increase in warranty costs related to its products and lower rates on mobile service plans have also badly affected the company's margins," ironically in a piece which concluded that shares of BBY were still a good buy because they'd fallen so much. Trefis found that "Best Buy's product warranty cost went up in the latter part of fiscal 2014 on account of higher claims frequency in the mobile phone category and the lower attachment rates on mobile service plans."
Warranty Week found in a Nov. 14, 2013 newsletter that mobile phone insurance sales were booming, and found in an October 30, 2014 newsletter that AppleCare sales were also booming. So the conclusion we'd suggest for this story, which seems to have been missed by the stock analysts, is that Best Buy is losing protection services market share to both the phone companies and the manufacturers.
May
In May, the theme seemed to be the return of scandals past. On the one hand, the "Windows scam" has apparently returned, in which an alleged computer expert calls an unsuspecting consumer, touting expensive service contracts that will supposedly remove alleged malware from their systems. The Jacksonville Journal-Courier explained the scam in detail in a May 13 column, but numerous other newspaper and television reporters also picked up the trail in their communities.
Even more disheartening was the news that the "expiring warranty scam" has returned, despite the best efforts of consumer watchdogs and state attorneys general to eradicate this menace. The Idaho Statesman reported that an outfit called the Vehicle Administration Center was mailing out notices that the recipient's factory auto warranty was about to expire, and should be replaced with a purchased vehicle service contract.
In June, the Milwaukee Journal Sentinel reported that the "VSC Department" and another company doing business as the "Motor Vehicle Division" were sending out expiring warranty mailings in Wisconsin. And in October, the Kent County News reported that the Motor Vehicle Division was sending out expiring warranty letters to consumers in Maryland.
An enterprising reporter named Gitte Laasby tracked down the real home of the Motor Vehicle Division in the suburbs of St. Louis, which was also the home base of much of the previous generation of expiring warranty scammers. And she also found out that the company's real name was the Advanced Vehicle Protection Center, and that it was domiciled in Bridgeton MO, smack in the middle of what the Better Business Bureau once called " the Silicon Valley of the VSC industry" in a scathing 2011 report about the previous scandal.
But as the year ended, the regulators have yet to awake from their slumber, and both the phone calls and the postcards continue. Meanwhile, the St. Louis Post-Dispatch, which did such an excellent job reporting on the previous scandal, remained largely silent about its apparent return. It did, however, report in July that the financial news network CNBC was planning to do an episode of its "American Greed" series about U.S. Fidelis, the local company whose founders went to jail in 2012 for extended warranty fraud.
June
In June, a very international theme emerged among some seemingly separate announcements related to mobile phone insurance and product warranties. As Nokia Corp. and its service partners had found in a previous generation, warranty work for mobile phones can take a manufacturer into some pretty uncharted territories.
For instance, on June 19, Samsung announced a premium warranty in Nigeria for Galaxy S5 users. That same day, Tara Bunch, Apple's vice president of AppleCare and technical support initiatives, talked about expanding the service contract program beyond the initial 14 countries it served. However, in that article, she also noted that "expanding AppleCare+ to additional countries is a tall task due to the inconsistent insurance and government-related legal processes across the globe."
Nevertheless, in July, AppleCare+ was announced for Mexico and Sweden, and in September it was announced for Australia. And in an attempt to broaden the appeal and reach of AppleCare service contracts from just consumers and small businesses to also include large enterprises, Apple and IBM jointly announced a new partnership in July.
Competitors also broadened their geographies during 2014. Samsung launched accidental damage from handling coverage in South Africa. Dell began selling service contracts over the web in India. And the Warranty Group formed a joint venture in India with the TVS Group.
July
Throughout 2014, but especially in July, we saw some examples of what Apple's Tara Bunch warned us about. On July 6, China Central Television (CCTV) declared that the iPhone was a "national security concern," because it could track the movements of its owner. In 2013, the same TV network said that Apple discriminated against Chinese consumers with its warranty policies, a practice that Apple's CEO promptly apologized for doing.
In March 2014, Nikon Corp. halted sales of the D600 digital camera in China after a CCTV report said a product defect caused black spots to appear in photographs. The company had previously blamed the spots on dust and smog, but it quickly agreed to take the camera off the shelves and to extend warranty coverage for units already sold.
And then in March 2013, the same network accused Volkswagen of selling cars with faulty gearboxes in China. When the network sent a crew to the automaker's offices, Volkswagen Group China VP Catherine Peng promptly apologized on camera. But later, when accusations of bent axles were hurled against the VW Sagitar sedan, company president and CEO Jochem Heizmann said the Sagitar is a safe car with a safe axle.
July was also the month that U.S. regulators finally went after some of the home warranty scams that have been plaguing that sector of the service contract industry. One scam uses seemingly contradictory sections of the contract's terms and conditions to help it deny almost all claims. One section of the Ts & Cs states that all appliances must be inspected and/or cleaned either annually or every six months, and records must be kept in writing. Another section states that nobody but the home warranty company's authorized staff may perform work on the appliances.
So when a consumer calls in with a claim, the first question is "do you have the maintenance records?" If the answer is "no," the claim is denied because the consumer didn't adhere to the maintenance schedule. If the answer is "yes," the claim is denied because those records prove another company did work on the units.
It's not quite fraud, because the dispute is over the terms and conditions of a valid contract. However, regulators have found other ways to run these scam artists out of town. And so, now we can add Sensible Home Warranty and Colonial Home Warranty to the list of home warranty companies that were forced to leave town on the next stagecoach. Meanwhile, Choice Home Warranty (aka CHW Group Inc.) has been sued by the New Jersey Division of Consumer Affairs for allegedly false advertising, deceptive tactics, and "flagrant violations of the terms of its residential service contracts."
August
Speaking of leaving town in a hurry, has anybody seen Global Warranty Group president Charles Pipia recently? He owes money to just about everyone he ever did business with, until his mobile phone protection company suddenly shut down in early August. Sources have told Warranty Week that those creditors include Starr Indemnity & Liability Company, a subsidiary of Starr International Company Inc., which until August was Global Warranty's underwriter in the U.S.
Starr Indemnity was a relatively new entrant into the market for service contract underwriting services, where it competed against insurance subsidiaries of AmTrust, Assurant, the Warranty Group, AIG, and others. But Starr the parent company was an industry veteran, tracing its roots back to Shanghai in 1919. And in fact, it was run by Maurice "Hank" Greenberg, the insurance industry legend who also helmed AIG until a financial scandal forced him to step down in 2005.
Anyway, without getting too deep into all the industry gossip, sources said that when Greenberg was told how much Starr was owed by Global Warranty, he ordered several of his top executives to pack their things and go, and told the others to get Starr out of the extended warranty business as soon as possible. A lawsuit against Global Warranty was expected this summer. But none had yet been filed in New York State, where both companies are domiciled, and Starr's outside counsel has yet to respond to Warranty Week inquiries.
Meanwhile, up in the Canadian province of Saskatchewan, Global Warranty Group's mobile phone protection plans were backed by a different underwriter named the Trisura Guarantee Insurance Company. In August, Trisura announced the replacement of the Global Warranty Group with a new administrator named CornerStone United Ltd. But not all customers were made whole, and some vented their frustrations to CBC News and to Global News.
In the U.S., though, as far as we can tell, not a discouraging word has been spoken in the press about either Global Warranty or Starr Indemnity since August. There have, however, been reports on a handful of consumer complaint websites, including the Ripoff Report, Consumer Affairs, and the Better Business Bureau of New York. But there's been nothing new even on their web pages since late September.
September
In September, the big news of the month was the launch of the iPhone 6 and the iPhone 6 Plus smartphones. Ironically, one of the first units purchased was dropped on live TV in Australia, a feat that will live on in YouTube history. Hope he bought the accidental damage protection!
SquareTrade Inc. (which by the way is/was underwritten by Starr Indemnity) quickly posted videos of its own drop tests on YouTube. But the big news to come out of that first week had to do with allegations that the iPhone 6 Plus could be bent in its owner's pocket. Inevitably, the pundits appended the word "gate" to the phone-bend scandal, as they have with virtually every major controversy since the Watergate burglary in 1972. But our personal favorite was a term coined by Slate magazine: "Bendghazi."
October
In October 2014, the big story within warranty circles was the competition shaping up between two opposing warranty conference operations. The Global Warranty and Service Contract Association held its First Annual Conference on Service Contracts in Chicago on October 6 to 8, while the Strategic Solutions Network held its Fifth Annual Extended Warranty & Service Contract Innovations Conference in Nashville on September 15 and 16.
We covered the competition in an October 16 newsletter, and publicly worried that in 2015 the two competing conferences would be held on consecutive weeks, making it difficult for people to attend both. Well, we're happy to report that the GWSCA has decided to have its next conference at the Palmer House in Chicago on September 16 to 18, while the Sixth Annual Extended Warranty & Service Contract Innovations Conference will take place in Nashville two weeks later on September 28 and 29.
November
In November, the long-simmering story of allegedly defective airbags made by Takata Corp. came to a boil, as the Honda Motor Company was forced to recall additional vehicles in Japan, following numerous earlier recalls by Honda and six other automakers in the U.S.
The problem is that Takata holds roughly 20% of the worldwide airbag market share, and it doesn't keep very good records of its installations. Therefore, the recalls will have to be unnecessarily larger and more widespread than if the company had better records.
Again, wasn't this kind of problem supposed to have been eliminated in 2002 by the passage of the TREAD Act? This week, Honda was fined $70 million for not reporting deaths, injuries, complaints, and warranty claims in a timely manner to NHTSA. Half that is the penalty for not reporting 1,729 death and injury claims to NHTSA between 2003 and 2014. The rest is the penalty for not reporting certain warranty claims and claims under customer satisfaction campaigns during the same years.
However, as the NHTSA release itself noted, $35 million is the maximum fine it can impose for each violation. And $70 million is far less than one percent of a single year's worth of Honda's worldwide revenue. That's what you get for more than a decade's worth of deception? This and the GM ignition switch saga makes us think the entire TREAD Act is a toothless waste of everyone's time. At the very least, why not fine the company $35 million for each allegedly incorrect quarterly Early Warning Report?
Also in November, we covered the continuing saga of Navistar and its allegedly rising warranty expenses. But what we found was that the truck maker's warranty expenses were actually rising in 2012 and 2013, and were actually falling in 2014.
In the chart below, it's pretty clear that Navistar's warranty accruals and additional adjustments peaked in late 2012, and stayed high throughout 2013. But they're actually quite a bit lower in the first nine months of 2014 than they were a year before -- a fact that Navistar continues to point out in its financial press releases.
Figure 2
Navistar's Product Warranties
Quarterly Accruals Made, 2003 to 2014
(in Millions of U.S. Dollars)
However, as with Best Buy, apparently nobody reads those press releases for months. In addition to its warranty expenses, the company's stock price also fell throughout 2014, reaching a 52-week low of $29.01 per share on December 16. Ironically (but perhaps not so amusingly to the company's investors), that was the same day Navistar announced that its warranty expenses were down 22% year-over-year.
December
Later in December, the U.S. stock market rose to record heights, carrying the per-share prices of some very prominent extended warranty companies to new highs as well. Shares of AmTrust Financial Services Inc. (AFSI) rose to a new high of $59.08 on December 17, while Assurant Inc. (AIZ) rose to a new high of $69.81 on December 30.
For AmTrust, the peak came in spite of a whisper campaign orchestrated by short sellers, which intimated that something was wrong with the company's finances. As far as we can tell, the only thing wrong is that there are short sellers who are now losing their shirts, shoes, and socks. For Assurant, the slow-but-steady climb to new heights follows the appointment of a new president and CEO in September.
Both insurance companies do much more than merely underwriting service contracts. Both companies also operate administrators who work with major retailers and manufacturers. Assurant is also a major health care insurance and homeowners insurance provider. AmTrust is also a major workman's compensation insurance provider. And of course, both companies are longtime sponsors of Warranty Week.
However, in a trend that's still new, both companies are now also operating direct-to-consumer service contract sales operations. Assurant has brought its Protect Your Bubble unit over from the UK and Ireland into both the U.S. and Brazil, while AmTrust launched the Toco Warranty Corp. in October.
Also, both companies' primary extended warranty underwriters: American Bankers Insurance Company of Florida and Wesco Insurance Company, respectively, have an A (Excellent) financial strength rating with a stable outlook at A.M. Best, the industry's main credit rating agency.
In the past, we've seen A.M. Best react late to deteriorating financial situations, but it's hard to believe they're missing something material about AmTrust's financial picture. In addition, the short sellers must be seeing something that major investors such as JP Morgan Chase, Invesco, Ameriprise Financial, and Vanguard Group do not.
By the way, an A rating isn't the highest possible A.M. Best grade. There is an A+ (Superior) as well as an A++ rating, which very few insurance companies ever earn. However, in early October, the ranks of A+ (Superior) insurance companies grew by one, when A.M. Best upgraded the financial strength rating of Old Republic Insurance Company back to A+ after a downgrade to A in 2011. Old Republic Insurance is the parent of both a VSC operation called Old Republic Insured Automotive Services Inc. and a home warranty operation called Old Republic Home Protection Co. Inc. Congratulations are in order for both these service contract companies.