January 22, 2015
Top International Warranty Expense Reductions:
While HP saved itself a billion dollars a year, two German carmakers have saved themselves twice as much. Three others have cut their annual claims payments by hundreds of millions of dollars a year in the past decade.
Warranty managers have long considered reduced costs to be a top priority. Last week, we looked at eight American manufacturers that have cut their warranty expense rates significantly over the past decade. This week, we found six European and Asian companies that have also drastically cut the percentage of revenue they pay for warranty claims.
Manufacturers don't seem to like to draw attention to their declining expense rates, for fear that customers might figure out that this also implies frequent failures and possibly high repair costs in the bad old days. For instance, the German carmakers trade on their design and engineering skills, and their reputations for quality and reliability. So if they're saving billions on warranty costs now, does that mean they were wasting billions on warranty costs before?
However, some of these companies have cut their expense rates in half within a decade, and that is something to celebrate. Some have chopped literally billions off their expenses, driving profits up proportionally. What follows is a series of snapshots of six top international manufacturers who have also distinguished themselves as warranty cost-cutters.
BMW Saves Billions
Let's start with the BMW Group. The German automaker has raised production and cut warranty expense over the past decade. From 2003 to 2013, production climbed from 1.2 million to 2.0 million vehicles worldwide, while claims fell from 1.2 billion euro to 1.0 billion euro. The company's claims rate plunged from 3.1% of product revenue in 2003 to 1.4% in 2013.
Figure 1
BMW AG
Average Warranty Claims & Accrual Rates
(as a % of product sales, 2003-2013)
However, as can be seen in Figure 1, the company's claims rate was even lower in 2012, and its accrual rate -- 2.1% in 2013 -- was lower in 2010, 2011, and 2012. So although the long-term slope of BMW's warranty expense rates is downwards, the most recent data suggests a turn back upwards. Will expense rates rise in 2014? We'll find out when the company releases its annual report in the middle of March.
So let's assume for a moment that BMW's claims rate was still 3.1%, like it was back in 2003. With revenue rising over the decade since, so would the claims cost. Instead of a billion euros, it would be 2.2 billion euros. And the accruals total, if it were still following 2003's 4.4% rate, would be huge. Instead of 1.5 billion euros, it would be 3.2 billion euros.
Even at the currently depressed exchange rates, we're talking between US$1.4 and $2.0 billion in annual savings. Yes, that's right, BMW has cut its warranty expenses by billions of dollars per year. In last week's newsletter, we found the US champion to be Hewlett-Packard Co. which saved itself roughly a billion dollars a year. BMW saved more.
No Euro or Yen Symbols
By the way, we're going to avoid using the euro symbol in this week's newsletter, because some web browsers and some email clients can't display it, converting it into a black diamond or some other symbol. We'll also be using Japanese yen and Swedish kronor in this newsletter, and we'll also spell those out to avoid typeface chaos.
Daimler AG is another top international warranty cost-cutter. Back in the days when it was DaimlerChrysler AG, its claims rate rose as high as 5.2% while its accrual rate topped out just short of 5.0%. In calendar 2013, both of its expense rates were close to 2.3%.
As the data shows in Figure 2, there have been some bumps along the way. From 2003 to the end of 2006, the data was released quarterly, so it bounces around more easily. From 2007 onward, it's been released only once a year, in annual reports that usually come out in the middle of February. But even at that reduced frequency, we can see that 2008 was lower than 2009, and the claims rate was a little lower in 2011 than in 2012.
Figure 2
Daimler AG
Average Warranty Claims & Accrual Rates
(as a % of product sales, 2003-2013)
We can't really compare 2003 to 2013, because they were different companies before and after Chrysler. Instead, let's compare 2007 to 2013. In that time, the claims rate has dropped almost exactly in half, from 4.6% to 2.3%, while the accrual rate has dropped from 4.2% to 2.3%.
Production hasn't grown much in six years -- from 2.09 million vehicles in 2007 to 2.35 million in 2013 -- nor has product revenue: up 14% to 103.5 billion euro in 2013. But the warranty savings during that time have been incredible.
If Daimler were still paying warranty expenses at 2007 rates, its claims bill would have been 2.5 billion euros larger and its accruals would have been 1.9 billion euros higher. That's an annual savings between US$2.2 and $2.8 billion, even at the currently depressed exchange rates. So they also have cut warranty costs by more than HP.
Hitachi Ltd.
Now let's switch continents, currencies, and industries. Our next top warranty cost-cutter is from Japan, is reporting its finances in yen, and is a manufacturer of everything from power plants, construction equipment, and power tools, to computers, semiconductors, and medical equipment. Hitachi even makes some artillery support vehicles and bullet trains.

This diverse product line has nevertheless seen its warranty expenses decline almost constantly from 2005 to early 2014, except for one obvious excursion at the end of calendar 2010. Hitachi's fiscal years end on March 31 -- a Japanese tradition -- but it has on occasion reported its warranty expenses in the middle of each fiscal year (from 2003 to 2007) as well as on a quarterly schedule (from 2008 to 2010).

Therefore, in the chart below there are far more than 12 pairs of data points, and this makes the warranty data look more volatile than it really is. If all the data points in Figure 3 were annual-only, the lines for claims and accrual rates would look much more like a descending staircase -- more like the BMW chart above.

Figure 3
Hitachi Ltd.
Average Warranty Claims & Accrual Rates
(as a % of product sales, 2003-2014)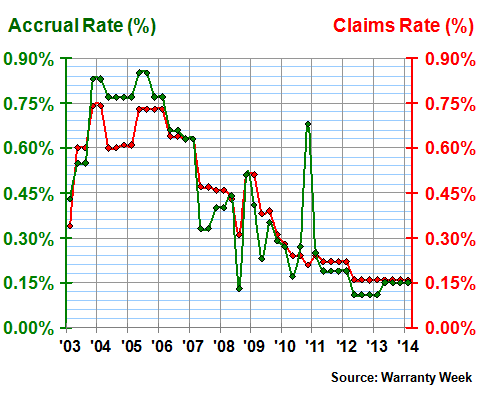 Note that all of Hitachi's expense rates are below one percent. But also note that its warranty expense rates rose from early 2003 until the middle of 2005. And most incredibly, note that in the fiscal year ended March 31, 2014, Hitachi's expense rates were close to 0.15%. For US competitors such as Caterpillar Inc. or General Electric Co., this would be a dream come true.
We'll get in trouble for using the wrong exchange rates, but let's assume that Hitachi is now an US$81 billion manufacturer (not including its financial or consulting service revenue). And let's assume it was still paying the 0.7% to 0.8% warranty expense rates seen at the end of fiscal 2004. If that were the case, given that its product revenue has grown over the intervening decade, its warranty expenses would be five or six times as large as they are now.
In Japanese currency, we're talking about cutting claims costs from 62 billion yen per year to 13 billion yen. In US dollars, we're talking about annual savings of US$487 million. In terms of accruals, Hitachi would have had to set aside 69 billion yen in fiscal 2014 but in reality set aside only 12 billion yen -- a 57 billion yen savings (US$567 million).
So far, that means at least three international companies have slashed their warranty expenses drastically and have saved themselves more than the $940 million we calculated in last week's newsletter for HP. Could there be a fourth?
Two Swedish Manufacturers
Next we head to Sweden, where the kitchen appliance powerhouse Electrolux AB is based, even though most of its sales are made in the US and Brazil. If its acquisition of GE Appliances goes through, that share is likely to increase even further.
Electrolux reports its finances in Swedish kronor, of which there are currently about 8.2 to the US dollar. It also reports its warranty expenses in kronor, though in Figure 4, since one is divided by the other, all that's left are the percentages.
Figure 4
Electrolux AB
Average Warranty Claims & Accrual Rates
(as a % of product sales, 2003-2013)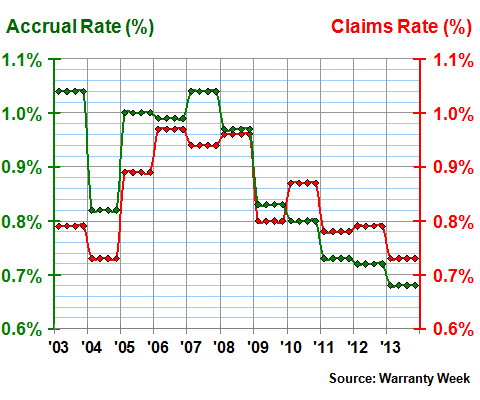 Of the six international companies we're profiling this week, Electrolux is the only one to have previously enjoyed a low claims rate, to which it is now returning. Back in 2004, the company spent 876 million kronor on warranty claims, against nearly 121 billion kronor in sales, for a 0.73% claims rate. In 2013, its claims cost dropped to 796 million kronor, but its sales dropped to 109 billion kronor, meaning that its claims rate was actually a shade higher in 2013 than it was in 2004.
Still, the trend since at least 2006 has been downwards, so we'll include them in our list. And if we assume that Electrolux were still paying claims at the same rate as it was in 2006, the company's claims cost would have been nearly 260 million kronor (about US$31.5 million) higher than it actually was. If its accrual rate were still as high as it was in 2006, its outlays would have been 343 million kronor (US$41.6 million) higher than they were in 2013.
Ericsson Telephone Co.
Let's stay in Sweden for our next candidate. The LM Ericsson Telephone Company has done a remarkable job of cutting its warranty expense rates from the relatively high levels of 2003 to the relatively low levels of 2013. But like the similarly-sized Electrolux, its expense rates have been even lower than they were most recently.
In 2003, Ericsson's claims rate was 2.6% and its accrual rate was 4.0%. By 2008, those expense rates had fallen to 0.6% and 0.8%, respectively. Then they rose a bit during the recession, before both fell back to 0.8% in 2013. So while it's not the lowest level ever, it's close enough to the record low to warrant the company's inclusion in this week's list.
Figure 5
LM Ericsson Telephone Co.
Average Warranty Claims & Accrual Rates
(as a % of product sales, 2003-2013)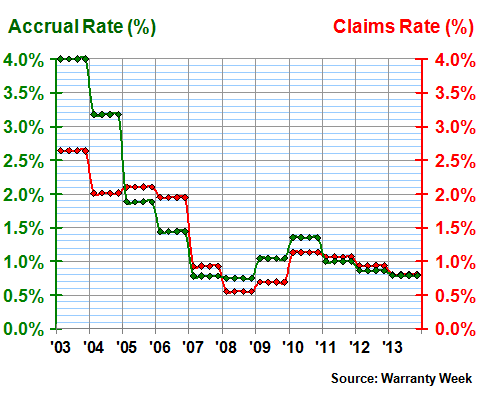 In a sign of just how tough the telecom equipment business has become over the past decade, Ericsson's revenue is actually down slightly from 2003 to 2013. However, if Ericsson were still paying claims and making accruals at 2003 rates, its warranty expenses would have been much higher in 2013.
Instead of paying 948 million kronor in claims, it would have paid 3.1 billion kronor. And instead of making 924 million in accruals, it would have set aside 4.7 billion kronor in accruals. That's what it used to do back in 2003, so this example is more than theoretical. That used to be its warranty costs.
Therefore, by cutting its warranty expense rates while seeing no growth in revenue, the savings equate to US$262 million on the claims side and $459 million on the accrual side. So while it's not exactly as much as HP saved itself in a decade, it's reasonably close.
Nokia Minus Mobile Phones
Finally, while we searched and we searched for more examples of international warranty cost-cutters, all we could find was one more: Nokia Corp. The mobile phone pioneer has seen its warranty expense rates plummet, but not for the right reasons. In April 2014 Nokia sold its mobile phone business to Microsoft Corp., leaving it with basically just the telecom infrastructure equipment sales left over from its former joint venture with Siemens AG.
In Figure 6, it is obvious that warranty expense rates fell precipitously in 2013. The company went from spending 596 million euros on claims in 2012 to spending only 31 million euros on claims in 2013. But revenue also dropped, from 30.2 billion euro in 2012 to just 12.7 billion euro in 2013. And nine-month revenue in 2014 is down to 8.9 billion euros, from 9.2 billion euros in the same period of 2013.
Figure 6
Nokia Corp.
Average Warranty Claims & Accrual Rates
(as a % of product sales, 2003-2013)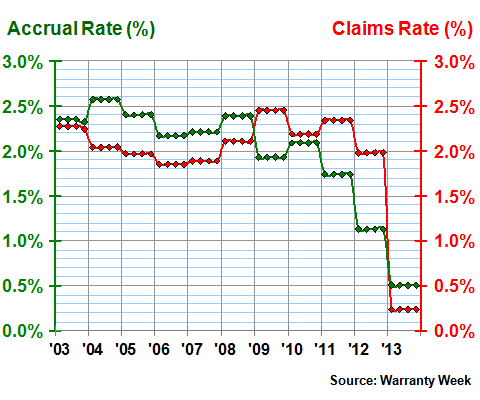 Warranty expense rates from 2003 to 2011 were more or less steady, usually within a range of 2.0% to 2.5%. It was in 2012, as the company began to fall apart, and in 2013, as the sale of the mobile device business to Microsoft was announced, that warranty expense rates began to fall.
So let's pretend that warranty expense rates in 2013 were the same as in 2010. With the diminished revenue, the savings would have been much smaller. Instead of paying 31 million euros in claims, Nokia would have paid 278 million. Its accruals would have been 266 million euros instead of 65 million.
So again, there's another example of a company that has reduced its warranty expenses by hundreds of millions of dollars. But it did so by selling off the bulk of its product line to another manufacturer, and by retaining a product line for itself (telecom infrastructure gear) that has a much smaller warranty footprint than the portion it divested (handheld mobile devices).
Interestingly, Nokia reported that 333 million euros in warranty reserves (US$383 million) were sent with its divestiture to Microsoft, dropping Nokia's own reserves down to 94 million euros by the end of 2013. However, Microsoft made no mention of this transfer in its own annual report for the fiscal year ended June 30, 2014. But it did list current and long-term liabilities of nearly US$5.5 billion, which were figured into the purchase price.
Still, we have our six examples of international warranty cost-cutters. Two have saved their companies billions of dollars per year: BMW and Daimler. Three have saved their companies hundreds of millions of dollars per year: Hitachi, Ericsson, and Nokia. And Electrolux has saved tens of millions of dollars per year.