April 30, 2015
Medical Equipment Warranty Report:
While most of the companies in this industry have fairly low warranty expense rates, those that deal with either lasers or X-rays see much higher costs. And even those with low costs keep a very thin cushion, so when things go wrong they go very wrong.
Compared to some industries, the medical and scientific equipment manufacturers don't generate a lot of warranty expense. And their expense rates aren't very high, unless they make products that use lasers or X-rays. But it's still one of the largest sectors of the warranty industry, with hundreds of medium-sized companies generating hundreds of millions of dollars in claims and accruals.
We began this week's analysis with a list of 196 manufacturers of medical equipment, hospital furniture, scientific instruments, and other specialized items. Most of them pay out less than $20 million a year in warranty claims; only seven made it into our list of the 100 largest warranty providers of 2014 detailed in the March 12 newsletter.
What we noticed was that of all the medical equipment makers, those that manufacture products that use lasers or X-rays seem to account for a disproportionate share of the overall warranty expense. Of our 196 manufacturers, only 15 work with lasers and only nine work with X-rays. And these 24 companies account for only about six percent of the entire category's product sales revenue.
However, over the past few years they've accounted for between 11% and 16% of the overall warranty expense, depending upon which warranty metric we look at. Their share of claims is a little higher than their share of accruals, and both of those are higher than their share of warranty reserves. But they're all punching above their weight when it comes to warranty costs.
Claims Payments
In Figure 1 below, we've compiled the warranty claims payments of the 196 medical and scientific equipment makers and divided them into two groups: the 24 laser and X-ray equipment makers, and the 172 manufacturers of other types of medical and scientific equipment.
In 2014, the laser and X-ray companies paid out $116 million -- their least amount of claims since 2009, while the others paid out $703 million. Note that the industry total has been higher in five of the previous 11 years, with 2008's $952 million total standing as the record.
Figure 1
Worldwide Warranty Claims
of U.S.-based Medical Equipment Manufacturers
(claims paid in US$ millions, 2003-2014)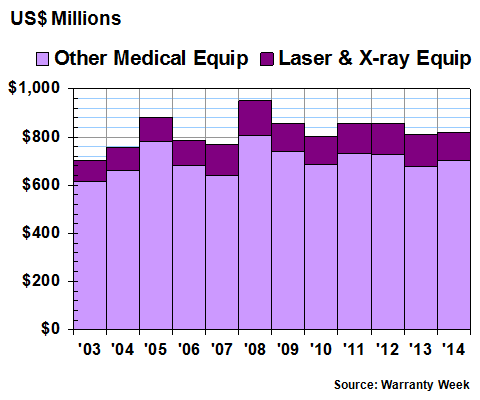 There doesn't seem to be any recessionary effect in the data, as we plainly saw in the automotive data included in the March 26 newsletter, for instance. Conversely, there hasn't been much of a recovery. Overall product sales were up by about eight percent in 2014, which is about how it's been for much of the past decade.
However, notice that from 2013 to 2014, claims were up only slightly. An eight percent sales gain would imply more than a one percent gain in claims payments. Its absence implies a gain in product reliability and a drop in warranty costs, which is also verified by the corresponding accrual data.
Warranty Accruals
In Figure 2, we've totaled up the amounts each manufacturer set aside as warranty accruals during the past 12 years. This time, the overall accruals are down; accruals for the laser and X-ray companies are down; but accruals for the other medical equipment makers are about the same as in 2013.
Figure 2
Worldwide Warranty Accruals
of U.S.-based Medical Equipment Manufacturers
(accruals made in US$ millions, 2003-2014)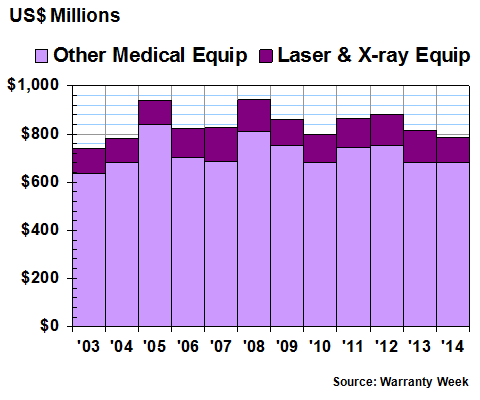 Indeed, the overall 2014 total of $788 million is the lowest amount of accruals seen since 2004. The laser and X-ray equipment makers set aside $29 million less than their $135 million total in 2013, while the other actually set aside about $734,000 more in 2014 than they did in 2013 (though this gain is barely visible in the chart).

The industry-wide total in 2005 was $938 million and in 2008 the record was set at $942 million. The record for the laser and X-ray companies, however, was set in 2007, thanks to a big increase in accruals that year by one of the biggest contributors: Varian Medical Systems Inc.

Again, what we're seeing is evidence that products are becoming more reliable, with their warranty costs falling. As was mentioned, product sales were up eight percent in 2014. Accruals, however, were down by three percent. And accruals were down by 22% for just the laser and X-ray equipment manufacturers, though they also saw sales fall slightly.

Only three of the 24 laser and X-ray equipment makers paid more than $20 million in claims in 2014: Varian Medical Systems; Coherent Inc.; and Sirona Dental Systems Inc. The first two saw their claims and accruals fall, while Sirona saw an increase in claims and accruals.

There were six companies in the "other" category that paid more than $20 million in claims during 2014: Danaher Corp.; Agilent Technologies Inc.; Thermo Fisher Scientific Inc.; Tempur Sealy International Inc.; Bio-Rad Laboratories Inc.; and Invacare Corp. The last three companies in that list saw big jumps in claims and accruals last year, while the first three remained about the same.

Warranty Reserves

Since the annual claims and accrual totals for this industry have remained within a range of $800 to $900 million during most of the past 12 years, it's no surprise to see the resulting balance in their collective warranty reserve funds remain in about the same range. In Figure 3 we see a maximum balance of $883 million in 2006 and a minimum balance of $740 million in 2003, with 2014's balance of $819 million coming in right in the middle of that range.

The laser and X-ray equipment makers have accounted for about 11% to 13% of that total during most years -- a share that is towards the lower end of the range seen for their claims and accrual totals. This means that the laser and X-ray companies tend to live closer to the edge than the others, holding less than a year's worth of reserves in their funds. But the others aren't great savers either: they tend to hold only 12 to 14 months' worth of reserves in their funds at any given time.



Figure 3
Worldwide Warranty Reserves
of U.S.-based Medical Equipment Manufacturers
(reserves held in US$ millions, 2003-2014)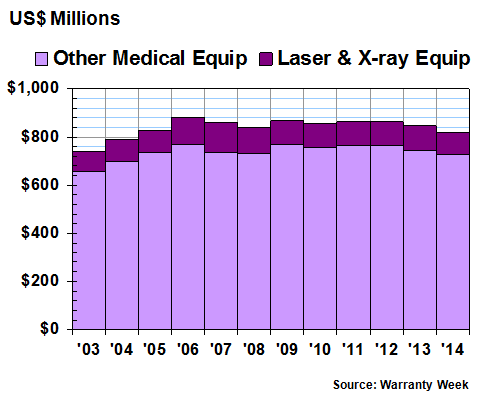 Among the laser and X-ray companies, Sirona Dental Systems and Hologic Inc. made the largest reductions in their warranty reserves in 2014. Among the others, the biggest decreases were seen at Hill-Rom Holdings Inc.; Bruker Corp.; Medtronic plc; and Boston Scientific Corp. But there were some large increases as well, at Bio-Rad; Thermo Fisher; Agilent Technologies; and Tempur Sealy, among others.
Clearly, the decreases outpaced the increases, because the overall balance fell from $846 million to $819 million. And this was the third year in a row where overall warranty reserves saw a decline. It's just another sign that manufacturers are becoming more confident about their products, and don't feel the need to hold as much in reserves in order to pay claims.
Warranty Expense Rates
In Figure 4 we're going to take the totals from Figures 1 and 2 and divide them by product sales totals. In the medical equipment category, there is not only quite a bit of service revenue, but also lots of sales of consumables, as well as licensing and royalty revenue. We've subtracted those out of the sales figures, in order to make the calculations as close as possible to product expenses divided by product sales.
We're continuing to separate the laser and X-ray companies from the others, and the reason can be clearly seen in Figure 4. While the typical medical and scientific product manufacturer is spending roughly 0.5% to 0.7% of their product revenue on warranty expenses, the laser and X-ray companies are spending 1.5% to 1.7% on warranties. It's not as big a gap as is seen in some other industries, but it's definitely visible.
Figure 4
All U.S.-based Medical Equipment Manufacturers
Average Warranty Claims & Accrual Rates
(as a % of product sales, 2003-2014)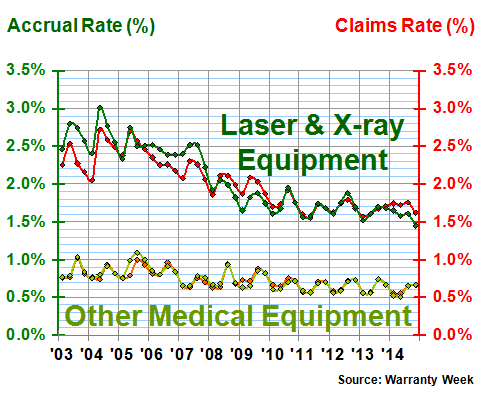 Note also that while the laser and X-ray companies have been able to reduce their expense rates by about a percentage point over the past decade, the others are paying about the same rate as they did in 2007, and not much less than they did in 2003. In other words, while one group has higher expense rates, they're also more successful at reducing those rates over time.
By the way, the laser and X-ray companies managed to get their accrual rate below 1.5% for the first time at the very end of 2014. The others have never been able to get below 0.5%, though they've come awfully close in two of the past 48 quarters.
Company Snapshots
In the next three charts, we want to spotlight some of the high and low companies that helped to shape the averages in Figure 4. In Figure 5, we're comparing Varian Medical Systems to Thermo Fisher. We don't mean to imply that one is better than the other -- just that one has higher expense rates because its product line is filled with laser or X-ray equipment.
Varian manufactures a variety of X-ray equipment used in applications such as radiotherapy, radiosurgery, and even cargo screening. By the end of 2014 it managed to cut its accrual rate to below two percent for the first time ever. Back in 2003 it had been as high as 4.3%.
Thermo Fisher is actually the result of the merger of Thermo Electron Corp. and Fisher Scientific International Inc. It should come as no shock to find out that the merger was completed at the end of 2006, because that's when the company's warranty expense rates dropped significantly.
Figure 5
Medical Equipment Manufacturers
Average Warranty Claims & Accrual Rates
(as a % of product sales, 2003-2014)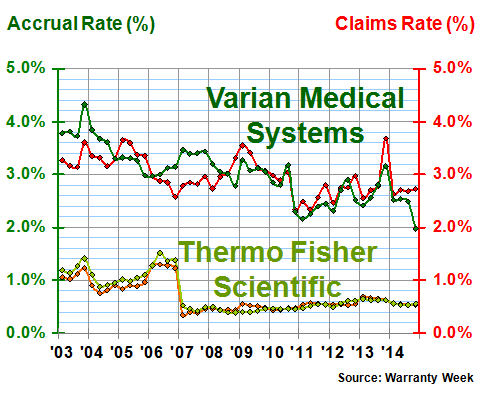 Next, let's take a look at a pair of warranty cost-cutters. Sirona Dental Systems, as its name implies, manufactures many of the imaging systems, instruments, and cabinetry used by dentists. And in recent years it has jumped into the world of digital X-ray imaging, selling both the systems and the software needed to make those charts.
Back in 2003, it was spending as much as 7.7% of its product revenue on warranties. That's an unsustainable level, even for a company in a warranty-intensive sector such as X-ray equipment. But as the chart shows, it cut its expense rates to about two percent by 2010, and was even a little below that level by the end of 2014.
Figure 6
Medical Equipment Manufacturers
Average Warranty Claims & Accrual Rates
(as a % of product sales, 2003-2014)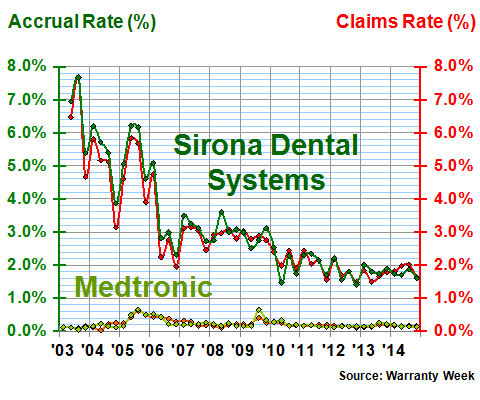 Medtronic, in contrast, is a top manufacturer of pacemakers, which its co-founder Earl Bakken helped to first develop way back in 1957. This is normally a very stable and predictable business, except when it's not. And in the past 12 years, Medtronic has had two very public product crises, in 2005 and again in 2009.
When those crises hit, the normally low warranty expense rates suddenly tripled, from around 0.2% to around 0.6%. The scale of the chart doesn't show those spikes too clearly, however. And it also doesn't show how well the company has recovered, with both its expense rates now close to 0.1%. By the way, Medtronic was one of the few companies to make multiple appearances in the top 10 expense reduction charts in the March 12 newsletter.
Companies on the Fringes
Finally, we have a pair of "Why am I here?" companies in Figure 7. Tempur Sealy International makes beds. Coherent makes laser equipment for a variety of industries and applications. But they're not strictly, or even mostly, medical equipment companies.
Both, however, have more than a token presence in the medical and scientific fields. Tempur-Pedic, the company that acquired the Stearns & Foster and Sealy consumer brands, got its start about 20 years ago with sleep-aiding products such as the "Swedish Neck Pillow." It competes with Hill-Rom Holdings Inc. and Invacare Corp. for bed sales to hospitals, but it also has a thriving business in the home health care side of the business.
Coherent manufactures lasers and photonic solutions for defense and military applications, as well as laser cutting tools for industrial processes. But it also makes products used in laser medicine, such as the cutters used in stent manufacturing and the systems used for glaucoma surgery and vision correction.
In Figure 7, Coherent has not shown any long-term trend in its warranty expense rates, besides keeping them mostly between two and four percent. Tempur Sealy, meanwhile, had managed to maintain its expense rates around 0.5% to 0.6% for multiple years, until recently. How recently? Until 2012, which is when it completed its acquisition of Sealy Corp.
The companies continue to operate separately, but their warranty expenses are now reported together. And while we don't want to make any inferences about product quality or warranty costs, we note that Sealy always had expense rates of 0.8% to 1.8% during its last decade of independence. So what you're seeing is a low-warranty-expense competitor absorbing the costs of a high-warranty-expense competitor -- precisely the opposite of what was seen with Thermo Fisher in Figure 5.
Figure 7
Medical Equipment Manufacturers
Average Warranty Claims & Accrual Rates
(as a % of product sales, 2003-2014)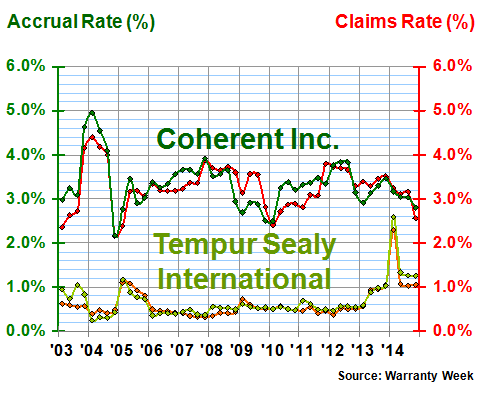 There's no scandal or crisis that comes out of the post-merger period for either company. It's likely that they each found that the other was counting warranty in a slightly different way, making their expense rates difficult to compare directly. But once the merger is completed, the company has to report a single set of numbers for the entire product line.
However, there was a big spike in Tempur's expense rates at the beginning of 2014. It seems to be partly the result of a drop in sales combined with some time-shifting of the following quarter's warranty expenses into the first quarter. So it's not quite a manufacturing crisis. But it's clear that the post-merger trend line is going to be higher than it was before.
Changes of Estimate
Overall, the pattern with medical and scientific equipment manufacturers seems to follow the Medtronic model: things are good until they aren't. They predict good weather until it pours rain. Optimistic companies such as these tend to keep their reserve balances low, and therefore their cushions thin, so any manufacturing crisis that does arise is going to quickly impact the bottom line, because additional reserves will be needed.
It's the opposite approach of the aerospace industry. There, warranties tend to be long, and warranty expenses unpredictable. So they hope for the best but prepare for the worst. Another approach is used in the automotive industry, where they know it's going to rain, and it always does, eventually. They keep huge reserves and make huge changes of estimate as their pessimism is either confirmed or contradicted by actual events.
Within the medical field, both Invacare and Thermo Fisher had to make extra contributions to their warranty reserves last year to cover unexpected expenses. That's a nice way of saying the forecast was too optimistic. MGC Diagnostics Corp., which manufactures spirometers, calorimeters, stress testing systems, and other cardiopulmonary equipment, made much smaller upward revisions to its accruals last year, but since it's a much smaller company the additions were relatively larger.
At the other extreme, before it was acquired by Becton, Dickinson and Co., CareFusion Corp. made a sizeable downward change of estimate, removing $3.0 million from its warranty reserve just before the end of its last complete fiscal year. Others making significant withdrawals from their warranty reserves over the past calendar year include PerkinElmer Inc.; PhotoMedex Inc.; and Coherent.
Meanwhile, Pro-Dex Inc.; Cesca Therapeutics Inc.; and MTS Systems Corp. are among the companies that made downward changes of estimate early in the year and upwards changes of estimate later in the year. Oops!