July 23, 2015
International Heavy Equipment Warranties:
Compared to U.S. market leaders, the top Japanese and European makers of mining, construction and farm equipment have generally lower warranty expense rates. But that seems to have more to do with the way they divide their revenue into warranted and non-warranted sources than it does with the actual warranty expenses.
Warranty claims and accrual rates are easy to figure out: take the expense and divide it by sales revenue to calculate a percentage rate. But when the revenue includes service, consumables, and sales of basic materials, the percentage rate is too low because the revenue is too big.
This week we're detailing the warranty expense rates of six international heavy equipment manufacturers: two from Europe that have relatively low expense rates, two from Europe that have relatively average expense rates, and two from Japan that have expense rates a little below average.
By average, we mean the 12-year average claims and accrual rates for U.S. manufacturers detailed in charts such as Figure 5 of the March 26, 2015 newsletter on trucks and in Figure 3 of the September 25, 2014 newsletter on mining equipment. For trucks, the range was 1.5% to 2.0%, while for mining equipment it was 1.2% to 1.8%.
Percentages, Not Currencies
Unlike the newsletters of the past few weeks, in this edition we're entirely dropping any conversions of each company's native currencies into U.S. dollars. Two of the heavy equipment manufacturers report their revenue and warranty expenses in Swedish kronor. One uses euro. One actually uses U.S. dollars, despite being based in Europe. And two use Japanese yen.
However, what we do is divide their warranty expenses by their product revenue, so the currency in question cancels itself out, leaving only pair of a percentage rates for each of the past 12 years. In this way, we can look at whether a given company's warranty expense rates are above, below, or at the same level as the U.S. industry averages.
In Figure 1, we're charting the warranty expense rates of Atlas Copco AB, a manufacturer of mining and construction tools, equipment and vehicles based in Nacka, Sweden, just outside of Stockholm. Long-term, the company's claims and accrual rates average out to be around one percent, which is significantly below the U.S. averages detailed in the above two newsletters.
Figure 1
Atlas Copco AB
Average Warranty Claims & Accrual Rates
(as a % of product sales, 2003-2014)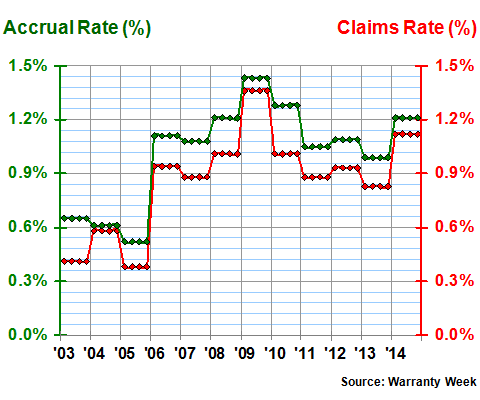 One reason may be the nature of Atlas Copco's product line. While the product lines of the top U.S. heavy equipment manufacturers are dominated by, well, heavy vehicles, Atlas Copco also makes a variety of drills, motors, valves, pumps, fittings, cutters, and grinders which obviously don't generate as much warranty expense as the big trucks.
In contrast, U.S.-based competitors such as Caterpillar Inc. and Terex Corp. make some of the biggest vehicles in the world. And their average warranty expense rates have been close to two percent as a result, though Terex has more recently cost-cut itself closer to one percent at times.
Since 2013, compressors have been Atlas Copco's largest product segment, having surpassed mining and rock excavation equipment. Its third-largest segment is construction equipment, followed by "industrial technique" (tools and assembly systems). Mixed into each of these segments is a significant amount of service and consumables revenue, which might be an additional factor in the company's low expense rates.
Even Lower Warranty Expenses
In Figure 2, we're detailing the warranty expense rates of Sandvik AB, one of Atlas Copco's closest rivals, both in terms of product lines and location. Sandvik's headquarters is in downtown Stockholm, about a 20-minute drive from Atlas Copco's, and its product line is dominated by mining equipment, construction equipment, tools, drills, crushers, and road-building equipment.
As with Atlas Copco, Sandvik has warranty expense rates below the industry average. But in this case, the rates are far below what we'd expect from a construction and mining equipment company. The long-term average is around 0.3%, though both the company's claims and accrual rates were a bit above that level in 2013.
Figure 2
Sandvik AB
Average Warranty Claims & Accrual Rates
(as a % of product sales, 2003-2014)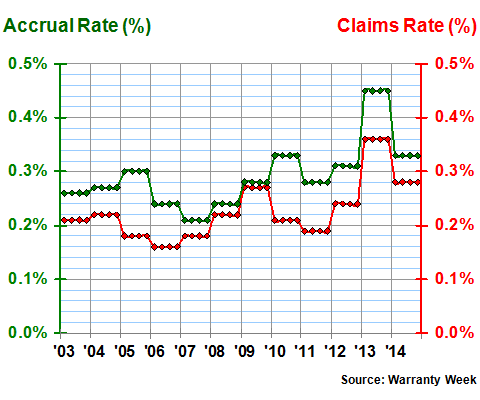 Again, a major reason for the relatively low rates is the nature of the product line. Sandvik's leading product segment makes machining tools such as milling machines, drills, and thread-tapping tools. Mining equipment is the second-largest segment, and construction equipment is the fourth-largest.
Meanwhile, the third-largest business segment is materials technology, whose products include coated strip steel, wiring and tubing, some of which typically aren't covered by product warranties at all. Plus, there's an amount of service in each segment that's not quantified. Therefore, because we aren't making these subtractions from our calculations, the product revenue total is higher than it should be and the expense rates are lower than they should be.
Big Cuts in 2014 Expense Rates
In Figure 3, we're detailing the warranty expense rates of Metso Corp., a Helsinki-based manufacturer of pulp, paper and energy production equipment, as well as construction and mining equipment. And while the company's expense rates, averaging 2.5% over the long term, are closer to the industry average, note the sudden drop in 2014.
Figure 3
Metso Corp.
Average Warranty Claims & Accrual Rates
(as a % of product sales, 2003-2014)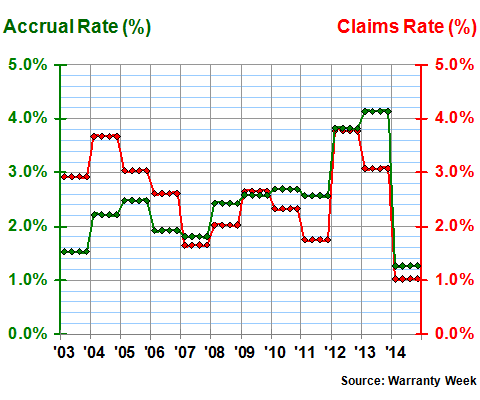 The main reason the company's warranty expense rates seem to be higher than either Sandvik's or Atlas Copco's is simple: Metso does a better job of identifying all its service revenue, which is subtracted before the expense rates are calculated. Therefore, the amount of claims and accrual expense is compared to a figure closer to the actual amount of warranted product sales, and the percentage rates are closer to the industry average.
However, there's also that sudden drop in 2014, which takes Metso's expense rates far below average. In 2013, the company spent 58 million euro on warranty claims against 1.88 billion euro in sales of projects, equipment and goods, for a 3.1% claims rate. In 2014, sales of projects, equipment and goods fell to $1.651 billion euro, but claims payments fell to only 17 million euro, so the claims rate fell to just over one percent. Unfortunately, the company provided no explanation in its annual report for the unprecedented warranty cost reductions.
Farm Equipment Conglomerate
Figure 4 is really an amalgamation of two companies: from 2003 to 2010 it tracks the quarterly warranty expense rates of CNH Global N.V., and from 2011 to 2014 it tracks the annual expense rates of CNH Industrial N.V., which Fiat S.p.A. formed out of a merger between CNH Global and its own truck manufacturing subsidiaries.
CNH is short for Case New Holland, which was formed by the merger of Case International Harvester and New Holland Agriculture -- names which proclaim a long legacy in farm equipment. So the American arch-rival is more likely to be John Deere than Caterpillar; more likely AGCO than Terex. In fact, now that Iveco's commercial trucks and Fiat's powertrain subsidiaries are part of the product line, construction equipment sales is now the fourth largest product segment, while agricultural equipment is still almost half the company.
Figure 4
CNH Industrial N.V.
Average Warranty Claims & Accrual Rates
(as a % of product sales, 2003-2014)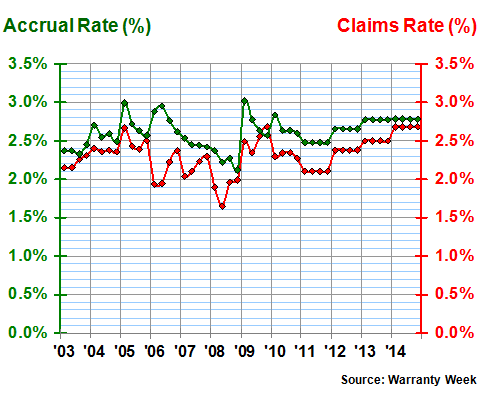 Sometimes, it's hard to classify CNH as a non-U.S. company. After all, its financial statements are in dollars, and its warranty expense reports were made quarterly. And though it's based in London and is controlled by an Italian automotive giant, more than 40% of its sales (before the addition of Iveco's operations) were made in North America. In fact, the New Holland Machine Company took its name from the town where it was founded: New Holland, Pennsylvania.
What we see in Figure 4 is a company whose warranty expense rates are never far above nor far below their long-term average of 2.5%. When the company switched to annual-only reports in 2011, its expense rates flattened further, but the data is still very close to that 2.5% historical average. And so, what we seem to have here is a company whose product line generates the same kind of consistent and stable warranty expenses as both John Deere and AGCO. So the comparison is fitting.
Japanese Heavy Equipment
Finally, we have a pair of Japanese heavy equipment companies that have released their latest annual reports in just the past few weeks. Like most Japanese manufacturers, both Komatsu Ltd. and Kubota Corp. end their fiscal years on March 31, and release their annual reports in late June. And as with many of their peers in the passenger car and consumer electronics businesses, they seem to have somewhat lower-than-average warranty expense rates.
In Figure 5 we're looking at Komatsu, a Tokyo-based manufacturer of mining and construction equipment. It makes a variety of dump trucks, backhoes, bulldozers, excavators, loaders, and tractors -- basically a product line similar to Caterpillar's. It also manufactures forklifts, generators, and, from a base in central Sweden, a line of forestry/logging machinery.
Long-term, Komatsu's warranty expense rates have averaged 1.3%, though they've gone above two percent and below one percent over the past 12 years. What's notable in Figure 5 is that, like Metso, Komatsu has reported its lowest-ever accrual rate. At 1.06%, its claims rate isn't quite its lowest ever, but it is the lowest since fiscal 2008.
Figure 5
Komatsu Ltd.
Average Warranty Claims & Accrual Rates
(as a % of product sales, 2003-2015)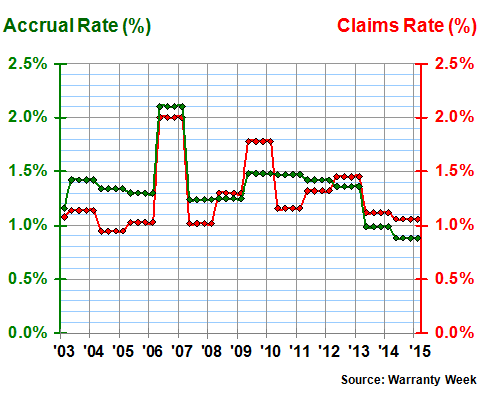 Kubota is a much smaller company than any of the others that we're examining this week, and its warranty expense rates are also on the low side. Long term, the average is only 0.7%.
Like the others we're looking at this week, Kubota makes construction equipment, farm equipment, engines, generators, and a variety of tools and implements. It also goes deeper into the lawn care industry with a line of mowers and garden equipment, somewhat like John Deere but more like Toro Company. But what makes it unique is a service it provides to farmers, helping them collect, sort, dry, and package their fruits and vegetables.
Subtracting Service Revenue
We've subtracted everything but the revenue from sales of farm and industrial machinery from our calculations, so we can't blame the low expense rates in the chart below on unidentified services or consumable sales in the mix. In 12 annual reports, neither of the company's warranty expense rates has ever been higher than 1.2%.
Figure 6
Kubota Corp.
Average Warranty Claims & Accrual Rates
(as a % of product sales, 2003-2015)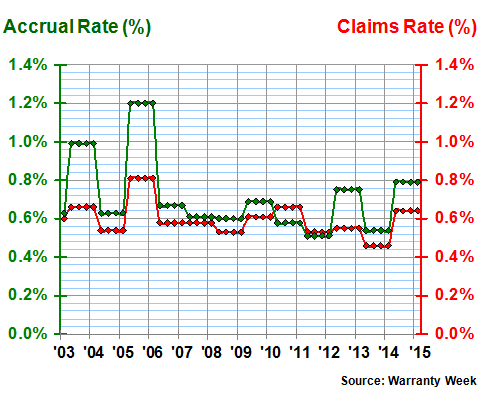 Of these six companies, then, Sandvik has the lowest average warranty expense rates of all. But that's probably caused by the inclusion of lots of service revenue and sales of basic materials included in with the sales of warranted machinery. Kubota is the second-lowest, and we're subtracting out all the service and non-warranted product sales, so its calculated expense rates are more credible. And then third is Atlas Copco, which once again has lots of service and consumables revenue mixed in with the heavy equipment.
Komatsu's in the middle at 1.3%, and then both Metso and CNH are at the high end at 2.5%. However, Metso radically reduced its warranty expense rates in 2014, so it's actually now a bit lower than Komatsu.
Compared to U.S. Market Leaders
As an additional point of reference, Caterpillar's long-term warranty expense rate is close to 2.2%. Deere is a little higher at 2.3%. Toro is a little lower at 2.1%. Terex is the lowest of the farm, mining, and construction equipment manufacturers, at 1.6%.
We're not saying the numbers are directly comparable. We didn't even mention the effect of Swedish taxes or Japanese currency devaluations in these expense rates, not to mention differences in accounting principles, how parts cost is calculated, the average length of the warranties, and what markets the equipment is sold and repaired in.
These factors also have an enormous effect on whether the company's expense rates are above or below the industry average. And as we saw with the European and Asian passenger car data in the two previous newsletters, expense rates, reliability and reputations don't always correlate the way they should.