September 17, 2015
Fulcrum Analytics Spins Off After Inc.:
The experts in extended warranty analytics and post-sale marketing services have spun off the business unit so it can stand on its own.
Fulcrum Analytics Inc., the market research and consulting group that for 20 years has provided services such as customer behavioral modeling, relationship marketing programs and analytical solutions to manufacturers and retailers, is spinning off its warranty and service contract expertise into a separate company called After Inc.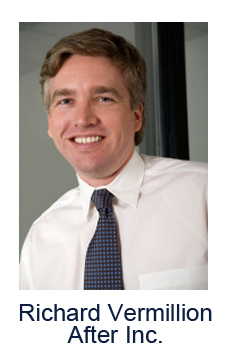 Richard Vermillion, CEO of both Fulcrum Analytics and After Inc., said it was his idea to divide the company into two pieces: one focused on warranty and the other focused more broadly on big data solutions, data science and custom analytical consulting. This will allow the company to return to its original focus, which made use of advanced analytics to understand what the customer purchases, when and why.
In its first 10 years, Fulcrum was occasionally asked by its retail clients to help them better understand the behavior of their customers who purchased extended warranties. Eventually, these requests became frequent enough to merit the launch in 2005 of the Warranty Solutions Division of Fulcrum Analytics, which focused on product warranties and service contracts. The new division continued to grow, and became a top Warranty Week sponsor in 2009.
The rest of the company continued to deal with everything from analyzing grocery shopping patterns to segmenting the customer base of cable television companies. In 2011, the National Center for Database Marketing gave an award to Fulcrum and Whirlpool Corp. in the Technology Solutions category for the work they had done for the launch of an online retail site that sells parts and accessories to appliance owners.
Vermillion said this line of business will continue, but now it will be much more separated from the warranty analytics. "We wanted to split the company up so that the After business unit could have a clear message separate from the broad Fulcrum message that goes across multiple industries and multiple types of analysis," he said. But it also simplifies financial matters, he added, in terms of investment, growth, profits, and ownership.
Long List of Clients
The business unit that's becoming After is now entering into its third straight year of 40% growth rates, he said, so it's time for that entity to grow up and live separately from its parent. Counted among the long list of clients Fulcrum is passing on to After are Bass Pro Shops, Canon, Electrolux, Ford, John Deere, Kubota, Land Rover, Polaris, Seagate, Stihl, and Yamaha.
It makes sense to separate the warranty work from the rest of the business, Vermillion said. "When you're a business unit of a larger company, there's a lot of cross-subsidization and the borrowing of people," he noted. "We really want this business to stand on its own, and we want to be able to show its growth and its profitability, plan for its future, and make the right kind of investment decisions."
Vermillion said he is also remaining CEO of Fulcrum Analytics. Tara Piazza, who has presented her extended warranty market research findings multiple times at industry conferences, also will split her time between Fulcrum and After, as will David King, an executive vice president at both Fulcrum and After.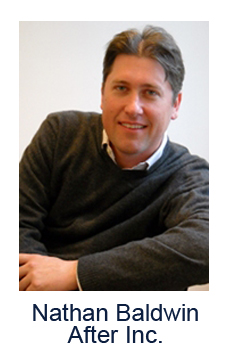 Nathan Baldwin, who is also currently an executive vice president at Fulcrum, will transition to a role as general manager of After, where he will take charge of the day-to-day operations of the new company. Paul Swenson becomes executive vice president of business development at After. Dan Hulkower and Dan Adelsberg are also moving over to work exclusively at After.
Baldwin said both businesses are based upon 20 years of expertise surrounding advanced analytics and database marketing, but After has an additional focus on warranty that's developed over the past 10 years. Now it's matured and grown to the point where it needs its own corporate structure.
Vermillion said he expects his role in the new company will be one where he helps set the strategy, manages the board and works with potential business partners and investors. "Over time, I think I'll be spending more of my time on Fulcrum," he said, as the new company stands on its own.
Back in the old days, Vermillion said, Fulcrum was doing a lot of analytics work with its manufacturing and retail clients in customer relationship management, loyalty programs, and post-sale marketing efforts. And even though their clients typically kept their extended warranty programs in a separate department, Fulcrum saw that its predictive analytics and database marketing solutions also worked well with those. Eventually, a few manufacturing and retail clients asked Fulcrum to take a look at those programs, and them more followed, and then more.
Loss Cost Analytics
Customers then started asking for more help with the pricing of service contracts, as well as with even more fundamental questions such as whether or not their extended warranty programs were profitable. Some clients were being pressured by their insurance underwriters to raise prices, and the clients had no way to analyze the data to see if the price increases were really necessary. Others were looking for help selling extended warranties alongside their sales of supplies and consumables.
"I think After definitely is a warranty company, and has many of its products targeted at warranty," Vermillion said. "But I think it's also important to realize that warranty is a piece of the broader customer relationship after the point of sale. Particularly for a manufacturer, there are only so many ways that you can stay in contact and impact your relationship with a customer. So we are trying to help our clients improve, grow, and maximize the value of that customer relationship, using warranty as a very important piece of that puzzle -- but just a piece of that puzzle, which is where marketing, consumables, and accessories come in."
Compared to warranty analytics software, Vermillion said, this kind of a consultative service is a much more versatile option. First of all, After employs the analysts, so the client doesn't need to hire statistical experts to interpret the data. Second of all, because After has a diverse client base, these analysts are working across industries, always pushing the state of the art, he added.
"The client gets the same outcome they would get from an expensive software tool, but they get not just the statistical experience but also the deep industry and functional area experience," he said. Some of these analysts have examined dozens of other service contract programs, and are well aware of the quirks and flaws to look out for. A software program doesn't know what it doesn't know.
After Inc. is packaging its capabilities into three offerings: warranty analytics, warranty marketing, and claims administration. Baldwin said warranty analytics is essentially loss cost analytics, which is a way to predict the profitability of a given program. It brings cutting-edge statistical models and data sciences to the problem of projecting the future cost of claims, balancing risks against reserves and revenue. But it also involves deferred revenue recognition, determining reserve levels, and optimizing service contract pricing.
Warranty marketing is a package of services that helps a client sell extended warranties and/or renewals to its customers, using a database, targeted mailings, phone calls, online or email contacts, and a call center to solicit those who have already purchased the underlying product. It's essentially a turnkey direct marketing and sales platform for extended service plans that incorporates predictive modeling and analytics.
And then there's the newest area, which After is calling claims administration. Clients who request help with warranty analytics and marketing sometimes need additional services such as a call center or the capability to adjudicate claims. "We're more than happy to use the client's call center or other capability," Baldwin said, "but we want to be there and offer an end-to-end solution if necessary."
For instance, a large appliance manufacturer might already have an in-house call center, Vermillion said. They might need just some scripts and additional training. But another client might not have any existing call center, or they're using an outsourced call center for other tasks, and they might need operational assistance. After could run their call center.
Vermillion said the warranty analytics capabilities are available worldwide. The warranty marketing and administration offerings are constrained by local laws and languages as to how widely they can be deployed, though After does have clients that make use of those services in both Asia and Europe.
Clients Become Partners
One of the first clients to make use of the administration offerings was Seagate Technology plc, whose Seagate Recovery Services business unit worked with Fulcrum to package data recovery services for hard drives into an offering that could be sold like a service contract.
Seagate offered data recovery services on an as-needed basis long before the capability was packaged into an insurance-backed service contract format. But it was Fulcrum's idea to use insurance to spread the risk and lower the price for the consumer. Paul Steele, the general manager of Seagate Recovery Services, said it was Fulcrum's idea to package it that way, so that it could be more widely offered at much lower prices than was previously possible.
It was also Fulcrum's idea to launch a new administration and call center operation to provide the entitlement piece of the service, which it had not done for previous clients. In fact, Fulcrum is officially named as the administrator in the program's terms and conditions.
"They were very up-front in saying this is not a typical engagement for us," Steele said, "but they also said they were very interested in this. They've done a fantastic job for us. It's been a great partnership, and we were very fortunate to find them."
Fulcrum also provides the state compliance, regulatory filing, and loss cost analytic services for the program. But Steele said one of the most important services Fulcrum has provided is in simply helping the disk drive manufacturer understand the nomenclature and the structure of the service contract business. And the company has also helped immensely in terms of making the right introductions and helping to choose the right retail and service partners, not only in the U.S., but also in Europe and Asia.
"They have relationships within the extended warranty and service contract industry with the underwriters, who also have clients that sell contracts," he noted. Some of these clients who sell break/fix plans may eventually bundle data recovery services into their programs, and it's Fulcrum that's making sure all the deals are properly structured.
"Seagate does business with OEMs, large distributors, and big box retailers," Steele said, "but there's this whole other world out there, particularly among the underwriters and the TPAs, that we don't know. We don't speak their language, but Fulcrum and After do."
Now, Fulcrum is helping Seagate to bundle the data recovery service contracts into their existing break/fix programs. One of the first bundlers is HFS, an underwriter that's part of the BAS Group, which is adding data recovery services into the service contract programs sold by the Dutch retail chains Dixons and MyCom. Other partners in the U.S. are almost ready to announce, Steele said.
As not only business records but also personal items such as music, video and photos increasingly take the digital route, the impact of a hard disk failure and data loss becomes increasingly devastating. And the value of a data recovery service grows exponentially as well.
YouTube Video
Last year, Seagate produced a video in which Steele describes the recovery process, and the effect it has had on selected customers in New Jersey, Dublin, and France. "We get to help people out when they need help the most," he said in the five-minute video.
"We continually work to improve how we handle the customer," Steele says in the clip, "with full focus on how to make it easier, how to make it better, how to make it cheaper, how to make it more accessible for people."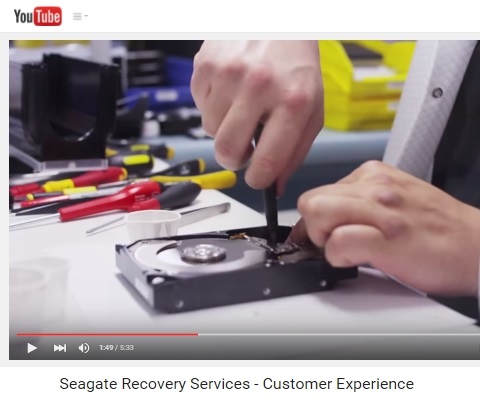 When asked about his appearance in the video, Steele said he simply said what he believes, rather than following a set script. "I'm pretty passionate about [data recovery services], so that makes it real easy to talk about," he said.
And in this case, the partnership brings together the talents of both Seagate and Fulcrum. Seagate provides the data recovery expertise while Fulcrum provides the service contract expertise. And together, they have managed to reduce the price of data recovery services from $500 and up per incident to $10 for one year of coverage via a service contract or $15 for two years of coverage.
Were it not for Fulcrum and now After, Steele said, Seagate would probably still be trying to figure out how to package data recovery services in this way. "And we'd probably be limited to the U.S.," he added. "Having them on board helped us tremendously. They are a real asset to help us negotiate the agreements with partners that want to offer this, making sure that the programs are not only compliant in the way that they're structured, but also that they're profitable and reasonable in the way that they're worded."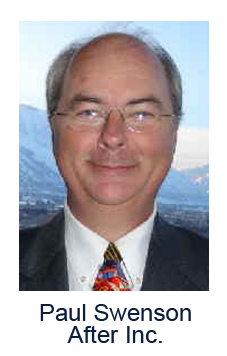 Paul Swenson, After's executive vice president of business development, said he first thought of the idea to package data recovery as a service contract after suffering a hard drive failure, and having to pay hundreds of dollars to get his data back. He approached Seagate, which responded enthusiastically. But the problem was that Seagate knew nothing about service contract administrators or insurance underwriters. So Fulcrum had to delve much deeper into the operational role.
Swenson joined Fulcrum Analytics about 10 years ago after previously amassing an extensive amount of experience on both the insurance and retail side of the service contract industry. He arrived at Fulcrum at the same time that the company found itself blessed by an increasing number of clients who needed help managing their warranty and service contract programs, serving initially as president of the Warranty Solutions Division. He will now shift over to After.
A Career in Warranty Work
Swenson is one of only five or six people to have attended all 11 Warranty Chain Management Conferences. He pointed out that he frequently begins his WCM presentations by asking the audience members if any of them ever set out on their career paths by trying to get into the warranty management business. "And I've never had anyone raise their hand," he said, "because none of us planned on going down this path, but we all found a niche that was really interesting."
Ten years ago, he said he found that no other company was really helping manufacturers and retailers understand how their extended warranty program functions from a customer perspective or a financial standpoint. That's still the case today, he said.
Swenson said he thinks that software solutions work well only when the product mix doesn't change very fast, nor does the technology or consumer behavior. That isn't the case in most sectors of the warranty business. So the software-based analytic solutions aren't optimized for change. They're architected for the way things were at the time they were written.
Sure, there are companies selling analytics software that companies can use to understand their own warranty and service contract programs. But Swenson said that didn't work for him when he worked in retail or insurance. He actually brought in Fulcrum to replace his internal analysts, because Fulcrum took time to examine not only the data but also the business.
"When Fulcrum came in, they didn't want to go straight off and build models," Swenson said. "They wanted to come in and understand my business, to interview the people that worked for me, to look at customer research, to talk with our marketing department, and to spend time in our stores. And it was wildly successful.
"And that is where I learned the power that comes from the art and science approach, where you can have people who are extremely competent from a technical standpoint but unless they understand the business, and really want to immerse themselves in the business and understand how to monetize that data, they'll fail," Swenson said. "And that's what I saw when I hired Fulcrum. And that's why I ended up coming to work for Fulcrum, because I saw that's the kind of company this was."
Within After, Swenson takes on the business development role. So he will be working with the rest of the expanding team to identify companies that need advice and expertise regarding their warranty and service contract programs. "The trick is to get in front of the right people -- get the right audience. And when we do, when we're able to present our business model, how it works, and how fast the return on investment comes, it always strikes a chord with them."
Understanding Service Contracts
Bass Pro Shops is another satisfied customer. Both the sports equipment retail chain, and its boat manufacturing arm, the Tracker Marine Group, have been working with Fulcrum for the past eight years. Chris Rowden, the business development supervisor at Tracker Marine Financial Services, said Fulcrum was initially brought in to do some loss cost analysis on the Bass Pro Shops Gear Guard program in 2007, and then the scope of the engagement began to grow.
Swenson said he still remembers when he got that first phone call from the retailer. He said he was about to have lunch with his family. "We were walking into a restaurant and I sent the family in, and took the call in my car. I was excited because I've always been a Bass Pro Shop/Tracker Marine fan, and was stoked because I knew my background and our company solutions were a great fit for their need," he said.
And then after their first meeting, at which they discusses the pros and cons of all of the in-house, outsource and hybrid arrangements that were possible for the program, Swenson remembers one of the executives stopping him and asking, "why are you telling us things the others haven't?" He said he told them his job was to help them understand every element of a successful program, to help them leverage their own resources wherever possible, and only outsource what they absolutely needed to.
Fulcrum also looked at the Tracker Marine Premier Protection Plans, conducted some market research, and suggested ways their structure could be improved. Then Fulcrum suggested ways to improve the risk structure, and to bring administration in-house as a way to improve customer satisfaction.
Bob Ferber, senior finance manager at Tracker Marine Retail, said the boat builder has been in the extended warranty business since around 1998. But they found that no third-party administrator could provide the same high level of expertise to customers as Bass Pro Shop's own associates could. And so, with Fulcrum's help, administration was brought in-house by 2012.
"They have continued to do very good quality work for us," Ferber said. "They've been a good partner in establishing and improving these programs for us. It's not only the expertise but the support and the custom features that you can't get off-the-shelf. They enabled us to take these functions in-house."
Boosting Sales & Raising Profits
One of the first items After has posted on its brand new website is a case study about the warranty work it's done for Electrolux North America Major Appliances. In that case study, Nathan B. Knowles, the general manager of the Consumer Services Group responsible for the Electrolux service contract program, explains how he wanted to tighten up the company's warranty reserve allocations with more accurate claims forecasting. His team also wanted to create a more unified customer picture, to use predictive analytics to forecast what each customer would be worth on a profit basis, and to segment customers into value tiers for more personalized marketing efforts.
Fulcrum was hired in 2013. Within a year. service contract sales grew by 126% and profits rose by 150%. Mail costs fell by $300,000, and predictive analytics used to assign per-customer strategies saved an additional $500,000. North America accessory sales increased by 384% year over year, and the introduction of multi-pack accessory discounts helped to increase average order value by 50%.
Now, as After Inc. takes responsibility for this multi-year engagement from Fulcrum, Electrolux is expecting a $1.5 million profit increase in its program. "After's rich experience in post-sale warranty analytics was a key decision factor in our partnership selection," Knowles noted in the case study. "Our sales and improved revenue results are proof that our partnership is working."