October 29, 2015
Using the Internet of Things for Warranty Business:
Most businesses looks at warranty as an overhead item. Managers are always under pressure to ensure warranty costs stay within limits. They are on the constant lookout for solutions which can help them manage their warranty costs better. The Internet of Things (IoT) is a concept with many possibilities and something that offers great solutions for reducing warranty costs. This article talks about what points a warranty business should consider before implementing the IoT.
By Prashanth Tavalam, Business Architect, Tavant Technologies

Editor's Note: This column by Prashanth Tavalam
of Tavant Technologies, a longtime sponsor of this
newsletter, is the latest in an ongoing series of
contributed editorial columns. Readers interested in
authoring a contributed column in the future can click here
to see the Guidelines for Editorial Submissions page.



After-sales services are a high-mark-up business, and they account for a large portion of an organization's profits. A primary business focus is to control costs in after-sales. Maintenance contracts and customer warranty are key cost contributors if not handled well.

According to an article in the Harvard Business Review entitled "Winning in the Aftermarket," organizations now look at providing solutions to customer problems rather than just selling products. This means organizations are shifting focus to the user experience -- ease of use, availability of spare parts, quick and timely service by OEMs, and providing a smooth warranty process.

The customer values faster problem resolution times, hence after-sales maintenance requires immediate attention to the failed machines. Delays in addressing the issues cost OEMs a loss of reputation and a dent in repeat business. Regular maintenance of the machines or products can increase the life of the product and build customer confidence.

If OEMs realize the true potential of after-sales, they will reap benefits by investing in building after-sales solutions.

Predictive maintenance is one area of the warranty business where solutions can add value. What if you could build solutions to reduce repair costs and extend the useful life of a product, thereby reducing your overall warranty costs? It also is an area where the Internet of Things can help reap long-term benefits and improve customer satisfaction and loyalty.
The Challenge:
OEMs must deploy parts, people, and equipment at multiple geographic locations. An after-sales network has to support all the goods a company has sold in the past as well as those it currently makes.
Without the right after-sales solutions in place, it is a mammoth task to manage your warranty business.
The Solution:
Research by IDC Manufacturing Insights (Business Strategy: Modernizing the Service Chain with Smart Technology) suggests that a majority of manufacturers are now exploring strategies to implement smart technologies in the near future, to manage and optimize their own or customer-owned equipment. Capturing valuable information from these devices can help them to offer newer value added after-sales services to the customer and also to reduce overall warranty costs.
Taking the Internet of Things approach can improve the after-sales experience and reduce product recalls and other warranty related costs.
Figure 1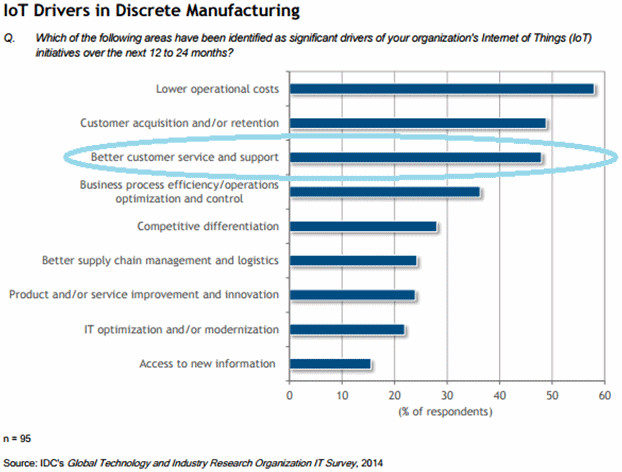 Here are five points to consider while implementing the Internet of Things to manage your warranty costs:
1) Intelligent Architecture:
What if you had high quality sensors installed to all vehicles in a fleet and the IoT architecture did not support accurate capture of information?
A good cloud architecture is a must to enable capturing information from multiple devices and to ensure successful computing.
Recent findings propose a three-tier architecture for the IoT. Similarly, another group, called the Internet-of-Things Architecture (IoT-A) Project Team, is working on creating foundations or fundamentals for a successful IoT architecture which can have seamless integration around multiple technologies.
2) Security Concerns:
Cloud technologies need to demonstrate the existence of a tried, tested and secure environment. Security is an important consideration, while dealing with thousands of interconnected devices, collecting sensitive business and personal data.
Solutions around data anonymity, and security standards to prevent malware or other cyber-attacks are the way forward. The Security Content Automation Program (SCAP) and another document entitled Special Publication 800-53 (Security and Privacy Controls for Federal Information Systems and Organizations), sponsored by the National Institute of Standards and Technology (NIST), provide some guidelines in the security area.
3) Theft of High-Value Assets:
While the benefits of implementing IoT and capturing millions of valuable datasets is an exciting proposition, one should not forget the risk involved with theft of high value devices such as a car.
These high value devices are also fitted with costly sensors which are configured through careful implementation. The theft of such devices will undo all the good work.
Geo-location capability in the devices enable continuous monitoring and tracking the location of the devices.
4) Interoperability:
Interoperability is the ability of applications and services to exchange data and use valuable information. Capturing this information is key for monitoring the health of devices.
If there are legacy systems which do not integrate well with new IoT devices, then considerable investment needs to be made to manage this issue.
Common specifications and reference models along with good metrics is a key measure to ensure successful implementation of IoT. One such solution is the Intel IoT Gateway.
The Intel IoT Gateway solution provides a seamless integration of devices with legacy systems and enables building scalable solutions.
5) Data Processing:
Huge sets of data requires a robust infrastructure, which will consume additional processing, storage and network resources. The data captured can use proven algorithms to arrive at a Remaining Useful Life (RUL) value for the critical part.
The remote sensors gather machine-related data and/or events. Data can be communicated in real-time or at regular intervals. The data collection can also be configured upon request or upon the occurrence of certain events.
The machine data captured will require defining metrics to assess Remaining Useful Life. Metrics can be built around predefined conditions to capture part information.
Some of the predefined conditions include:
Degraded state of the component,
Cause of initiating the degradation,
Severity level of the degradation, and
Degradation progress speed from its current state to functional failure.
One popular metric is Mean Time Before Failure (MTBF). This metric tracks numbers of machine hours remaining before failure could occur.
The International Organization for Standardization, in ISO 13381-1:2015, gives guidelines on condition monitoring and diagnostics of machines.
Intelligent devices can monitor their own operating health and notify users or OEMs of potential issues before they result in downtime. Internet Protocol (IP)-enabled microprocessors -- the brains inside digital devices -- turn individual pieces of equipment into smart devices.
Figure 2
Components to be considered prior to making a full investment in an IoT deployment
Source: IDC
Due to these complex data capture methods, it is necessary to understand the data processing requirements very well.
To conclude, though IoT provides a doorway to many solutions, its implementation does come with challenges.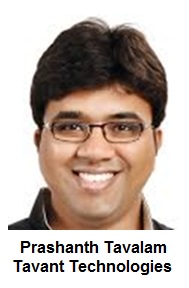 Prashanth Tavalam is a Business Architect at Tavant Technologies. He has about 10 years of work experience in the manufacturing domain. He has experience working with major manufacturing companies and works on designing solutions to solve their daily business problems. His area of focus is presales, requirements management, and contribution to the Manufacturing Practice at Tavant Technologies.