December 17, 2015
Microsoft Complete & AmTrust:
Rather than keeping it in-house as they added more hardware to their product line, the manufacturer partnered with an insurance company to launch a suite of protection plans globally. And as the insurance company learned to work at the same Internet speed as the manufacturer, it also learned to love completely new product categories for which there's no loss cost data to help them.
Nestled between the upscale Gucci and Versace retail outlets in Midtown Manhattan's Fifth Avenue high-end shopping district sits the flagship Microsoft Store. Brightly lit glass walls welcome shoppers from the sidewalk into the high-tech space, like they do a few blocks up the street at the Apple Store. Helpers dressed in red and green T-shirts look like the elves at Macy's in Herald Square. Giant video walls on the sides and back make it look like a sports bar in Times Square.
Half an hour south, perched high above the narrow streets of New York's financial district, the spectacular views from the windows of AmTrust Financial Services Inc. extend far beyond the city limits. Across the street, in a far-below-ground vault, the Federal Reserve Bank of New York operates the largest gold repository in the world. A few blocks beyond it, the New York Stock Exchange runs the Big Board, where hundreds of billions of dollars change hands every day.
Software Into Hardware, Then Retail
Microsoft Corp. is perhaps the world's most famous software company, and AmTrust is a leading underwriter and administrator of extended warranties and service contracts. Warrantech, its administration subsidiary, is a longtime sponsor of this newsletter.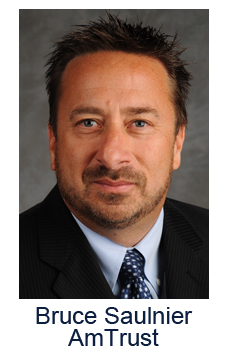 In the last decade, Microsoft has broadened its product line to include more gaming and computing hardware, and has now launched a chain of storefronts to help sell and support those devices. When it needed to offer extended warranties to its customers, it partnered with AmTrust to launch the "Microsoft Complete" suite of product protection plans.
Bruce Saulnier, the chief business development officer of AmTrust North America's Special Risk Division, said linking up with Microsoft was the product of both companies being in the right place at the right time. Microsoft was looking for an insurance company that wasn't so old-fashioned that it couldn't innovate, and AmTrust was looking for manufacturing and retail clients that wanted a partner to help them manage their service contract programs.
"We're very selective about people that we do business with," Saulnier said. "Knowing that Microsoft was migrating its product strategy and was opening up additional Microsoft Stores was very compelling to us, not to mention working with an organization as sophisticated as Microsoft. We knew that if we were lucky enough to secure a relationship, it would be a good one. We think our synergies are very much aligned -- the way we think, the way we go about business."
Nathan Banks, a senior product manager at Microsoft, whose team manages all devices offerings across the enterprise, noted that the company just recently signed a long-term agreement with AmTrust. "There's probably one reason why: we feel AmTrust has the best ability to scale to our needs," he said. "No one has the capability to meet our cultural needs like AmTrust. I've heard most everybody's sales pitches. I listened to all of them, because I want to hear what everyone is saying in the industry about how they are different." But nobody else seemed like the "right fit" for Microsoft.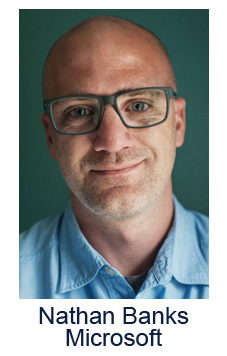 Banks, however, didn't see the addition of more and more hardware devices to the product line as causing a massive change in that corporate culture. "Microsoft is about creating software and hardware that makes our customers the most productive on the planet and helps them achieve more," he said. "So when we think about our extended warranties and services customers want, we're thinking about, 'How do we make it frictionless?' ''How do we unlock productivity and entertainment and achievement for everyone using our devices?'"
Computer hardware covered by product warranties has been a part of the Microsoft product line for multiple decades. Years ago, the company's major hardware product was the Microsoft Mouse, which was first introduced in 1983, shortly before Windows debuted. In 1991, the company introduced the Microsoft BallPoint Mouse, and in 1994, it began selling the Microsoft Natural Keyboard. Then came the IntelliMouse. Computer peripherals like these were eventually grouped together within the Hardware Division.
Deeper Into Hardware Sales
Microsoft's expansion into gaming hardware began in 1996 with the introduction of the Sidewinder Game Controllers and Force Feedback joystick. Then it introduced a series of wireless-enabled plush toys such as Interactive Barney, which followed commands programmed onto a CD-ROM and broadcast as sounds above the range of human hearing (the kids were thrilled).
The Xbox video game system first appeared in late 2001, and Microsoft added it and other entertainment hardware into the new Consumer Software, Services, and Devices segment. Then later, the Xbox franchise was moved into the Home and Entertainment segment, along with the company's mice and keyboards.
Microsoft pushed the second-generation Xbox 360 into production in late 2005 in order to make the holiday season bright. A runaway hit from its inception, the Xbox 360 sold 10 million units by the middle of 2008. By the time its successor, the Xbox One, was launched in late 2013, the Xbox 360 had sold 80 million units worldwide. However, overheating Xbox 360 units also created more than a billion-dollar hardware warranty liability for the company, which for a time turned Microsoft into one of the world's largest warranty providers (see Warranty Week, May 1, 2014 for more). According to Microsoft's annual reports from 2007 to 2012, the company paid out a total of $1.694 billion in warranty claims, and we believe almost all of it came from the Xbox 360.
Meanwhile, Microsoft also formed a Mobile and Embedded Devices segment to develop operating system software for mobile phones. Nokia adopted the Windows Phone operating system in 2011, and in early 2014 Microsoft acquired Nokia's mobile and devices division. The unit, now known as Microsoft Mobile, continues to sell mobile phones under the Nokia brand name, as well as its own Lumia brand.
The Microsoft Surface tablet, featuring a detachable screen and keyboard, debuted in mid-2012. The Surface Pro 4, featuring a bigger screen, more memory, a thinner profile and less weight, launched in October 2015. There's also a giant Surface Hub family of Windows 10 smartboards aimed at school classrooms, and the Surface Book, which is more like a laptop than a tablet. Other entertainment peripherals added to the product line in recent years include the Kinect motion sensing input device, the now-discontinued Zune handheld digital music player, the Microsoft Band wrist-based activity tracker, and the HoloLens holographic computing platform.
In fiscal 2014, Microsoft began including separate listings in its financial statements for phone hardware, and for computing and gaming hardware. The Phone Hardware segment consisted mostly of Lumia and Nokia brand phones. The Computing and Gaming Hardware segment included both the Xbox and Surface product lines, as well as all the PC peripherals and accessories. However, there was also some non-hardware revenue included, such as Xbox Live subscriptions and third-party video game royalties.
In the fiscal year that began in July 2015, Microsoft reorganized yet again. Now, all the company's hardware is included in the More Personal Computing segment. Phones, Surface, and Microsoft PC accessories are counted as Devices, and Xbox hardware and services are counted as Gaming. But the segment also includes Windows licensing revenue and MSN advertising revenue.
We've tracked the hardware portion of the business as best we could through the years, and here is what we came up with: in the fiscal year ended June 30, 2015, we estimate that hardware accounted for nearly 19% of the company's $93.58 billion in revenue. That was by far a record, surpassing both the hardware revenue totals and hardware's share of the pie in every other year going back to at least 1999.
By our count, there were $10.2 billion in Xbox and Surface sales, and $7.5 billion in mobile phone sales. So we're talking about $17.7 billion in warranted hardware sales, up almost 60% from fiscal 2014 levels. In addition, estimating conservatively, we believe the company had somewhere between $175 and $200 million in product warranty expenses for all that hardware.
Microsoft declined to comment upon our estimates. However, despite the company's reluctance to elaborate about its warranty expense costs, we nevertheless believe that Microsoft is still a major warranty provider, and has become a major hardware vendor as well. It's probably moving as much hardware and is paying as many claims as, say, Seagate Technology or Western Digital Corp., we reckon.
A Different Kind of Partnership
Microsoft could have kept its product warranty and extended warranty operations in-house, but Banks said the company realized that this wasn't one of its core competencies. "We wanted to focused on building world class hardware and then partner with experts to make the most competitive service offerings in the industry. This way, our customers get the highest level of value and peace of mind for their Microsoft devices."
For instance, Banks said he has heard that many companies see protection plans as an opportunity to make a little extra margin, perhaps after getting beaten down on the product price. In contrast, he said he sees extended warranty as a way to cement long-term relationships and boost customer loyalty. "We always focus on the customer and our desire for a long term relationship with them first. We know that if we do that well, we will impact our revenue in a positive direction at the same time."
Banks said he knew the company needed a partner to help it navigate the complex legal and financial side of the business. "We needed someone to have the baseline around compliance and risk, so that we could lean on someone and ask, 'Are we doing this the right way?' We needed an AmTrust to come in and say, 'This is the right way to think about this.'"
"That's what makes them so exciting to work with," Saulnier said. It's very different from the way most other relationships proceed. "It's very open," he said. "It's very transparent. They're a very demanding client, but that's good, because it makes us think. One thing that we don't want to ever do is get into the same rut as many providers. We always want to offer frictionless, productive solutions to our clients."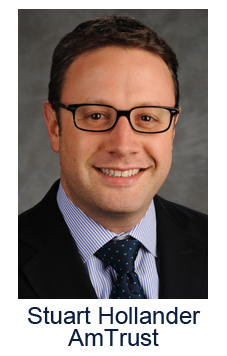 Stuart Hollander, the president of AmTrust North America's Special Risk Division, said one thing that makes it a very different kind of relationship is the way that Microsoft is willing to share some of its future product strategies with the insurance company. That insight, in turn, makes it easier for AmTrust to innovate in ways that benefit its client.
"Because we are both working as partners, understanding what their goals are, it's different than the traditional retailer relationship," Hollander said. "Microsoft is a very dynamic company, and they're not approaching this the same way. And by working with us, by sharing that knowledge and information with us, we challenge ourselves, and push our IT teams and underwriters to meet their needs. It is very different. But that's why it's very exciting for us."
Meanwhile, the market is changing in a way that makes the regulatory and compliance expertise even more important. Years ago, extended warranties and service contracts were all about break/fix. Then certain products could be covered for accidental damage and even water damage. Now, certain kinds of personal electronics are eligible for additional coverages against loss and theft, through policies sold by cashiers at the point of sale.
"I always tell people we have a very large compliance and a big regulatory department," Saulnier said. "They're not the most exciting people at cocktail parties, but they will definitely keep you out of trouble. They are actually a very talented group of professionals who are extremely knowledgeable. Their expertise helps us bring products to market quicker for our clients, both domestically and internationally. This is what they live and breathe every day of the week. I think there's a tremendous value for Microsoft to have that level of expertise at the table, to help guide them during that massive shift in this market."
International Considerations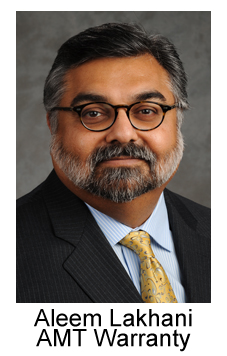 Aleem Lakhani, the executive vice president of AMT Warranty, a holding company for AmTrust's third party administrators, including Warrantech, noted that it's not just the changing regulatory environment in the 50 U.S. states that needs to be tracked. Microsoft is selling extended warranties in 60 other countries, with plans to expand even further. "It's not just North America that we're looking at," he said. "How do you develop a consistent brand and customer experience in such diverse cultural, sales, and regulatory environments?"
Furthermore, let's face it: Microsoft attracts an enhanced level of scrutiny in some countries. It needs a partner that can help it be extra diligent in its efforts not to run afoul of any nation's insurance or tax laws, and help it manage its risk satisfactorily. "That's a skill set we bring on a global level, with a network of our companies across the world, building this core competency, managing it on a day to day basis, responding to evolving regulations, engaging with regulators and counsel to keep ahead of the curve as much as we can," Lakhani said.
At the same time, Lakhani said it's been quite a learning experience to be working with a client that moves so fast, in an industry that changes so fast. "It's been a transformation in our culture as well," he said. "And we've brought that into a lot of other accounts."
Roots in Computer Service Contracts
Hollander noted that AmTrust actually traces its roots in the extended warranty business back to Wang Laboratories, which in 1998 spun off its Technology Insurance Company Inc., which wrote service contracts for business computer networks. Later, AmTrust helped Hewlett-Packard Co. launch accidental damage protection for its laptop product line, he added. "So we know this business well," he said.
In the retail store on Fifth Avenue, tucked between the Surface and Xbox demo units and the shelves stocked with Microsoft Band and Fitbit activity trackers, are flyers highlighting the Microsoft Complete service contracts on offer. "Two years of protection, support, and training," they exclaim. "With Complete, you have it all -- extended service plan and accidental damage protection for your device, plus in-store one-on-one personal training and technical support for two full years."
Phone-based and online technical support services are also available. Consumers who don't buy the service contracts right away can do so within 45 days of product purchase. For Surface and Surface Pro units, there are a maximum of two damage-related replacement claims allowed per contract. The cost of a service contract for Surface is $99 and for Surface Pro is $149. Both also have a $49 deductible.
Microsoft Complete for Microsoft Band is priced at $39 for two years of protection (one year in addition to the product warranty's duration). Accidental damage protection is included, even from drops and spills. But only one claim is allowed within the two-year period, and it is subject to a $30 deductible.
Microsoft Complete for Xbox One is priced at $70. It provides three years of break/fix coverage for both an Xbox console and a Kinect motion sensor. It also allows for the replacement of up to two controllers during the life of the contract. And since those controllers retail for upwards of $60 apiece, the service contract is essentially pre-paying for the wear and tear that every gamer knows is inevitable after years of playing Minecraft.
For businesses, universities and government accounts with up to 250 devices, Microsoft is launching Complete for Business protection plans. And for accounts with fleets of more than 250 devices, it is launching the Microsoft Complete for Enterprise protection program. Both include accidental damage coverage for Surface units, including protection against spills, drops, battery failures, and power surges.
For the giant new whiteboards, Microsoft Complete for Surface Hub provides an unlimited number of repairs with no deductible, and up to one replacement of each unit. Repairs are first attempted over the phone, and then if necessary, an authorized technician is sent on-site to evaluate and attempt to repair the product. If that doesn't work, the technician will remove the unit, take it away for repair, and will then return to re-install it. Accidental damage coverage is not included.
In-House or Outsource?
Banks said Microsoft probably could have hired enough expertise to keep the service contract programs in-house, like many other manufacturers typically do. "Would it have been advantageous for us? Probably not," he said. "These guys have brought in a huge team. They kind of get it. They can talk the lingo. No one else is going to be able to do that."
But the bigger advantage that Banks cited for working with an insurance carrier is speed to market. In such fast-moving product categories as Microsoft is in, there's not much time to develop service offerings. "If you can't get a product to market in a few months, you've missed the window," he said. "I would say to all the other OEMs out there, how fast do you need to get to market? Because the month or three months that you lose are crucial to you getting not only warranty attach, but also device attach and ecosystem attach. Unseating customers from other ecosystems or platforms to come underneath yours: that's so critical. You don't have months to waste."
Banks said he recently asked AmTrust to price service contracts for two Surface devices that Microsoft has since launched globally. He said he told Lakhani he needed the price data and rates within 48 hours. "I got it in 46," he said. "That's how fast we think up, innovate and move a plan out."
As another example, Microsoft recently worked with AmTrust to hash out a new addition to the terms and conditions of the Microsoft Complete for Enterprise service contract program. Banks said he has noticed that Microsoft customers, particularly those managing large fleets of devices, have become somewhat reluctant to give their broken units back during replacements under warranty. So Microsoft worked with AmTrust to allow one percent of each enterprise customer's non-bootable units to be replaced without having to send them back.
"You have to allow for that," Banks said. "We get the fact that you may have sensitive information on the device. Don't ship it back. We'll send you a new one."
Normally, replacement units are provided on an expedited advanced exchange basis, in that the business customer first gets the replacement and then has up to 10 days to send back the broken unit, using prepaid shipping. Under this 1% non-bootable device allowance, the customer can destroy the unit and safeguard the data it contains.
For colleges and universities, Banks said Microsoft has been looking for a way to provide service contracts that free the IT staffs from having to constantly fix devices for staff and students. "Why not just call a number and get a new device?"
Underwriting New Types of Products
For some of these new hardware devices, there's just not a lot of actuarial experience to fall back on. With the HoloLens, Kinect for the Xbox, the Surface Hub, and perhaps even the Microsoft Band, people aren't even sure what product category to put them in, let alone what the loss costs will be. It takes a certain amount of fearlessness, and an ability to quickly innovate, to even begin to think about launching protection plans for them.
Saulnier said innovation is the key to staying in the business. Selling an extended warranty on a washer or dryer is not all that innovative, but developing solutions that improve the a customer's quality of life by enhancing their experience with service providers and the products they use is innovative. He said AmTrust is uniquely positioned with our current partners and clients in both the technology and automotive industries to continue to drive industry transformation.
"The world is changing rapidly," Saulnier said. "We are thinking about the connected world -- the Internet of Things. We spend a lot of time and we actually have a team dedicated to driving innovative solutions that will continuously benefit our clients. It's not just providing break/fix coverage."
He said having Microsoft as a client has helped AmTrust reshape the way it does business. "The challenges they bring to the table help us think creatively outside the box," he said. "And that translates to other clients as well."
"We love AmTrust," Banks said. "We choose no one else. We're going to have a long relationship with them. They're an insurer that doesn't think like an insurer. And I haven't met that in the industry yet. Microsoft doesn't think like insurers. We have to fix everyone's orientation to what does the customer think? Customers don't talk about CLIPs. They don't talk about loss ratios. They just have an issue, so let's help them fix the issue and be productive again."
---
Happy Holidays!
Next Thursday is Christmas Eve and the Thursday afterwards is New Year's Eve, so Warranty Week will be taking a two-week break, returning with our next newsletter on January 7, 2016.
Incredibly, this is the fourteenth holiday break we've taken since the publication was launched in November 2002. And even more incredibly, there are still about a hundred subscribers among our 8,000 or so weekly recipients that have been there from the first few months until this, the 624th installment in an ongoing series of weekly newsletters.
And so, for the fourteenth time, on behalf of our editor, our webmaster, and our photo editor, we'd like to take this opportunity to thank all of you for subscribing. We'll be back for another series of newsletters focused on product warranties and service contracts on January 7. Until then, we wish all our readers a happy holiday and a healthy, safe, and prosperous new year!