January 21, 2016
Home Warranty vs. Homebuilders' Warranties:
When it comes to protection plans, consumers spent over $2 billion on home warranties last year while builders spent roughly $1.5 billion on warranty claims. Home warranties are an essential part of a sales transaction in some states, and homebuilder warranties are a major attraction for new home buyers. But most existing homes aren't covered by a protection plan, and the warranty costs for most new homes aren't reported publicly.
Back in 2008, it was new home builders and automakers that felt the deepest effects of the recession. Two weeks ago we didn't find any evidence of a recession in the new car industry. So how are things going for the homebuilders during this current round of uncertainty?
Sales data provides a mixed message at best. New home sales were pegged at a seasonally adjusted annual rate of 490,000 in November 2015, according to estimates released by the U.S. Census Bureau and the Department of Housing and Urban Development.
That's a fraction of their 2005 peak, but it's up more than 60% from their 2011 trough. And it's up about 9% from 2014 levels.
Existing home sales, meanwhile, dropped to their slowest pace in 19 months in November, according to the National Association of Realtors. Existing home sales fell 10.5% to a seasonally adjusted annual rate of 4.76 million units in November. Year-end data is expected to be released tomorrow.
The publicly-traded homebuilders whose warranty expenses we track are turning in their highest sales figures since 2007. Unit sales are up 10% for the first nine months of 2015, and the group is on a pace to sell somewhere in the neighborhood of 145,000 units for the full year.
That leads us to believe that we're tracking roughly 30% of the total market, with the rest being built by privately-held companies, by builders that don't offer warranties, or by builders that are not compliant with warranty-related accounting regulations. Last year we tracked the warranty expenses of 134,000 new homes, which was 31% of the industry total in 2014.
A new home warranty, or what we're calling a homebuilders' warranty this week to avoid confusion, typically covers defective materials and workmanship for a minimum period of one or two years after the date of closing. And then structural defects are covered for as long as 10 years. If there are claims on the brand new appliances or heating/cooling systems, those will be passed on to the manufacturers or subcontractors for processing.
Accruals per New Home Sold
Homebuilders typically set aside around $2,530 in warranty accruals for every new home they sell. Most of that money is spent in the first year or two on defective materials and workmanship claims. But then some of it is held for the full 10 years to pay for structural defects.
Figure 1
U.S. Homebuilders
Average Accrual per New Home Sold, 2003-2015
(in US dollars)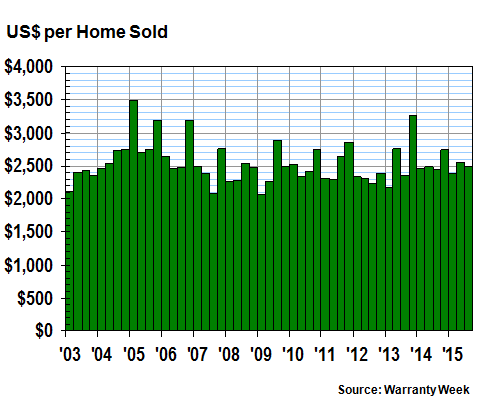 It's not as if every new home will have $2,530 in warranty claims. That's just the average. It's more likely that one home will have $25,300 in claims and nine will have none. Back a few years ago, there were widespread problems with mold and drywall, which impacted the typical frequency and severity rates. And, as the chart above suggests, there were short-term spikes in the averages as one or more homebuilders reacted to those changes.
If the industry does indeed end up building 490,000 homes in 2015 and if the warranty spend is $2,530 per home, then in round numbers we're suggesting total industry spending of $1.24 billion on homebuilder' warranties last year. It's not as much as is spent on home warranties for existing homes, but it's at least comparable.
In the chart below, we're comparing two metrics: the number of new homes sold per year according to the U.S. Census Bureau, and the number of new homes sold whose builders reported their warranty expenses in their financial statements. As was mentioned, in recent years we think warranty expenses are being reported for roughly 30% of the industry total. But it's been a bit lower in previous years.
Figure 2
New Homes Sold, 2009 to 2015
Warranty Expenses Reported vs.
Warranty Expenses Not Reported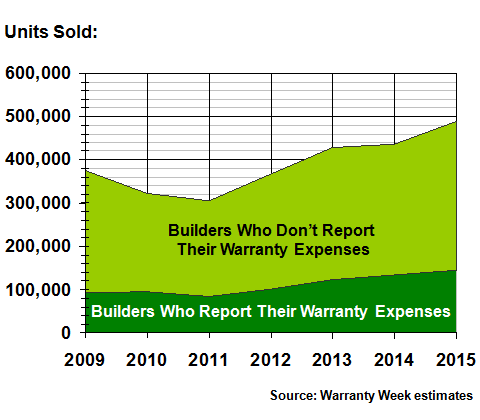 If -- and this is a big if -- all the new homes sold had the same warranty expense rates as the ones we know about, then the total industry's warranty spending would be at least three times higher than we calculate. For instance, the total amount of warranty accruals reported by homebuilders in 2014 was $384 million. If that was only 31% of the industry's total accruals, then the actual industry total, including the unreported warranties, would be $1.25 billion. If the known total for 2015 comes in at $460 million, and if that's only 30% of the total, then the real total for last year would be closer to $1.56 billion, including the unreported warranties.
Confusing Industry Terminology
And then there the home warranties sold by third parties, whose very name causes a tremendous amount of confusion. In the U.S., a home warranty is the commonly used term for a type of service contract sold by third parties to the owner of an existing home, which protects the major appliances and heating/cooling systems in that home, usually for a year at a time. Usually, they're sold to the family selling a home, who pass it on to the eventual buyer.
This reassures potential buyers that their dream home won't turn out to be a money pit. Contracts are typically priced at $300 to $500 per year, and can be renewed by the new owner. When there are claims, the homeowner has to pay a service fee to the responding repair company of $40 to $75 per visit. And of course, there are major battles over claims denied over what the company deems to be a lack of maintenance, pre-existing conditions, and abuse. Complaints about home warranty companies have topped the lists for several years at home improvement websites such as Angie's List.
But home warranties don't warrant the actual home. They don't cover defective materials and workmanship or structural defects. And in the strictest legal terms, they're not even warranties. They're service contracts. But most of the major sellers still call them home warranties, and so will we.
Outside the U.S., the provincial governments in Canada and some states in Australia require builders to back their warranties with insurance, or to contribute into a fund that's used to pay claims when a builder goes out of business. In contrast, in the U.S. neither a homebuilder nor a home warranty provider needs to insure their policies. Most self-insure, a system that works until it doesn't. And during the last recession, it didn't.
Further confusing the industry terminology are third party companies that sell warranty coverage to builders who then offer it for no additional charge to their new home buyers. This frees the homebuilder from having to set aside their own funds to cover warranty claims. For instance, Home Buyers Warranty Corp., also known as 2-10 Home Buyers Warranty, sells structural warranty coverage to builders, who then pass it on to their customers. But the company also sells home warranties, or what it calls "systems & appliances service agreements" directly to consumers, to cover the repair costs of their refrigerators, ovens, dishwashers, and other major appliances.
At least for this week, let's just acknowledge that such a hybrid exists: a company selling both homebuilders' warranties and home warranties, to cover structural defects and appliance breakdowns, respectively. It's therefore possible that if we counted all the revenue of companies like 2-10 Home Buyers Warranty in the home warranty category, it actually should have been counted as some of the unreported homebuilders' warranty expense in Figure 2. But let's move forward.
Home Warranty Market Shares
Warranty Week has been tracking the home warranty market since 2003, with an extensive market report published in the December 22, 2009 newsletter. At that time, we sized the market at just over $1.5 billion. Market leaders included ServiceMaster's American Home Shield subsidiary at 42%; First American Home Buyers Protection at 11%; Old Republic Home Protection Co. Inc. at 8.3%; Cross Country Home Services at 6.0%; and 2-10 Home Buyers Warranty at 5.3%. The remaining 28% was taken up by some 40 or so smaller providers.
In the six years since, the home warranty market has grown by nearly half a billion dollars to $2.0 billion, with American Home Shield growing a bit faster than the industry average and most of the others growing a bit more slowly. Though full-year figures won't be available for at least another month, we're estimating that the market leader's share has now surpassed 46%.
In Figure 3, we're comparing two estimates. At the top is our estimate for the home warranty industry, from the $1.51 billion market size we estimated in 2009 to the $2.0 billion in revenue we're estimating for 2015. At the bottom is our estimate for the true warranty claims expense of all the homebuilders, including both what was and what wasn't reported in financial statements.
Figure 3
Home Warranty vs. Homebuilders' Warranty
Premiums Paid vs. Claims Paid, 2009-2015
(in US dollars)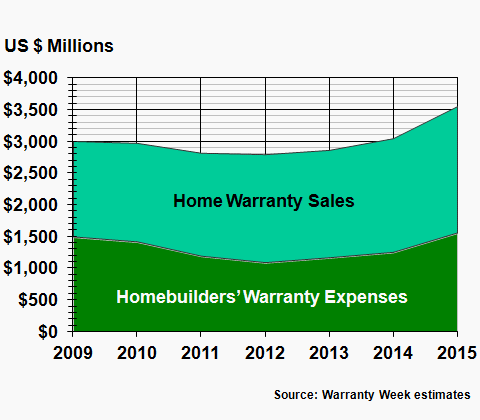 What the chart reveals is that while in 2009 the homebuilders spent almost the same amount as the home warranty providers sold (roughly $1.5 billion each), that was the last year in which there was a close equivalence between the two. Home warranty sales for existing homes continued to grow, reaching $1.7 billion by 2012 while the homebuilders' warranty expenses fell below $1.1 billion. And then by 2015, the home warranty industry passed $2 billion while the homebuilders barely surpassed their 2009 levels.
Of course, these are two different types of protection plans that protect completely different items. So perhaps they shouldn't be compared? In addition, we know nothing about the actual expenses of the home warranty providers, so we don't know how much they're really spending on their claims, or how profitable they really are.
Service Contract Renewals
In addition, while we can make a hard estimate of $2,530 in accruals per new home sold, based on almost 13 years of data, we can't really do the equivalent for existing homes and home warranties. Because of all the repeat renewals of past-year contract sales, it's not possible to calculate an average amount of home warranty revenue per existing home sale. There's not enough sales. After all, even if every existing home sold last year was covered by a home warranty, that would add up to only $1.9 billion (4.76 million units sold x $400 each). So even assuming an unlikely 100% attach rate, we're still $100 million short.
The other problem is that not every home warranty is sold as part of an existing home sale. Besides the renewals, there are customers that simply sign for the protection plan up on their own, even when they're not selling their home. Conversely, not every existing home is covered by a home warranty. In fact, we'd be surprised if more than four percent of existing homes are protected by these plans at any given point in time. They're far less popular than either homeowners' insurance or home security systems.