January 28, 2016
Appliance Protection Plans:
When it's all counted together, a huge amount of money is being set aside to pay for product repairs. Manufacturers finance their warranties and consumers can purchase additional protection through either service contracts or home warranties. It all adds up to about $6.77 billion spent last year on protection plans.
While there's some confusion about the difference between new home warranties issued by builders and the home warranty plans bought for existing homes, the coverage provided by the latter is more directly comparable to the appliance protection plans sold by major retailers. Home warranties cover multiple appliances in a single home, while the retail service contracts cover single units.
Meanwhile, although the experts now shy away from the phrase "extended warranty," these service contract really do provide extended protection plans that complement the warranties provided for free by the manufacturers. Most extend the duration of the product warranty for several additional years. But some also provide for better coverage, such as faster house calls, protection from power surges, or the replacement of spoiled food.
So there are really three ways to protect the owners of appliances and heating, ventilation, and air conditioning systems from having to pay for repairs. First, there are the product warranties provided by manufacturers. Second, the service contracts sold by retailers, and third, the home warranties bought by single-family homeowners.
In this week's exercise, we're going to try to estimate how much money is going towards these three types of protection plans. To do so, we're going to start with some exact figures and gradually move into some market estimates. And we're going to mix things that shouldn't be counted together, such as service contract sales and product warranty expenses.
Product Warranty
In Figure 1, we start with the warranty claims paid by U.S.-based major appliance and HVAC system manufacturers from 2009 to 2014, with 2015 estimates based upon the nine months of data already reported and retrieved from financial statements.
As we did in the June 4, 2015 newsletter, we are including both United Technologies Corp. and General Electric Co., even though less than a majority of their respective sales come from the HVAC and appliance lines of business. We're also including some others such as Johnson Controls Inc., Masco Corp., and Ingersoll-Rand, whose product lines are also much more diverse than merely HVAC or appliances.
Though the 2015 estimates are built upon the reports gathered from the financial statements of these companies for the first three quarters of the year, they are nevertheless still estimates. When the year-end data becomes available in late February or early March, the actual totals may go up or down.
Still, what Figure 1 shows is that we're expecting HVAC claims to rise slightly and appliance claims to fall slightly for the full year. The net effect will be for the entire industry's claims total to fall slightly, from $2.9 billion in 2014 to $2.87 billion in 2015. It will be the fourth straight year in which the industry total will be just under $3 billion.
Figure 1
Major Appliance & HVAC Product Warranty
Claims Paid, 2009-2015
(in US dollars)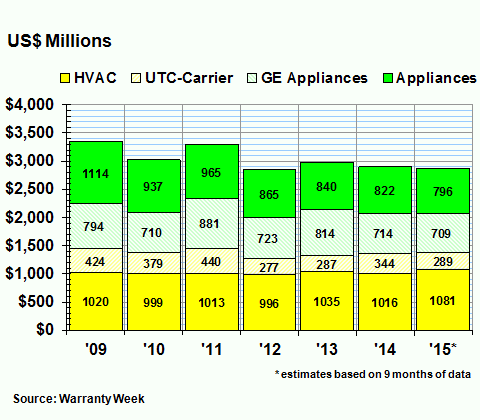 For our purposes this week, however, warranty accruals are probably a better measure. What we're trying to do is put together the amount of money set aside for the three types of appliance protection plans. And while consumers are setting aside the money when they buy home warranties and service contracts, it's the manufacturers setting aside the money when it comes to product warranties. And accruals count the amount of money they set aside, not claims.
Product warranty claims are what the protection plans actually end up costing. Warranty accruals are what the manufacturers believe they will cost. In the same way, the amounts paid for home warranties and service contracts by consumers are what they believe the protection plans are worth.
It's a common criticism that consumers would be better off paying out of pocket if and when an appliance needs a repair, rather than buying an extended warranty. But the same could be said for manufacturers: why use the accrual method? Why not just pay claims with the cash on hand, rather than setting it aside at the time a product is sold?
Therefore, if you forget everything you ever learned in accounting school, warranty accruals and extended warranty premiums are kind of on the same side of the t-account. Product warranty claims are analogous to extended warranty claims -- the cost of service. Profits equal premiums minus costs. And since product warranties are basically break-even, premiums equal costs. And those premiums are the accruals set aside by manufacturers.
Warranty Accruals Made
In Figure 2, we're looking at the total warranty accruals made by industry manufacturers. Those accruals were well above $3 billion last year, thanks to a big jump in accruals by the appliance manufacturers. And the appliance manufacturer with the biggest jump was Whirlpool Corp., which set aside $474 million in accruals during the first nine months of 2015, up sharply from $194 million set aside during the same period in 2014.
Overall, once the year-end data is in, we're expecting industry accruals for appliances and HVAC systems to rise by about eight percent in 2015, thanks to a 29% jump in the category where we're counting Whirlpool. We're expecting a big sales-driven drop in United Technologies' accrual total, and a slight increase in GE's accruals. It's likely to be the highest annual total since 2011, when manufacturers accrued $3.37 billion.
Figure 2
Major Appliance & HVAC Product Warranty
Accruals Made, 2009-2015
(in US dollars)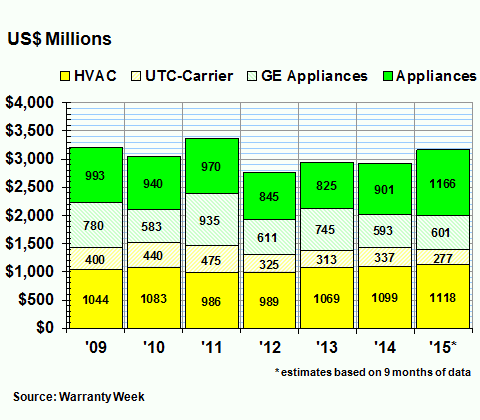 Because we have exact measurements of claims, accruals, and sales, we can also make exact measurements of the claims and accrual rates of these manufacturers. The claims and accrual rates are calculated by dividing each warranty expense by the corresponding amount of product revenue. We're not going to include any estimates for the end of 2015 in Figure 3, because that would bring into question the trend this data shows.
Basically, after multiple years of generally declining claims and accrual rates, the industry trend in 2015 has so far been up. The industry accrual rate has risen above one percent for the first time since late 2011. The industry's average claims rate, at just over 0.9%, is at its highest point since the middle of 2013.
Figure 3
Major Appliance & HVAC Product Warranty
Claims & Accrual Rates, 2009-2015
(as % of sales)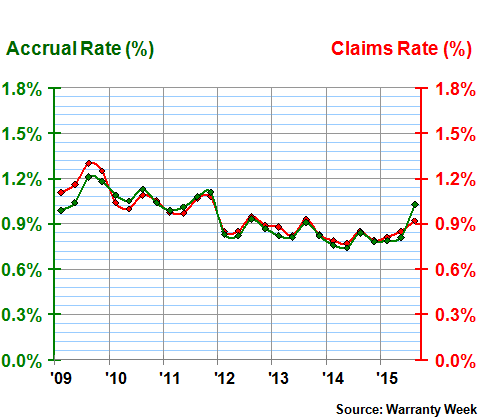 Notice, however, that in six of the seven years, the rates within any given year rise until the third quarter and then fall a bit in the fourth quarter. This has more to do with sales than with warranty expenses, however. It's simply a seasonal pattern. The summer months are a bit slower for sales, and the holidays and the end of the tax year help drive up purchases in the fourth quarter.
Whether this upturn in 2015 is part of yet another intra-year oscillation caused by seasonal factors, or the beginning of a new uptrend, will depend heavily on the fourth quarter data. Therefore, we're not going to make any estimate, because that would be an exercise in dividing one estimate by another estimate, which is highly unlikely to be correct.
So those are the numbers on the protection plans provided by the manufacturers to the consumers. There are additional figures for products made by non-American-based manufacturers such as Electrolux, Sony, Panasonic and others, but this roundup also includes the overseas warranty expenses of exporters such as Whirlpool. So it's not precisely the U.S.-only figure that we want.
Premiums Paid
Next, let's take a look at the protection plans that are purchased by consumers, namely the extended warranties and service contracts they buy from retailers, and in some cases directly from the manufacturers (or through their respective dealers). Let's also bring back the home warranty sales figures detailed in last week's newsletter.
As was mentioned last week, these protection plans are called home warranties but they are really appliance and HVAC service contracts that cover the contents of the home. The service contracts that Sears, Lowe's and Home Depot sell usually cover just one new appliance at a time. The service contracts that American Home Shield and other home warranty companies sell usually cover multiple appliances and heating/cooling systems bought from a variety of sources at different points in time.
The main difference is one type of contract covers a specific component while the other covers components at a specific location. But there are also service fees paid per house call with home warranties, which are usually not part of the retail service contract terms and conditions.
In Figure 4 we're detailing our estimates of the service contract sales totals for four top retailers: Sears, Lowe's. Home Depot, and Best Buy. The latter is much stronger in electronic protection plan sales, but it is emerging as a major provider of appliance protection plans as well.
Figure 4
Retail Appliance Service Contracts
Premiums Paid by Consumers, 2009-2015
(in US dollars)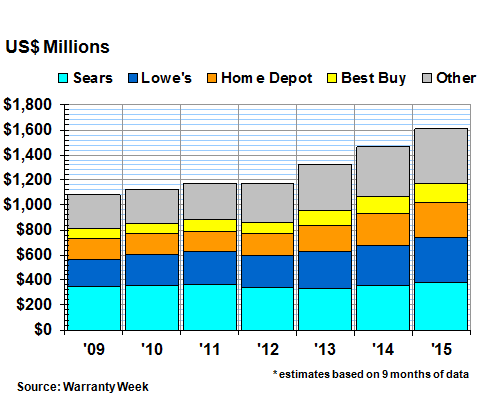 We're expecting a big jump in the entire category, with service contract sales rising by nearly 10% despite actual appliance sales to rise only 2%. That's because, despite the best efforts of the advice-givers, consumers are buying more protection plans, and more expensive protection plans, for their major appliances and HVAC systems.
We're therefore expecting Lowe's, Best Buy and Home Depot to grow a little above the industry average, as both their sales and attach rates rise. Sears will grow a little slower, because sales will lag while attach rates will improve. Overall, we're predicting a $145 million increase in retail service contract sales to U.S. consumers in 2015, to a total of $1.61 billion.
Premiums Paid & Accruals Made
Figure 5 is the simple addition of these multiple sources. The HVAC and appliance warranty accruals from Figure 2 are repeated at the bottom of each column. The industry totals from Figure 4 are labeled as "Retail Service Contract" sales. And the home warranty figures from last week are repeated at the top of each column.
Figure 5
Appliance Protection Plans
Accruals Mad or Premiums Paid, 2009-2015
(in US dollars)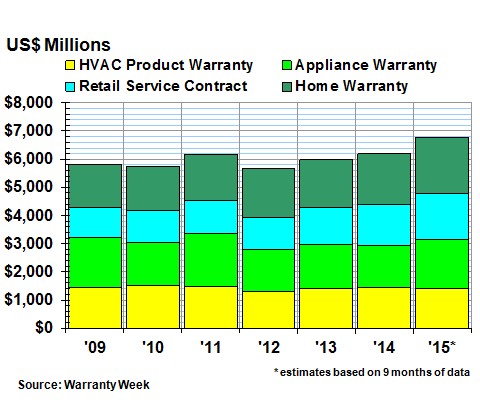 In total, we expect consumers and manufacturers to spend or set aside $6.77 billion in 2015 for appliance protection plans, up from $6.19 billion in 2014. That's better than a nine percent increase, which is the fastest annual growth rate since at least the end of the last recession. Coupled with the record sales we're expecting from the vehicle service contract and mobile phone insurance industries, we can safely say that things have never been better in the product protection industry.