February 25, 2016
Declining Accruals in Detroit:
This news can't wait for summer: Ford and General Motors set aside less in warranty accruals per vehicle sold last year than ever before. Thanks to a well-timed coincidence of rising sales, falling warranty costs, rising reliability, and reduced recalls, the top two passenger car and light truck makers in Detroit are cutting their warranty expenses to just a few hundred dollars per vehicle sold.
Rarely does a television commercial come out of Detroit without mentioning a car's factory warranty. As a badge of product quality, they tout their warranties as the longest and the best. But they never praise the lowest-cost warranties, and they never make a connection between falling costs and rising dependability. So we will.
Since 2002, Warranty Week has collected several key warranty expense metrics from the annual reports of the automakers: the amount of claims paid, the amount of accruals made, the amount of automotive sales revenue, and the number of vehicles sold. With these metrics in hand, we have created several additional metrics, such as the claims and accrual expense rates per dollar of revenue, and the accrual rate per vehicle sold.
Let's start with the amount of claims paid. In Figure 1 below we're detailing the past 14 years of claims payments by the Ford Motor Co. and General Motors Co., ranging from the high numbers of 2005 to 2008 to the low numbers of 2009 to 2013. Both companies ran into trouble with recalls more recently, but they also sold more units, so the numbers have been up in 2014 and 2015.
Figure 1
Ford & General Motors
Warranty Claims Paid per Year, 2002-2015
(in US $ millions)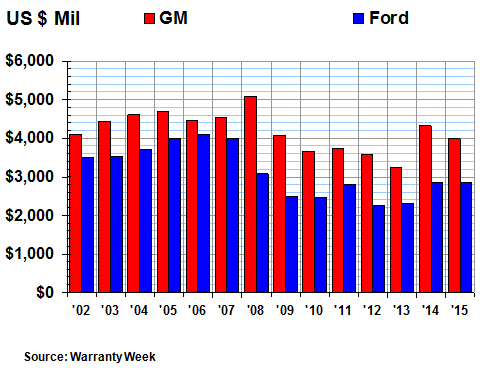 Ford reported $2.849 billion in claims payments in 2015, down by one million dollars from 2014 levels, but up by $547 million from 2013 levels. So while it's accurate to say that the company's claims declined last year, it wasn't by much. And the claims cost for the past two years have been the highest since the recession began.
GM reported just under $3.99 billion in claims payments for 2015, down 7.8% from 2014 levels. And the bill was down more than a billion dollars from 2008 levels, which remain the all-time peak. But it's up by almost $750 million from the claims total in 2013, which remains the all-time low.
Warranty Claims Rate
When we take the claims data and compare it to automotive sales figures, we get a claims rate per dollar of revenue. Figure 2 illustrates this percentage rate for both Ford and GM, for the 52 quarters between the start of 2003 and the end of 2015.
Figure 2
Ford & General Motors
Warranty Claims Rates, 2003-2015
(as a % of product sales)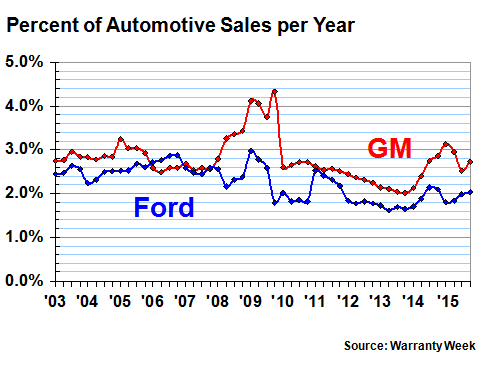 Ford ended 2015 with a claims rate of 2.0%, down slightly from claims rates in the second half of 2014 but up slightly from most other recent quarters. GM ended 2015 with a claims rate of 2.7%, up slightly from third quarter levels but down significantly from year-ago levels.
Notice the spikes for both companies in the 2008-to-2010 timeframe as sales declines caused the percentage rates to climb. Also notice the much smaller spikes in 2014 and 2015 as the increase in recall expenses drove up the percentage rates even as increased sales drove it down.
This exposes one of the big problems with claims data: lag time. While we're correlating claims with sales on paper, it really doesn't line up that neatly in practice. Cars and trucks sold in 2007 and 2008 were still undergoing warranty work in 2009 and 2010, so there's a lag time between when the vehicle was sold and when it was repaired. In 2015, the claims cost contains warranty work done on 2015, 2014, 2013 and maybe some 2012 models as well. So why compare it to just 2015 sales data?
The problem is, the companies don't reveal where or when the vehicles were sold that undergo warranty work. They don't reveal how many warranties expired on time alone, or how many expired after high usage, resale, wreckage, or other reasons. So an external observer doesn't know how many vehicles were under warranty at any given point in time, or what the average age was at the time a claim was filed.
Better to Use Accrual Data
Fortunately, these deficiencies are overcome through the use of accrual data. Each company decides at the time a vehicle is sold how much to set aside to cover its predicted cost of warranty. There is no lag time. There is no question about whether it's under warranty or not. If it is, there's an accrual made. If it's not, no accrual is made.
In Figure 3, we're looking at the amount of accruals made by GM and Ford for each of the past 14 years. It's much more closely tied to the ups and downs of the sales cycle, because again, if a car isn't made or isn't sold, it doesn't get an accrual. Therefore, the 2009 trough is much deeper, because the companies sold far fewer cars that year.
Figure 3
Ford & General Motors
Warranty Accruals Made per Year, 2002-2015
(in US $ millions)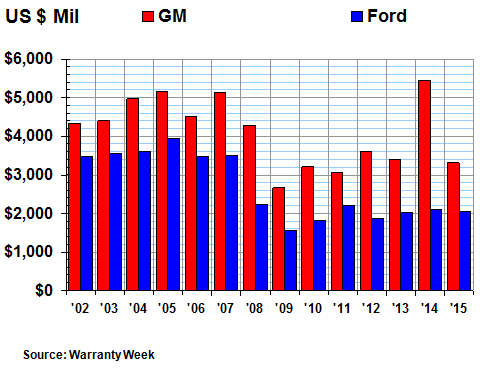 Notice, however, the big spike in GM's 2014 accruals. This was related to the cost of the company's safety recalls that year, which topped $2.9 billion and comprised more than half the company's $5.45 billion accrual total (which also included $2.5 billion in "regular" accruals). For comparison's sake, accruals prompted by recalls cost GM $640 million in calendar 2013 and $986 million in 2015. Its "regular" warranty accruals were $2.76 billion in 2013 and $2.33 billion in 2015. So its total accruals were $3.4 billion in 2013 and $3.3 billion in 2015 -- far below the 2014 peak.
Ford, meanwhile, has for eight years accrued a bit above or a bit below $2 billion in accruals per year. Its outlay was $2.05 billion in 2015, down almost three percent from 2014 levels. But it was up by $21 million from 2013 levels. At the scale used in Figure 3, they look about the same.
Warranty Accrual Rate #1
Take the accrual levels detailed in Figure 3 and divide them by sales revenue and you get a pair of percentage rates for accruals per dollar. Figure 4 details the data for the past 52 quarters for both GM and Ford.
Figure 4
Ford & General Motors
Warranty Accrual Rates, 2003-2015
(as a % of product sales)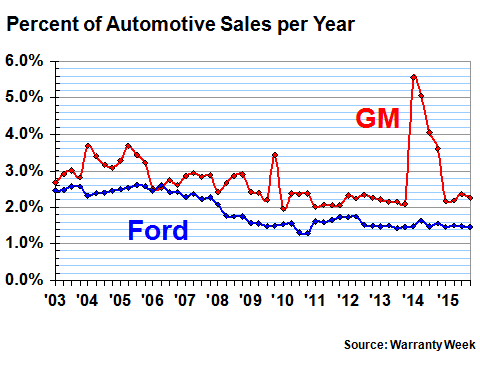 GM ended 2015 with an accrual rate of 2.3%. Ford ended 2015 with an accrual rate of 1.5%. Both are in line with the post-recession ranges and averages for this metric, setting aside GM's recall-cost-related 2014 spike. In other words, there's no great change afoot, at least with this warranty metric. Though perhaps we shouldn't overlook GM's accomplishment of getting back to normal so quickly?
Note that except for one quarter in 2006, GM's accrual rates have always been higher than Ford's. And because of the 2014 recalls, at points they have been much higher than Ford's. It's not as simple as a difference in product reliability. it could simply be a difference in the cost of claims processing, the cost of parts, differences in labor rates, tax rates, or some other factor. After all, these are worldwide figures, so in part we're comparing Ford Europe to Holden in Australia and GM's joint ventures in China.
Unit Sales Worldwide
Both companies do provide good data on unit sales by country or by region, so it would be possible to make some guesses as to what their warranty spending is in the U.S., Europe, or China. But these would be our guesses, and not our calculations. So we will stick to what we have to work with, which is one set of worldwide warranty expenses for all vehicles sold in all regions.
What we need besides the revenue figures we used in the calculations behind Figures 2 and 4 are the unit sales figures detailed in Figure 5. Again, the recessionary trough of 2009 is quite visible, when GM sold only 7.48 million and Ford sold only 4.82 million vehicles worldwide. but the uptrend ever since is also quit visible, culminating in the 2015 worldwide sales figures of 9.96 million vehicles reported by GM and the 6.53 million reported by Ford.
Figure 5
Ford & General Motors
Vehicles Sold Worldwide per Year, 2002-2015
(in millions)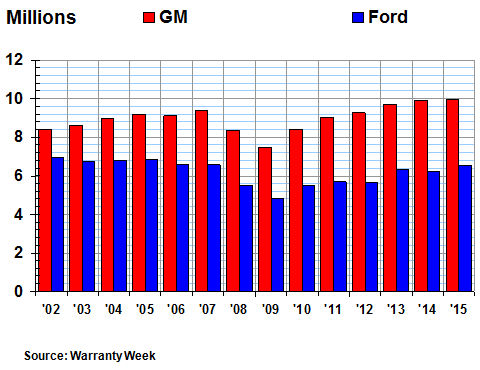 The process from this point is straightforward: take the accrual totals from Figure 2 and divide them by the vehicle sales figures from Figure 5, calculating the accruals made per vehicle sold. Again, it's only a worldwide average, so the actual amount accrued per vehicle sold is probably much higher in high-priced markets such as the U.S. and Europe, and lower in places such as India and China. But we're not going to make any guesses as to how much.
Warranty Accrual Rate #2
In Figure 6, we're listing the calculations for the past 14 years. And it's rather obvious that GM and Ford have been accruing far less per vehicle since the recession than they did before the recession, with the exception of GM's high accrual rate in 2014, caused by the spike in recalls that year.
Figure 6
Ford & General Motors
Warranty Accruals per Vehicle, 2002-2015
(in US$ per vehicle sold)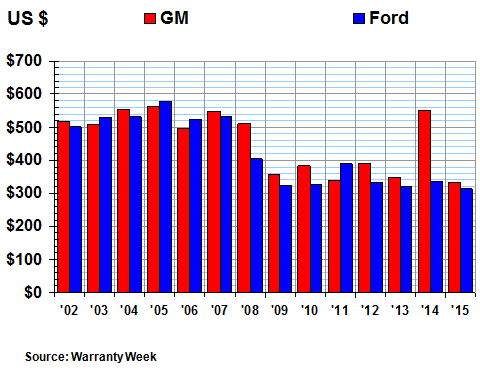 What's less clear is whether the 2015 data sets a new low for accrual rates per vehicle. To add some clarity, we created one final chart containing just the last five years as well as data labels. And from this chart we can see that GM set a new low of $333 accrued per vehicle sold in 2015, about $6.00 below 2011 levels. And Ford accrued $313 per vehicle sold in 2015, about $7.00 below its previous low mark of $320 in 2013.
So for both companies, 2015 represents a new record in terms of the projected warranty cost of vehicles sold. Both companies are in effect announcing that they expect their future warranty costs for 2015 models to be their lowest since at least 2002. In inflation-adjusted terms, it might be their lowest of all time.
Figure 7
Ford & General Motors
Warranty Accruals per Vehicle, 2011-2015
(in US$ per vehicle sold)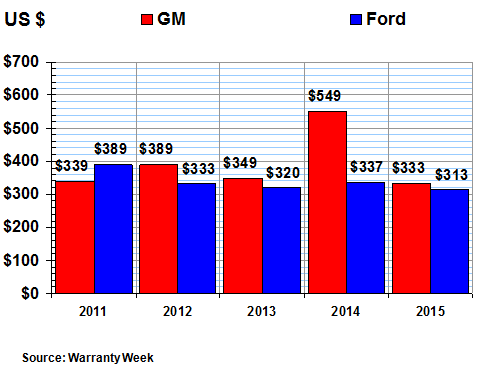 Whether their predictions turn out to be accurate or not won't be known for years. For instance, while GM in 2011 and Ford in 2013 might have expected low costs for sales made in those years, those predictions turned out to be below actual costs once the recalls mounted. And each company had to correct the shortfalls by making additional unplanned accruals. That could happen again in 2017 or 2018 to these predictions made in 2015.
Still, we have a headline here: GM and Ford predict their lowest-ever warranty costs for vehicles sold in 2015. Again, that doesn't necessarily mean the vehicles are the most reliable ever made. It could be a reflection of other cost factors driving down warranty costs. But you're not reading Reliability Week. This is a newsletter about the total cost of warranty. And this week we have something to celebrate.
Other Annual Reports
Most other automotive OEMs have either already filed their annual reports or will be doing so in the next month or two. Tesla Motors Inc. filed its annual report just yesterday. With 50,000 vehicles sold in 2015 and $103 million in accruals, its accrual rate per vehicle was just over $2,050 -- its lowest yet, but still far above the typical expense levels of combustion engine cars.
It's still unclear whether FCA US LLC, the former Chrysler Group, will be filing an annual report this year. The company's stock doesn't trade publically, and it has no duty to report now that it's cashed in the last of its secured senior notes. So we may have to wait for the parent company, Fiat Chrysler Automobiles N.V., to release worldwide figures in its annual report.
In what may turn out to be FCA's last warranty expense disclosure, the company reported $2.3 billion in accruals for 2.25 million vehicles sold in the first nine months of calendar 2015, for a per-vehicle accrual rate of $1,067. That was down from the full-year 2014 rate of $1,169 but was up from every other year. And, as this week's data proves, it's way above the expense rates of GM and Ford.
Over time, every OEM gets its turn to be slammed by spikes in recall costs, negative headlines, and bountiful lawsuits. But we normally wait until Toyota and Honda file their annual reports in late June before making any comparisons of the warranty cost trends of the European, Asian, and North American automotive OEMs. And we'll stick to that schedule, because we still have no new warranty data from Volkswagen, whose turn it is currently to get slammed by recall costs, negative headlines, and bountiful lawsuits.