May 19, 2016
Appliance & HVAC Warranty Report:
HVAC manufacturers have lower warranty costs but are more cautious than other kinds of appliance makers, keeping a much higher ratio between claims and reserves. But neither group has done much to reduce their warranty expenses, though some companies have cut their costs by hundreds of millions of dollars.
Unlike in the automotive industry, warranty is not a huge issue for appliance buyers. Remember when the warranties were five or ten years long? Remember when they were cut to one or two years? That's precisely the point: try doing that to car buyers.
Clothes and dish washing machinery, food cooking and refrigeration appliances, personal care gadgets, and indoor heating, ventilation and air conditioning systems certainly do break and get repaired frequently. There is a thriving business in the sale and administration of their extended warranties, both by retailers and by home warranty companies. And there is a huge amount of money flowing into their product warranties as well, though it's not a top-of-mind issue for many customers.
To create this week's report, we gathered warranty data from the annual reports and quarterly financial statements of 78 companies -- half of them manufacturing HVAC systems, and half of them manufacturing other types of major appliances. From each company we gathered four essential metrics: claims paid, accruals made, reserves held, and products sold. By dividing the claims and accrual totals by sales, we derived a claims rate and an accrual rate. And then by dividing reserves by claims we derived a measure of the company's capacity to pay claims, as measured in months.
Top Warranty Providers
The HVAC companies were led by United Technologies Corp. (owners of Carrier); Johnson Controls Inc. (owners of York); Emerson Electric Co. (owners of Copeland); A.O. Smith Corp.; and Lennox International Inc. The appliance companies were led by General Electric Co.; Whirlpool Corp.; Jarden Corp.; Manitowoc Co. Inc.; and Helen of Troy Ltd.
Because there are only 29 companies in each group, and because in each group there is a single very large warranty provider that overshadows the others (United Technologies and General Electric), and because both of these companies are highly diversified and are likely generating significant warranty expenses in other industries, we have isolated these companies in the charts below.
In Figure 1, we're counting the annual claims payments of the 78 companies over the past 13 years. While total claims payments dipped ever-so-slightly to $2.876 billion, there was a big jump in claims payments by the HVAC group and a big decline for United Technologies. We can't say how much of that drop came from the Carrier unit, but the company's climate controls and security segment accounts for about 30% of net sales.
Claims were down by 0.8% in 2015, and that was the second consecutive annual decline. It was also the lowest annual total since 2012, which in turn was the lowest since 2003. The peak, as the chart below shows, came in 2008, when the industry paid almost $3.5 billion in claims.
Figure 1
Appliance & HVAC Warranties
Claims Paid by U.S.-based Companies
(in US$ millions, 2003-2015)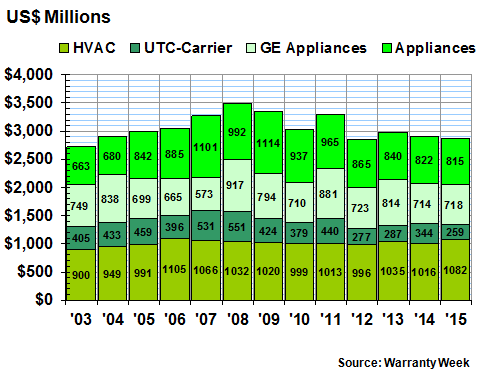 GE saw claims rise by about $4 million to $718 million. Again, it is a highly diversified company, and GE Appliances is only about 8% of GE's industrial segment revenues, so it's likely only a fraction of those claims were paid by that segment of the business. In addition, this is likely to be the last year in which GE is counted as an appliance manufacturer. While it tried and failed to gain regulatory approval last year to sell GE Appliances to Electrolux, it intends to sell the unit this year to the Chinese manufacturer Qingdao Haier Co. Ltd. (Haier).
Nine companies saw their claims totals rise by more than $4 million last year. Johnson Controls reported the largest increase of all at $57 million, bringing its annual total up to $291 million -- a new record. Whirlpool, Honeywell, and Emerson Electric each saw $13 million increases, which translated into single-digit percentage increases for each.
Among some of the smaller companies, there were some big increases in claims payments. Standex International Corp., which manufactures a line of food service equipment that includes walk-in coolers and freezers, refrigerated display cabinets and storage systems, saw its claims soar from $4.6 million in 2014 to $14.4 million in 2015. Ametek Inc. saw its claims total jump from $12 to $20 million. Keurig Green Mountain's claims grew from $23 to $30 million.
And then there were some spectacular declines in claims payments as well. Ingersoll-Rand cut its claims cost by $18 million. Manitowoc reduced its claims cost by $11 million. United Technologies cut its claims total by $85 million. And SPX Corp., which makes heat exchangers, cooling towers, boilers, and water heaters, cut its claims by $8.9 million -- a 28% decline. But most of that was related to the spin-off of the company's hydraulics and flow control lines of business into a separate company.
Warranty Accruals
For warranty accruals, there was a noticeable increase on the appliance side of the industry, with a slight decrease on the HVAC side. Accruals overall were up by $175 million, to a little over $3.1 billion. That was the highest annual total since 2011.
Figure 2
Appliance & HVAC Warranties
Accruals Made by U.S.-based Companies
(in US$ millions, 2003-2015)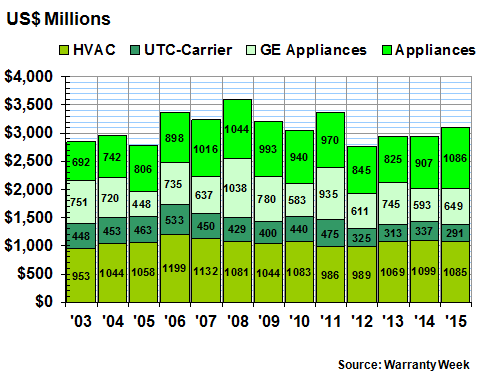 Whirlpool raised its accruals from $322 million in 2014 to $560 million in 2015, a 74% increase. Percentage-wise, the increase was even larger for Standex International, but in dollar terms the boost was much smaller at only $10.7 million. Whirlpool blames its Indesit acquisition for the increase. Standex did not list a reason, but food service equipment accounts for more than half its sales.
Among some of the smaller companies, there were a few very large increases in accruals. Ametek raised its annual total by 41%; Wabash National Corp. raised its annual total by 38%; and LSB Industries Inc. raised its total by 22%.
United Technologies led the declines with a $46 million reduction in its annual accrual total. But again, it's impossible to say how much of that was HVAC, and how much was aerospace or another line of business. Ingersoll-Rand cut its accruals by $40 million. Manitowoc, Jarden, SPX, and Honeywell each cut their annual accrual totals by $10 million or more.
Warranty Expense Rates
Accruals usually rise and fall in proportion to sales, unless there's been a major change in product mix, repair costs, or the frequency of failure. So if sales rise modestly, but accruals rise dramatically, as was the case at Whirlpool, Ametek, Wabash, and LSB Industries, then something must have gone wrong in terms of repairs and reliability.
At the other extreme, SPX spun off a major portion of its product line, so of course its accruals fell dramatically. Meanwhile, United Technologies, Manitowoc, and Rockwell Automation Inc. saw sales fall, and so did accruals.
The worst case is when sales fall but accruals rise anyhow. This means that product sales are slowing just as warranty costs are rising, which will lead to more repairs and lower customer satisfaction. And of course it means a rise in the accrual rate, which is calculated by dividing accruals by sales.
In Figures 3 through 6, we're taking the claims and accrual totals from Figures 1 and 2 and dividing them by product sales totals. That means no service revenue, and no finance or investment revenue, and unfortunately in the case of some of these highly-diversified companies, non-appliance or non-HVAC industry product revenue.
In Figure 3, we're tracking the 38 appliance manufacturers besides GE. Clearly, they have a mixed record when it comes to their warranty expense rates. Their expense rates rose from 2003 to 2007, remained around two percent of revenue in 2008-2010, and then remained around 1.5% from 2011 to 2014. The big jump seen in the second half of 2015 came from Whirlpool, and its Indesit problem.
Figure 3
Appliance Manufacturers
Average Warranty Claims & Accrual Rates
(as a % of product sales, 2003-2015)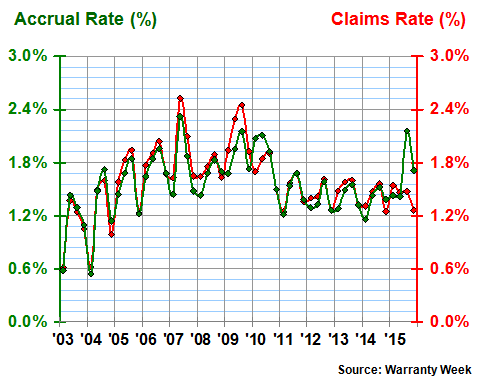 In Figure 4 we're tracking just General Electric. Because the company reports its warranty expenses only once a year, we have taken the figures from the annual report and stretched them over the four quarters of each year.
Warranty expenses are compared to industrial product revenue to calculate the percentage rates. So that means no GE Credit and no NBC. But it also means there is some aerospace warranty expense mixed in, along with power plants, petrochemicals, medical equipment, and other lines of business.
Figure 4
General Electric Co.
Average Warranty Claims & Accrual Rates
(as a % of product sales, 2003-2015)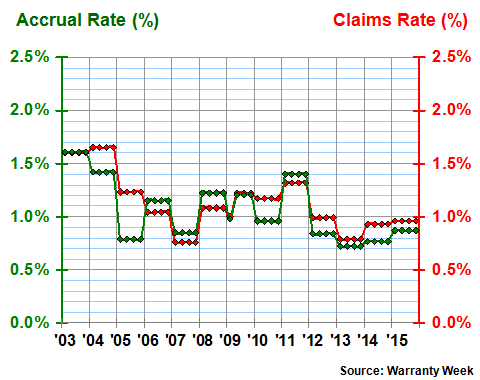 GE has managed to keep its warranty expense rates at or below one percent for the past four years. For most of the previous nine years, its claims and accrual rates were generally in the 1.0% to 1.5% range. This is significantly below the expense rates seen for the rest of the appliance industry in Figure 3, but again, there's more to the GE numbers than just appliances.
In Figure 5, we're tracking just United Technologies Corp. Again, it's a highly diversified company, with both aerospace and building products revenue contributing their own warranty expenses to the totals. But whatever the company is selling, it's pretty clear that its warranty expenses are falling. Back in 2003 its accrual rate was a s high as 2.4%. In 2014 it fell as low as 0.5%.
Figure 5
United Technologies Corp.
Average Warranty Claims & Accrual Rates
(as a % of product sales, 2003-2015)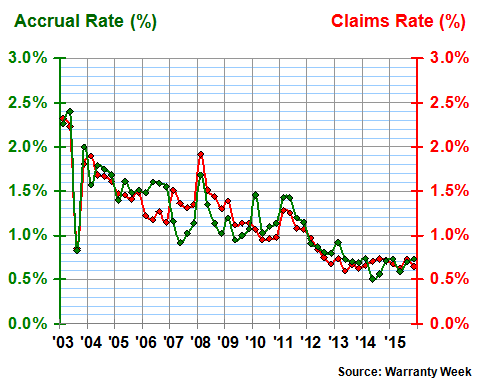 This means the company has made dramatic cuts to its warranty expenses. Back in 2007 and 2008, it spent more than half a billion dollars on warranty claims. In 2015, its claims payments were less than half as large. In 2006, it set aside $533 million in accruals. In 2015, for the first time it set aside less than $300 million in accruals.
Sales have generally been growing, though there was a 16% decline in 2015. So it's no wonder the company's warranty expense rates have been below one percent for the past four years. Among large manufacturers, this is one of the best examples of consistent and sustained warranty cost reductions.
HVAC Expense Rates
For most other HVAC system manufacturers, on the other hand, warranty cost reductions have been less successful. In Figure 6, there's not much change to report except perhaps less volatility in the season-to-season fluctuations caused by the weather and the building cycles. But then again, the average expense rates have remained close to 0.8%, and that's not bad compared to the appliance side of the business.
Figure 6
HVAC System Manufacturers
Average Warranty Claims & Accrual Rates
(as a % of product sales, 2003-2015)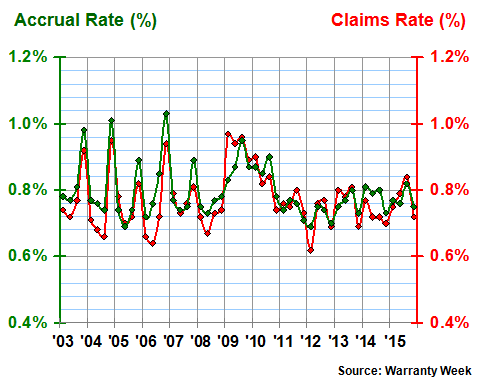 Ingersoll-Rand, Manitowoc, Jarden, and Middleby Corp. are among the companies that have reduced their accrual rates significantly in the past year. Wabash, Ametek, Johnson Controls, Keurig, Whirlpool, and Standex are among those who raised their accrual rates significantly. Some of these made it into one or more of our top 10 lists in the March 17 newsletter.
Keurig and Johnson Controls made the top 10 list for their claims rate increases, while Ingersoll-Rand and Rockwell Automation made the top 10 list for claims rate reductions. But there were small-but-still-large claims rate increases at SPX, Honeywell, and Lennox. And there were smaller rate reductions at Nortek Inc., A.O. Smith, and United Technologies.
Warranty Reserves
The year-ending balance in the warranty reserves of the 78 companies we're tracking this week rose by $691 million in 2015, to more than $5.6 billion. That's the second-highest it's ever been, topped only by 2011's $5.87 billion.
The appliance companies saw major increases and so did most of the HVAC companies, with the notable exception of United Technologies, which saw its reserves total decrease by $101 million. GE was up by $524 million and Whirlpool was up by $258 million.
Figure 7
Appliance & HVAC Warranties
Reserves Held by U.S.-based Companies
(in US$ millions, 2003-2015)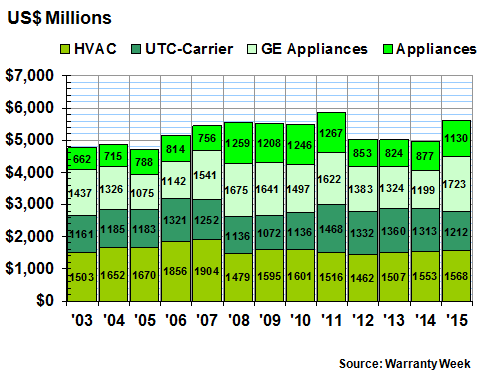 For some of the smaller companies, there were some big changes. Middleby's warranty reserve fund balance was up by only $9 million but for them it was almost a one-third gain. Wabash and Keurig also has gains of more than one-quarter of their 2014-ending balances.
On the other extreme, many appliance and HVAC companies reduced their warranty reserves, including Ametek, Emerson Electric, ITT Corp., Modine Manufacturing Co., Newell Rubbermaid Inc., Rockwell Automation, and SPX, which each saw their balances fall by 10% of more in 2015.
Warranty Reserve Capacity
The balance is one thing. But the balance can also be expressed as a multiple of claims payments, in the sense that a company paying out a lot in claims needs a lot of reserves to provide an adequate cushion for the income statement.
Let's say a company has a balance of $10 million at the end of the year and is paying out $1 million a month in claims. Another way of expressing the capacity of that reserve fund is to say it would last for 10 months, if there were no additional accruals added. But if $5 million was added, and if claims payments then shot up to $3 million a month, reserve capacity would fall to a precarious level of only 5 months.
In Figure 8 we've taken the 28 appliance manufacturers and the 28 HVAC manufacturers and added together all their warranty reserve balances and divided by all their claims payments. It's basically the numbers in Figure 7 divided by the numbers in Figure 1, but counted in months rather than in dollars.
The black lines represent the averages for all manufacturers in all industries, which at the end of 2015 stood at 19 months and an accrual rate of 1.3%. It's pretty clear that the groups we're looking at this week -- HVAC and appliance manufacturers -- have a different outlook when it comes to deciding upon warranty reserve capacity.
Figure 8
Warranty Reserves vs. Accruals
Home Appliances vs. HVAC Systems
(in months of claims & % of sales, 2003-2015)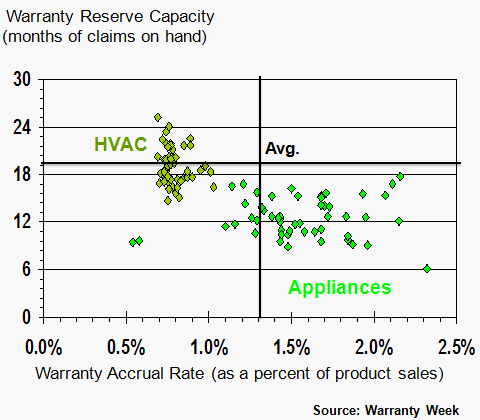 The HVAC manufacturers are a little above or a little below the all-industry average when it comes to warranty reserve capacity. In fact, they've ranged from 15 to 25 months over the past 52 quarters, which implies they're using the reserves to finance the costs of one- and two-year warranties. But they've always had a below-average accrual rate, meaning that while they see a need to keep as high a ratio between claims and reserves as has been seen in the automotive and aerospace industries, they hardly ever spend more than one percent of their product revenue on warranty expenses.
In contrast, the appliance companies are all over the place, with data points scattered between 6 and 18 months and 0.5% and 2.3%. Sometimes their accrual rates are above the industry average. Sometimes they're below. But the companies never keep more than 18 months of reserves on hand.
GE & United Technologies
There are two more companies to consider. United Technologies and GE are so large and so diversified that they would reshape the industry totals and averages in their own image if they weren't counted separately. So that's what we've done in Figure 9: combined the 52 quarterly measurements for United Technologies and the 13 annual measurements for GE.
Figure 9
Warranty Reserves vs. Accruals
United Technologies vs. General Electric
(in months of claims & % of sales, 2003-2015)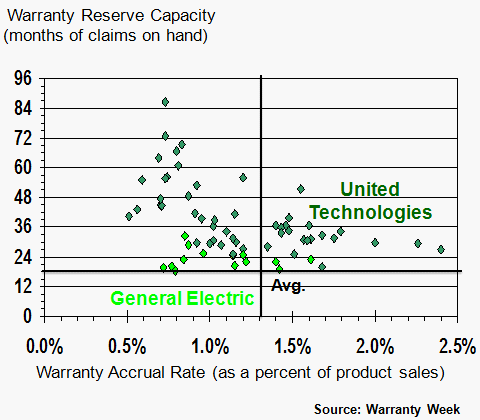 There's less of a pattern here but note that almost all of the data points are above the all-industry average in terms of reserve capacity. In other words, but UTC and GE try to maintain thicker cushions than most manufacturers.
Also note that UTC's data points are all across the top of the chart, which is inevitable given the tremendous change we saw in the company's accrual rate in Figure 5. However, it ended 2015 with a reserve capacity of 87 months, which suggests that as its expense rates fall, it has been slow to remove excess and unneeded funds from its warranty reserve.
High Reserve Capacities
Others that tend to prefer thick cushions include Lennox, Masco Corp., Ingersoll-Rand, SPX, A.O. Smith, Honeywell, and John Bean Technologies Corp. Each ended 2015 with a reserve capacity above 24 months.
Those that prefer the thinnest of cushions include Ametek, Emerson Electric, Helen of Troy, Jarden, Keurig, Middleby, NACCO Industries Inc., Regal-Beloit Corp., Standex, and W.W. Grainger. Each ended 2015 with less than 12 months of reserves on hand.
And then there's a middle group that tends to keep 12 to 24 months of reserves on hand, led by Johnson Controls, LSB Industries, Manitowoc, Rockwell Automation, and Whirlpool. For these companies, the amount of funds on hand to pay claims is likely to be just enough, given the average length of their warranties and the average expense rates they report.