May 26, 2016
New Home & Building Materials Warranty Report:
The name of the game is stability. Some of the builders and their suppliers have gotten very good at accurately predicting their future warranty costs and keeping them stable. Others let them rise and fall without much of a thought about warranty management. And it's easy to see the difference relatively quickly in a chart.
Most buildings have warranties and so do most of the manufactured products used to construct them. And while many of the builders and suppliers are part of privately-held companies, there are enough of them reporting their warranty expenses to add up to more than a billion dollars in claims and accruals annually.
To construct this week's warranty report, we began with a list of 50 new home builders and 118 suppliers of building materials, with makers of fixtures and furniture counted separately. For each company, we collected four essential warranty metrics: claims paid, accruals made, reserves held, and products sold. For the latter, we subtracted all non-warranted revenue sources such as services, mortgage income and land sales from total revenue whenever possible.
Next we calculated two additional metrics by dividing one measurement by another. To calculate the claims rate, we divided claims paid by products sold. And to create the accrual rate, we divided accruals made by products sold. Each of these was used to create the warranty expense rate charts seen in Figures 3 and 4.
New Home Builders
There are 50 companies tracked over the past decade in the new home builder category, though only half of them survived the great recession and are still building homes today. Market leaders include D.R. Horton Inc.; Hovnanian Enterprises Inc.; Lennar Corp.; NVR Inc.; and PulteGroup Inc. The makers of recreational vehicles were not included.
We also kept track of the number of homes sold by each builder. In 2015, we estimate that all the publicly-trading homebuilders that we're tracking sold approximately 149,000 new homes, which is about 30% of the total U.S. market for last year. Unit sales for the companies we're tracking were up by about 14% year over year, as opposed to an 11% gain for the entire new home market, which includes a much longer list of numerous privately-held and family-owned builders.
In the supplier categories, 28 companies were classified as suppliers of plumbing and electrical fixtures. Another 34 were classified as suppliers of furniture, and the remaining 56 provided other types of building materials (rugs, roofing, windows, walls, floors, cabinets, etc.). Market leaders include Fortune Brands Home & Security Inc.; Herman Miller Inc.; Illinois Tool Works Inc.; Masco Corp.; Mohawk Industries Inc.; Nortek Inc.; Pentair plc; Sherwin Williams Co.; Stanley Black & Decker Inc.; and Tempur Sealy International Inc.
United Technologies Corp., which makes elevators as well as many types of household security systems, was not included. The reason for its exclusion is to avoid repetition, since it was already a major part of both the Appliance & HVAC Warranty Report and the Aerospace Warranty Report in recent weeks.
In Figure 1 we're displaying the claims payments for each of the past 13 years four our four groups of companies. For the builders, claims jumped by about $80 million, which in this case is a welcome side effect of rapidly increasing sales. For the suppliers, claims were down by about $390 million, with the fixtures companies up by $11 million and the others down by a combined $41 million.
Figure 1
New Home & Building Material Warranties
Claims Paid Worldwide by U.S.-based Manufacturers
(in US$ millions, 2003-2015)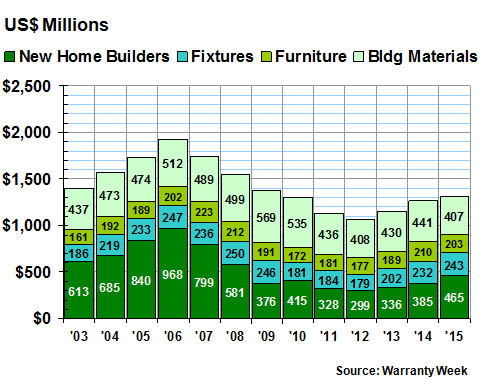 Most of the top builders saw their claims payments rise. Some, such as Beazer Homes, Hovnanian, and M.D.C. Holdings Inc., saw their claims totals rise by more than half from 2014 levels. NVR and KB Home were two of the few that saw their claims totals fall last year. But none of the top builders saw home sales revenue decline, so again, this increase in expenses is a good sign that the recovery continues.
On the supplier side, on a percentage basis, Fortune Brands, Ply Gem Holdings Inc., and Lincoln Electric Holdings Inc. saw the greatest increases in their claims payments. Owens Corning, RPM International Inc., and Crane Co. saw the biggest annual declines in their claims payments.
Warranty Accruals
Accruals were up by $41 million for the builders, which again is a good sign given the 14% growth in unit sales. But accruals were down significantly for the suppliers, led by a $124 million decline in accruals made by the manufacturers of building materials such as floors, walls, and windows. Accruals for the furniture makers were unchanged, while accruals for the makers of fixtures dipped by $12 million.
Figure 2
New Home & Building Material Warranties
Accruals Made Worldwide by U.S.-based Manufacturers
(in US$ millions, 2003-2015)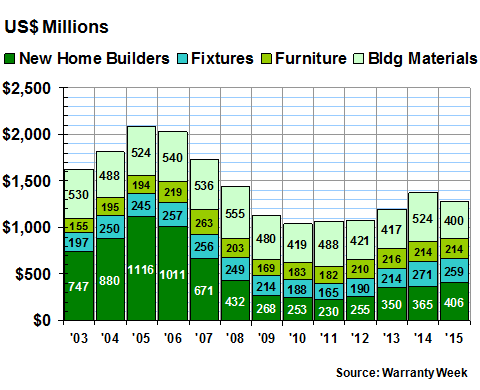 There were quite a few big declines in accruals posted by the suppliers. Pentair cut its accruals by $14 million. Owens Corning was down by $10 million, as was RPM International. Armstrong World Industries Inc.; Hubbell Inc.; Illinois Tool Works; and Tempur Sealy each cut their annual accrual totals by 10% or more.
There were, however, a few companies that increased their accruals significantly, perhaps as a signal of trouble to come. Mohawk increased its accruals by $13 million. Lincoln Electric boosted its accruals by $7.5 million. And Ply Gem raised its annual accrual total by $6.1 million.
Among the homebuilders, in contrast, accrual increases dominated. Lennar boosted its accruals by $21 million, which represented an increase of more than a third. D.R. Horton increased accruals by $10 million. Beazer Homes raised its accruals by $5 million. Cavco Industries Inc. increased its annual accruals by $6.5 million, which was an increase of more than half.
Warranty Expense Rates
The thing is, if sales are rising, claims and accruals are probably also rising. It would be great if expenses remained the same, but particularly with accruals, they tend to rise proportionally with sales. Therefore, if we divide accruals by sales, the percentage rate should remain about the same.
Indeed, in Figure 3, the accrual rate for the homebuilders has generally remained in a range of 0.8% to 1.0% over most of the past 13 years. The claims rate was significantly higher from 2007 to 2011, but this had more to do with lower sales rather than higher claims. In a market downturn, customers stuck with homes depreciating in value are more likely to insist on making claims. But if a home is never sold, the builder will make no accruals, so the ratio between them remains about the same over time.
Figure 3
New Home Warranties
Average Warranty Claims & Accrual Rates
(as a % of product sales, 2003-2015)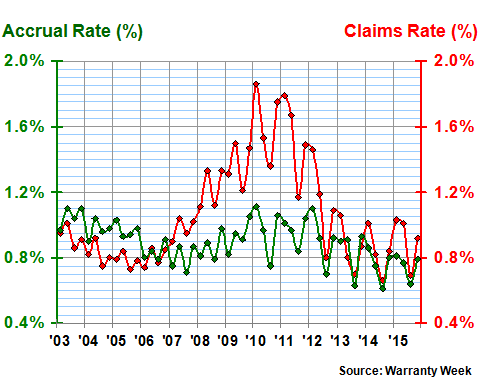 When the accrual total and the sales total rise or fall at different rates, that can be a sign of trouble. For instance, Beazer Homes saw a huge 29% boost in home sales revenue. But its accruals rose from $6 to $11 million, which is an even larger increase. That $6.5 million increase for Cavco was a 52% gain. But sales were up by only 23%. Inevitably, their accrual rates rose.
And then there were a few builders whose sales rose only slightly, yet their accruals rose faster. Toll Brothers, D.R. Horton, and Hovnanian were in this group. This can be another sign of trouble, since it signals that either the frequency or the cost of repairs is rising.
As was mentioned, they're supposed to rise and fall proportionally, so there's no net change to the percentage calculations. For instance, Pulte saw sales and accruals both rose only slightly, so there was no net change in its accrual rate. For KB Home, both sales and accruals rose by about 25%, so there was no net change to its accrual rate.
And then there were a few where the differences were minor. For Meritage, accruals rose a tiny bit slower than sales, so its accrual rate fell a tiny bit, from 0.6% to 0.5%. And for NVR, sales rose 16% but accruals fell, so its accrual rate declined from 1.2% to 0.9%.
Top 10 Lists
On the other hand, some of these ups and downs were actually large enough to make it into the top 100 lists included in the March 17 newsletter. In fact, out of the 45 warranty providers that made appearances on any of the lists, six of them were homebuilders, which demonstrates how volatile both sales and warranty expense rates have been in this industry recently.
In contrast, 17 of the 118 suppliers were among the largest warranty providers included in the March 17 newsletter, but not one of them made a top 10 list for their claims or accrual rates. Big changes in expense rates are simply out of character for them.
In Figure 4, we've stretched the vertical scale to make the data look more volatile than it really is. In reality, the group's accrual rate has varied over the past 52 quarters from a low of 0.47% to a high of 0.74%, which isn't much of a change at all. However, notice the sustained upturn in the group's expense rates over the past three years. In terms of cost-cutting, their best days are apparently behind them.
Figure 4
Building Material Warranties
Average Warranty Claims & Accrual Rates
(as a % of product sales, 2003-2015)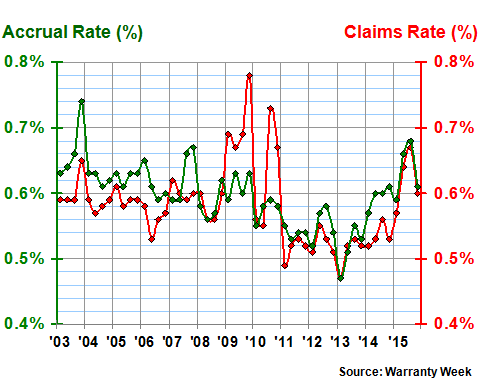 Owens Corning was one of the major exceptions. It chopped $14 million off its claims bill and reduced accruals by $10 million, reducing its accrual rate from 0.5% to 0.3% and cutting its claims rate in half. Armstrong cut $3.7 million off its claims cost and $1.2 million off its accrual total, reducing its warranty expense rates to 0.5% and 0.4%, respectively. Others that reduced both their claims and accrual rates included Hubbell, Mohawk Industries, Crane Co., Nortek Inc., and Stanley Black & Decker.
Warranty Reserves
For the homebuilders, the combined balance in their warranty reserve funds had been slowly increasing in recent years after hitting bottom in 2012. That trend has now reversed. Reserves declined by $30 million in 2015, led by a $43 million drop at Hovnanian.
The CalAtlantic Group Inc. saw reserves rise by $27 million, but most of that came from its acquisition of the Ryland Group Inc. In terms of actual net increases, Lennar boosted reserves by $15 million and D.R. Horton added $18 million. Cavco, meanwhile, added $4 million to its $9.4 million balance, which was one of the largest increases of all on a percentage basis.
Figure 5
New Home & Building Material Warranties
Reserves Held Worldwide by U.S.-based Manufacturers
(in US$ millions, 2003-2015)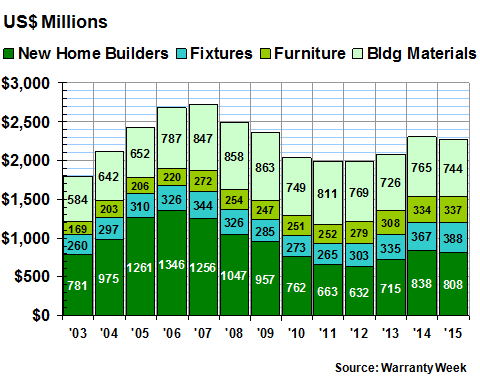 Among the suppliers, reserves grew for the makers of fixtures and furniture, but fell for the makers of other types of building materials. On a net basis, all 118 suppliers boosted their reserves by $1.6 million to $1.468 billion amongst them.
On a percentage basis, some of the biggest declines came from Louisiana-Pacific Corp., Dow Chemical Co., Pentair, and Ply Gem. Some of the biggest increases in reserves were reported by Acuity Brands Inc., Fortune Brands, Herman Miller, Lincoln Electric, Mohawk, and Select Comfort Corp. Of these, however, the only increase big enough to make it onto a top 10 list was by furniture company Herman Miller.
On a numerical basis, the $17 million increase in reserves by Masco, from $135 million to $152 million, was the largest, though not on a percentage basis. Bedding maker Select Comfort's 72% increase from $5.8 million to $10 million took that crown.
Warranty Accruals Per Home
Next let's look at the average amount of warranty accruals each builder sets aside when they sell a new home. The dollar amount per unit is calculated by dividing accruals by the number of units sold. And in the homebuilding industry, that usually means the number of homes sold or delivered. It's not the number of housing starts, or the number of homes completed. It's the number of homes actually sold.
Each homebuilder uses a slightly different word or phrase for this metric. D.R. Horton, Shea Homes, and Meritage call them "homes closed." William Lyon Homes refers to the "number of homes closed." PulteGroup, Beazer Homes, and the Ryland Group simply call them "closings." Meanwhile, KB Home, Hovnanian, and M/I Homes call them "homes delivered." Lennar refers to "deliveries." Standard Pacific Corp. used to count "new homes delivered." MDC now calls them "new home deliveries," though it used to refer to "homes closed" until it switched to the new term in 2011. And NVR simply calls them "settlements."
So, with that in mind, we collected data for the number of homes sold per quarter by 15 of the top builders, and calculated the amount of warranty accruals they set aside per home sold. Over the past 13 years, the industry average has remained very close to $2500 per home sold, meaning that the average cost of warranty per unit is around that figure.
Theoretically, the amount should be close to constant over time, as it is for D.R. Horton in Figure 6 below. When a home is sold, the builder knows approximately how much its warranty will cost them over the long run, and sets that exact amount of funds aside as an accrual. It doesn't vary so much upon selling price as if does upon the cost and frequency of repairs. However, the warranties on higher-priced homes do indeed seem to cost more than they do on starter homes. Either way, if there are any surprises, those can be dealt with later through changes of estimate.
However, the truth is that the amount of accruals is far from consistent for most of these builders. Of these 15 tracked in the five charts below, only D.R. Horton, Toll Brothers, and M/I Homes achieve any sort of flat-line consistency over time.
In these charts, the flatter the line and the gentler the slope, the better the warranty management. It's not so much the level as it is the consistency that matters. A few achieve relatively flat lines. The rest seem to adjust accruals up or down by hundreds or even thousands per unit from one quarter to the next. Some occasionally spike to incredible heights.
Figure 6
New Home Builders
Warranty Accruals Made per Unit Sold
(in US Dollars, 2003-2015)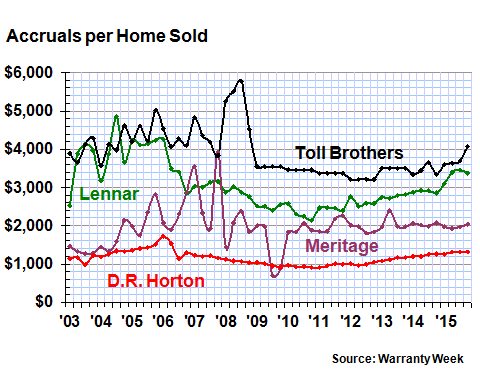 The spikes are easy to spot. The reasons behind them are not. M.D.C. Holdings, for instance, sold 3,686 homes in the third quarter of 2005, and made $11 million in accruals. The next quarter, it sold 4,951 units but accrued $28 million. The result was its accrual-per-home figure spiked to $5700 for just one quarter, before falling back and beginning a multi-year decline.
Figure 7
New Home Builders
Warranty Accruals Made per Unit Sold
(in US Dollars, 2003-2015)
Beazer Homes saw its accruals spike in the first quarter of 2005 to almost $15,000 per home. Hovnanian's spike came in the third quarter of 2009. More perplexingly, Beazer made no accruals at all in two quarters of 2006 and one of 2007, and accrued only a few hundred dollars per home sold in several other quarters. Are their craftsmen that good? Or are there other considerations guiding their accrual rates?
Figure 8
New Home Builders
Warranty Accruals Made per Unit Sold
(in US Dollars, 2003-2015)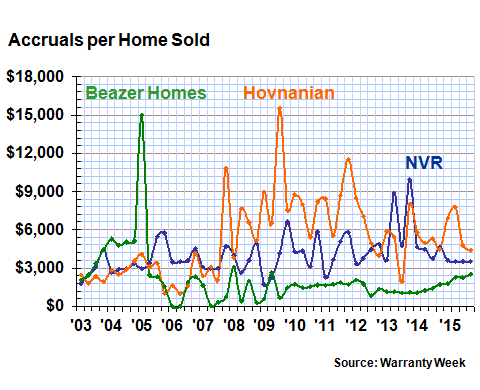 Shea Homes is no longer reporting its financials publicly. It did so from 2010 to 2014 only because it sold bonds to the public that required it to file annual reports and quarterly financial statements with the SEC. When those bonds were redeemed, it stopped reporting, though it continues to build homes, and presumably, to make warranty accruals, at rates that varied from $2800 to $11,000 per home sold.
M/I Homes saw some variance in its accrual rate per home sold in 2003 and 2004. But then it became one of the most consistent of all the builders, keeping its accrual rate per home very close to the $2500 industry average during the next eleven years.
William Lyon Homes, meanwhile, has almost always been above the industry average, and briefly accrued more than $8,000 per new home sold, though most of the time it's between $4,000 and $6,000 per home. However, through good warranty management practices and a relatively high sales price per home, it has managed to keep its dollar-amount accrual rate very close to one percent.
Figure 9
New Home Builders
Warranty Accruals Made per Unit Sold
(in US Dollars, 2003-2015)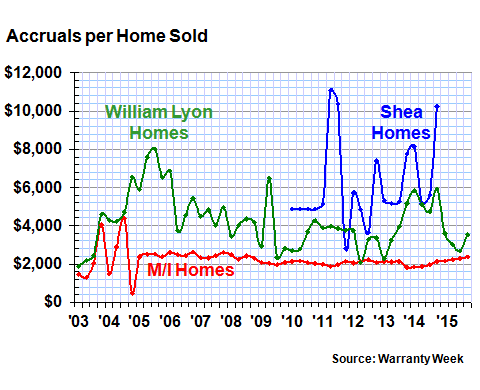 And finally, we wanted to provide some detail on The Ryland Group and Standard Pacific, which merged in October to form the CalAtlantic Group Inc. In the chart below, we've pretended that Ryland stopped reporting and Standard Pacific merely changed its name. But it's clear that the combined companies are still feeling their way when it comes to deciding how much to accrue per new home sold.
Figure 10
New Home Builders
Warranty Accruals Made per Unit Sold
(in US Dollars, 2003-2015)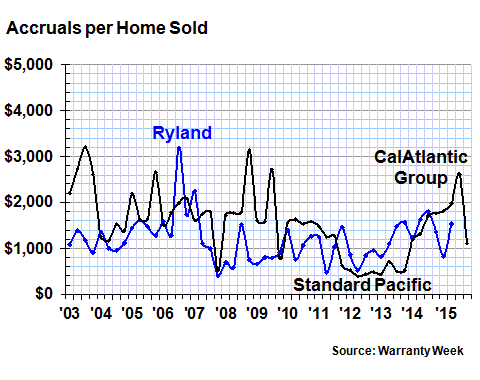 The third quarter 2015 figure is based on Standard Pacific's last separate report, of 1165 units sold and $3 million in accruals made. The fourth quarter figure is based on the combined companies' annual figures of 12,560 units sold and $13.8 million in accruals made during all of 2015. And this figure, we note, is much closer to Ryland's long-term average accrual rate of $1200 per home sold.
Flat Lines Are Good News
On a percentage-of-revenue basis, the accrual rates of these five of these builders changed the least from the end of 2014 to the end of 2015: D.R. Horton, KB Home, M/I Homes, Pulte, and Toll Brothers. The percentage change at Pulte, in fact, was barely measurable. But then again, pictures are worth a thousand words. It's easier to simply look at these charts and see which companies are the most consistent warranty managers.