June 23, 2016
Planning and Structuring a Successful Warranty Transformation Program:
One of the biggest mistake companies make is failing to consider the needs of customers and stakeholders in other departments. Others fail to articulate the business benefits internally, or they fail to consider industry trends that will impact the warranty process.

By Mukund Ramaswamy, Consultant, TCS


Editor's Note: This column by Mukund Ramaswamy,
the Lead Business Consultant, Customer Experience
Management, Manufacturing Innovation and Transformation
Group, at Tata Consultancy Services, is the latest in an
ongoing series of contributed editorial columns. Readers
interested in authoring a contributed column in the future can
click here to see the Guidelines for Editorial Submissions page.




Manufacturers today are looking to improve customer experience in the face of significant competition in the marketplace and sweeping improvements in technology. A well-planned and well-executed warranty transformation program is important to deliver excellent customer experience and increase loyalty. When planning a warranty transformation program, there are a few key elements businesses should take into consideration to ensure success.

When it comes to planning such a program, many organizations struggle to articulate its value proposition. This predicament is further complicated by involvement of multiple stakeholders, a plethora of technology choices and business process complexity. Tata Consultancy Services conducted research on the typical challenges associated with warranty initiatives, and the results were not surprising.



Figure 1
Pain Areas in Warranty Initiatives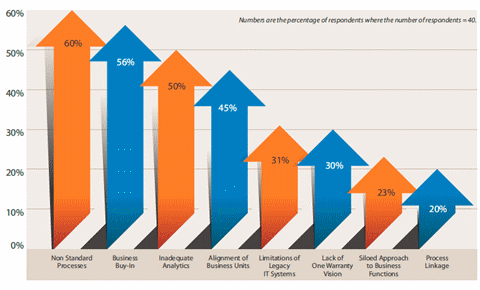 Source: TCS Research
The top pain points related to warranty initiatives include leadership alignment, business process complexity, and inadequate use of technology. Warranty transformations need a significant amount of planning and the right mix of people, processes, tools and technology to achieve business objectives.
Mistakes to Avoid
Warranty transformation programs should be planned from a warranty maturity improvement perspective with a clearly articulated road map and goals. Manufacturers usually either make minor tweaks to the existing program or initiate new programs where the expected benefits take years to realize. A few common mistakes organizations make while planning for a warranty transformation program include:
Ignoring the voice of the customer: Many warranty programs start without involving any inputs from customers or end users. This is often attributed to the traditional thinking that warranty programs are back office operations. In reality, warranty operations are customer-facing and have significant bearing on customer experience. It is important to consider the customer's inputs and needs while defining the transformation program.



Failure to consider stakeholders in planning: Too many programs run into trouble because not all the stakeholders were involved in the planning stage. Warranty processes impact multiple business functions from sales, marketing, quality, warranty operations, and more, depending on organization structure. If all the stakeholders are not considered, the solution will not meet needs, resulting in lack of acceptance and resistance to change.



Lack of a business case: If there is no business case prepared at the outset, then the program can easily exceed budget expectations. Still worse, when the program is declared complete, the warranty business does not realize the benefits.



Transformation Program = IT system replacement: A lot of organizations assume that a change in technology will help solve all the problems. While change in technology might address technical architecture scalability, it might not help achieve the expected business benefits. There is a need to look at the program from a business impact perspective as opposed to a simple IT system replacement project.



Insufficient articulation of business requirements: While defining the future capabilities, it is easy to get biased by current pain points. Often, this only delivers an incremental improvement and not necessarily a warranty transformation. The business requirements for a new solution will have to consider industry trends, and the future-state vision of an organization that supports process scalability and drives business process improvements.
All the above issues can be addressed by planning the warranty transformation program in a structured fashion.
Answering the Question "Why Change?"
"Why change?" is one of the important questions that need to be answered in planning for any transformation program, including warranty. It can be daunting to change some of the most complex warranty business processes and overcome organizational inertia. Even if the warranty organization understands the need to change, it can be difficult to get funding from the leadership team, especially if it is a long drawn out program.
Hence, it is important to build a business case to get the buy-in for the transformation program. Changes to warranty processes impact many stakeholders within the organization. Building a business case that is aligned to the strategic objectives of the warranty program will help stakeholders understand the impact.
Articulating the business benefits to organizational leadership on the transformation of a warranty program can be difficult. It starts with sharing the future vision that not only addresses current pain points, but also enables readiness for the changes happening within the industry.
For example, in the automobile industry, the increase in product complexity of individual auto parts means that repair costs increase for failures. However, new and more complex products also can provide the OEM with more information to predict and prevent failures.
Once the future vision of the program and capabilities are clearly defined, then each of the individual capabilities can be translated to dollar benefits. Some benefits translate to dollar savings and others increase productivity. Both are equally important.
Capabilities such as claim fraud detection can be easily quantified in dollar terms as even a conservative estimate of reducing fraud by 2% on a warranty spend of $50 million would yield $1 million in benefits. As an example, a program might result in reducing unwanted part shipments to return centers, thus reducing freight costs.
Improved recall management and a robust early warning system would result in significant improvement in detection-to-correction cycle time. The lessons learned from warrantable field failures should be leveraged for new product development and articulating such business benefits will be key for building a business case.
If the new capabilities reduce the detection to correction cycle time by a few days, that not only reduces the claims by that period but also reduces population of faulty components that are out in the market, thus reducing future failures. This is a significant win for the reliability and quality groups within an organization as the warranty data feeds the quality improvement process. All the above examples are ways and means to quantify benefits in the business case.
While warranty cost reduction is always a key consideration in a business case, improving the customer experience cannot be ignored. Customers need to be provided with timely updates on progress with warranty claims and clarifications on why a claim is rejected. Providing customers with self-service capabilities not only enhances customer satisfaction, but also has a dollar benefit by being able to deploy a portion of a call center to increase extended warranty contract sales instead of attending to warranty calls.
Every business is impacted by digital technologies. As the quantum of data generated keeps increasing, manufacturers are using this information to predict part failures, prevent critical failures through preventive maintenance and also ensure that the right technicians are dispatched to the location with the right parts to ensure a timely fix.
Digital technologies are enabling dealers to record and process warranty claims, verify warranty entitlements on the go, as well as providing a 360-degree view of the warranty information. Leveraging such digital technologies for the right use cases can have a significant bearing on warranty transformation. A clear articulation of future state capabilities with a supporting business case for the same will ensure easier buy-in from the leadership.
A Process-Driven Framework
A warranty transformation program should be treated as an opportunity to improve all the relevant upstream and downstream processes of core warranty operations. Warranty is not just about claims management. This requires a mindset change to avoid focusing the reworking as a pure IT system replacement.
This is where a process framework that serves as a guiding baseline for transformation would help. Some of the upstream and downstream processes and their metrics have to be evaluated holistically to improve upon warranty business function. At a high level, there are at least four key areas that need to be considered:
Customer management processes -- This covers all the processes that have a direct impact on the customer, ranging from warranty and service contracts, product recalls, pre-delivery inspections, registration, and fulfillment of repair.



Claims management processes -- This covers the entire gamut of claims management operations, starting from claims creation, processing, payment, and appeal.



Financial Management -- This covers the processes that impact warranty reserve management, including opportunities to optimize warranty reserves and accruals.



Operational Management -- This involves managing the reverse logistics of failed parts return from dealers to warranty return center, and managing supplier recovery.
Figure 2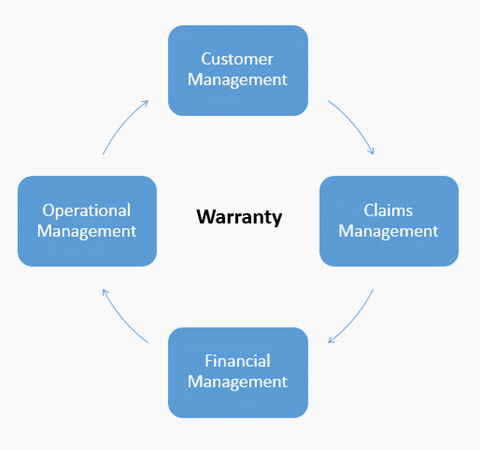 For each of the process areas, building an analytics platform gives a view of key performance indicators that provide the current baseline and a target to which to aspire. While most organizations have standard performance analytics, the key element is the consistency in data quality and being able to build a closed loop linking the various groups from product development, sales, service, warranty, and quality.
Achieving a unified view of the warranty program across geographies and business units is also a great opportunity for transformation. This approach, what we call "One Warranty," can result in significant opportunities for internal benchmarking, and provide seamless information sharing of best practices and warranty data. The warranty process framework would lay the foundation for such an enterprise-wide initiative.
Depending on the organization and industry, the processes impacted could vary, but the theme remains the same. A warranty process framework gives a common and consistent definition to all warranty process areas and ensures linkages. This also provides opportunities to compare processes, set benchmarks and measure warranty performance in a consistent fashion.
Collaborate With Your Stakeholders
As one works on building a business case and a process framework, it is important to communicate and collaborate with both internal and external stakeholders. The diagram below depicts the typical stakeholders involved in warranty transformation. By collaborating with various internal stakeholders on business case and future state articulation, one can ensure a better buy-in for business process improvements.
Figure 3
Along with internal stakeholders, the distribution channel and suppliers also play a key factor toward warranty program maturity. When you consider your dealer network, not all the dealers are at the same performance level, even if you compare those with similar sales volumes, size, and spread of operations. Some dealers do a great job of ensuring the service is completed correctly the first time. These dealers have lower claims volume as opposed to other dealers who do not spend enough time on training technicians.
A comprehensive dealer performance scorecard linked to warranty performance is a great way to build transparency with the channel and also drive improvements in warranty cost reduction. A holistic maturity assessment of various stakeholders -- dealers, distributors, joint venture partners, etc. would give the right indicators on areas of improvement.
Similarly, when it comes to suppliers, most organizations tend to think just supplier recovery. A bigger value can be obtained if this program is considered as an opportunity to improve on supplier collaboration. In many cases, suppliers are provided with insufficient data for them to do a thorough root cause analysis and prevent failures. This problem is even greater when it gets down to Tier 2 and lower levels.
If the suppliers were given access to key failure information from the OEM upfront, then this would enable suppliers to collaborate with the OEM on failure trend analysis and field failure fixes. There are many instances of products recalled due to faulty supplied components, and the suppliers are caught unaware until the damage and costs are already high. The lesson here? Involve suppliers as a key stakeholder to build transparency and seamless information sharing.
Structuring the Overall Transformation
Key success factors toward structuring a warranty transformation program include:
Warranty Governance -- Define a core group of warranty stakeholders who form the warranty council and give a basic framework for various warranty initiatives. A lot of the improvement opportunities involve business process change, and this council can help make some of the key decisions and help push for change within the organization.



Conduct Benchmarking Exercise -- Successful organizations perform a benchmarking exercise (internal or external) of their warranty maturity. Performing an internal benchmarking study and measuring similar metrics will give a good view on warranty performance and sharing of best practices within the organization. Many organizations take up the warranty maturity assessment and evaluate against the industry accepted warranty maturity model.



Warranty Road Map -- The future-state warranty vision, business case, stakeholder alignment will all help to define the various initiatives that need to be taken up as a part of warranty road map. These initiatives can then be prioritized based on quick-wins, near term goals, and long term goals. The road map itself would have dependencies with other initiatives within the organization and needs to be seen as an integrated approach. As an example, if a customer relationship management transformation is underway, then the warranty plan would need to be integrated and aligned.



Continuous Improvement -- As one moves up the warranty maturity scale, it is always good to recalibrate, reassess, and look for opportunities for improvement. We have seen sweeping changes in digital technologies across industries that new business opportunities are being created and continuous change is the mantra.
In the face of increasing competition, managing and improving customer experience is imperative. Warranty programs provide one of the avenues to significantly improve upon customer experience. As with any transformation program, warranty transformation needs careful planning on people, process and technology fronts.
By considering the key success factors and the right planning elements, warranty transformation will yield significant impact on bottom line performance. A well-defined warranty transformation program can be executed to deliver warranty and organization's strategic goals.