July 14, 2016
Global Construction Equipment Warranties:
Half the companies report warranty expense rates that range from 1.0% to 2.3%. The other half are either above or below that range, mainly because most of their revenue and therefore most of their warranty costs come from other industries. And though there's been a few anomalies over the past 13 years, most of these manufacturers report steady and consistent warranty expenses.
From a warranty point of view, construction equipment is not as costly as passenger cars or on-highway trucks, but it's not as inexpensive as semiconductors or printed circuit boards either. In general, companies manufacturing cranes, loaders, dozers, excavators and graders should expect to spend roughly one or two percent of their sales revenue on warranties, according to the average expense rates reported by some of the world's top construction equipment manufacturers.
This week we're tracking the warranty expense rates of 12 of the top 50 construction equipment companies in the world, including six of the top 10, according to International Construction magazine's The Yellow Book 2015.
Using data for the fiscal years ending March 31, we're tracking three Japanese companies: Komatsu Ltd.; Hitachi Ltd.; and Kubota Corp. Using calendar year data from their annual reports, we're tracking three Swedish companies: Volvo AB; Atlas Copco AB; and Sandvik AB. And we're tracking CNH Industrial N.V., which, depending how you look at it, is either a British, Dutch, Italian, or American company -- truly a heavy equipment company with a global reach.
In addition, we are tracking five American heavy equipment companies: Caterpillar Inc.; Deere & Co.; Terex Corp.; Manitowoc Co. Inc.; and Astec Industries Inc.
Some of these companies are less prominent in construction equipment and more well-known in other sectors of the heavy equipment industry such as farm equipment or road paving equipment. Others are much better-known for their on-highway trucks of their electronics or appliances. Indeed, for many years Manitowoc had a major stake in ice-making machines and food service equipment, which it spun off earlier this year into a separate company called Manitowoc Foodservice Inc.
For each of the 12 companies, we collected information in claims paid per year, accruals made per year, and worldwide product sales per year, denominated in their local currencies. When we divided claims and accruals by sales, the currencies dropped out of the equations, leaving us with just a pair of percentages for each year, representing the proportion of sales revenue that each company is spending on warranties.
Japanese Manufacturers
In Figure 1, we're tracking the claims rates of the three Japanese construction equipment manufacturers. Note that because their fiscal years end on March 31, the data for the year marked as '15 is actually for the period April 1, 2015 to March 31, 2016. So it's really three months ahead of the other nine companies. But in order to keep everything simple, we're transposing their data into calendar years.
Figure 1
Heavy Equipment Manufacturers
Warranty Claims Rates, 2003-2015
(as a % of product sales)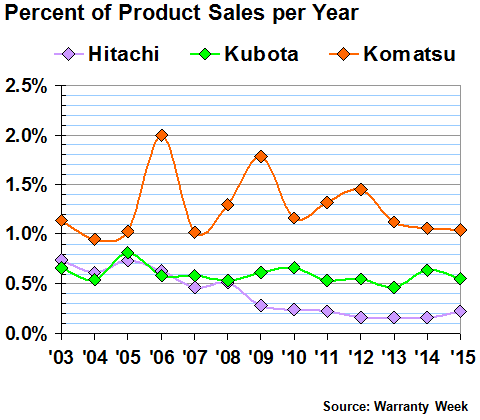 The Hitachi Group isn't often thought of as a construction equipment company, but its subsidiary Hitachi Construction Machinery Co. Ltd. is listed at number three in the Yellow Book rankings, with a worldwide market share of 5%, behind only Caterpillar and Komatsu. However, construction machinery accounts for only 7.5% of the company's total revenue, and it is eclipsed by Hitachi's sales of computer systems, semiconductors, circuit boards, elevators, escalators, automotive powertrains, railways, and even nuclear power plants. Therefore, while the company is a major player in construction machinery, only a small portion of its warranty expenses are likely to arise from that product line. So that may explain why its claims and accrual rates are so low.
Komatsu, meanwhile, has its expense rates firmly implanted into a range of one to two percent, while Kubota is somewhat below that range. In the fiscal year ended March 31, 2016, Komatsu's claims rate was 1.0% while Kubota's was 0.6%. Hitachi's was only 0.2%. That makes it seem like Hitachi would be in better company with the semiconductor and printed circuit board manufacturers we profiled in the May 12 newsletter than with the heavy equipment companies we're profiling this week.
Figure 2
Heavy Equipment Manufacturers
Warranty Accrual Rates, 2003-2015
(as a % of product sales)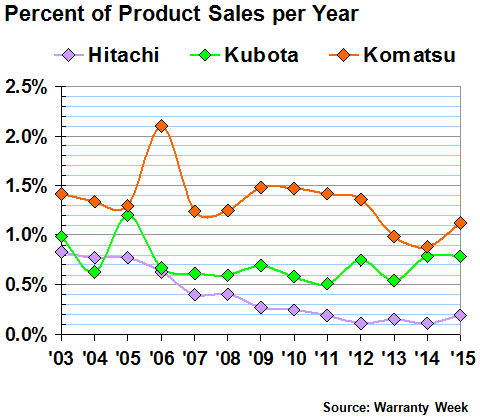 It's much the same story with warranty accrual rates, as can be seen in Figure 2. Komatsu came in last year at 1.1%, Kubota came in at 0.8%, and Hitachi came in at 0.2%. Kubota's accrual rate was about the same in the previous fiscal year, while Hitachi's was a bit lower. Note that Komatsu's 0.9% accrual rate in the fiscal year ended in March 2015 was its lowest ever.
Swedish Manufacturers
Our next group of three are all based in Sweden, but that's about all they have in common. Sandvik is a diversified manufacturer of metal-cutting tools, heating systems and furnaces, pipes, wire, special alloys, and oh yes, construction equipment. But it's number 28 in the Yellow Book, even though the Sandvik Construction segment is only around 10% of the company.
Atlas Copco is number 20 in the Yellow Book, though construction accounts for only about 15% of the company's total revenue. Mining equipment and air compressors account for a much larger share of product sales.
The Volvo Group is equally diversified, but in a different direction. Trucks and buses are its mainstays, but Volvo Construction Equipment is listed fourth in the Yellow Book, even though it's only 16% of the parent company's sales.
In Figure 3 we see their claims rates over the past 13 years, and it looks like they come from three different industries. Volvo, because of its ownership of Mack Trucks, Renault Trucks, and its own truck and bus nameplates, has a claims rate more like Paccar or another heavy truck OEM. Sandvik, because of all its tools and basic materials revenue, has a relatively low claims rate as a percentage of its total revenue. And Atlas Copco is in the middle.
Figure 3
Heavy Equipment Manufacturers
Warranty Claims Rates, 2003-2015
(as a % of product sales)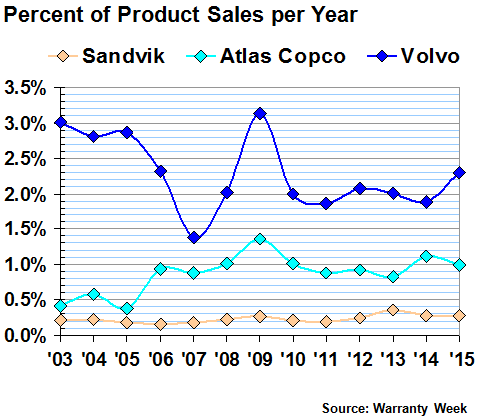 If we could somehow isolate just the construction equipment warranty expense and revenue, the lines would probably be closer together. But as can be seen in Figure 4, it's the same story with warranty accruals: Volvo has highest expense rates of the Swedes, and Sandvik has the lowest. Note that of our four groups of three companies, this is the only trio whose expense rate lines never cross.
Figure 4
Heavy Equipment Manufacturers
Warranty Accrual Rates, 2003-2015
(as a % of product sales)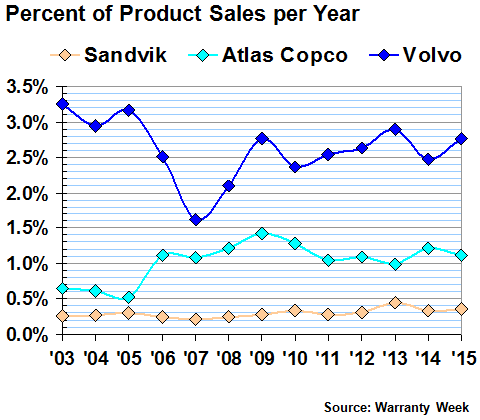 For the hard-to-read graphics in Figure 5, we apologize in advance. But what other color choice could we make for Caterpillar besides yellow? Most of its equipment is painted yellow. Its company logo is based on yellow. The Yellow Book is yellow. And even the construction equipment industry it refers to is called "yellow goods," just as appliances are called "white goods," and entertainment electronics are called "brown goods."
Figure 5
Heavy Equipment Manufacturers
Warranty Claims Rates, 2003-2015
(as a % of product sales)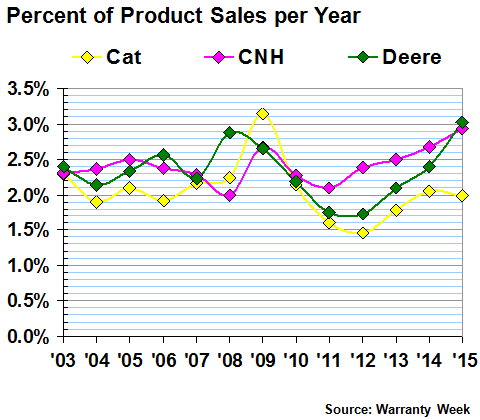 It's no surprise that Caterpillar is number one in the Yellow Book, with an 18% worldwide market share to Komatsu's 11%. Yes, the Caterpillar data is a little hard to read in the charts above and below. But its expense rates do seem to fit in well with both CNH and John Deere, and the range it inhabits also is close to Komatsu and Volvo. Cat saw both its claims rate and its accrual rate spike in 2009, but it's kept those expense rates close to two percent ever since.
Recently Rising Rates
However, notice that all three companies are seeing their claims rates rise in recent years. CNH was at 2.1% in 2011, and 2.9% in 2015. Deere bottomed out at 1.7% in 2012, and rose above 3.0% in 2015. Cat nipped under 1.5% in 2012, but was back to 2.0% in 2015.
With accrual rates, Cat was lowest of the three in 2015 with a 1.8% rate. CNH was just shy of 3.0%. And Deere was a bit above 3.1%. For both CNH and Deere, those levels were their highest ever. Cat had that accruals spike in 2009, and is now at the low end of its decade-long trend line.
Figure 6
Heavy Equipment Manufacturers
Warranty Accrual Rates, 2003-2015
(as a % of product sales)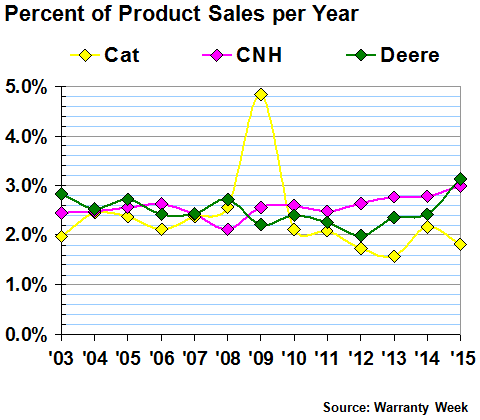 However, it's difficult to make analogies between these warranty expense rates and any measures of product quality or reliability. First of all, as we've noted, these are worldwide and company-wide figures, for all a company's product lines in all their national markets. And when a company's dominant product line is in a non-warranty-intensive industry, as with Hitachi and Sandvik, their expense rates are uncharacteristically low.
Second, even when the product lines are similar, there are differences in the way each company tabulates its warranty expenses. They might account for parts cost differently. Labor rates might be very different in the countries where their customers are located. Taxes, import tariffs, climate, and fuel costs are some of the additional factors that could weigh upon warranty expense rates.
Different Companies
However, that doesn't mean that companies can't be compared against themselves over time. But even this has its limits. Next year, Manitowoc will report warranty expenses for a more limited product line, minus its ice machines and food service equipment. CNH Industrial, with the addition of Fiat's heavy trucks since the end of 2013, is a slightly different company from CNH Global, which reported the data from 2003 to 2013. Even Caterpillar became a different company after it acquired the mining equipment product line of Bucyrus International in 2011.
So what we're saying essentially is that these are not always the same companies over time. The recent uptrend for CNH in Figures 5 and 6 may have more to do with the addition of Fiat's trucks and less to do with either its Case or New Holland product lines. Bucyrus could have helped Cat cut its expense rates in 2012 simply because its mining equipment had a somewhat lower warranty expense level than Cat's existing product lines. And when the data becomes available for this year, Manitowoc could go up or down simply because it's no longer counting ice machine repair costs in its warranty expense reports, not because of any changes in its construction equipment product line.
In Figure 7, it looks like Manitowoc's claims rate is currently at the low end of its recent level, coming in at 1.5% for 2015. But it's been as low as 1.1% (in 2007) and as high as 2.3% (in 2009). Terex, meanwhile, saw claims spike rather noticeably in 2009, but is now back to normal at 1.2% -- about where its claims rate has been for seven of the past 10 years. In the Yellow Book, Terex is number five while Manitowoc is number 19.
Figure 7
Heavy Equipment Manufacturers
Warranty Claims Rates, 2003-2015
(as a % of product sales)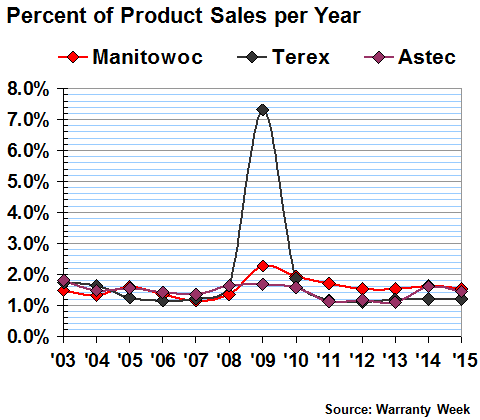 Astec Industries is in a rather unique corner of the construction industry: asphalt road building. One subsidiary manufactures the rock-crushing equipment. Another manufactures the road paving equipment. And yet another manufactures the plants that produce the hot mix asphalt that is used to pave the roads. But it's number 34 in the Yellow Book, so we're including it here.
Because of this unique vertical diversification of its product line, Astec should probably be another outlying company, like Hitachi and Sandvik. But instead, its warranty expense rates fit right into the middle range, with Manitowoc and Terex. Astec's most recent claims rate was 1.4%, as was its accrual rate.
It's Terex whose accrual rate is the least consistent within this group. Note that while its claims rate was spiking in 2009 (see Figure 7), its accrual rate hit a new low of 0.5%. Normally, the two move in the same direction, with a spike in claims payments virtually requiring an increase in accruals. But as can be seen in this case, strange trends are still possible.
Figure 8
Heavy Equipment Manufacturers
Warranty Accrual Rates, 2003-2015
(as a % of product sales)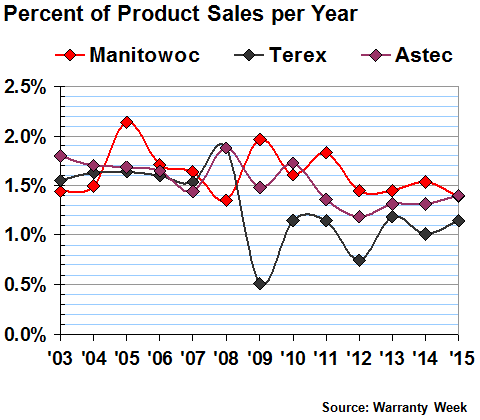 With all this data in hand, some trends become clear. First, when it comes to warranty expense rates, the companies with a lot of heavy trucks in their product lines -- Volvo and CNH -- are at the top of the range of these 12 companies. That's another way of saying that on-road heavy vehicles seem to have higher expense rates than off-road construction vehicles.
Second, the companies with the most diverse product lines and the least overall presence on the construction vehicle industry have the lowest expense rates. Specifically, Hitachi and Sandvik come to mind.
Third, while the other eight companies are mostly in the middle, there are exceptions. Deere is at the high end of the range, and Kubota is at the low end of the range. So really, only six companies make up "the range," and its upper and lower bounds are 2.3% and 1.0%. Knocking out the 2009 claims spike for Terex and the 2009 claims and accrual spikes for Cat, the long-term average is just above 1.4%.
Construction Equipment Average Expense Rates
In other words, this is the typical warranty expense rate of a construction equipment company. The typical expense rate range is 1.0% to 2.3%, with an average of 1.4%. Companies almost always on the high side of this average include Cat, Volvo, CNH, and Deere. Companies almost always on the low side of this average include Hitachi, Sandvik, Kubota, and Atlas Copco. And the companies almost always close to this average include Komatsu, Manitowoc, Terex, and Astec.