August 4, 2016
Warranty & Corporate Inversions:
Although warranty has an effect on taxes, the movement of a company's headquarters from a high-tax to a low-tax country doesn't seem to change its warranty claims or accrual rates. The merger of product lines has a much bigger effect, no matter what their nationality. But in at least one case, a company leaving the U.S. decided to cease complying with warranty reporting rules.
In last week's newsletter, there were several solar equipment companies profiled that were incorporated in one country, had their headquarters in another country, and sold their stock in New York. Several were startups from Asia, which had acquired small U.S. companies in order to gain their stock listings.
This, we said, could prove troublesome if any of the companies failed to outlive their extra-long warranties. However, this globalization of warranty liabilities is not all happening in one direction. An increasing number of U.S. companies seem to be re-incorporating themselves in Bermuda, Ireland, or some other business-friendly nation, appending a "PLC" or an "Ltd" to their name, and continuing business as usual.
Most are moving abroad for tax reasons. For instance, the corporate tax rate in Ireland is 12.5%. It's 35% in the U.S. Therefore, by acquiring an Irish company and moving the official headquarters of the combined companies to Dublin, a formerly U.S.-based company could cut its nominal tax rate by almost two-thirds (not counting deductions).
Since the disclosure of warranty expense information is a requirement of U.S. Generally Accepted Accounting Principles (GAAP), we wanted to see what effect this new kind of corporate emigration is having upon those disclosures. Changes in warranty accrual rates affect net income, and therefore have an impact on taxes. Warranty claims payments include parts affected by sales tax or VAT, and labor affected by payroll taxes. So there are clear links between warranty and taxes. But while these corporate inversions have a clear impact on tax rates, do they also have any impact in warranty expense rates?
Top 26 Corporate Inversions
We started with a list of 26 warranty-expense-reporting companies whose place of incorporation and/or the address of their principal executive offices has changed from somewhere in the U.S. to somewhere outside it. We actually started with a much longer list, but only 26 were hardware manufacturers while the rest were food, apparel, financial, or services companies.
Then we whittled the list down to five companies, by eliminating the rest. For instance, we found that 10 of the 26 had changed their address before warranty expense reporting became mandatory in 2003, so therefore all their published warranty data was post-inversion. These grandfathered veterans were: Cooper Industries plc; Flextronics International Ltd.; Foster Wheeler AG; Garmin Ltd.; Helen of Troy Ltd.; Ingersoll-Rand plc; Loral Space & Communications Inc.; McDermott International Inc.; Seagate Technology plc; and Tyco International plc.
Two more were found to be post-2002 spin-offs of one of these companies: Allegion plc (Ingersoll-Rand), and TE Connectivity Ltd. (Tyco). So all of their lives they've been based outside the U.S., and there's no pre-inversion data.
Four of the 26 had never really been fully compliant with the GAAP rules on warranty disclosures, either before or after their inversions: Civeo Corp.; Freescale Semiconductor Inc.; Samsonite Corp.; and Stratasys Ltd. And two more had large gaps in their warranty data history: Allergan plc (formerly Inamed Corp.) and LivaNova plc (formerly Cyberonics Inc.). We will exclude them because charts of their warranty expense rates would be empty and pointless.
Finally, the corporate inversions of three more companies were simply too recent to allow enough time for much post-emigration warranty data to appear. Arris International plc completed its merger with the British firm with Pace plc on January 4, 2016. Broadcom Ltd. (formerly Avago Technologies) completed its move to Singapore on February 1, 2016. And Johnson Controls Inc. has not yet completed its proposed merger with Tyco International, though it still expects to do so by the end of September.
That leaves us with five companies that made their U.S.-to-abroad moves since 2003, but before 2016, and that had a solid track record of warranty expense data disclosures while they were U.S.-based. They are: Delphi Automotive plc; Eaton Corp. plc; Medtronic plc; Pentair plc; and Steris plc.
Accounting purists will complain that these are not the same companies now that they were before, even though their stock ticker symbols haven't changed. Obviously, since some of the new entities are the result of mergers with non-U.S. firms, they have changed both their domiciles and their names. But with Delphi, for instance, there was a bankruptcy reorganization that took the company apart and put only some of the pieces back together again. So in some cases, the new companies can be either more or less than their predecessors.
Delphi Exits Bankruptcy
Let's have a closer look. Delphi Corp. was spun off from General Motors Corp. in 1999, and filed for bankruptcy protection in 2005, in part because of irregularities surrounding its reported warranty expenses. Several banks stepped in with financing, and Delphi began to sell off some of its divisions as it reorganized. It continued to operate until 2009, when it ran afoul of the terms and conditions of the bank financing package it had relied upon to keep its doors open.
In August 2009, an entity named Delphi Automotive plc was incorporated on the British island of Jersey, with its home office in Kent, southeast of London. On October 6, 2009, it acquired certain assets of Delphi Corp., and in November 2011 it launched an initial public offering of shares in New York (Ticker: DLPH). As part of that IPO, it retroactively disclosed its warranty expenses for both 2011 and 2010.
In Figure 1 below, there is a six-month gap in the warranty data during 2009, which falls between the last report of Delphi Corp. and the first report of Delphi Automotive. The 2010 and 2011 data is annual, converted into a quarterly format, so it shows no variation within the year. But these two years of data, plus the 17 quarterly reports since then, seem remarkably similar to the data from 2003 to 2009.
Figure 1
Delphi Automotive plc
Average Warranty Claims & Accrual Rates
(as a % of product sales, 2003-2016)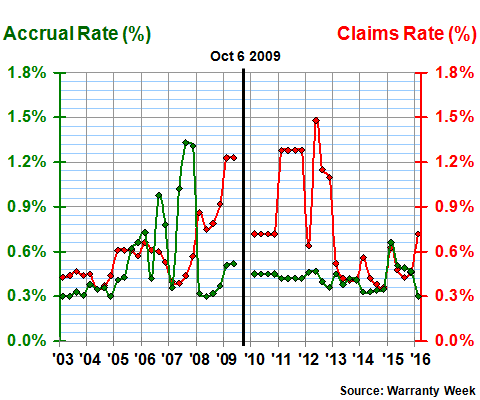 If anything, the new company seems to have stabilized its warranty expense rates since 2013, after some significant gyrations were seem from 2005 to 2009, and again from 2010 to 2012. But it probably has less to do with the move from Troy, Michigan to the United Kingdom and more to do with the divisions and product lines that were selected for acquisition.
Pentair & Tyco International
A better example might be Pentair Inc., a 50-year-old manufacturer of pumps, food and beverage equipment, fluid management systems, control valves, and even some cooling fans and air conditioning systems. On September 28, 2012, Tyco International Ltd. spun off its flow control business and that business then merged with Pentair Inc. The company was renamed Pentair Ltd. and moved to Switzerland.
In 2014, an Irish company called Pentair plc acquired Pentair Ltd. and moved its headquarters to the UK. The U.S. corporate office remains in Minnesota, but the company is now paying taxes in the UK. Yet throughout all of this, the company continues to be listed on the New York Stock Exchange under the symbol of PNR.
In Figure 2, we've added a black vertical line to mark the date of the Tyco merger and relocation to Switzerland. What's immediately clear is that warranty expense rates fell significantly within months of this merger, from around 1.5% to below one percent. They've climbed back up a bit since early 2013, but the most recent report for the quarter ended June 30, 2016 had both expense rates still under one percent.
Figure 2
Pentair plc
Average Warranty Claims & Accrual Rates
(as a % of product sales, 2003-2016)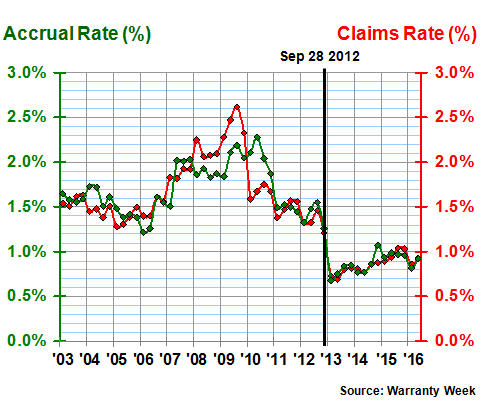 It's impossible for an external observer to know the warranty expense rates of specific product lines, divisions, or locations. However, we note that unlike many corporate inversions, this was more of a merger of equals. After the first merger in 2012, Pentair Inc. shareholders owned 47.5% while Tyco International shareholders owned 52.5% of the company. In other words, the contribution of assets, products, and revenue was probably close to 50/50 as well.
Before the spin-off of the flow control business, Tyco International was reporting warranty expense rates of roughly 0.3%. And it continued to report similar expense rates afterwards, which implies that the spun-off business had expense rates similar to the rest of the company.
Before the merger with Tyco, Pentair Inc. was reporting warranty expense rates in a range of 1.5% to 2.5%. After, they were much lower. We'd suggest that was caused more by the blending in of the lower expense rates of the acquired Tyco businesses and less by the change of geography. In other words, the change in the product mix caused the lower warranty expense rates, not the corporate inversion.
Eaton Buys Cooper Industries
Engine components manufacturer Cooper Industries Inc. moved from Ohio to Bermuda in 2002, before warranty expense reporting became mandatory. And it never reported any warranty expenses, although the new entity, Cooper Industries Ltd. continued to file its annual reports with the U.S. Securities and Exchange Commission as before.
Cooper Industries Ltd. moved to Ireland in 2009 and changed its name to Cooper Industries plc. And it continued to file financial statements with the SEC. But it never reported any warranty expenses -- not once.
In November 2012, Eaton Corp. acquired Cooper Industries plc, moved itself to Dublin, and renamed itself Eaton Corporation plc. The company's shares continue to be listed on the New York Stock Exchange under the symbol ETN, as they have since 1972.
In Figure 3, we see the results of 13 Eaton annual reports, from 2003 to 2015. During the period, warranty expense rates gave generally been declining, except for an anomaly in 2007 and again in 2009. Since the merger with Cooper and the relocation to Ireland, expense rates have remained close to where they were in the year before the merger.
Figure 3
Eaton Corp. plc
Average Warranty Claims & Accrual Rates
(as a % of product sales, 2003-2015)
What can we make of this pattern? Well, first we can say that warranty expense rates of 0.5% or 0.6% are typical for an automotive and/or aerospace supplier, so there's nothing out of the ordinary here. Second, Eaton dominated the post-merger company, with former Eaton Corp. shareholders holding approximately 73% of the shares in Eaton plc, and Cooper Industries shareholders holding the remaining 27%. Therefore, even though we have no data on Cooper's warranty expenses, it's likely that the Eaton product line probably accounts for close to three-quarters of the total warranty cost after the merger.
Once again, there is no evidence to suggest that the change of location had any meaningful effect on the company's warranty expense rates. Most of the executives remained where they were, and only the mailing address of headquarters changed. One could almost say that change of address was incidental to everything besides taxes, as would be expected when two sprawling multinational companies with similar and complementary product lines merge.
The merger would have a minimal effect upon warranty because both before and after the merger Eaton operated in 50 countries and sold products and issues warranties to customers located in 175 countries. In other words, its warranty claims and accruals were already multinational, even when its home was in Cleveland. Its parts and labor costs, as well as its warranty accruals, were already counted in multiple currencies in multiple tax jurisdictions.
Steris Makes Its Escape
Next we take a look at two medical equipment manufacturers that moved out of the U.S. within a few months of each other. Steris makes surgical sterilization equipment, operating tables, and other medical hardware. Medtronic manufactures pacemakers, insulin pumps, and other medical devices. Steris acquired Synergy Health plc in October 2014 and moved itself from Ohio to the midlands of England. Medtronic acquired Covidien plc in January 2015 and moved itself from Minnesota to Ireland.
Both companies continue to sell shares of stock in New York. Steris plc continues to use the ticker symbol STE, and Medtronic continues to use the ticker symbol MDT.
In Figure 4, the warranty expense rates for Steris are calculated using only its capital equipment revenues, and not either its services or consumables revenue. That's important because while the sale of consumables and service revenue are recurrent and predictable, the sale of expensive hardware is much more sporadic.
Therefore, it introduces its own volatility into a calculation expressed as a percentage of sales. Also, because Synergy Health performs services such as linen management and laboratory services, much of the additional revenue it brought to the merger is not as relevant as the hardware revenue that Steris already had.
Still, in at least the five quarters since the merger, there does seem to be some stabilization of the company's previously highly volatile warranty expense rates, with the range narrowing to 1.5% to 2.0%. On past occasions, Steris has accrued as much as 3.2% and as little as 0.03% of its warranted product revenue. But is this in any way linked to the relocation and merger?
Figure 4
Steris plc
Average Warranty Claims & Accrual Rates
(as a % of product sales, 2003-2016)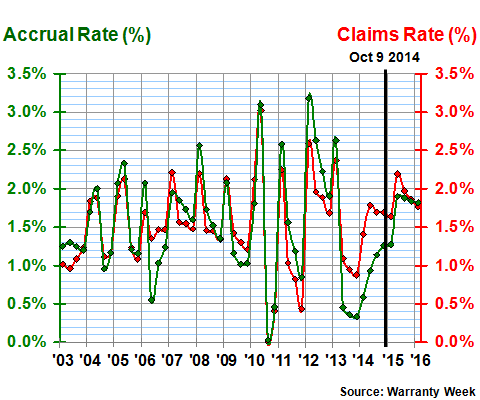 Most of the past volatility was caused by expenses associated with a massive recall of the company's flagship System 1 Processor product line, which was first mandated by the U.S. Food and Drug Administration in 2008, and which continued to be litigated for seven more years. Steris, which still doesn't characterize it as a recall, said the consent decree that outlined the product replacements, which it said were "related to U.S. Food and Drug Administration (FDA) allegations," was terminated in July 2015.
Now it is no longer subject to any court order related to its FDA regulatory compliance. But Steris still maintains offices near Cleveland, Ohio, and of course it still sells its products to hospitals and medical offices located across the U.S., so of course it continues to be subject to the FDA's regulatory oversight. But at least its net income is no longer subject to the oversight of the Internal Revenue Service.
Medtronic Stops Warranty Reporting
Medtronic, meanwhile, had its own massive product recalls to deal with. In 2005, Medtronic began advising doctors about a problem with its defibrillator batteries, which it characterized as a "voluntary field action, later classified by the FDA as a Class II Recall." And then, beginning in 2007, it began another recall action, when the FDA said the leads on the company's defibrillators could malfunction. However, this time it wasn't a recall. Instead, it was a "Voluntary Market Suspension." But as can be seen in Figure 5, both of these events caused the company's warranty expenses to rise noticeably.
Figure 5
Medtronic plc
Average Warranty Claims & Accrual Rates
(as a % of product sales, 2003-2015)
Medtronic plc included warranty expense data in its annual report for the fiscal year ended April 24, 2015. But it has not done so since. Therefore, we have no warranty data for the second half of calendar 2015, and do not anticipate seeing any during 2016. At last report, however, the company was maintaining warranty reserves of $135 million, so its warranty operations are likely to still be massive.
Very few Irish companies reveal their warranty expense data, and unlike in the U.S., there is no legal requirement that they do so. However, shares of Medtronic still trade in New York (Ticker: MDT) under the same symbol as did the U.S.-based company. So although it may have escaped from the clutches of the IRS, it still has to contend with the SEC and GAAP (not to mention the FDA).
Therefore, although some companies have stabilized and/or lowered their warranty expense rates after a corporate inversion, other factors besides the actual relocation seem to be the primary cause. And while we can't find any clear effect that corporate inversions have had on warranty expense rates, Medtronic is an example of a company that simply discontinued following the rules of GAAP once it changed jurisdictions.
Closing the Window?
The U.S. Treasury Department recently moved to modify its tax regulations regarding corporate inversions, which in fact led to the cancellation of a deal involving Allergan plc. While these changes may not have any impact on the Johnson Controls-Tyco deal, it may be one of the last to make it through the window before it closes for good.
We should note that while at the outset we said that at least ten companies underwent corporate inversions before 2003, five of them have never missed a quarter of warranty expense reporting in the years since then. They are: Garmin, Helen of Troy, Ingersoll-Rand, Seagate, and Tyco International. If they can do it, why can't others?
In fact, Ingersoll-Rand is officially based about half an hour north of Medtronic in Dublin, and Tyco is about a three-hour drive south of it in Cork. So they're practically neighbors. And both their offspring, Allegion and TE Connectivity, respectively, are also maintaining a similarly spotless record of complying with U.S. GAAP rules regarding warranty expense disclosures. Of course, they each sell stock in New York so they need to follow GAAP. But they too could have forgotten to include their warranty tables just to see if anyone noticed.