September 22, 2016
Extended Warranty Conference Overview:
Nashville is once again the destination for the extended warranty industry's annual gathering. But this year, the day-and-a-half conference is supplemented by two additional half-days focused on the sales and marketing of service contracts.
Not even a week after the adjournment of the Global Warranty and Service Contract Association's annual meeting and conference in Chicago, and it will be time for the seventh annual Extended Warranty & Service Contract Innovations conference to open in Nashville.
Warranty and service contract industry professionals will barely have a long weekend to grab a change of shirts and socks before heading off to this show next week, which once again is booked into the Renaissance Nashville Hotel. Roz Applebaum, the conference producer on behalf of Strategic Solutions Network, said the feedback from last year was such that she had no hesitation going back to the same hotel in the same city. "The food is great. They're service-conscious. And if you need any kind of help at all, they will do their very best," she said.
And while this is the second year in a row at the Renaissance, it's the fourth consecutive year that the conference has been held in the same city. "People love Nashville," she said. "I see so many people going out and having a good time, taking advantage of the restaurants and listening to music. It's a good place to have a conference."
Separate Add-on Conference
Applebaum said the first day-and-a-half, on Wednesday and Thursday, will be about product development, innovation, marketing, sales, and compliance. "That's our main conference," Applebaum said. And then the balance of the second day and the morning of the third day will be something new: a separate add-on conference called Service Support Innovations.
"We wanted to get much more into the customer engagement and customer experience," she said. So they made it a separately-bookable event, which directly follows the Extended Warranty & Service Contract Innovations conference, in the same rooms of the Renaissance Nashville Hotel.
Applebaum said roughly half the audience is planning to stay on for the second conference. "And we were aiming for that crossover by putting these two things together," she said. "It was a concerted effort to really mix it up and hear from all sides of the market."
In the conference agenda, she said, she made sure that the program was divided into sections by green-labeled banners such as "Customer Engagement," "Ensuring Legal && Regulatory Compliance," and "Product Development Innovations." "I think that helps a lot to make sure that people's expectations are met," Applebaum added.
This is also the third year in a row that attorney Tim Meenan, the general counsel and executive director of the Service Contract Industry Council, is chairman of the conference. "He does such a fabulous job," Applebaum said. "He engages the audience. He plays the role of emcee really well. He understands the industry from all sides, and can answer all these different questions."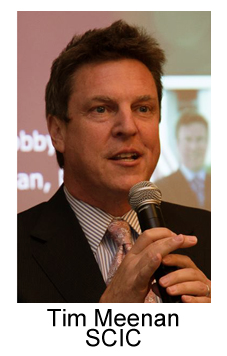 Meenan said it's not about him. Instead, he said he's just fortunate to have such good presenters to work with. "I'd like to take credit, but in reality, when you look at the caliber of who is speaking, that's really what speaks more volume than anything I would say," he said. "These are the powerhouses of the industry, out there, making things happen. It's easy to be the chair of a conference with people like that."
There's a little bit of everything, just like there is in the extended warranty industry. And that's the way Meenan likes to steer the SCIC. It's not just retail appliance service plans or home warranties. It's also vehicle service contracts and mobile phone insurance.
And in fact, the SCIC is just one of the closely-related industry associations that Meenan now works with. He also heads the Guaranteed Asset Protection Alliance and the Motor Vehicle Ancillary Products Association, which focus on the growing need for additional protection products for vehicles, such as tire and wheel protection, paintless dent repair, and financial protection.
Business Best Practices
Those groups are convening their annual meeting on October 6 & 7 at the Bellagio in Las Vegas, to take a very deep dive on trends in industry regulation and lawmaking efforts to benefit the industry. This conference in Nashville, though, is different. It's more about keeping up with events and innovation, and seeing what works best for the industry.
"I really see this as a way to improve and grow your business," he said. "It's business best practices." But there's still a little regulatory and legal content thrown in as well, such as the back-to-back presentations to be delivered on Thursday morning by him and then Greg Mitchell and Jesse D. Wilson from the law firm of Frost Brown Todd LLC.
Meenan's talk is entitled "Update on State Legislation Covering Service Contracts and New Developments at the Consumer Financial Protection Bureau," while the Frost Brown attorneys call theirs "Regulation of Service Contracts Covering Commercial Products."
"For this audience, the detail is the thing," Meenan said. "And the innovation comes at the detail level." So even for people who went to the show last year, there are going to be new details to learn this year, and new innovations to take home and implement in their own companies. "Innovation is coming at such a rapid pace," he noted.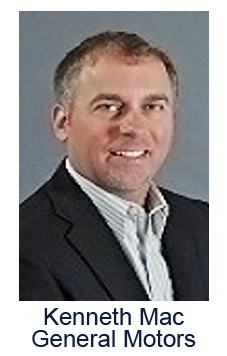 Kenneth Mac, the director, Chevrolet-Buick-GMC-Cadillac protection, GM customer care & after-sales, kicks off the proceedings on Wednesday morning with a presentation entitled "Visioning, Chartering, Building, and Leading an 'Innovation iTeam.'"
Mac said he will be talking about innovation, specifically things he's done in his company to create semi-structured innovation. "The tag line for the session is fail fast, often and cheaply," he said. "And there's a reason for that. Thinking about innovation, it shouldn't be just wished and hoped-for, and accidental."
Instead, he suggests that a company should be trying a whole portfolio of innovation experiments, testing them out to see which ones work, with the full knowledge that most will fail. But then one or two out of ten will work, and hopefully they can make up for the cost of all the failures.
He cites the example of the Skunk Works, an advanced development project that began within the Lockheed Aircraft Corp. in 1943, which found ways to get around the usual bureaucracy that surrounded government work. First during World War II and then throughout the Cold War, the team was able to quickly develop advanced aircraft that in some cases went into development before the formal contracts had been signed.
The vehicle service contract business is closely regulated, however, so these experiments have to be conducted within the confines of the existing legal and regulatory structures of the industry. "It must be legal, ethical, and moral, and it must align with your values, and it must fit with the regulatory environment," he said.
"Innovation is more than just products," Mac added. "It's markets. It's ways of doing business. It's channels. It's leveraging technology and bundling -- in general, it's just new ways of doing business and creating value for the customers."
Mac said he coined the term "iTeam" to describe these kinds of development teams pursuing semi-structured innovation efforts. Like a Skunk Works, these "Innovation iTeams" are able to work outside the normal corporate structures to bring things to market much faster than is typical, he said.
At last year's Warranty Innovations Conference, Mac spoke about how the vehicle protection unit that he works for was something of a start-up within a well-established automotive company. For decades, GM's vehicle protection plans were administered by its GMAC unit, but then that unit was spun off and became an independent company now known as Ally Financial Inc. In 2013, GM sought to get back into the business itself, and Mac's unit is the result. But, he added, the unit is now well beyond the start-up phase now.
Focus on the Customer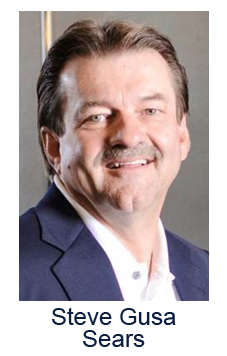 Steve Gusa, senior director channel sales, business development for protection products, Sears Holdings Corp., is going to be part of two different panel discussions at the conference. First, on Wednesday at 2:30pm, he joins Angie Tuglus, an executive vice president at Ally Financial, on a debate about channel disruption that will be moderated by Aleem Lakhani, the executive vice president of AmTrust North America and AMT Warranty.
And then on Thursday at 9:10am, he joins a different panel, also to be moderated by Aleem Lakhani, where the topic is "Innovative Marketing & Sales Strategies (Social Media & More!)." On this panel, Gusa and Lakhani will be joined by Clayton Breazeale, the strategic sales manager at WEX Inc., and by Julie Lohmeier, the managing director, marketing, of Pivotal Home Solutions.
Gusa, who has been a key part of the service contract industry for more than three decades, sees a massive amount of channel disruption coming. "I think theme is that more and more, the customer is in control," he said. "And I think the industry itself is facing some challenge." Things are changing and companies are innovating, he added, "so if you want things to remain the way they are, and the way they have been, you're probably not going to like where the industry is going to go."
Gusa said he sees a massive realignment ahead that will change the basic relationship between the customer, the products they own, and the companies providing the protection program. Rather than component sales, where each retailer offers protection plans for the products they sell, he sees a transformation towards programs that protect all of a customer's products, no matter when, where, or how they were bought.
"We tend to look at the industry through the eyes of product sectors, not through the eyes of consumer experience. And the change the industry is going to have to go through at some point is, they're going to have to think about protecting customers, not products," he said.
Gusa said this could be the opening for auto, home, and life insurance companies that currently aren't in the service contract business to get into the market. They might already be providing auto insurance or life insurance policies to a customer -- why not provide product protection plans too? And if they're already providing a homeowners policy that protects against loss, theft and perhaps also damage, why not offer break/fix coverage as well?
Traditionally, retailers and dealers dominate the sales side of the service contract market, primarily because they have the best and first opportunity to offer the consumer a protection plan on the items that they sell. But Gusa says it doesn't have to be that way. "What does the customer want? Does the customer want to have that many relationships," he asked, with each of these retailers and dealers? Or do they just want a single plan, where products move in and out of it, as needed?
"The market is going to be disrupted if the traditional folks don't think differently," Gusa concluded. "The reality of the marketplace is the traditional product offering doesn't work any longer, for a variety of reasons. We need to move to a customer-centric model."
Electronic Delivery of Service Contracts
At 3:10pm, following the conclusion of the channel disruptions debate, a pair of presentations will look at technological ways to improve the customer experience. First, Scott McLaren, the executive vice president & Chief Marketing Officer at Fortegra, will deliver a look at "Delivering Customer Loyalty with Extended Warranties and Service Contracts -- Tracking the Human Touchpoints and Streamlining Operational Efficiency." And then, attorney Brian Casey, a partner and co-chair of the Regulatory & Transactional Insurance Practice Group at the law firm Locke Lord LLP, will look at "Digital Transactions Using e-Signature and e-Delivery Laws."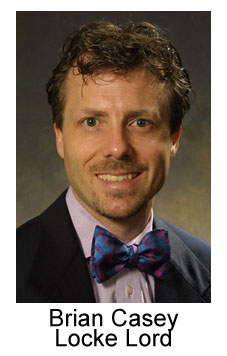 Casey said he's going to look at the possibility of converting the actual process of delivering the contract to the customer from a paper-based system to some sort of electronic delivery. "Right now there are a lot of people handing out paper service contracts," he said. "And what we're trying to do is get it to a digital format, which implicates the electronic signature laws and would include e-delivery. It's time, I think, for this industry to get serious about digital delivery."
The problem, he said, is that just emailing attachments around isn't compliant with these laws. "First of all, you have to have the consent of the customer," he said. "You can't do it unilaterally." Then you have to ask whether email is secure enough from a risk management perspective. And then you have to be able to prove delivery, and if necessary, to retrieve the specific contract that was delivered, if it's needed during an audit by a state insurance commissioner or some other regulator.
In other words, it's not as simple as it sounds. But this is something that the consumer wants, and is able to get from most of the other transactional relationships they have. Why can't they get a copy of the actual contract delivered electronically, even if they buy it online? Casey said he thinks he has a solution, which he'll outline during his session.
"And then I'll compare and contrast some other related areas such as the E-Warranty Act," he said, which allows manufacturers and other product warranty providers to deliver the terms and conditions of their coverage in electronic formats.
"And then in the insurance world, there are a number of states over the last couple of years, in the property and casualty area, that have adopted in their insurance code an e-posting law," where there's a generic policy posted on a website, and then there's a page of specific declarations and endorsements is sent to the policy-holder by mail.
In his legal practice, Casey said he's seen the life insurance companies move the fastest towards e-delivery, followed by the property and casualty companies. And then the specialty insurance companies, which are usually the underwriters of service contracts and extended warranties, are lagging a bit behind, he said. It's time for them to catch up, especially as their policyholders are now moving on from desktop and laptop computing to mobile and wearable technology.
Casey has often spoken in the past about the conflict he sees between state and federal laws when it comes to service contracts. The states regulate insurance, but service contracts aren't insurance. Yet they're traditionally regulated by state insurance departments.
In this case, with e-signatures and e-deliveries, he doesn't see a conflict, because the federal laws specifically defer to state laws. And so, since 47 states have adopted the Uniform Electronic Transactions Act (UETA), there are only three states where the federal law prevails. But he sees a need for the states to overtly include service contracts under the statutes that permit the e-posting of insurance policies.
"It'd definitely doable," Casey concluded. "The good news is, they [the service contract providers] don't even have to get signatures, which makes it even easier. So you're really talking about just the delivery, and of course you need the technology to manage the process."
Service Support Innovations
After Aleem Lakhani delivers a closing address on "Big Data Analytics & Warranty Management: A Deep Dive Into How Data and Technology are Impacting Our Industry," the main conference will come to an end at 12:15pm on Thursday. Then, beginning at 1:20pm, a follow-on conference called "Service Support Innovations" opens, with a chairperson's welcome from Trish Briscoe Myers, the senior program manager at EFG Companies.
For the balance of Thursday and the morning of Friday, the second conference will feature presentations from numerous executives representing top extended warranty and service contract companies, but they'll be talking about sales and marketing, call centers, social media and customer feedback.
Mark Nagelvoort, the president of warranty and service contract platform provider PCMI Corp. is going to talk about how administrators and underwriters can sell their service contracts on mobile devices as customers shift to online purchasing. Angie Tuglus from Ally will return to the podium with two of her colleagues to talk about how call center agents can help to change customer behavior and reduce claims cost.
On Friday morning, Myers herself will deliver a presentation entitled "Product Pricing Strategies: Managing Through Product Life Cycles and Changing Markets," where she will explain that service contract pricing is much more than cost plus markup. And then at noon on Friday, the second conference closes and attendees are free to run for the airport or stay in town for some food and entertainment.