December 1, 2016
Service Contract Pricing: SquareTrade:
Next year, once Allstate completes its SquareTrade acquisition, we'll find out whether there's more value in its direct-to-consumers sales model or in its traditional retail relationships. But this year, though the company has a reputation for selling inexpensive product protection plans, we're finding that some of its retail partners are marking up prices significantly.
Sometimes, timing is everything. Two months ago, when Warranty Week launched its latest mystery shopping exercise, seeking to price numerous types of popular consumer electronics and appliances and the protection plans offered for them, we had no idea that SquareTrade Inc. was about to change hands as part of a whopping $1.4 billion transaction.
On Monday night, however, such an acquisition was announced, with Allstate Corp. as the buyer and affiliates of Bain Capital LP among the sellers. It's not entirely clear what Allstate is acquiring besides the SquareTrade name, but we suspect its goal is to turn itself into one of the leading brown and white goods service contract providers, to complement its leading market positions in vehicle service contracts and auto/home insurance.
In seven weeks of shopping so far, we've logged the prices of products and protection plans at some 30 different retailers and online merchants. We found that 13 of them are SquareTrade clients. That list includes Abt Electronics Inc., parts of Amazon.com Inc. (shared with several other administrators), B&H Photo & Electronics Corp., Costco Wholesale Corp., Crutchfield Corp., eBay Inc., Office Depot Inc., QVC Inc., Buy.com Inc. doing business as Rakuten.com, Sam's Club, Staples Inc., Target Corp., and Toys R Us Inc. All of these retailers are about to become Allstate clients as well.
Service Contract Underwriters
SquareTrade, through subsidiaries such as CE Care Plan Corp., Complete Product Care Corp., SquareTrade Protection Solutions Inc., and ST Product Care Corp., is usually both the administrator and the obligor for these service contracts. The insurance underwriter at all but eBay, QVC, and Toys R Us is Starr Indemnity & Liability Co. At both QVC and Toys R Us, however, SquareTrade's underwriter is Continental Casualty Co., and at eBay it is CNA Warranty Services Inc. Both of these underwriters are units of CNA Financial Corp.
The reason for this split in the underwriting business, sources say, is that SquareTrade has been in the process of slowly migrating its book of business from Starr to CNA, but was impeded by non-compete agreements CNA had signed with some of its other service contract administrators. Starr Indemnity was SquareTrade's third underwriter, and CNA was its fourth.
Meanwhile, SquareTrade's second underwriter has filed a lawsuit against the administrator for breach of contract and negligent misrepresentation. The civil suit known as AmTrust North America Inc. v. SquareTrade Inc. has been plodding through the Superior Court of California, County of San Francisco (Case No. CGC 14 543149) since December 2014, when AmTrust first made the allegations.
Basically, AmTrust accuses SquareTrade of trying to keep its customers happy and keeping its customer satisfaction scores high by paying claims that shouldn't have been paid. "In numerous cases, SquareTrade has approved claims that were not covered by applicable terms and conditions," the original complaint alleges. It also alleges that SquareTrade failed to properly train staff, failed to keep adequate files and records, failed to properly document claims payments, and failed to reimburse the reserve account for improperly paid claims.
Clearly, these underwriter intrigues are more than details that will have to be tidied up before SquareTrade's acquisition closes. We would expect the lawsuit to be settled out of court in some fashion, if not through arbitration. And we would expect that Allstate will offer to acquire the existing SquareTrade books of business from both Starr Indemnity and CNA. In fact, we suspect the cost of completing these tasks may be built into the expected $1.4 billion cost of the acquisition.
Pieces of the Puzzle
Allstate, of course, is a major insurance company, as are Starr, AmTrust, and CNA. There were no mentions of these current and former underwriters in the acquisition press release or in an accompanying investor presentation slide deck, but some clues were left about what the future holds. In the investor presentation, Allstate said that "underwriting SquareTrade protection plans, currently outsourced, could result in additional underwriting income," and that it sees the "potential to provide additional offerings and benefits to SquareTrade's customers in the future."
In the 2010 report on vehicle service contract underwriters, we estimated that Allstate Dealer Services was in command of about 9.5% of the U.S. market, through units such as American Heritage Insurance Services, E.R.J. Insurance Group Inc., First Colonial Insurance Company, Northbrook Indemnity Company, and Pablo Creek Services Inc. That ranked Allstate third, behind only Assurant Solutions and The Warranty Group in the insurance segment of the vehicle service contract industry.
In its investor presentation, Allstate also included a block diagram illustrating where SquareTrade will fit within its sprawling corporate hierarchy once the acquisition is completed early next year. Notice the prominent placement of Esurance Insurance Services Inc., Allstate's direct-to-consumer auto and homeowner's insurance sales arm, which it acquired five years ago. Also, note the mention of Allstate Dealer Services, which sells not only VSCs but also GAP, tire & wheel, paintless dent repairs, theft deterrence, roadside assistance, and many other types of vehicle protection through auto dealerships.
Figure 1
Allstate's Protection Business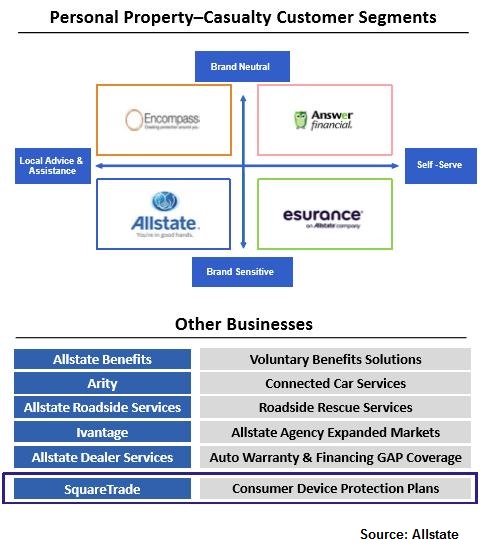 Soon, Allstate will be able to sell protection plans for televisions, computers, smartphones, and appliances too. And it will be able to bundle these coverages with auto liability and homeowner's insurance plans, providing the full complement of consumer protection services. We think the value of SquareTrade is in its brand name relationships with consumers, more than with its retail clients. In fact, the way SquareTrade accentuates its own brand name is an obvious contrast to the way most other administrators keep a low profile and let their own retail partners do the branding and the selling.
Direct Sales or Retail?
Allstate's acquisition package doesn't mention SquareTrade's own direct sales model, through which the administrator essentially competes with its own retail clients and other retailer/administrator pairs by selling service contracts online. Could SquareTrade one day become the Esurance of extended warranties? Or is there more value in continuing to nurture the traditional retailer relationships?
We think it will be a blending of the two. Allstate, already prominent in home and auto insurance and vehicle service contracts, wants to get into the consumer product protection plan market -- to fill the gap in its repertoire. It wants consumers to buy its service contracts for their consumer electronics, smartphones and appliances, in addition to their cars. It wants its existing customers to add portable electronics product insurance to the coverages they already have. How they buy the additional coverages is incidental.
"Allstate's consumer-focused strategy of providing unique products will be further enhanced with the acquisition of SquareTrade," stated Tom Wilson, chairman and chief executive officer of Allstate, in prepared remarks included in the acquisition press release. "This acquisition expands Allstate's customer relationships with 25 million protection plans for consumer electronics and connected devices. SquareTrade's exceptional customer service, innovative product design, analytics and supply-chain logistics have led to a four-fold increase in revenue over the last five years and are consistent with Allstate's history of product innovation. The SquareTrade team under Ahmed Khaishgi has built strong relationships with major retailers, including Amazon, Costco, Sam's Club, Target, Staples, Office Depot and Toys "R" Us, and further expands our customer reach," concluded Wilson.
Allstate said it will acquire SquareTrade using corporate cash and debt issuance, subject to market conditions. It said the transaction is expected to be dilutive to Allstate's earnings per share for three years, including the amortization of intangible assets, and is subject to regulatory approvals and customary closing conditions. In the trading day after the merger was announced, shares of Allstate fell more than 3.5%, though they made up almost half that decline in the past few days.
SquareTrade Protection Plan Pricing
In our mystery shopping expedition, we have so far gathered 600 product-protection plan pairs from SquareTrade-affiliated retailers. Steady readers will note that we usually pick a product, like an HP printer, a Samsung TV, or a Canon camera, and then we catalog all the protection plans offered for that product.
Many times, the retailers offer two-, three-, and four-year plans, with the choice left up to the buyer. Other times, depending upon the product, the retailer might offer plans with and without accidental damage protection. Sometimes they offer all of these, resulting in half a dozen protection options for a single product.
The reason we mention this is because in the chart below, it's clear that we like to shop at Buy.com's Rakuten.com, at eBay, and at B&H Photo. Out of the 600 product-protection plans surveyed, almost half came from these three retailers. However, there's also another reason: they and their partners seem to sell almost everything one could want, including not only products but also parts and consumables. Other retailers such as Staples doesn't sell toys, and Crutchfield isn't big on computers, so they're not part of every product chart like these three.
Figure 2
Number of Service Contracts Priced per Retailer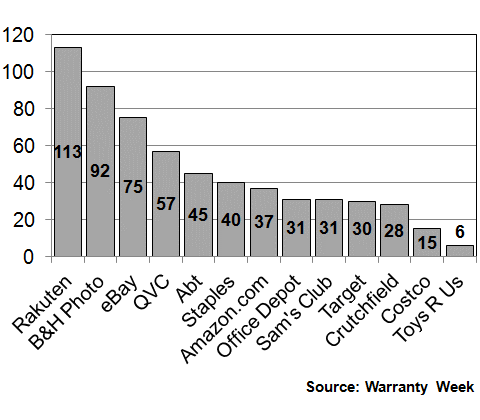 Don't equate the number of product-protection plans with revenue or market share. In fact, it's precisely the other way around, with some of SquareTrade's best clients -- Costco, Target, and Sam's Club -- towards the tail end of the chart. But the tabulation above serves to explain some of the price trends we found overall.
We've said it before, but we'll say it again: compared to other service contract administrators, SquareTrade seems a bit risk-averse. Only 13% of its protection plans last longer than three years, and more than half last for only three years (with many deferring to the manufacturer's warranty for claims during the first year).
Figure 3
Length of Service Contracts Offered
(in years)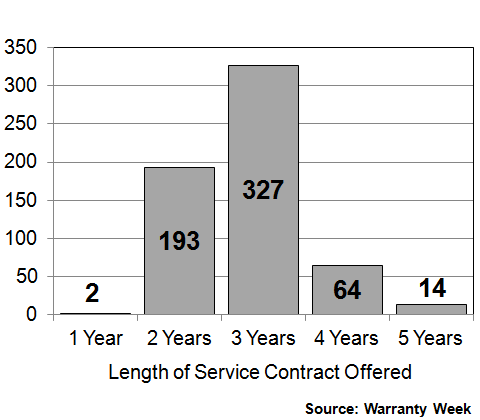 Several SquareTrade retailers don't sell any four- or five-year plans: Office Depot, Staples, Target, and Toys R Us. Abt, B&H, and Crutchfield sell only a few. But there's something else we noticed: some of these retailers charge more for protection plans than the others, even when SquareTrade administers both, and even when it's the same product being protected.
There are numerous reasons for this price difference. For instance, some of SquareTrade's plans go into force soon after a product is purchased, overlapping the manufacturer's warranty and adding coverages such as accidental damage and power surge protection. Others don't begin for a few months or a year, shifting some of the cost of early-life failures back onto the manufacturer. At Costco, the retailer adds a free second year of product warranty coverage on televisions, computers, and appliances, making the purchase of service contracts even less necessary.
Selling Protection Plans for Profit
Still, this doesn't completely explain away the tremendous range of prices we've found. With 600 data points from SquareTrade so far, we've found the average price of protection to be 17% of the product's price, but the range goes from 2.3% all the way to 45%. We think the most substantial reason for the difference is the amount of sales commission and markup wrapped into the price of protection.
In Figures 3 and 4, we've taken the 327 measurements gathered from 12 SquareTrade-affiliated retailers (Toys R Us did not sell any three-year plans) and split them into two groups of six retailers each. We'd do the same for two-, four- and five-year plans, but there's enough data here to illustrate what we've found: some retailers charge more for protection plans, even when the protection is the same.
In Figure 4, one of the consistently most expensive service contract retailers is across the top of the chart. Out of the 28 Crutchfield protection plan offers we've seen, 24 of them were priced at more than 17% of the product's price.
At the other extreme is Costco, where we've seen 15 protection plans, of which all but two were priced below that 17% average for all SquareTrade plans. B&H didn't fare too badly either, with around a quarter of its plans above the average price and more than three-quarters below it.
Figure 4
Three-Year Service Contracts
Price of Service Contracts Offered
(as a percentage of the product price)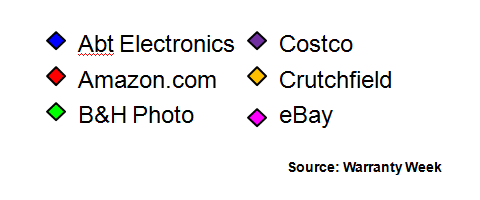 Abt, eBay, and Amazon.com were somewhere in the middle. But still, less than half their protection plans were priced above average, suggesting that their markup might not be as steep as Crutchfield's.
In Figure 5, we're looking at six more SquareTrade clients. And once again, the high-priced protection plans rise to the top. Because of their numerical superiority, Rakuten.com and QVC are the most prominent across the top of Figure 5, but Office Depot is actually the company with the highest prices. Out of 31 total product-protection pairs, 22 of Office Depot's were priced above 17% of the product's price. That's more than 70% above the median.
Lowest Prices
The lowest-priced provider of all was Staples, with only three out of its 40 pairings priced above average. That's remarkable, because besides sharing SquareTrade with Office Depot, it very nearly merged with its office supply rival a year ago until the U.S. government moved to block the deal. Yet they are respectively among the most and least expensive of the SquareTrade retail clients when it comes to protection plan pricing.
Figure 5
Three-Year Service Contracts
Price of Service Contracts Offered
(as a percentage of the product price)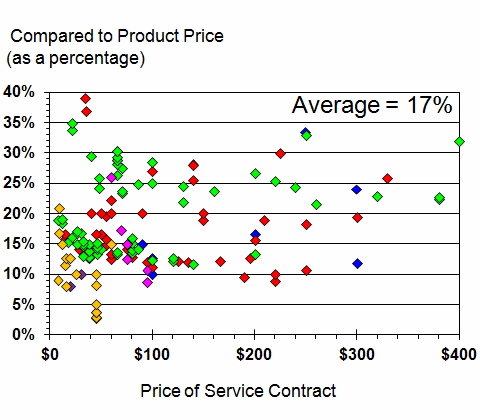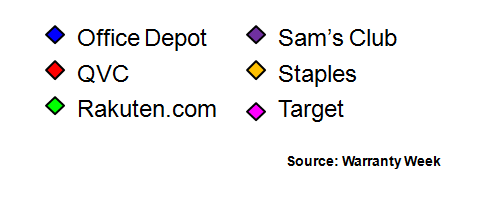 Toys R Us, which didn't make either chart (they don't sell any three-year plans and sell very little merchandise that's eligible for service contract coverage anyhow) has the distinction of pricing every single protection plan we've seen above average. Yes, all six of the plans we've seen so far were above 17%. In fact, one of them wanted $50 to protect a $110 Epson printer for only two years. That's more than 45%.
So if we were to segment the SquareTrade retail partner universe, we'd do it as follows: at the top of the list are the four most expensive protection plan providers: Toys R Us, Crutchfield, Office Depot, and Rakuten.com. These are the companies that mark up the SquareTrade protection plans they sell by the highest percentages.
At the bottom are the four least expensive protection plan providers: B&H Photo, Sam's Club, Costco, and Staples. Some of their plans sell for less that 10% of the price of the product they're protecting. And then in the middle are the five average-priced protection plan providers: QVC, Target, Abt Electronics, eBay, and Amazon.com.
Like we've said every week for the past seven newsletters, it pays to shop around, not only for the product but also for the protection plan. Even for the same coverage for the same product from the same administrator, prices can vary tremendously from one retailer to the next.