January 5, 2017
Service Contract Pricing: Dishwashers:
As we begin our analysis of major appliance protection plans, some of the same patterns that we saw with consumer electronics are popping up. And there is an even greater range of pricing and plan durations.
The standard mechanical dishwasher is easy to take for granted. As with any machine that involves heat, friction, moving parts, and water, breakdowns can be gradual or sudden, mildly irritating or catastrophic. When shopping for a replacement dishwasher, the last thing on people's minds are repairs and service contracts. But as we found with popular types of consumer electronics last month, it pays to shop around not only for the product, but also for the protection plan.
Our mystery shopping expedition this week began with a search for dishwashers at 19 major retail chains: Abt Electronics Inc., Amazon.com Inc., Best Buy Co. Inc., BJ's Wholesale Club Inc., BrandsMart USA, Conn's Inc., eBay Inc., hhgregg.com (Gregg Appliances Inc.), Home Depot Inc., Kmart (part of Sears Holdings Corp.), Lowe's Companies Inc., Menard Inc., Newegg Inc., PC Richard & Son, QVC Inc., Buy.com Inc. doing business as Rakuten.com, Sears Holdings Corp., Target Corp., and Wal-Mart Stores Inc.
Of the 30 retailers where we shopped for consumer electronics items and service contracts last year, we could not find price data for dishwashers or service contracts in 11 of them. At Costco and Sam's Club, non-members could not see the prices of the dishwashers. At Adorama Camera Inc., B&H Photo & Electronics Corp., Crutchfield Corp., GameStop Corp., Micro Center, Office Depot Inc., Staples Inc., Tiger Direct, and Toys R Us Inc., dishwashers were not offered for sale.
Top Dishwasher Brands
At each retailer, we shopped for three brands of dishwashers: Frigidaire (made by Electrolux AB), LG (made by LG Electronics Inc.), and Whirlpool (made by Whirlpool Corp.). However, none of these brands were offered at either Target or Walmart, so at those locations only, we substituted others. In Figure 1, we've tallied up the number of units surveyed for each brand.
Figure 1
Brand of Dishwashers Surveyed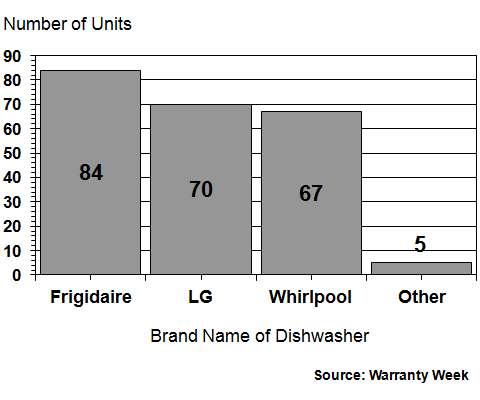 For each unit, we noted the price of the product and the price of the service contracts offered alongside it. We began at the $300 level, and worked our way up to the $1,100 level, looking for at least one unit priced within each hundred-dollar-wide band. This means that at some of the best-stocked retailers, we ended up shopping for as many as eight or nine different models.
Overall, the prices of the dishwashers fell into one of three different buckets. The inexpensive units were priced below $500. The most expensive units were priced above $800. And the mid-priced units were in between. Figure 2 details the suggested retail price of the 226 units surveyed (minus charges for shipping, delivery, installation, and removal of the old unit).
Figure 2
Price of Dishwashers Surveyed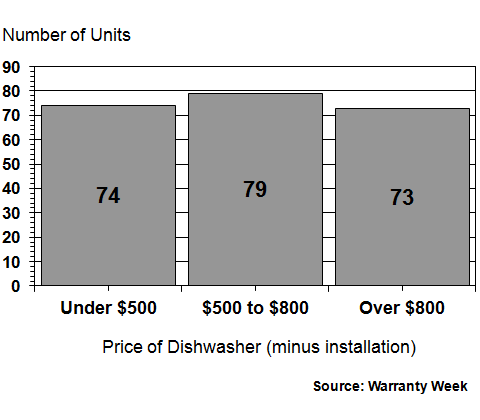 In most cases, the retailer offered at least two different service contracts per unit, usually differing only in duration and price. However, in some cases, three different service contract options were offered, with meaningful differences in coverage. For instance, hhgregg offered three- and five-year plans, but also offered a discount five-year plan that covered only the dishwasher's pump and motor. Kmart and newegg offered one-, two-, and three-year plans. And PC Richard offered two-, three-, five-, and 10-year plans.
eBay, meanwhile, offered only three-year plans. Conn's declined to disclose the price or duration of its service contracts. And QVC apparently did not offer service contracts for the dishwashers it stocked. That left us with 17 retailers and 220 product-protection plan pairs total. In Figure 3, we've tallied the duration of the service contracts offered.
Figure 3
Length of Service Contracts Offered

Most of the 17 retailers that offered both dishwashers and protection plans work with third parties that act as administrator, obligor, and/or underwriter for the service contracts. But three do it all themselves: Kmart, Sears, and PC Richard. And Lowe's administers its own protection plans, though it works with a third party that function as both obligor and underwriter.
Service Contract Teams
In this product category, we found retailers to be working with one of five different third-party companies: Best Buy and newegg worked with AIG; BrandsMart USA and hhgregg worked with AmTrust Financial Services Inc.; Lowe's worked with Assurant Solutions; BJ's Wholesale, Home Depot, and Walmart worked with Asurion; and Abt, eBay, Rakuten, and target worked with SquareTrade Inc.
Usually, the same team of administrator, obligor, and underwriter was always working together. For instance, AIG's underwriter was always Illinois National Insurance Co., and AmTrust's was always Wesco Insurance Co. And they also owned the administrators they worked with. However, Asurion worked with either CNA or The Warranty Group as underwriter, depending on the client, and SquareTrade worked with both CNA and Starr Indemnity & Liability Co., depending on the client.
Also, Amazon.com splits its service contract business among at least three companies: AmTrust, Assurant Solutions, and SquareTrade. Usually, at least for dishwashers, the same administrator would offer three- and four-year plans for a given unit. But in a few cases, the three-year plan was administered by one company while the four-year plan was administered by another. This was the only instance where there was competition within the retailer. Usually, each administrator has a monopoly at any given point in time.
Average Prices for Service Contracts
After we gathered the pricing data for the 220 product-protection plan pairs, we compared the two prices. And we found that on average, the price of the protection plan was about 18% of the product's price. But that ratio varied tremendously from one retailer to another. For instance, newegg.com asked only for $60 (or 5.6%) to cover a $1,075 Frigidaire model for one year. At the other extreme, PC Richard asked for $250 (or 79%) to cover a $315 Frigidaire unit for 10 years.
In order for the range of prices to make more sense, we grouped the 220 pairs by the duration, as outlined in Figure 3. And then within each smaller group, we calculated an average. Those averages are outlined in Figure 4.
Figure 4
Price of Service Contracts Offered
Compared to Length of Coverage
(as a percentage of the product's price)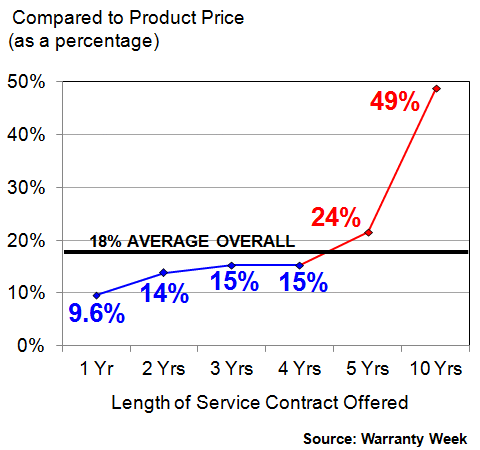 As the chart shows, the handful of one-year service contracts averaged only 9.6% of the product's price. That's because most of the cost of coverage in those cases is handled by the manufacturer's product warranty.
At the other extreme, all eight of the 10-year contracts were offered by PC Richard. And they varied from 33% to 79% of the product's price, with the average at a whopping 49%. In other words, such long-term break/fix coverage, while rarely offered, is never cheap. To put it mildly, claims are to be expected after a decade of heat and friction.
In the middle were the two-to-five-year offers. Well, actually, going back to Figure 3 for a quick glance reveals that the three- and five-year offers were far more common than the two- or four-year offers. And as Figure 4 suggests, there wasn't much price difference between the three- and four-year offers.
The three-year offers ranged in price from 6.8% to 31% of the price of the product they protected. The five-year offer ranged in price from 7.7% to 44% of the price of the product they protected. In other words, while the averages are listed in Figure 4, there was still quite a bit of range within each group.
Highest and Lowest Prices
As was the pattern observed with consumer electronics, the highest-priced service contracts for dishwashers were offered by PC Richard and Sears. However, they didn't have a monopoly at that end. For instance, SquareTrade and Abt Electronics offered to protect a $296 Whirlpool unit for $100. That's nearly 34% of the product price. Lowe's and Assurant Solutions offered a $100 plan for a $299 Frigidaire unit. That's just over 33%.
At the low end of the pricing spectrum, almost every retailer and administrator had at least one entry. Even PC Richard was there: asking $40 to cover a $585 Whirlpool unit (a 6.8% ratio). This provides even stronger confirmation of our central premise for this shopping expedition: it pays to shop around and do your research, not only about the products, but also for the protection plans that accompany them.
The only retailers missing were Kmart and Sears. All of their product-protection pairs were priced above average. But as we explained in the December 8 newsletter, that's because their service contracts are known for their generous terms and conditions, which drives up costs. For instance, there are no deductibles, no depreciation on replacements (no matter how old), and no limit on the number of house calls or their cumulative cost. Also, when a product is replaced, the new unit can live out the remaining time left on the contract.
SquareTrade Data Released
A few more items before we go. In the December 1 newsletter, we avoided speculation about the revenue or profitability of SquareTrade, on the occasion of its acquisition by Allstate Corp. for a reported $1.4 billion. No figures were provided officially in the announcement materials, and our industry sources were all over the place with their own estimates.
However, now we have the official data. According to Allstate, SquareTrade has lost money every year from 2011 to 2015. For the year ended December 31, 2015, SquareTrade lost $26.5 million on $248.6 million in revenue. But that was an improvement from 2014, when SquareTrade lost $37.4 million on $192.2 million in revenue.
In those years, the net losses before interest, tax, depreciation and amortization were $4.5 million and $16.3 million, respectively. And the number of active warranties at the ends of those years were said to be 21.7 million and 15.1 million, respectively. At the time of the acquisition, SquareTrade said it had 25 million active warranties.
In other words, Allstate is paying roughly 5.6 times SquareTrade's annual revenue in 2015, and perhaps around five times 2016 revenue. That seems expensive. But it also equates to about $55 to $65 per active warranty, which is a steep price but maybe not that excessive, especially given what comes with them: numerous big-name retail clients plus a thriving direct-to-consumer business. But even if Allstate buys SquareTrade's remaining books of business from its existing two underwriters and pays all claims, we can't get to $1.4 billion in tangible assets without assuming an enormous amount of goodwill.
At the time the acquisition was first announced, Allstate CEO Tom Wilson said SquareTrade's revenue has quadrupled over the last five years. Actually, from 2011 to 2015, revenue was up by a factor of 9.3, and from 2012 to 2016, we're speculating, it's more like seven-fold growth. Others at the time said SquareTrade was profitable, or at least had positive EBITDA. But Wilson declined to confirm those assumptions. Now we know why.
Sears Sells Craftsman
Finally, we note that Sears has agreed to sell its Craftsman tool brand to Stanley Black & Decker Inc. for about $900 million total, including $525 million at closing, $250 million after three years, and the balance in annual payments based on sales for the following 12 years. Also, Sears has decided to close an additional 150 stores (mostly Kmart locations), after reporting a massive decline in holiday sales.
This is going to have an incremental impact on appliance service contracts. First, unit sales of tools and appliances will continue to shift away from Sears and towards Lowe's, Home Depot, and Walmart, and with them will go the first and best opportunities to sell service contracts to consumers.
Second, although it will be a while before we get through major appliances and get around to pricing the tool protection plans of retailers, Craftsman has always been known for its lifetime product warranties on hand tools, which reduces if not eliminates the need for additional service contracts. Sears said this policy will continue under the new owners.
Third, this hopefully will buy time for the retailer, which despite its recent decline is still probably the most vertically-integrated product warranty and service contract operation in the world. Not only does it have its own storefronts and online/catalog sales, but it also owns (or owned) some of the brands of merchandise it offers for sale (e.g. Kenmore, Craftsman, DieHard, Lands' End, and Silvertone). And not only does it provide the product warranties for those brands, but it also sells, self-administers, and self-insures its own high end brand of service contracts. And not only that, but it provides its own repair services and parts sales, and still makes house calls to repair appliances, even for out-of-warranty customers.
It built what was once the world's tallest building in Chicago. It pioneered online services in a joint venture with IBM. It still owns a chain of auto repair facilities, and once partnered with Budget Rent a Car System Inc. to open a Sears Rent-a-Car operation. And it once owned both a stock brokerage and a credit card company.
No other retailer or manufacturer does it all itself on such a widespread basis. Some of the auto manufacturers use their own captive insurance companies to underwrite their vehicle service contracts. But they depend on dealers for sales. Apple Inc. operates its own storefronts, but it uses outside insurance for the accidental damage protection built into AppleCare+ plans. And Best Buy, while it has the Geek Squad doing house calls, and also has a few of its own brands of merchandise for sale, also works with third parties for its service contracts.