February 9, 2017
Service Contract Pricing: Appliances:
While the typical appliance service contract costs roughly 14% to 16% of the price of the product it protects, there is an enormous amount of variation, depending on which administrator the retailer works with, how long the contract lasts, and whether the product is low end or top of the line.
Before we move on to previewing the agenda at this year's Warranty Chain Management Conference, we wanted to wrap up our analysis of major appliance service contract pricing strategies.
For the past five weeks, we've been shopping for different kinds of appliances and service contracts sold by 21 major retail chains: Abt Electronics Inc., Amazon.com Inc., Best Buy Co. Inc., BJ's Wholesale Club Inc., BrandsMart USA, eBay Inc., hhgregg.com (Gregg Appliances Inc.), Home Depot Inc., Kmart (part of Sears Holdings Corp.), Lowe's Companies Inc., Menard Inc., Newegg Inc., Office Depot Inc., PC Richard & Son, Buy.com Inc. doing business as Rakuten.com, Sam's West Inc. (doing business as Sam's Club), Sears Holdings Corp., Staples Inc., Target Corp., Toys R Us Inc., and Wal-Mart Stores Inc.
But not everybody sells appliances. Of the 30 retailers where we shopped late last year for consumer electronics items and service contracts, we could not find price data for appliances and/or service contracts in nine of them. At Conn's, Costco, QVC, and Tiger Direct, appliances were for sale, but non-members could not see the prices of either the products or their service contracts. At Adorama Camera Inc., B&H Photo & Electronics Corp., Crutchfield Corp., GameStop Corp., and Micro Center, the household appliances we were looking for were not offered for sale.
Over the course of five weeks, we shopped for refrigerators, clothes washers and dryers, dishwashers, ranges, and microwave ovens. And we shopped for service contracts to protect each product for anywhere from one to ten years. Then we compared the prices of both the products and the protection plans, calculating a percentage ratio for each pair, and then a series of averages.
This week, we propose to wrap it up with a look at the average of the averages. And we want to look at the pricing strategies of the administrators of the protection plans in more detail. We have prices for 1,617 product-protection pairs to work with, spanning everything from a $60 microwave to a $7,650 refrigerator.
A Brief Math Lesson
First, a little arithmetic refresher. The law of averages suggests that if we sample a sufficient number of items in a group, our measurements will approach the value we would get if we examined all the items. However, to calculate an average, you add up all the measurements and then divide by the number of measurements. That doesn't necessarily mean half the measurements are higher, and half are lower. That would be the median.
In this case, our 1,617 measurements ranged from 2.1% (a $60 plan for a $2,850 refrigerator) to 104% (a $150 plan for a $144 microwave). The average was 16%. The median was 14%, with 808 pairs above and 808 below that mark. However, 41% of the measurements were above average, while 59% were below average. So for the average, the split wasn't even close to 50/50.
The reason for this is the nature of the measurements. While protection plans can't be sold for less than $0 (they'd then be called rebates), they are in a handful of cases sold for more than the price of the product they protect. So it's possible for these ratios to go to 40% or 50% -- or even above 100%. The net effect is that the handful of these outrageous prices skews the average upwards, so that while half the measurements were below 14%, almost six out of ten were below 16%.
We mention this only because towards the end of this newsletter there's a graph where six out of the seven providers are below average. That's possible because the top-priced protection plans are so far away from 16% that they drag the average upwards. but if time is short and this explanation needs an executive summary, it would not be incorrect to say the typical price of an appliance service contract is 14% to 16% of the price of the product it protects.
Low, Medium and High
Each time we finished shopped for a product, we divided all the collected data into three price categories roughly equal in size. For instance, we grouped refrigerators into under $700, over $1,600, and in between. Microwaves were split into groups of under $250, over $500, and $250 to $500.
We can't do that using numerical data now, because we're combining vastly different products with wildly different price schemes, so therefore almost all the microwaves would fall into the lowest price category for the refrigerators, and so on. However, we did keep track of which group each product-protection pair fell into. Now, we'll go back to those notes. So in Figure 1, we're tabulating the number of products that fell into the lowest-priced group in their respective categories, the number that fell into the middle range, and the number that fell into the highest-priced group.
Figure 1
Price of Appliance Surveyed

Careful readers will note that there seems to be 1,649 products represented in the chart, not 1,617. That's because we priced 32 appliances for which service contracts were apparently not offered. And then there were a few dozen more appliances, sold mainly by the members only buyer's clubs, for which the price could not be seen by non-members. Those aren't included here at all.
Protection Plan Pricing
The reason we did all this price banding was to illustrate a peculiar quirk in service contract pricing. While we found that the overall average ratio between the price of a product and the price to protect it was 16%, the average was much higher for products in the lower third, and much lower for products in the higher third. And that relationship held for every type of appliance we surveyed.
The rule is illustrated in Figure 2. With three groups roughly equal in size, we found that the product-protection ratio was 22% for the lower third, 12% for the highest third, and close to the overall average for the middle third.
Figure 2
Price of Service Contracts Offered
(as a percentage of the product's price)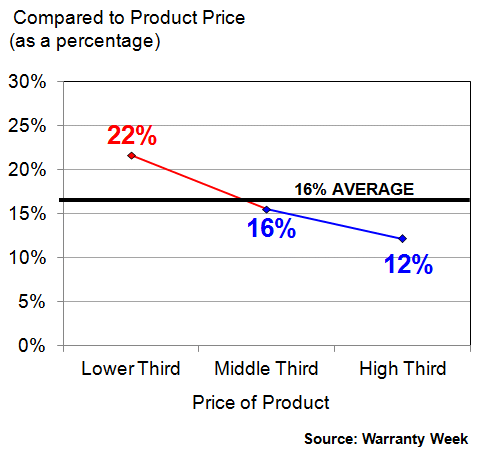 Basically, this means that the relative price of protecting an inexpensive product will be higher than the relative price of protecting an expensive product. In other words, don't be surprised if the service contract for a $73 microwave is priced at $40 (55%). And please try to conceal your delight when you discover that the service contract for a $3,150 refrigerator is only $150 (5%).
Yes, the average is 16%, but the range is incredible. And that's why we constantly repeat that consumers should do as much preparation and research about protection plans as they do for the features and prices of the products they are about to buy. You can't say that service contracts are always (or never) a good value, because the real answer is that it depends.
The reason for the inverse relationship between product price and protection price is simple: the price of a service contract is based on factors such as repair costs, plus overhead, and hopefully some profits. It's not based on the price of the product. A $73 microwave might indeed cost $40 to fix. But so might a $773 microwave. If that's the case, the ratio between the price of the product and its protection plans will vary widely.
Most Important Price Factor
The more important factor in protection plan pricing is the length of time the contract will be in effect. We found everything from one-year to 10-year service contracts for sale. And in general, the longer contracts were the most expensive. That may seem like common sense, but in fact we found that with microwaves, the average price went down slightly from two to three years, and for washers and dryers, the average price went down slightly from three to four years. But there's an amendment to the law of averages: sometimes weird things happen.
As mentioned, we found 1,617 product-protection pairs in total for five types of major appliances. In Figure 3, we've counted the number of plans found with durations of one, two, three, four, five, or 10 years. There were no others besides these six annual increments. And strangely, not one of the retailers offered a service contract with a monthly price (though they could conceivably be financed through a credit card or payment plan).
As can be seen below, there were only 47 one-year service contracts found, and only 60 with terms of 10 years. Half those 10-year plans covered major components only, not the entire product. And most of the one-year plans added little to the coverage already provided by the product warranties.
Figure 3
Length of Service Contracts Offered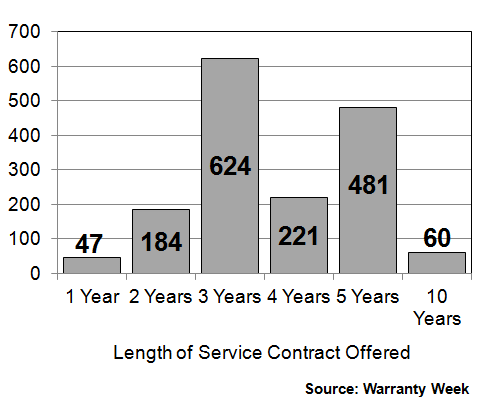 The most popular offerings by far were the three- and five-year plans. Many times they were offered in pairs, as were the two- and four-year plans. But in a good number of cases, when a retailer offered one and only one protection plan choice to its customers, it was a three-year plan.
We should note that with each retailer and with each product type, we generally started out at the top of the line and worked our way down in increments of $100 or $200. That way, our selections were as random as possible. We usually shopped for Whirlpool, Frigidaire, or GE Appliances, but with washers and dryers we substituted LG Electronics for GE. And in instances where none of these brands were in stock, we shopped for Sharp, Danby, or some other manufacturer.
Brand Names Have No Effect?
However, in every case, we were unable to find any meaningful differences between the brands in terms of average service contract prices. Protection plans for GE units tended to be priced a bit below average, but we think that was because those products tended to fall into the top third price tier more often. And with brands such as Danby, the items tended to be small and low-priced, so therefore the average ratio was higher (see Figure 2). In other words, it wasn't the brand as much as the positioning of that brand, in terms of the high end or the low end.
The irony is that while we're external observers looking at public data, the administrators and underwriters of these plans have extensive data on the frequency and severity of claims by brand and model, as well as by age of the unit and date of sale. They could, if they wanted, develop protection plan prices that reflected those attributes, rewarding the more reliable units with a lower price and penalizing the lemons. But then again, if they did, we'd report it, and shoppers would catch on too.
But back to the data we have. Once we sorted the 1,617 product-protection pairs by the length of coverage, we took an average for each group. And there was a direct correlation between the length of coverage and the price of coverage.
In Figure 4, we've charted the results, where the overall average ration for all appliance service contracts was 16% of the price of the products they protect, but the averages for one- to four-year contracts were below average, while five- and 10-year terms were higher.
Figure 4
Price of Service Contracts Offered
Compared to Length of Coverage
(as a percentage of the product's price)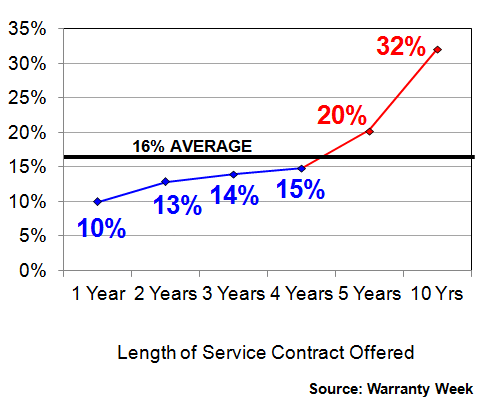 Essentially the same chart is included in each of the last five newsletters, so we won't repeat those results here. But in several instances, we saw that flattening of the slope at two, three, and four years. For example, the two-year plans were $55 and the four-year plans were $72. In other instances, the price went up in quite a linear fashion per year of coverage. In other words, for a given product, the two-year plans were $40, the three-year plans were $60, and the five-year plans were $100.
The Big A Administrators
This depended heavily upon the administrator and underwriter that the retailer was working with to run the service contract program. Sears, Kmart, and PC Richard ran their own programs internally. But the others typically worked with one of the "Big A" third-party administrators: AIG Inc., AmTrust Financial Services Inc., Assurant Solutions, Asurion LLC, and now Allstate Corp. which acquired SquareTrade Inc. last month.
Each appliance retailer typically worked with one third-party administrator. Best Buy and Newegg worked with AIG; BrandsMart USA, hhgregg, and Menard's worked with AmTrust; Lowe's worked with Assurant Solutions; Home Depot and Walmart worked with Asurion; and Abt, eBay, Office Depot, Rakuten, Sam's Club, Staples, Target, and Toys R Us worked with SquareTrade.
Usually, the same team of administrator, obligor, and underwriter was always working together. For instance, AIG's underwriter was always Illinois National Insurance Co., and AmTrust's was always Wesco Insurance Co. And these Big A parent companies also usually owned and operated the administrators that worked with their retail clients. However, Asurion works with either CNA Financial Corp. or The Warranty Group as its underwriter, depending on the client, and SquareTrade works with both CNA and Starr Indemnity & Liability Co., depending on the client.
However, Amazon.com splits its appliance service contract business among at least four companies: AmTrust, Assurant Solutions, Asurion, and SquareTrade. With most other retailers, the same administrator would offer two or three service contract options for a given product. But at Amazon.com, we sometimes found AmTrust's Warrantech unit or Assurant Solutions sharing the same webpage with competing offers from Asurion or SquareTrade, with one offering a three-year plan and the other offering a four-year plan.
This intramural competition created some weird prices. While most service contracts were priced in whole dollar amounts, or in the $X.99 format that retailers love, Amazon.com's prices were much more random: $41.12 or $107.74 or $38.41, and so on. Notably, all but three of the 109 price pairs we collected from Amazon.com were below average, so behind the scenes, those seemingly random price points may in fact be driven by fierce levels of competition.
Not all the Big A administrators were surveyed the same amount of times. It all depends upon the retailers they work with, and the composition of their clients' product lines. We usually started with the high end of a given product line, and worked our way down to the low end in increments of $100 or $200. So if a given retailer had a vast product line, they would get sampled more. If each product had three or four service contract options, there would be more product-protection plan pairs. If a given administrator had more clients, they'd get sampled more (and since some such as eBay also worked with some of those retailers, a given product conceivably may have been sampled twice).
The reason for explaining this is so that Figure 5 is not mistaken for some sort of market share proxy. It is not. It is simply a readout of the frequency with which we sampled the offerings of the five Big A's, plus Sears/Kmart and PC Richard, in order to compile our 1,617 product-protection pairs.
SquareTrade was the most numerous, but they work with eight of the appliance retailers we surveyed. AmTrust was the second-most common, but BrandsMart and Menard's have huge and comprehensive appliance product lines for sale. Similarly, PC Richard sells little but appliances, so of course they were well-represented in the final tally. Assurant has only one client among the 21 retailers we surveyed, but it's one of the biggest of all.
Figure 5
Providers of Service Contracts
Number of Product-Protection Pairs Surveyed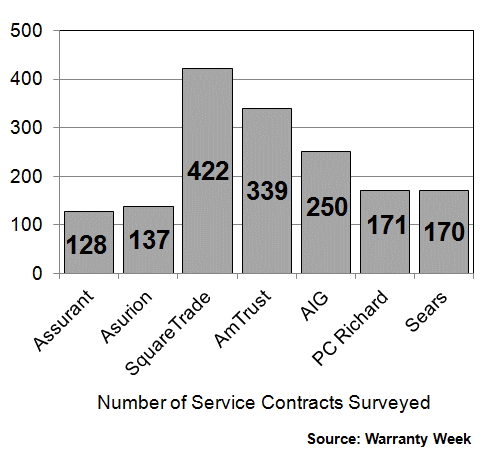 The only conclusion we want readers to draw from Figure 5 is that each service contract was sufficiently-well surveyed, so there's no question about the sampling size being too small to matter. That's because the next chart is likely to be upsetting to some, because it ranks the seven service contract teams from least to most expensive.
As we compiled the data over the past two months, we took note of the list price of the product and the price of its service contract options. After we calculated a percentage ratio for each pair, we grouped the pairs by length of coverage, and then took an average for each group.
Over/Under Averages
Figure 4 contained those averages. Now, we're going a step further and counting how many data points were above or below those averages. As was mentioned earlier, 41% were over and 59% were under the respective averages for their given length of coverage. But it was different for each administrator: two were above average while five were below average.
In Figure 6, the more blue and the less red, the better. For instance, of the 128 data points compiled for Assurant Solutions from surveys of products sold at Lowe's and Amazon.com, 106 were below average and only 22 were above. That means 83% of Assurant's data points were below average, while only 17% were above average.
At the other extreme, Sears and Kmart together consistently had the highest-priced service contracts of all. Numerous times we've said those plans also offer superior levels of protection, such as allowing a replacement unit to run out the remainder of a service contract's term, rather than deeming it complete after such a replacement. But they're also the most expensive.
Figure 6
Providers of Service Contracts Surveyed
Percent of Plans Priced Above or Below Average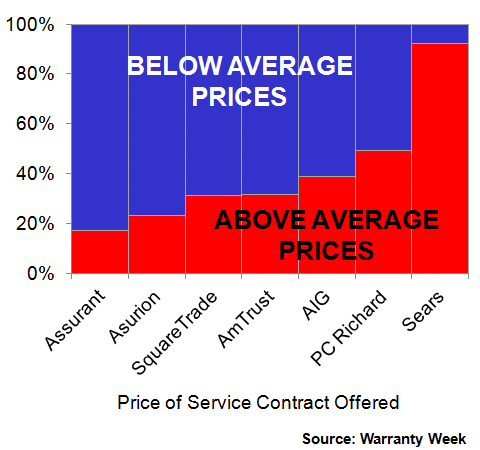 From least to most expensive, Assurant was at 93% under. Asurion was at 77% under. SquareTrade was at 69% under. AmTrust was at 68% under. And AIG was at 61% under. And then PC Richard was 51% under while Sears and Kmart were together at 8% under.
All but a handful of the Assurant data came from Lowe's. Walmart had a rather poor selection of appliances for sale, so most of that Asurion data came from Home Depot. So those are the appliance retailers who apparently offer the lowest-priced service contracts. Meanwhile, Sears, Kmart, and PC Richard offer some of the highest-priced service contracts of all. And the others are close to average.
It's not unlike the outcome of the report on consumer electronics protection plans in the December 8, 2016 newsletter. In fact, the big differences are that here, AIG and AmTrust swapped places, while New Leaf and The Warranty Group didn't have any clients among the appliance retailers we surveyed. Otherwise, it's the same: Assurant and Asurion at the low end, and PC Richard, Kmart and Sears at the top.
Shop Around
One final note: although its overall average was on the high side, PC Richard's service contract offerings also had the greatest range, in several respects. First, it offered everything from one-year to 10-year extended warranties -- sometimes for the same product. Second, the price ratios for those offers ranged all the way from 3% ($90 on a $2,970 refrigerator) all the way to 104% ($150 for a $144 microwave).
Ten of the top 20 most expensive product-protection plan pairs were offered by PC Richard. But so were five of the 20 least expensive offers. For instance, PC Richard wanted only $90 to protect a $2,970 refrigerator for two years (2%). Abt/SquareTrade and Best Buy/Asurion also had a few entries in the top 20. But Abt also had three entries in the bottom 20.
Best Buy/Asurion had no offers priced below 6% for any sort of appliance. BJ's, Kmart, Rakuten.com, Sam's Club, Sears, Target, and Toys R Us had no appliance protection plans priced below 10%. And Office Depot had none priced below 20%. In fact, its least expensive offer was just a hair under 25% ($49.99 to protect a $200 compact refrigerator).
In other words, it pays to shop around, even within a given retailer's product line. Some protection plan offers are priced unusually high, but others are unusually low. There are bargains to be found, even within retailers known for offering high-priced protection plans. And while for appliances the average ratio between product and protection plans is 16%, that varies tremendously based on the length of the contract and the name of its administrator.