March 2, 2017
WCM Preview, Part Two:
Given that so much of the knowledge and wisdom in the warranty management profession is passed on verbally, this annual gathering of product protection industry experts is an unrivaled opportunity to hear both vendors and their customers tell the stories of their journeys.
The Warranty Chain Management Conference opens next week in Tucson, so let's take a look at some of the key events on the schedule.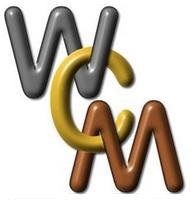 A full morning and afternoon of six different warranty workshops concludes at 5pm on Tuesday, March 7, and they will be followed by a Welcome Reception from 6 to 8pm. Attendees are on their own for the rest of the evening, with the main conference kicking off at 8am on Wednesday with a brief address from Alison Griffiths, the WCM Conference Director.
There are two back-to-back keynote presentations. The first, entitled, "The Revolutionary Impact of Driverless Cars and Connected Vehicles on Warranty Management, Service Contract and Insurance Industries," will be delivered by Jim Mostofi, President of AIG Warranty. And then the second, entitled, "The Role of Technology in Warranty, Service Delivery and Meeting Customers' Expectations," will be delivered by Bruce Williams, Vice President and Business Line Leader at Pegasystems Inc.
Right after the Wednesday morning keynotes and a brief networking break, the conference splits into three tracks for the rest of the day. At 10:30am, a panel discussion on "Strategies to Find Vendors and Support Long-Term Relationships" will kick off Track 3 of the proceedings. The moderator is Trish Myers, the Senior Director at EFG Companies. The panel will include Jocelyn Getson, the Vice President, Business Development at Bankers Warranty Group; Mitch Rand, President of C & K Auto Parts; Joe Kirsits, Actuary, GPW & Associates; and Angie Tuglus, Executive Vice President, Ally Financial Inc.
Getson said she hopes that people who watch the panel will have an opportunity to hear best practices in regards to identifying and managing vendors, from a cross-section of warranty professionals.
"I specifically will address how an extended warranty provider is required to identify technicians, depots and parts vendors for every new program we launch, and ensure these vendors can sustain their support based on the anticipated volume of the new program," she said. "I need my vendors to work in tandem with me prior to every launch, so we are all systems go from day one."
Managing Service Contract Clients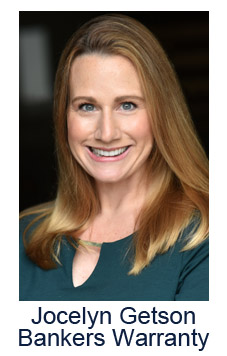 And then after lunch, at 2:05pm on Wednesday, Getson is teaming with Liz Ahner, the Client Services Account Manager at Bankers Warranty, to deliver a presentation entitled, "How to Develop a Successful Service Contract Partnership."
"It's really focused on the customer experience," she said. And it's aimed at retailers, dealers, and manufacturers that want to get more out of their service contract programs than merely just additional revenue.
"Revenue has always been the driving force in the past," Getson said, "but retailers and manufacturers are now utilizing it more as a tool for customer retention." And that means more than just managing claims. It means promoting a brand by pleasing the customers.
"For us, as a service contract company, we are that brand protection. We are the person who answers the phone," she noted, when a covered product needs repairs. "Our goal is to align with them, and to make sure that we're delivering on what their ultimate program goals are, as well as being a great revenue source for them."
Bankers Warranty is one of the pioneers of the service contract industry, tracing its roots back to the 1976 launch of VAC Service Corp. in upstate New York. Back then, VAC was an outgrowth of a video cassette recorder repair operation that diversified into extended warranties for VCRs. It was acquired in 2005 by Bankers Financial Corp.
"Bankers is known for covering very unique programs and products," she said. Clients include Brookstone, a retailer that specializes in very unique products, which calls itself, "part gift shop, part grown-up toy store, part pure indulgence." Bankers administers the service contracts, which cover "everything from drones to massage chairs," she said.
In 2015, Bankers Warranty was selected by Car Toys Inc., one of its retail clients, as its Service Provider of the Year. In addition, Getson noted, Ahner was singled out as Representative of the Year by the same chain, which operates car entertainment, security, and mobile communications retail outlets in several western states.
"Liz is the one who aggregates all the service contract-related data," Getson said. "She also works with our call center agents, listens to calls, and does weekly calibrations with her accounts. She's in our call center every day, representing her clients, advocating for them, making sure the service is up to their expectations, and then feeding back to her retailer on how there can be program improvements."
Getson said the presentation is aimed at service contract administrators and account managers, including vehicle service contract providers. "This will be more of a 'back to basics,' a reminder of the fundamentals," she said. "It's showing people who are in other verticals in the industry how we do it with our retailers."
AGCO's Warranty Analytics
On Wednesday at 4:55pm, Rohit Lohan, Senior Product Manager at Tavant Technologies, and Lisa Schosker, Director, Global Warranty Administration at AGCO Corp., will jointly present "Warranty Analytics -- Do's and Don'ts."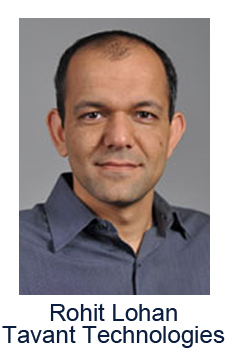 "In the last few years, many companies have started to implement analytics solutions. And many of them are focusing on analytics in the warranty space," Lohan said. "What we've found is that analytics projects are not always successful. Many times, they are not able to deliver the value that the business is looking for."
Lohan said he and Schosker got the idea to make a list of the do's and don'ts, based on the experiences of ACGO and other Tavant customers. AGCO is using Tavant Warranty On-Demand in China, with plans to roll it out in North America as well. And while he cannot share the story of how well the implementation has gone, the customer is always free to do so.
As recently as six months ago, AGCO's offices in China were still using Excel spreadsheets and manual review of all claims, Schosker said. But then they decided to go with Tavant, and elected to start what eventually could become a global rollout with a pilot project in China.
"We met with them at last year's conference, and then we started actually signing in October," she said. "And now we're going live with China."
Schosker said the biggest "don't" of all is not to try to implement the one singular be-all and end-all of warranty systems from the outset. Instead, start small, and grow globally. She said it helped immensely that the system being replaced in China was only spreadsheet-based. Elsewhere in the world, Tavant will be replacing more functional warranty claims management systems.
Another "don't" is not to wait until all your warranty data has been cleaned and correctly-formatted before going ahead with a project. Instead, she suggests focusing on just a few fields and attributes at first, and then widening the terrain over time.
"Everybody says their master data is not good," she said. "But you can't solve the world in one day. I know everybody tries to get all these attributes, and everything you need, but we said let's take a piece of it, let's put it all together, and have some global attributes that we can start reporting on globally."
For instance, even within AGCO, the same machine might have different names in different regions of the world. Or the same part might have different part numbers in different places. It would be nice to straighten all that out first, but it's not necessary to solve that problem before getting going with at least some reporting and analytics.
"We didn't wait to go implement a big master data system, although I'd love to have one," she said. "Instead, we did some things with a few attributes that have helped us focus on the product, to help the performance and the quality and to suggest things to our service agendas."
The hope is that the warranty administration people who are now reading claims manually will be freed up to move on to other tasks. "Start trusting your dealers with rules to automate claims processing," she said, "and then use those people for other things, such as dealer audits and product quality."
Schosker said the "Do's and Don'ts" will be aimed at companies that are starting to think about using analytics above and beyond warranty claims processing. For instance, she said they'll look at how the use of analytics on a global basis can help to predict failures before they occur, so those failures can actually be prevented. But it's not just the warranty department.
"We have engineering using them, quality using them, and product marketing for new product launches," she said. "With analytics, now we have different groups working together."
Service Contract Market Research
Also at 4:55pm, Bob Bean, the Vice President of Marketing at The Warranty Group Inc., delivers a presentation entitled, "Beyond the Obvious: The Strategic Value of Service Contracts to Manufacturers, Retailers, and Dealerships."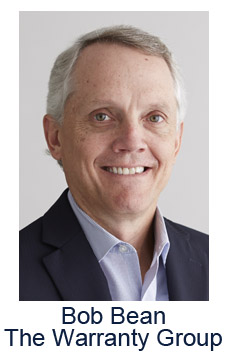 Bean said reference to the obvious in the title is an acknowledgement of the additional revenue that the sale of service contracts can bring into a company, which is what most people think of first. And then the strategic value of service contracts that he refers to is the positive impact they can have on brand loyalty, if they're run correctly.
"There's been a lot of anecdotal discussion that they think there is a correlation," he said. "But I think we've actually got quantitative information now that can show the strength of the impact these types of programs can have on brand and channel loyalty. And then there's additional quantitative insights into the impact these service contracts can have on overall buyer satisfaction."
Last year, The Warranty Group commissioned Ipsos to conduct a worldwide consumer research project that asked more than 8,000 people in 11 countries about their recent purchases of appliances, electronics, and automobiles, and whether or not they had also bought any service contracts. Bean said he is going to include some of the findings in his presentation, including a discussion of attachment rates by product type. And then in next week's newsletter, Warranty Week is going to take a deep dive into the results.
"We asked consumers across 17 different product lines, including automobiles, laptop computers, refrigerators, washers and dryers, and lawn equipment, what percentage had bought a service contract," Bean said. "So now we have those types of consumer-stated attachment rates."
Bean said the research also found there's a "knowledge gap" between consumers and the programs they're being offered. "Part of my presentation will be devoted to quantifying the financial upside that auto groups or retailers could experience by providing better educational tools to consumers prior to the purchase event itself," he said.
The research found, Bean said, that roughly a third of consumers were not all that familiar with the features and benefits of the various protection plans. And it also found their attachment rates were significantly lower than those of the group that said they were aware of the features and benefits.
"My hypothesis is if we as an industry can do a better job educating consumers about how these programs work, and the features and benefits, and if we can do it in a transparent way, there's a significant upside that retailers and manufacturers could experience on these programs," he added.
Bean said his presentation is aimed at manufacturers and retailers, as well as large auto groups and dealers. "Anybody that's in charge of the service contract programs," he said. "CFOs or VPs on the financial side of things, as well as anybody that's responsible for growing the brand."
Warranty Accrual Audits
First thing Thursday morning at 8am, Thomas Conway, Principal, and Paul Metzger, Manager at Ernst & Young LLP, will present, "Common Pitfalls in Reserving for Warranty Liability." Because the other speaker in their session dropped out, the duo plan to fill the entire 105-minute time slot.
Conway and Metzger will present a framework for a sound accrual and reserving methodology, and will illustrate common pitfalls that could result in a misstatement or unnecessary volatility of financial results. They will also discuss how improvements in the reserving process can provide a competitive advantage and help make informed business decisions.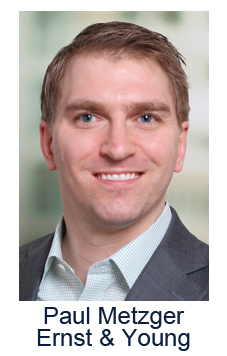 For instance, Metzger said manufacturers shouldn't rely so heavily on metrics such as the current year claims rate, because of the lag time between when a product is sold and when it needs warranty work.
"I think that within a company, with all the data that's available, it's best to use some measure of warranty cost per unit," he suggested, "organized by time in service." For very long warranties, he would measure it per year in service, but for two-to-five-year warranties, it might make sense to slice it into monthly sections.
The pair serve as actuarial advisors for a variety of manufacturers and insurance companies that retain or underwrite warranty-related liabilities. In particular, they evaluate the current methodology and provide improvement recommendations for each client, with consideration of differing products, data availability, and warranty terms.
"We'll audit different companies' warranty accruals, to see whether or not it's reasonable," Metzger said. And for companies that are not EY auditing clients, they provide consulting services.
Metzger said the discussion will be most relevant to manufacturers that issue warranties of two years or longer. So it's less a function of which industry or what product and more a function of how long the liabilities need to remain on the books. "The methodology that we're suggesting may be more complex than is required if there's only a one-year manufacturer's warranty," he said.
The target audience is finance and other professionals that are responsible for estimating the warranty or extended service contract accrual or provide input into the process, he suggested.
"It can translate into a lot of different industries," Metzger said. "But our main focus is around the manufacturer's warranty, rather than extended service contracts."
Legal & Political Changes
Also convening on Thursday morning at 8am is the always popular legal panel discussion, which since the very first WCM gathering 2005 has provided an annual update of all the changes in service contract laws and regulations. This year, the "2016-2017 Extended Warranty National Regulatory Update and Case Law Review," will be moderated by Stephen McDaniel, a Shareholder at the law firm of Meenan P.A. and the Assistant General Counsel & Executive Director of the Service Contract Industry Council; and will feature Brian Casey, Partner & Co-Chair of the Transactions & Regulatory Insurance Group of Locke Lord LLP; and Christopher Karo, Associate Division Counsel of AIG's Warranty Division.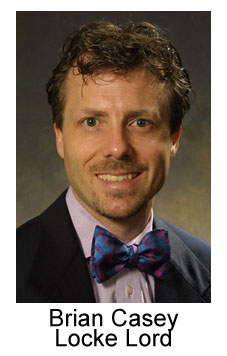 Casey said each is going to cover a specific section. McDaniel is going to run through a state-by-state overview of changes in legislation that in some way impact service contracts for vehicles, appliances, electronics, computers, mobile phones, and homes. Karo will cover some of the changes in regulation. And then he will cover everything else, which includes new developments in case law, changes in technology, and how recent political changes at the federal level could impact the insurance and service contract industries.
Chief among them will be the outlook for the Consumer Financial Protection Bureau, which was created in 2010 as an outgrowth of the Dodd–Frank Wall Street Reform and Consumer Protection Act. Casey said a recent district court case found the very structure of the CFPB to be unconstitutional, but it was appealed by the government last year, and last week was accepted for an en banc session.
"So [CFPB director Richard] Cordray is still in, until this case is reheard, and he controls the litigation of this case," Casey noted. In other words, it won't be up to the new Attorney General or his Department of Justice staff to decide whether to go forward or not. But it's no secret that the CFPB has few fans in the new administration.
And then there's a movement in Congress to remake the CFPB into a five-commissioner agency similar to the Federal Communications Commission. However, Casey said that the legislation to accomplish this, which was introduced but not passed in the last session, has yet to be refiled in this session.
The CFPB doesn't really regulate either insurance, warranties, or service contracts. But it does regulate finance companies, and in some cases the monthly billings and payments for service contracts and mobile phone insurance. So it's peripherally involved, just as the FCC regulates robo-calls and the Federal Trade Commission regulates pre-sale warranty disclosures and the new e-warranty rules.
Another tangential impact the federal government could have on the service contract industry is the possibility that the disclosures required by the Internal Revenue Service for some of the captive insurance companies used by service contract providers could soon be changed, Casey said.
"There are a lot of captives in the dealer world -- small captives, 831(b), or micro captives," he said. "There was an IRS notice that came out last year that requires additional financial reporting," he said, if either the insured party owns 20% or more of the captive, or if the captive's loss ratio is below 70%.
Changes in Technology
In addition to changes in the law, Casey said his practice also frequently involves keeping track of how changes in technology might affect the insurance, warranty, and service contract industries. For instance, just this week, he said, new cyber-security laws went into effect in New York that impact the obligations of all companies that hold a license from the state's Department of Financial Services. That would also cover many extended warranty companies, in addition to all the banks and financial companies.
And then there are changes coming in electronic commerce contract law -- especially in relation to what's now called InsurTech and FinTech -- which could also impact extended warranties and service contracts. For instance, it is now possible to buy short-term insurance online for Airbnb-style home rentals.
"It's called insurance on-demand," Casey said. "You turn on the insurance when the guests arrive on Friday night, and you turn it off Sunday night when they leave." And it's being provided by new technology companies, not the traditional insurers.
In the service contract world, monthly plans are already available. But Casey said he sees a time when home warranties, mobile phone insurance, or even vehicle service contracts could be turned on and off for just a few days at a time. However, there are numerous arcane insurance regulations that could get in the way of all this innovation, he added.
Another area of technology that could impact warranties and service contracts is called blockchain. "The technology is most well-known for Bitcoin and virtual currencies. But it's much more than that," Casey said. For instance, it could be used to pass title of a product. And that could help transfer entitlements to product warranties or service contracts.
Pega's Dynamic Case Management
One more change to the schedule: Mukund Ramaswamy, Partner, Customer Experience Management at Tata Consultancy Services, who speaks on Wednesday morning with an Eaton warranty manager, also is taking the place of his colleague Ravi Vajjala on Thursday morning in a joint presentation with Dr. Sanaa Wehse, Director, Manufacturing Applications & Solutions Development at Pegasystems Inc. Their presentation, entitled, "Service, Warranty and Recall Optimization Secrets Hiding in Dynamic Case Management," begins at 9:10am on Thursday.
Ramaswamy said TCS and Pega have partnered together to help customers transform their operational workflows and customer experiences, while reducing risk and improving time to market, not only around the warranty space, but also with many other process improvement and digital transformation solutions.
"In all our customer engagements, Pega offers industry expertise and leading solution architectures while TCS excels in providing the best industry experience of defining, deploying and implementing," he said. "TCS works across multiple products and technologies, and we recommend the right solution architecture for our customers based on the business need. Wherever we see a strategic alignment of business needs and Pega strengths, we partner with Pega in recommending and implementing the right solution. Additionally, TCS has dedicated Pega labs focusing on developing innovative use cases and proof of concepts to demonstrate the art of the possible."
Wehse said the joint presentation will explain how Pega's Dynamic Case Management approach can bring together people and technology to automate tasks such as warranty claims management. She said it also will describe how manufacturers are using the approach to report significant cost reductions and increased profits while improving their customer's experience. She will speak from the point of view of product development, while Ramaswamy is what she called an "implementation guru."
Supplier Recovery
Just before lunch on Thursday, two automotive suppliers will discuss the OEM-supplier relationship from their respective positions in the supply chain. First up, at 10:15am, Paul Garand, a Warranty Engineer with the Canadian automotive supplier Multimatic Inc., delivers his presentation, entitled, "Warranty Cost Management: Warranty Sharing with the Supply Chain."
Garand noted that automotive warranty claims are already counted in the tens of billions of dollars worldwide. "And the large OEMs are working feverishly to develop systems that may enable them to transfer more of these costs to their tier one supply base," he said. "My presentation outlines some of the considerations tier one suppliers should make in order to effectively distribute warranty costs through to the sub suppliers. This will prove interesting for those attendees who want to minimize the warranty costs on their bottom line, and to align their supply chain with warranty initiatives."
And then immediately following Garand, Frank Kozlowski, Technical Analyst, Warranty, in the Engine Division of Kohler Company, delivers a presentation entitled, "Managing the Supplier Recovery Process: A Manufacturer's Perspective," beginning at 11:05am.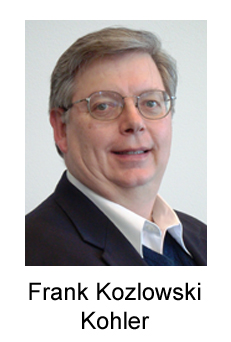 Kozlowski said he's going to take a deep dive into supplier recovery, based upon the experience of Kohler, which makes engines for everything from lawn mowers to construction machinery. "Key elements that make up the supplier recovery process will be identified, along with the forces that create business challenges between suppliers and manufacturers," he said.
First he's going to define some of these key elements, using what he calls a "supplier process ring," which he said typically starts with a concept from the sales department, then a design from the engineering department, component procurement by the purchasing department, and eventually leads into the manufacture and assembly of a finished product.
"These elements together result in a product available in a market by distribution, resulting in an unwanted quality issue, which leads to a warranty claim, culminating into a supplier recovery opportunity," he said. "Attendees will receive an insight on the challenges that must be overcome to maintain a working business relationship between the manufacturer and its supplier. Additionally this presentation will review how manufacturers control risk while still trying to control warranty costs."
Nissan's Warranty Analytics
Later Thursday, beginning at 1:15pm, a discussion entitled, "How Nissan Leveraged the Power of Proactive Analytics to Minimize Warranty Risk and Improve Customer Satisfaction" convenes, featuring three speakers from Nissan North America Inc.: Warren DeBardelaben III, Director, Dealer Support; Kristyn Lau, Senior Manager, Warranty; and Melissa Beasley, Manager, Warranty Analytics Projects.
DeBardelaben said he didn't want to give too much away, but the title of the presentation is fairly straightforward: Nissan used warranty analytics both to drive down costs and to raise customer satisfaction levels.
The project, code-named STAT, looked at raw repair order data to find patterns such as identifying repeat repairs, and anomalies such as above-average use of repairs. And that in turn allowed Nissan to work with its dealers to reduce future repair rates.
"We have developed a method using near real-time access to dealer repair orders to change the paradigm of warranty claims analytics," DeBardelaben said. "We are using our new system to analyze, restrict, react to and assist dealer repairs before a claim is ever created and submitted. It is a powerful concept that we are just beginning to understand its potential."
Service Delivery Experts
Also on Thursday at 1:15, a pair of service experts from Electrolux AB will deliver their own talk about raising customer satisfaction levels, as measured by what's called Net Promoter Scores. Steve Zannos, Senior Director, Service Delivery, and Erin Duke, Director, Warranty & Service Administration, will spend half an hour delivering a presentation entitled, "Enhancing the Customer Experience Through Service Delivery."
Zannos, who's also participating in the financial accounting panel discussion right after lunch on Wednesday, said this presentation will discuss what they are doing to redefine Electrolux's service delivery organization, and how these changes will impact their customer's ownership experience.
"Electrolux has reorganized and refocused on delivering an effortless customer experience. This includes end consumers, customers and service partners," he said. "Electrolux has made strategic changes, focused on the ease of doing business for our service providers and customer. The goal of this strategy is to improve the relationship Electrolux has with its key partners."