March 9, 2017
Service Contract Market Research:
Protection plan buyers are more loyal to both the brand and to the retailer, according to results of a consumer survey commissioned by The Warranty Group. And they're also happier with their purchases than non-buyers.
Everybody knows that extended warranties and service contracts can boost revenue and improve profitability. But now there's news that buyers of protection plans are happier with their purchases and more loyal to both the seller and the manufacturer's brand than are non-service-contract buyers. The correlation is there; it's just unclear whether one causes the other or if they naturally occur together.
Yesterday at the WCM Conference, Bob Bean, the Vice President of Marketing at The Warranty Group Inc., delivered a presentation entitled, "Beyond the Obvious: The Strategic Value of Service Contracts to Manufacturers, Retailers, and Dealerships." It included results of a comprehensive worldwide survey that The Warranty Group commissioned at the end of 2015, and published in December 2016.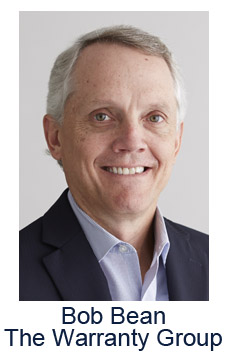 Bean said the company wanted to find out if there were what he called "educational gaps," which, if addressed properly, could increase attachment rates. Even in some of the more advanced markets, he said, he wasn't sure if most consumers fully understood the types of protection available to them through extended warranties, service contracts, accidental damage protection, loss and theft coverage, and ancillary products such as Guaranteed Asset Protection (GAP).
"We realized that there was very little information that existed on consumer attitudes and behaviors when buying things like automobiles, appliances, and electronics," Bean said, "specifically in conjunction with the extended warranty programs that protect them. Obviously, some of these manufacturers and retailers have done much more sophisticated work on consumer behavior, but tying in the service contract component was never a combination that we had seen."
Bean said he also wanted to find out specifically whether the purchase of extended warranty had any correlation with brand loyalty, customer satisfaction, or the overall buying experience.
So they commissioned a market research company named Ipsos to survey consumers in 11 countries who had bought at least one of the 14 products in question during the preceding year. They ended up talking with 8,150 people in total.
Figure 1
The Warranty Group's Consumer Research
Countries Surveyed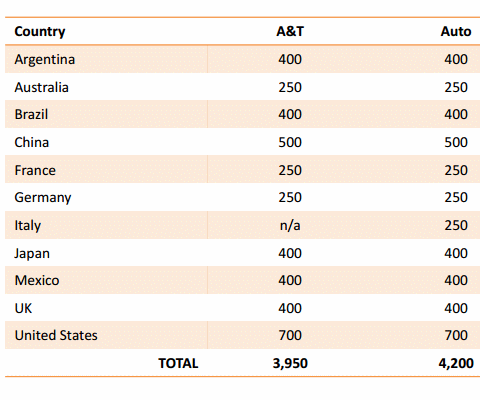 "We have operations in those countries," Bean said, "so as an organization, we wanted to understand the differences that may exist across those different geographies, and if the drivers were true differences in consumer attitudes, or whether there were other macroeconomic or cultural differences."
In addition to the U.S., The Warranty Group has three major regional hubs, in Latin America, Europe, and Asia/Pacific. In total, it has operations in more than 35 countries and nearly 1,700 employees worldwide. The company works with manufacturers, retailers, and auto dealerships to provide services such as claims administration, insurance underwriting, regulatory compliance, call centers, training, and marketing services for tasks such as missed point-of-sale opportunities and renewals.
Linda Mortensen, The Warranty Group's Market Research & Competitive Intelligence Manager, said the countries were chosen based on where the company does most of its business and the relative size of their protection plan markets. Italy, she said, was a last-minute addition, but the European team said that the automotive side was more important than the appliance and electronics side. So only that part of the research was performed there.
14 Product Categories
In the other countries, participants indicated which products they purchased in the past 12 months, choosing up to 5 items from a list that included:
Computers
Digital Cameras
Dishwashers
Exercise Machines
Gaming Systems
Lawn & Garden Equipment
Microwaves
Mobile Phones
Ovens & Stoves
Power Tools
Refrigerators
Tablets
Televisions
Washers & Dryers
If they had bought one of these products, the respondents were then asked if they had also bought an extended warranty. Bean based his WCM presentation around the Ipsos research, and shared the U.S. results with Warranty Week. Among that specific group of 719 respondents, the answer that came back was that 30% said yes, while 70% said no.
Figure 2
The Warranty Group's Consumer Research
Service Contract Attach Rates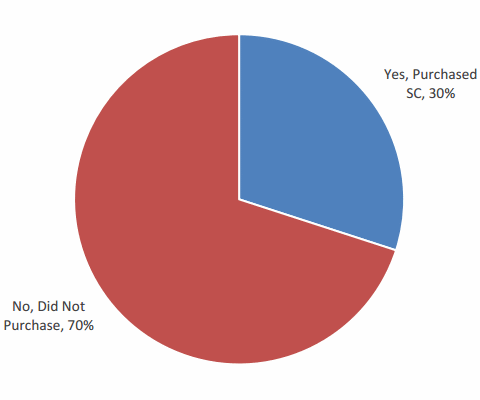 Mortensen noted that some of the people who said yes had bought multiple protection plans for multiple products, while others had bought one protection plan for just one product. But then more than two-thirds of the people who had bought at least one of the 14 covered products in the past year had not bought any service contracts for them.
"It was a little bit surprising that all the warranties were being purchased by a third of the people," she said. "But that's how it worked out."
It's possible that some of the 70% had bought service contracts in previous years, or would buy them in the future, but there did seem to be a core group of repeat buyers and a much larger group of never-buyers. But more data gathered over multiple years is needed to draw such a conclusion, she said.
Extended Warranty Attach Rates
In the charts below, the figures above the light blue columns are the percentage of respondents who purchased that category of product within the past year, and the figures above the dark blue columns are the percentage of product buyers who also bought a service contract.
Product purchase rates ranged from 4% for exercise machines to 28% for mobile phones. Notice that the corresponding attachment rates ranged from a high of 54% for exercise machines to a low of 16% for power tools.
Figure 3
The Warranty Group's Consumer Research
Product by Product Attach Rates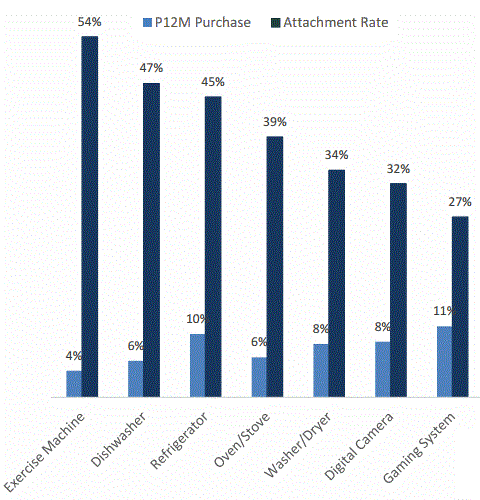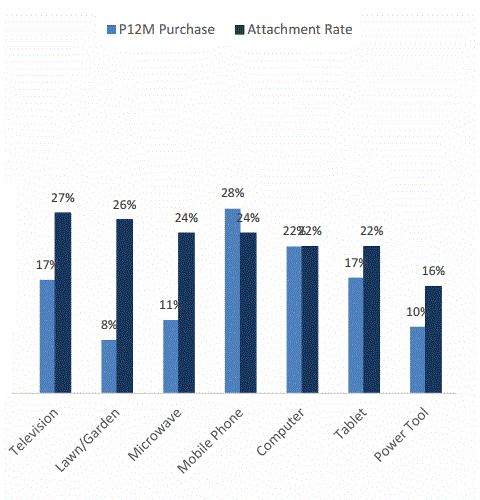 In general, the major appliances were to the high side in terms of attach rates, while the computer-related items were towards the low side. And then there were a few surprises, such as exercise machines having the highest attach rate of all, and power tools having the lowest.
"One thing you have to keep in mind for exercise machines is only 4% of the U.S. bought them," Mortensen noted. So that means there was a relatively small sample size of purchasers. And with such a small sample size, the habits of a few can have a big impact on the overall attach rates.
Self-Sufficiency Streak?
As for power tools, she said she's not sure why they scored lowest. It might be a function of price, or perhaps it's the self-reliance streak among the customers, who in the very act of buying tools are demonstrating that they can build and/or repair things. "Maybe they're like, 'I'm going to take care of my tools.' I'm just speculating," she said. "But it is a very self-sufficient segment of the market."
For appliances, it's quite the opposite trend. Mortensen said one of the major drivers of service contract purchases, which The Warranty Group has documented in separate focus group studies, is the whole idea of knowing who to call when repairs are needed. "You're less likely to have a plan of action in your head if it breaks down," she said. So part of the peace-of-mind of having an appliance service contract is having that point of contact just in case.
It's also a question of size and weight, and therefore the need for house calls. You're not going to carry your oven back to the retailer, but you might very well be able to bring back the microwave. Therefore, 39% of the oven and stove buyers also bought a service plan, while only 24% of the microwave purchasers did.
For mobile phones, Mortensen said the actual attach rate could be much higher, because some buyers have the cost of the service contracts bundled into their monthly bill from the phone company. And some may not realize that when they buy what's called mobile phone insurance, with protection against drops and spills, they're essentially buying service contracts. Others may think that service contracts are something that only retailers offer, not realizing that the phone companies are retailers too.
These are U.S. figures, but Mortensen said the same trend can be seen in all the other countries. "Globally, the appliances tended to have the highest attachment rates," she said. And the high-tech electronics had some of the lowest.
There seemed to be a stronger emotional attachment between service contract buyers and their products than was seen with non-buyers. Mortensen said that especially among vehicle service contract buyers, there were more attitudinal statements about how attached they were to their cars. "They felt more of a need to protect it," she added.
Another determining factor could be the age of the customer, Mortensen suggested. "People who are younger don't have as much experience knowing how long things last," she said. So they may want to buy protection plans just in case.
In fact, there did seem to be a direct correlation between age and buying habits. Only 30% of the 719 U.S. respondents were between the ages of 18 and 34. But 37% of the service contract buyers were. At the other extreme, 28% of the product buyers were age 55 or above. But only 20% of that group bought any service contracts.
Figure 4
The Warranty Group's Consumer Research
Age of Service Contract Buyers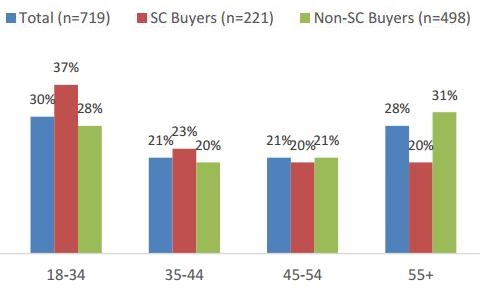 "It's not saying that nobody over 34 is buying them," she said. "It's just that if a younger person comes into the store, they're probably a little more likely to buy one than an older person."
Online vs. In-Store
Another question asked respondents to say whether they bought their products online or in person at a retail location. Once again, the responses varied widely. Most cameras and tablets were bought online, but most appliances were bought in person. Gaming systems and exercise machines were close to evenly split. Televisions, mobile phones, and yes, even power tools, were bought in person more than two-thirds of the time.
Mortensen said it's a function of buyers feeling they need to look at the item in person before becoming comfortable with a purchase. For instance, they need to see how big the TV screen really is. Or they need to hold the mobile phone in their hand.
Another possibility is the need for hands-on training and set-up. "For me -- and I'm only one person -- I like them to set up my phone and copy all my contacts over to my new phone," Mortensen said. "It's harder to do that when you purchase it online."
Yet that need doesn't seem to extend to tablets or digital cameras. So there are still lots of unanswered questions about why people behave a certain way. And there wasn't enough data to answer one of the big questions: Is there a difference in the attachment rates between online and in-store purchases?
One definite conclusion that can be drawn from the data is that service contract buyers tend to have higher levels of brand loyalty. But it's uncertain whether one causes the other, or if they just naturally occur together.
The survey asked buyers if they bought the same brand as last time. And then their answers were correlated with whether or not they had also bought a service contract. The differences were striking.
Out of the 14 product categories, the only instances where the non-service-contract buyers appeared to be more loyal to the brand were with gaming systems and tablets. The only instances where both groups were close were with mobile phones and refrigerators. For the other 10 product categories, the service contract buyers were much more loyal to the brand.
Among digital camera buyers, 80% of the service contract buyers were buying the same brand as last time. Only 49% of the non-service-contract buyers were. Among oven and stove buyers, 64% of the service contract buyers were buying the same brand as last time. Only 25% of the non-service-contract buyers were. Among lawn and garden equipment buyers, 58% of service contract buyers were buying the same brand as last time, while only 34% of the non-service-contract buyers were.
"We're not saying that service contracts make you more loyal, but we're saying that people who buy service contracts have more loyal tendencies than those who don't," Mortensen said.
Customer Loyalty to Retailers
Service contract buyers were also more loyal to the retailers that sold them the products than were the non-service-contract buyers, Mortensen added. Respondents were asked, "How important was it to you that you purchased your item from the specific retailer you purchased it from?" And then once again the answers were sorted by whether or not they had also bought a service contract.
Among digital camera buyers, 85% of the service contract buyers said it was important. Only 31% of the non-service-contract buyers said likewise. Among oven and stove buyers, 57% of the service contract buyers said the retailer they chose was important. Only 18% of the non-service-contract buyers agreed. Among lawn and garden equipment buyers, 68% of service contract buyers said it was important, while only 17% of the non-service-contract buyers said so.
"Again, service contract buyers seem to have more loyal tendencies than the non-service-contract buyers," she said. "It's not suggesting any sort of causality. It's just that this group of people, whoever they are, have more loyal tendencies than people who aren't buying them."
And then there were questions that confirmed the obvious: people who are the most familiar with service contracts and what protections they offer are the most likely to buy them. On a 1-to-9 scale, respondents were asked to rate how familiar they were with protection plans. Only 14% of the people who said they were least familiar (1 to 4) had also said they had bought one. At the high end of the scale, a third to almost half of the people who rated their familiarity levels at a 7, 8 or 9 were also service contract buyers.
Need for Education
"We're looking at it beyond familiarity," Mortensen said. "It's really more educational. Especially if you haven't bought one yet, consumers do not really understand them, and are not really engaged with them."
She suggested the answer is to get more information in front of people, either online or in the form of brochures and flyers at the point of sale. Sales people could also do a better job of explaining the features and benefits of the protection plans. There must be a segment of the population that can be convinced.
"I think it's an industry initiative that needs to take place," Mortensen said. "Also, there's some negative press out there about extended warranties. So some people don't even give them a chance. They don't even start to think about them."
But again, it's not clear whether the familiarity with what service contracts offer leads some people to buy them, or if they're familiar with them because they've bought them in the past. More research is needed to see if one causes the other. But it's clear that more education is needed.
Bean said he thinks the educational effort needs to begin long before the customer is standing at the cash register, waiting to pay for their product. "A lot of people in the extended warranty space seem to spend most of their resources and time trying to drive attachment rates at the point of sale," he noted. "And what we've seen through the research is there is a strong correlation between a customer's propensity to buy and their familiarity with these programs."
Bean said the educational effort should begin much earlier. If customers are doing their product research on the web long before they get around to kicking the tires, then perhaps protection plan providers need to offer more web content as well.
"I think that's a real opportunity, whether it be for manufacturers, retailers, or dealerships, to put more of that content earlier on in the buying cycle," he said. "That's where some of the earlier education can help consumers become aware of more of the options that are out there."
Bean said now that this initial phase of the research is complete, the company is thinking about what to do next. "Internally, we're looking at which areas of the research may warrant some type of tracking survey going forward," he said. "We're still in the process of looking at what things we think may need to be revisited again in a couple of years versus what trends may not change quite as often. I'm not sure it would be quite as extensive, but certainly key categories such as brand loyalty and attachment rates will be something we'll be revisiting in the next one or two years."