March 30, 2017
Automotive Warranty Expense Report:
While the individual manufacturers see their claims, accrual, and sales totals change up and down from year to year, some long-term trends are also evident. The carmakers are cutting costs the most and the longest, while the powertrain manufacturers are falling behind other types of suppliers.
Although the automotive industry has been among the best when it comes to using past warranty data to help reduce current warranty costs, the improvements have not been universal. In terms of vehicle size, the makers of passenger cars and small vehicles have improved more than the builders of trucks and large vehicles, while in terms of their suppliers, the makers of engines and transmissions have not kept up with other types of parts manufacturers.
To reach these conclusions, we started with a list of 49 vehicle manufacturers, or OEMs, and 120 of their parts suppliers. This week, however, we're splitting each group in two yet again. The automotive OEMs are getting split by the size of the vehicles they make, while the parts suppliers are getting split into powertrain suppliers and other suppliers.
So now we have four lists: 25 makers of heavy trucks, buses, recreational vehicles, and other large vehicles; 24 makers of cars and light trucks, motorcycles, all terrain vehicles, forklifts, snowmobiles, golf carts, and other small vehicles; 24 manufacturers of engines, transmissions, axles, and other powertrain components; and 96 suppliers of other automotive parts and components.
The heavy truck list is dominated by the likes of Caterpillar Inc.; Deere & Co.; Navistar International Corp.; and Paccar Inc. The small vehicle list is led by Ford Motor Co.; General Motors Co.; Harley-Davidson Inc.; Polaris Industries Inc.; and Tesla Inc. Powertrain suppliers include BorgWarner Inc.; Cummins Inc.; Dana Inc.; and Eaton Corp. And the remaining suppliers are led by Delphi Automotive; Goodyear Tire & Rubber Co.; Illinois Tool Works Inc.; and Standard Motor Products Inc.
Not included this time around are companies such as FCA US LLC (Chrysler's American parent), which will be included in a future report on Fiat and other OEMs based in Europe. Also not included are suppliers such as Harman International Industries Inc., Honeywell International Inc., and Johnson Controls Inc., which have a significant presence in the automotive industry but which have a much more significant presence in other industries (such as consumer electronics, aerospace, and HVAC). They also will be counted in other industry reports in the weeks ahead.
Industry Totals
So what we're left with are 169 mostly U.S.-based companies that last year reported paying roughly $11.8 billion in claims and making about $10.3 billion in warranty accruals. About $10.3 billion was spent by the OEMs on claims and about $1.5 billion was spent by the suppliers. About $8.9 billion was accrued by the OEMs and $1.4 billion by the suppliers. Now, let's divide that up even further, into trucks and cars for the OEMs, and into powertrain and other components for the suppliers.
In Figure 1 we're looking at claims paid by the automotive OEMs, divided into two groups based upon the size of the vehicle they're making. The dark blue represents the 24 passenger car and small vehicle makers, while the light blue represents the 25 heavy truck and large vehicle makers.
Out of the $10.3 billion OEM claims total in 2016, the large vehicle makers accounted for a little under 30%, while the small vehicle makers accounted for a little over 70%. That distribution was virtually the same in 2015 and 2014. However, back in 2003-2007, it was tipped much further in favor of the small vehicle makers, which accounted for as much as 84% of the industry total at their peak.
Figure 1
Automotive OEM Warranties
Claims Paid Worldwide by U.S.-based Manufacturers
(in US$ millions, 2003-2016)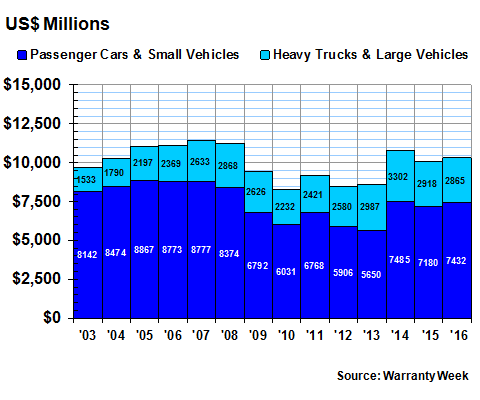 Note that the amount of claims paid by both groups declined from 2014 to 2015, while only the truck group declined from 2015 to 2016. The pattern for warranty accruals is much the same, with a few minor differences. As can be seen in Figure 2 below, the automotive OEMs set aside about $8.9 billion in warranty accruals last year, up by about $365 million from the $8.5 billion accrual total in 2015. Accruals by the small vehicle manufacturers were up by about $675 million in 2016, while accruals by the large vehicle manufacturers were down by about $274 million.
Figure 2
Automotive OEM Warranties
Accruals Made Worldwide by U.S.-based Manufacturers
(in US$ millions, 2003-2016)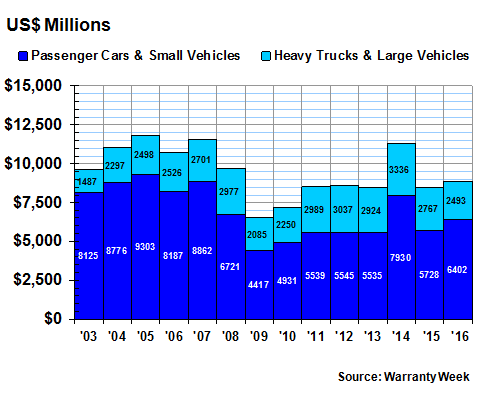 Once again, as with claims, the split between the two groups has lately remained close to a roughly 70%/30% ratio, though it was as low as 65%/35% from 2011 to 2013. But in 2003, the split was all the way up to 85%/15%, and it didn't fall below 70% until 2008. In other words, the large vehicle makers are catching up, virtually doubling their share of the overall OEM total, from 15% in 2003 to nearly 30% in 2016.
As can be seen in both Figure 1 and Figure 2, the peak years for both automotive warranty claims and accruals were before the recession. For claims, the peak year was 2007, while for accruals, it was 2005. Note that there's always a lag time between when a product is sold and the accrual is made, and when it's repaired and the claim is paid. So two years between the peaks is predictable.
There's also some lag time between the bottoms of the downturns. For automotive accruals, the low year was 2009. And then for automotive claims, the low year was 2010. In other words, the relatively small number of vehicles sold in the lean year of 2009 contributed to the relatively small number of claims in 2010.
Warranty Expense Rates
In Figures 3 and 4, we're taking the claims and accrual totals from Figures 1 and 2 and comparing each of them to sales figures, to calculate what percentage of revenue they each represent. In Figure 3, we see two peaks -- in 2009 and 2014 -- that represent two different problems. The 2009 peak in the claims rate is caused primarily by the fall in sales, which fell much faster than claims payments, and therefore drove the percentage rate upwards. Meanwhile, the 2014 peak in the accrual rate is caused primarily by the added cost of safety recalls, primarily by GM but also by others.
Figure 3
Passenger Car & Small Vehicle Makers
Average Warranty Claims & Accrual Rates
(as a % of product sales, 2003-2016)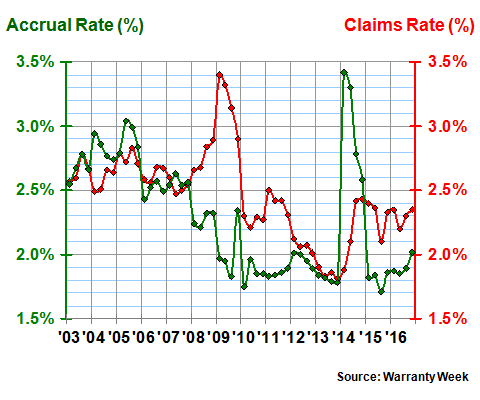 The cost of those recalls is mostly behind them now, however, and accrual rates have returned to their normal levels. In fact, during one brief moment in 2015, the group's average accrual rate fell to 1.7%, their lowest level ever. They ended 2016 with an average claims rate of 2.4% and an average accrual rate of 2.0%.
Accrual rates, we should note, are set by the companies themselves to reflect their best guess of the future cost of the warranties they're issuing on the vehicles they sell. So if a vehicle isn't sold, there are no accruals. And when the accrual rate changes, it does so because the company is predicting its future warranty costs will rise or fall.
Therefore, when the group's accrual rate sets a new low, the companies are predicting that they will pay out far less in the future than they have in the past. They could be wrong, of course, with another massive recall causing warranty costs to spike, as they did in 2014. But if they're right, then the future need for warranty work will continue to decline, because the products are made better and cost less to repair.
Truck Warranties Are Different
With trucks and other large vehicles, warranties are typically set up a little differently. Customers can usually specify the brand and size of the engine and transmission they want in their vehicle, and then they will get a separate engine warranty and transmission warranty from those manufacturers.
It's not a bumper-to-bumper factory warranty, as is usually issued with a car or other small vehicle. For instance, a Peterbilt truck chassis might come with a Paccar engine and an Eaton Transmission. An International truck chassis might have a Cummins engine and an Allison transmission. A Winnebago RV chassis might contain a Dodge engine, a Whirlpool dishwasher, a Coleman air conditioner, and a Sealy mattress. In each case, each manufacturer would issue a separate warranty for its respective product.
This has a massive effect on warranty costs. Whenever a manufacturer's warranties are customer-facing, meaning the warranties are issued to the end user, the expense rates tend to be higher than when issued to an OEM or another supplier. And whenever a vehicle's warranties come from mixed sources, as with trucks, RVs and airplanes, for instance, the primary manufacturer's expense rates tend to be lower than when they all come from a single source, like GM or Ford.
In other words, we would expect the truck manufacturers to have lower warranty expense rates than the passenger car manufacturers, because of how the warranties are structured. However, that's not always the case, as once can see through a comparison of the red and green lines in Figures 3 and 4.
Figure 4
Heavy Truck & Large Vehicle Makers
Average Warranty Claims & Accrual Rates
(as a % of product sales, 2003-2016)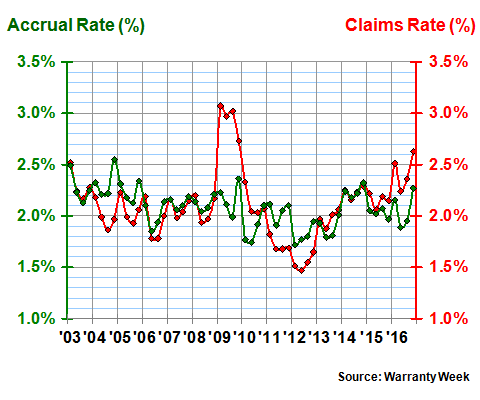 From 2003 to 2008, the carmakers were always a little above the truck manufacturers, as expected. But from 2009 to 2015, they were each in the lead about half the time. However, in 2016, the carmakers had lower expense rates every single time, for both metrics in different four quarters.
At the end of 2016, the carmakers had an average claims rate that was nearly three-tenths of a point below the truck manufacturers. Their average accrual rate was two-tenths of a point lower, as a comparison of Figures 3 and 4 reveals. That's a massive change in the trend, from one where the larger vehicles have lower expense rates to one where the smaller vehicles lead in terms of expense rate reduction.
Once again, from 2003 to 2008, we made 24 measurements of both the claims rates and accrual rates of the two groups. The carmakers were higher in all 48 pairings. From 2009 to 2015, we made 56 additional measurements, and the carmakers were higher in 29 of them. And then in 2016 we made eight measurements, and the carmakers were higher in none of them.
Clearly, the carmakers have learned how to reduce their warranty costs and how to keep them low. They suffer massive setbacks, such as the 2014 recalls, but the general slope of the lines in Figure 3 points towards constant and gradual warranty cost reduction.
In contrast, the shape of the data in Figure 4 suggests that the truck makers have not improved by much, though there is a noticeable dip from 2010 to 2013. And the record in 2016 is actually in the opposite direction, as if some lessons learned have been forgotten.
In the fourth quarter of 2016, large vehicle makers paid out their highest share of revenue for claims since the recessionary year of 2009. In the third quarter of 2015, small vehicle makers set aside their lowest-ever share of revenue for warranty accruals. That's a story of divergence.
Major Changes Among Companies
In terms of the totals tabulated in Figures 1 and 2, there was no clear trend among the OEMs. Ford and Polaris saw the biggest increases in claims payments, while GM and Paccar saw the biggest declines in claims payments. GM, Ford, and Polaris saw the biggest increases in accruals totals, while Paccar and Deere saw the biggest declines.
Among the individual OEMs, last year saw primarily increases in their warranty expense rates. Some of the biggest increases in claims rates were reported by Navistar, Polaris, and Caterpillar. Some of the biggest increases in accrual rates were reported by Polaris, AGCO Corp., and Thor Industries Inc.
In terms of improvement, GM was the only large OEM to cut its claims rate significantly in 2016, and only because back in 2015 it was dealing with elevated costs from all the recalls. In addition, Oshkosh Corp. and Tesla Inc. both cut their claims rates slightly, but not enough to get them into any of the top 10 lists in the March 16 newsletter.
On the accrual rate side, Paccar, Tesla, and GM showed the largest rate declines among the OEMs. Harley remained about the same, while Oshkosh and Deere each saw slight increases in their accrual rates year over year. Overall, at least among the OEMs, expense rate increases vastly outnumbered the expense rate reductions.
In terms of automotive sales, which of course helps determine the movement of warranty expense rates up or down, most of the largest OEMs saw revenue declines. This would explain many of the expense rate increases. However, GM, Tesla, and RV manufacturer Thor Industries Inc. were among the handful of sales gainers. And GM and Tesla were also among the select few to cut both their claims and accrual rates last year. So there is a link in both directions between sales and expense rates.
In contrast, Caterpillar, Deere, Navistar, Paccar, and Terex were among the companies to see the largest sales declines. All of these except Paccar also saw both their claims and accrual rates rise.
Ominously, all the big vehicle makers except for a trio of RV manufacturers -- Thor Industries, Spartan Motors, and Winnebago Industries -- saw sales decline in 2016. So that might explain the upturn in expense rates in Figure 4. It's not a problem with reliability or repair cost. It's a problem with sales volumes.
Auto Parts Supplier Warranties
Now let's switch to the automotive parts suppliers. But let's look at them by the parts they make: powertrain versus other components. It turns out that although there are only 24 powertrain manufacturers on our list versus 96 manufacturers of other parts and components, their warranty expenses are split somewhat more evenly.
In Figure 5, we're looking at the claims paid by these two groups of suppliers. Of the $1.5 billion they paid out in 2016, the powertrain group accounted for a little over half the total, as they have since 2013. However, in nine of the ten years before that, they paid less than half, with their share in 2003 to 2005 falling close to 40%.
Figure 5
Auto Parts Supplier Warranties
Claims Paid by U.S.-based Companies
(in US$ millions, 2003-2016)
In Figure 6, we're looking at the accruals made by the two groups. Once again, the amounts are relatively evenly split in recent years, but were closer to 40%/60% in the early years of the chart.
In other words, what we're saying is that the warranty costs of the powertrain manufacturers rose, while the expenses of the other suppliers fell. And on a relative basis, the powertrain manufacturers went from about 40% of the pie to roughly 50%, more or less.
Figure 6
Auto Parts Supplier Warranties
Accruals Made by U.S.-based Companies
(in US$ millions, 2003-2016)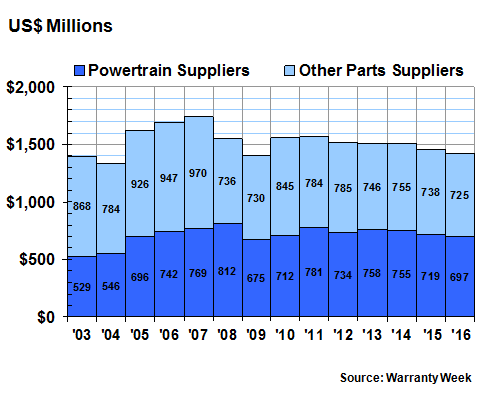 But that's only half the story. It tells us nothing about what percentage of each company's revenue went towards warranty costs. In Figure 3, we saw that the small vehicle makers have moved above and below an average mark of roughly 2.4% over the past 14 years. In Figure 4, we saw that the large vehicle makers have been close to a long-term average expense rate of 2.1%.
In Figure 7, we're looking at the warranty expense rates of the powertrain component manufacturers, and in Figure 8 we're looking at the other parts suppliers. Once again, the track record of the two groups looks very different.
Figure 7
Powertrain Component Manufacturers
Average Warranty Claims & Accrual Rates
(as a % of product sales, 2003-2016)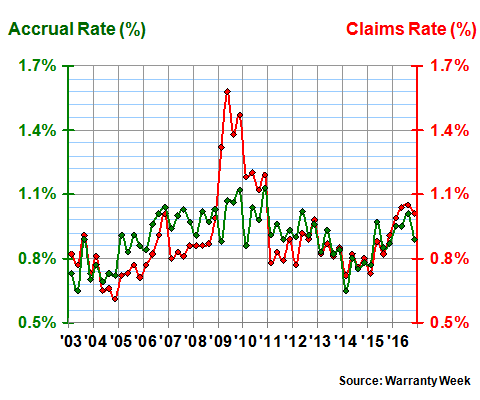 In Figure 7, the powertrain manufacturers saw rising expense rates from 2003 to 2010, with a recessionary spike in their claims rate in 2009. From 2011 to 2014, they cut their expense rates noticeably, with their average warranty accrual rate falling below 0.7%, as it hadn't done since 2003. But then warranty expense rates rose through 2015 and 2016.
In contrast, the other parts suppliers included in Figure 8 never saw their warranty expense rates rise above 0.7%, and have generally been reducing their rates. There have been some detours along the way, but the direction of travel from 2003 to 2016 has generally been downwards. Paradoxically, however, 2015 and 2016 contain both some of the highest and lowest expense rates of the past few years.
Figure 8
Other Auto Parts Suppliers
Average Warranty Claims & Accrual Rates
(as a % of product sales, 2003-2016)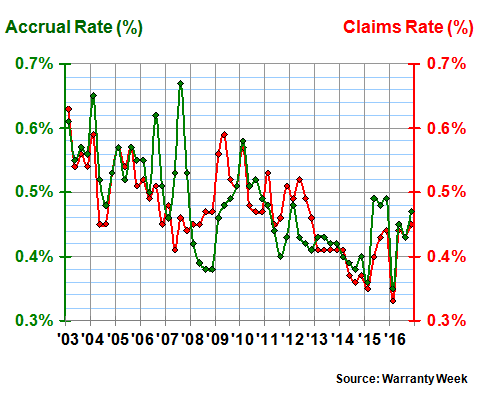 Among the 120 suppliers, sales gains and declines were much more evenly spread. Those seeing some of the largest sales gains included BorgWarner Inc., Delphi Automotive, LKQ Corp., and Standard Motor Products. Those seeing some of the largest sales declines included Allison Transmission, Cummins, Eaton, and Goodyear.
Sales totals are the bottom half of the calculations that produce the expense rates in Figures 7 and 8. Sales gains will cut expense rates, and vice versa. Therefore, it's no surprise to see LKQ and Standard Motor Products among the companies to cut their expense rates the most, and both Allison Transmission and Eaton among those seeing the biggest expense rate increases. For them, the expense rates changed primarily because of sales, not reliability or repair cost.
Suppliers that went against the trend included BorgWarner, Delphi, and Wabco Holdings Inc., which each saw sales rise but also saw both their claims and accrual rates rise.
Most and Least Changed
Note that Figure 8 is drawn with relatively little change between the highest and lowest expense rates on the vertical axis, which makes the data look like it gyrates wildly when actually it is relatively little changed. For instance, the carmakers changed their accrual rate by more than 1.7% from early 2014 to the middle of 2015. But in Figure 8, there's only 0.4% of space from top to bottom, and it's not completely filled by the data. So keep in mind the difference in scales.
However, it is clear that the powertrain suppliers experience a noticeably higher level of warranty expenses than do the other suppliers. And while the powertrain suppliers have been higher all along, they're once again trending higher in recent years. Both their expense rates rose in 2015, and did so again in 2016.
In contrast, the other suppliers have always been lower, and have more or less been cutting their warranty costs gradually from one year to the next, with some detours along the way. As Figure 8 shows, they started 2003 high and ended 2014 low. In 2015 and 2016, they gave back some ground, however.
What we're saying is that of the four groups of automotive warranty providers, the carmakers and the other suppliers have been improving their warranty expense profiles the most, while the truck manufacturers and powertrain suppliers have not. Individual companies may have a different story to tell, but these are the overall trends in the U.S. automotive industry.