April 6, 2017
U.S. & European Auto OEM Warranty Report:
While Volkswagen and Fiat have seen their warranty costs rise significantly in recent years, BMW, Daimler and Tesla have driven their expense rates down. And somewhere in the middle this year are Ford and GM.
With all the annual reports in hand, it's time to take a closer look at the warranty claims and accrual rates of the major passenger car manufacturers in Europe and the U.S.
Normally, we wait until late June or early July, when Honda and Toyota publish their annual reports, before we take a look at the warranty expense rates of the world's top passenger car and light truck manufacturers. But this year, possibly because of the Volkswagen diesel scandal, or for some other reason, readers have been requesting the data much sooner than usual.
Therefore, this week we're going to take a look at all the data we have so far, from not only the top American OEMs, but also most of the top European OEMs as well. In February, we extracted warranty expense data from the annual reports of General Motors Co., Ford Motor Co., and Tesla Inc., and in March we added reports from BMW AG, Daimler AG, Fiat Chrysler Automobiles NV, and Volkswagen AG. So why wait for summer?
Together, these seven automotive OEMs spent nearly US$26.5 billion on warranty claims last year, up almost $2.2 billion from 2015 levels. But most of that increase came from just one OEM: Volkswagen. Others such as BMW and GM actually cut their claims payments by hundreds of millions of dollars last year, despite rising sales.
So let's get started with the U.S. portion of the report. We now have four major car manufacturers based in America, but one of them is owned by a European parent. So right now let's look at GM, Ford, and Tesla, and leave Chrysler to the side until a bit later.
Warranty Claims Rates
In Figure 1, we're taking the amounts of warranty claims paid per quarter by the three American companies from 2003 to 2016, and dividing those amounts by the corresponding sales revenue figures, to calculate the percentage of sales that's going towards warranty costs.
Since in this case we're making a quarterly measurement, there are 56 separate data points for both GM and Ford for the past 14 years. Tesla, meanwhile, didn't begin reporting its warranty expenses until 2009, so we have only 32 data points for that company.
GM ended 2016 with a 2.4% claims rate, down almost 0.4% from year-end 2015 levels. It was virtually the same claims rate as was reported by Ford, but that manufacturer's claims rate was at 2.0% a year before. So while GM was recovering from its escalated recall-related warranty costs in 2016, Ford was continuing to see a slow multi-year increase in its claims rate.
Tesla, meanwhile, continues to see its claims rate change significantly from one quarter to the next. Part of the reason is its much lower sales volume. In all of 2016, the company sold about as many vehicles as either Ford or GM do in half a week. So if there's a problem with a handful of vehicles, it affects a much larger share of the installed base. And part of the reason is the still-new technology in the company's electric vehicles, which adds lots of unpredictability into the product mix.
So it's a welcome sign to see that Tesla has reported a lower claims rate than either GM or Ford in each of the last five quarters. In fact, it's been mostly lower since all the way back in 2012, when its claims rate briefly spiked to 4.5% at the beginning of that year. It doesn't mean much to compare the claims rates of the three companies, given the differences in product lines, prices, and production volumes, but the chart still tells a story.
Figure 1
Three American Automotive OEMs
Warranty Claims Rates, 2003-2016
(as a % of product sales)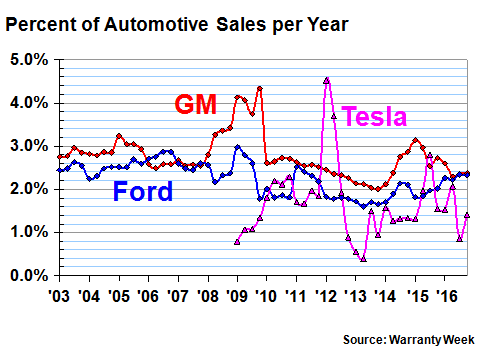 Of course, there's always a lag time between when a vehicle is sold and when it needs warranty work. And when sales plummet, as they did in 2009, the cars sold in previous years will still need warranty work. So what happens is the claims rate soars, as it did for GM that year. The company's claims rate rose above four percent for the first and only time that we know of. But then, as sales volumes recovered, the claims rate went back down.
Ford, however, has managed to keep its claims rate between 1.6% and 3.0% for fourteen years running. It's a remarkable track record of stability that few manufacturers, let alone passenger car manufacturers, can match. And since Ford faced much the same market turmoil as did GM, the comparison is somewhat valid. We're not saying one company's vehicles are better or worse than the other's. All we're saying is that one's warranty expense rates are steadier than the other's.
Warranty Accrual Rates
The comparison is all the more striking when we move to warranty accrual rates. Warranty accruals are made at the time a product is sold, with the amount that's set aside determined by the manufacturer's own staff. If they think the product is more reliable, they might decide to cut accruals to $300 per vehicle sold. If there's a big recall, they might temporarily bump it up to $500 per vehicle. But if a vehicle isn't sold, there are no accruals needed.
Therefore, there should be no lag time built into the accrual rate. When it rises or falls, it does so because the manufacturer believes its warranty costs are going up or down. If their best guess turns out to be off the mark, there may be either a surplus or a shortage of funds available to pay future claims, and that will require them to adjust the balance in their warranty reserve fund.
The reason we mention this is because as good as Ford has been at keeping its claims rate relatively steady, it has also missed the mark significantly with its accruals for two years in a row. In 2015, it had to add $800 million to cover past under-accruals. In 2016, it had to add $1.36 billion to its warranty reserves to cover under-accruals in previous years. But in Figure 2, we're comparing just current-year accruals and current-year sales to calculate these accrual rates. And that doesn't include these corrections.
Figure 2
Three American Automotive OEMs
Warranty Accrual Rates, 2003-2016
(as a % of product sales)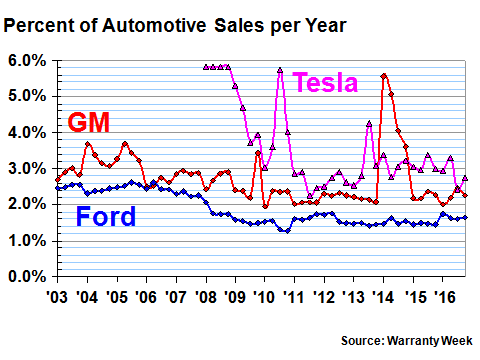 Companies can also fix their problems with rising warranty costs by raising their current-year accrual rates. That's what GM did in 2014, when the cost of all the safety recalls became clear. And that spike is clearly visible in the chart above.
Meanwhile, Tesla must have seen the spike in claims it experienced in 2012 coming, because the company's accrual rate spiked 18 months before, in the middle of 2010, as can be seen in Figure 2. Quarterly claims totals were rising throughout 2010 and 2011. And then to add to the pain, automotive sales fell by 43% in the first quarter of 2012, causing its claims rate to rise ever so briefly to 4.5%. However, Tesla's highest-ever accrual rate remains the 5.8% it experienced in its first year of sales (the company did not pay any claims in 2008).
Speaking of Tesla, in all of 2016 its automotive sales revenue grew by 63%, from $3.43 billion to nearly $5.59 billion. However, its warranty claims payments grew by more than 50%, from $52.8 million to $79.1 million. But since we calculate the claims rate by dividing one number by the other, that metric fell from 1.5% at the end of 2015 to 1.4% at the end of 2016. So the math can work for you or against you.
For its accrual rate, the same thing happened, though at different levels. Sales were up by 63% and accruals rose from $103 million to $154 million. But the accrual rate at the end of those years fell from 3.0% to 2.8%. In one of the intervening quarters, Tesla's accrual rate fell all the way to 2.4%, its lowest level since 2011.
European Automotive Warranties
Because the U.S. data is reported quarterly, and because most European manufacturers report their warranty expenses only once a year, if at all, Figures 1 and 2 contain vastly more data points that Figures 3 and 4. So that in itself helps to flatten the lines, since it would serve to camouflage any mid-year spikes in rates.
Below, we're measuring each European company's claims and accrual rates based on amounts included in their annual reports. For these three German companies, as well as for Fiat, the amounts are counted in euro. But since we're dividing one amount by another amount to calculate a percentage rate, we don't have to deal with a mix of currencies, or any foreign exchange computations.
In Figure 3, we can see that Volkswagen's claims rate continues to increase, from 4.1% in 2015 to 5.0% in 2016. Daimler reported a much smaller increase, from 1.9% to 2.0%, ending its multi-year decline. And BMW saw its claims rate fall from 2.8% to 2.6%, after seeing it rise for multiple years.
Figure 3
Three German Automotive OEMs
Warranty Claims Rates, 2003-2016
(as a % of product sales)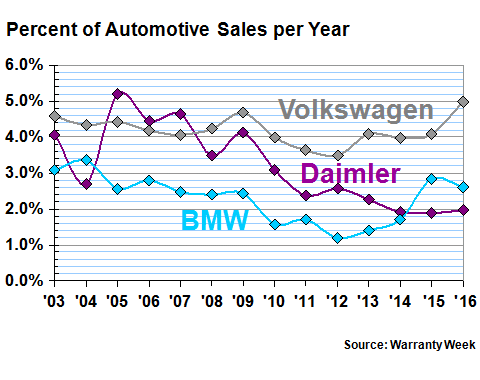 Volkswagen, of course, is still ensnared in its diesel emissions scandal, which began to show its effects in the warranty expense data for 2015. The company has said it expects to spend close to $18 billion on recalls, fines, and other costs, and the warranty side of that expense is part of the reason the company's claims rate rose to such a high level in 2016.
However, as we saw with GM and Tesla above, the typical company begins making additional accruals as soon as the size of the expense becomes clear. And that began to happen in 2015. In Figure 2, we can see that VW set aside more than 10% of its 2015 automotive sales revenue -- nearly 19.3 billion euro -- in advance of the additional and unexpected claims it began paying in 2016. Those bills will continue to be paid in the years ahead.
Figure 4
Three German Automotive OEMs
Warranty Accrual Rates, 2003-2016
(as a % of product sales)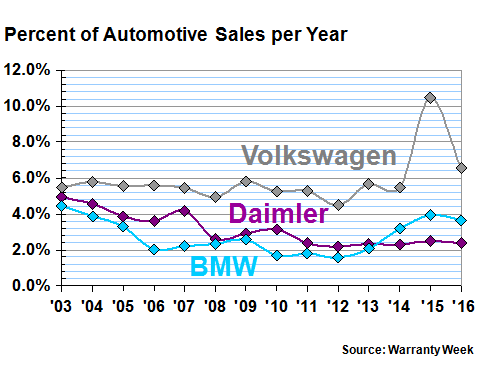 Once again, BMW reversed its recent trend, cutting its accrual rate from 4.0% in 2015 to 3.6% in 2016. That's a good sign after three years of rising accrual rates, but it's still well above the company's long-term average of 2.8%.
Daimler also cut its accrual rate, from 2.5% to 2.4%, and that was the sixth consecutive year it was below three percent. This is a welcome development, because for both BMW and Daimler, the effect of high expense rates is magnified by relatively high vehicle prices. In other words, three percent of forty thousand is a lot more than five percent of twenty thousand.
The Chrysler Family Expenses
Finally, we wanted to take a look at Fiat and Chrysler. Readers frequently ask why we don't include Chrysler in the U.S. warranty expense data, since the company is very definitely based in the suburbs of Detroit and has long been considered to be a member of the Big Three.
The problem is, from 1998 until 2007, Chrysler was owned by Daimler-Benz. From 2007 until its bankruptcy in 2009, it was owned by a private equity firm called Cerberus Capital Management LP. And then from 2009 until now it's been part of Fiat. So the company's warranty data was included with Daimler's, was kept private, or was included with Fiat's, and was not detailed separately.
From 2009 until 2015, however, the American subsidiary of Fiat that included Chrysler, which is called FCA US LLC, floated a series of bonds called secured senior notes, which brought with them a duty to report its financials to the U.S. Securities and Exchange Commission. And so, for nearly seven years, we caught a glimpse of the warranty expenses of Chrysler by itself, although there were some imports of Alfa Romeos and exports of Jeeps and Dodge vehicles included as well.
FCA has now redeemed those senior notes, so it stopped filing its financial reports with the SEC in 2015. However, Fiat Chrysler Automobiles NV, its parent company, continues to detail its worldwide warranty expenses in its annual reports, ever since it reorganized its holdings in mid-2014 and adopted its current name.
In Figures 5 and 6, we're including all the relevant data we have for all these entities, including quarterly warranty expense rates for DaimlerChrysler AG from 2003 to 2007, quarterly data for FCA US LLC from 2009 to 2015, and annual data for both Fiat S.p.A. and its successor from 2003 to 2016.
In order to mix the annual data with the quarterly data, we've repeated each annual calculation in four consecutive quarters. In other words, the claims and accrual rates were assumed to be the same in four consecutive quarters based upon the calculation made for the full year. That's clearly never the case, as a quick comparison of the annual Daimler data in Figures 3 and 4 and the quarterly Daimler data in Figures 5 and 6 will prove.
Figure 5
Chrysler-related OEMs
Warranty Claims Rates, 2003-2016
(as a % of product sales)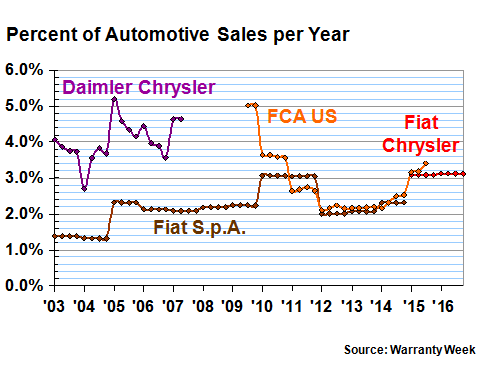 In Figure 5, we can see a striking convergence of all the Fiat and FCA data, as if they're all in agreement. U.S. warranty claims rates were high from 2009 until 2011, and that in turn drove Fiat's expense rates higher. Expense rates were lower from 2012 to 2014, but then rose again in 2015 and 2016.
By the way, FCA's worldwide claims rate was only a tiny bit higher in 2016 than it was in 2015. At this scale, it almost looks like there was no change. But 2015 was a little below 3.1% while 2016 was a little above 3.1%.
Also, in Figures 5 and 6, we included only the 2003-2007 Daimler data, because during those years Chrysler was a big part of the company's total warranty costs, and afterwards, Chrysler wasn't included. In fact, a decade ago, the Chrysler and Daimler Trucks executives used to trade the blame for the relatively high expense rates seen in 2003 and 2004, and for the sudden rise in rates in 2007.
But all that's history now. As a look back at Figures 3 and 4 will confirm, Daimler's warranty expense rates have stabilized and subsided since Chrysler was spun off in 2007. Whether or not that decline in costs was caused by Chrysler's departure, or would have happened anyway, is open to debate.
Guessing What's Missing
In Figures 5 and 6, however, one can only imagine what shape the missing data for Chrysler alone from 2007 to 2009 would have taken, if it were available. If we were to fill the gap by connecting the Daimler and FCA US lines in our minds, it would appear that Chrysler's claims rate during those years was probably still close to five percent, while its accrual rate was probably slowly declining from four percent to three percent, as product reliability improved and warranty costs were brought back under control. But the true story of those turbulent years may never become public.
Figure 6
Chrysler-related OEMs
Warranty Accrual Rates, 2003-2016
(as a % of product sales)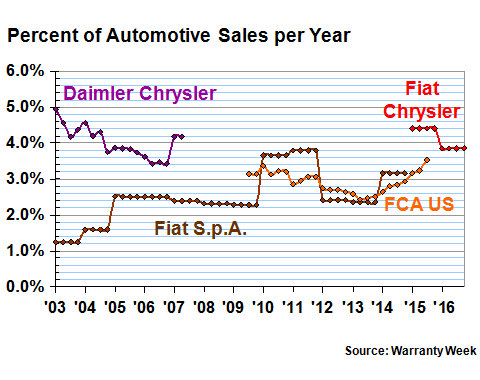 It's never a good idea to compare the warranty expense rates of two different companies, let alone two different branches of the same company. They may be using different accounting principles, not to mention different currencies. And what looks like a rise in expenses may have more to do with dollar-euro exchange rates than repair costs.
Still, we can't resist the urge. Looking back at Figures 1 through 6, it's clear that the high-cost companies are VW and FCA. And it's clear that the low-cost companies are Daimler and Tesla. In the middle are BMW, GM, and Ford. But again, it means more to BMW, Daimler, and Tesla to be in the middle or on the low side, because their average price per vehicle is higher. If they paid warranty expenses at VW's rates they'd probably be out of business.