April 27, 2017
Building Trades Warranty Report:
Unlike most other industries, in the new home construction business, the builders have lower warranty expense rates than many of their suppliers. But the makers of appliances and heating/cooling systems are now cutting their costs and narrowing the gap between their expense rates and those of the makers of fixtures, furniture, and building materials.
While suppliers generally have lower warranty expense rates than the name brands facing the end user customer, things are a bit different in the building trades, where appliance and heating/cooling system manufacturers have the highest expense rates of all. New home builders are in the middle, with the companies supplying them with building materials, fixtures and furniture lowest of all.
We began this week's study by making a list of American companies engaged in three industries that report their warranty expenses. We found 55 new home builders, 108 manufacturers of building materials, fixtures and furniture, and 55 companies that make home appliances or heating, ventilation and air conditioning (HVAC) systems.
Four Warranty Metrics
For each company, we gathered four metrics from their financial statements: claims paid, accruals made, reserves held, and products sold. And then, by comparing the amounts of claims paid and products sold, and accruals made and products sold, we calculated claims rates and accrual rates as a percentage of sales.
As can be seen in Figure 1, all three industries are still paying less in claims than they did at their pre-recession peak. The appliance and HVAC manufacturers still pay the most, while the building material manufacturers continue to account for about a quarter of the total. The homebuilders, meanwhile, are staging something of a comeback, as sales rise and inevitably, so do claims costs.
Figure 1
Building Trades Warranties
Claims Paid Worldwide by U.S.-based Companies
(in US$ millions, 2003-2016)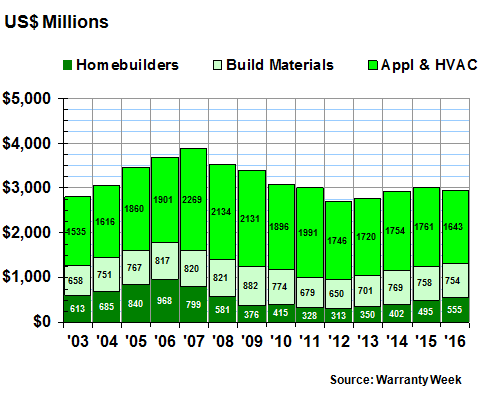 In 2016, the appliance and HVAC companies paid out $1.64 billion in claims, down about $118 million from 2015 levels. The homebuilders paid out $555 million in claims, and that was up about $60 million from 2015 levels. And the makers of building materials paid out $754 million in claims, down only slightly from 2015 levels.
For homebuilders, it was their biggest annual payout since the recessionary year of 2008. For appliance and HVAC manufacturers, it was their smallest payout since 2004. And for building materials manufacturers, it was smack in the middle of the range they've been in all along.
Within each industry, the stories were mixed. In appliances and HVAC, Whirlpool Corp. reported the biggest jump in claims, from $285 million in 2015 to $403 million in 2016, thanks to the high expense of all its safety recalls, especially in Europe. Newell Brands Inc. reported a big jump in claims payments after its acquisition of Jarden Corp. took hold. Manitowoc Company Inc. reported a big drop in claims after spinning off Manitowoc Foodservice Inc. into a separate company. Lennox International Inc., A.O. Smith Corp., and United Technologies Corp. each reported declining claims payments, and each reported increasing sales as well, making for lower expense rates.
Among the largest homebuilders, Beazer Homes and Cavco Industries reported huge increases in claims payments, while Lennar, Toll Brothers, and D.R. Horton reported smaller increases. On the down side, Taylor Morrison Home, NVR Inc., and Hovnanian Enterprises each paid out less in claims in 2016 than they did in 2015.
Among the suppliers of building materials, there were only slight increases and decreases to report. In 2016, cabinet and plumbing supplies company Masco Corp. paid out $6 million more; toolmaker Stanley Black & Decker Inc. paid out $3.2 million more; and furniture maker Tempur Sealy International Inc. paid out $2.5 million more. All three also reported sales increases, thus diminishing the impact of the rise in claims.
On the down side, furniture maker Herman Miller Inc. saw a $2.2 million decrease in claims payments; fixtures manufacturer Fortune Brands saw a $2.8 million decrease in claims; and paint and coatings manufacturer Sherwin Williams Co. paid out $2.9 million less in claims in 2016 than it did in 2015.
Warranty Accruals
While claims payments are determined by what actually happens -- a product of failure rates and repair or replacement costs -- warranty accruals are a reflection of what a company believes will happen in the future. As a product is sold, a company determines how much money to set aside to cover its predicted warranty costs.
Sometimes the company is wrong, and so it must make additional accruals to cover the shortfall as it becomes visible. Or if it was unduly pessimistic in the past, it can take the excess accruals out of its warranty reserve fund once it determines they will not be needed.
This is what United Technologies did last year. The makers of Carrier air conditioning and refrigeration systems determined there was an excess $19 million in its reserve fund, which it removed last year. And it also determined that it didn't need to add as much as it had in past years, so it cut its regular accruals by $45 million as well.
Whirlpool, meanwhile, had to add $560 million in accruals in 2015 to cover the expected cost of all its safety recalls. But in 2016, its expectation was for future warranty costs to fall back to a normal range, so it reduced its accruals by $244 million.
Both of these reductions helped drive accruals made by the appliance and HVAC manufacturers down by $472 million last year, to their lowest level since we began tabulating the industry totals back in 2003. As can be seen in Figure 2, rising accrual totals for the homebuilders and building material manufacturers were insufficient to offset this massive decline in accruals reported by the appliance and HVAC makers.
Figure 2
Building Trades Warranties
Accruals Made Worldwide by U.S.-based Companies
(in US$ millions, 2003-2016)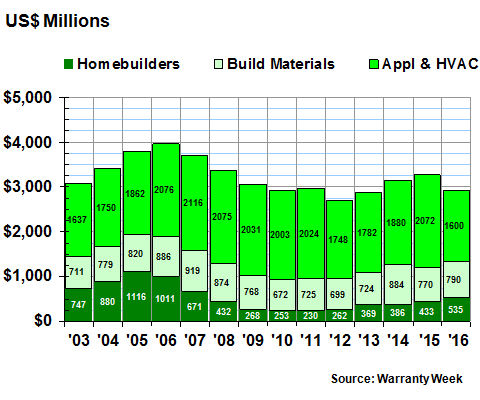 Overall, the three industries in what we're calling the building trades saw accruals fall by more than $350 million last year, slipping under $3 billion mark for the first time since 2013. However, the homebuilders accrued $100 million more in 2016 than they did in 2015, while the building material companies boosted accruals by $20 million.
In fact, none of the major homebuilders cut their accruals at all. Some of the largest gains in accruals were reported by Cavco Industries, Lennar, PulteGroup, and CalAtlantic Group. All of course are reacting to massive increases in new home sales, which in turn raises their future expectations for warranty costs. But there are additional problems with mold and leaks that are also driving up costs.
In the fixtures and furniture sector, Masco and Dow Chemical saw the biggest dollar increases in accruals, while Tempur Sealy and La-Z-Boy Inc. saw smaller dollar increases that were still big in percentage terms. Meanwhile, Pentair, Fortune Brands, Herman Miller, and Sherwin Williams were among the handful reporting decreases in yearly accruals.
Warranty Reserves
Once a company pays its claims and makes its accruals, it also must report changes to the balance in its warranty reserve fund. Additional factors such as adjustments for foreign exchange fluctuations, mergers and acquisitions, and corrections of past over- or under-accruals can also affect the balance.
Masco, for instance, had to add $33 million to its warranty reserve to correct past under-accruals. Louisiana-Pacific had to add $17 million. And M/I Homes Inc. added $23 million. But none came close to the $294 million that Toll Brothers had to add to its reserves last year to cover an unexpected increase in both the number of water intrusion claims and the average cost of repairs.
Those additional sums don't show up in the accrual data of Figure 2, which tabulates only accruals made for current-year sales, not changes of estimate made for prior-year sales. But it will show up eventually in the claims totals of Figure 1, as that money is actually spent. And it definitely shows up in the reserves totals detailed in Figure 3.
Below, we can see that the homebuilders saw their reserves surge by $345 million to more than $1.2 billion. It's the most they've had in their reserve funds since the end of 2007. And the increase was driven mostly by Toll Brothers, which ended up nearly quadrupling its reserves to $391 million by the end of its most recent fiscal year.
Other homebuilders that saw sizeable increases in their reserve fund balances included M/I Homes, D.R. Horton, Taylor Morrison Home, and KB Home. The only top-tier builder to report declining reserves was Hovnanian Enterprises.
Figure 3
Building Trades Warranties
Reserves Held Worldwide by U.S.-based Companies
(in US$ millions, 2003-2016)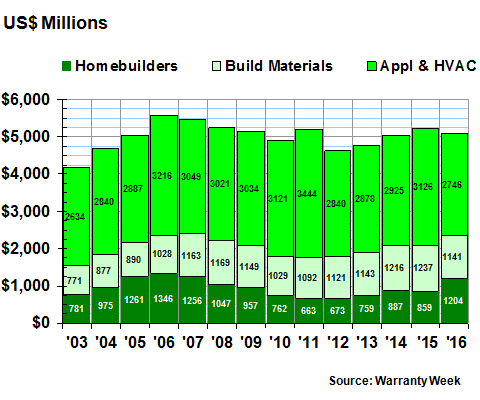 In both the appliance/HVAC and building materials sectors, reserve fund balances declined significantly. Reserves fell by $380 million for the appliance/HVAC companies, driven primarily by reductions at Whirlpool, Emerson Electric, and United Technologies. Among the building materials companies, Pentair, Dow Chemical, and Stanley Black & Decker saw the biggest decreases in reserves, while Mohawk Industries and Masco saw the biggest increases.
Warranty Expense Rates
In the past several newsletters, we've been looking at the relationship between the warranty expense rates of the top customer-facing brands and their suppliers. In the March 30 newsletter, we looked at the automotive industry. In the April 13 newsletter, we looked at the aerospace industry. And then in the April 20 newsletter, we looked at the electronics industry.
In each case, we found that the top customer-facing brands had higher average warranty expense rates than their suppliers. But we also found that within the supplier category, there were sub-groups whose expense rates were closer to the "OEMs" expense rates than to those of the other suppliers. In the automotive space, they were the powertrain manufacturers -- engines and transmissions. In aerospace, it was the makers of jet engines and avionics. And in the electronics space, the companies making disk drives and data storage systems had higher expense rates than those making circuit boards and semiconductors.
In the building trades, the pattern is less clear. Of the three industries we're examining this week, the appliance and HVAC manufacturers have higher warranty expense rates than either the homebuilders or the building material manufacturers. This may be due to the fact that they're both OEMs and suppliers, selling their brand-name products to end users through retail channels as well as selling them under contract to the builders, who include them in their new units.
So in this case, they're somewhat like the "powertrain" suppliers, but instead of engines and transmissions, they're selling heating, cooling, cleaning, and cooking systems. And their warranty expense rates average somewhere between 1.0% and 1.5% of their product revenue, as can be seen in Figure 4 below.
Figure 4
Home Appliance & HVAC Manufacturers
Average Warranty Claims & Accrual Rates
(as a % of product sales, 2003-2016)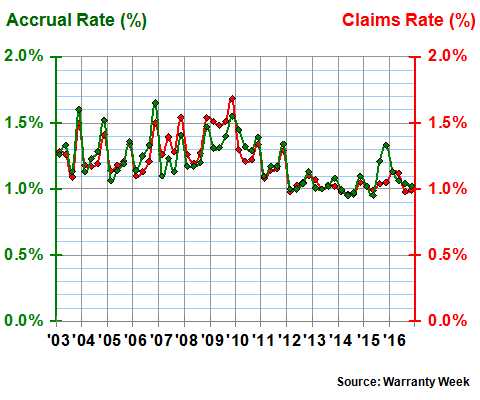 The industry average was closer to 1.5% from 2003 until 2010, and was closer to 1.0% from 2011 to 2014. In 2015, Whirlpool helped drive the accrual rate back up to 1.3%, but it's fallen back since. Whirlpool's accrual rate stood at 3.6% at the end of 2015, but was down to 2.1% by the end of 2016.
Other big decreases were reported by A.O. Smith, Helen of Troy Ltd., and Middleby Corp. It helps that both A.O. Smith and Middleby also reported sales gains, but sales were down slightly for Helen of Troy, which makes housewares and personal care appliances.
New Home Builders
For the homebuilders, warranty expense rates have generally remained below 1.0%, except for those lean years between 2007 and 2012. And while they had their problems with mold, leaks, and smelly drywall during that period, the elevated expense rates had more to do with low sales than high costs. That's why, in Figure 5, the claims rate rose while the accrual rate didn't. If there are no sales, there's no need for accruals. But even when current-year sales fall, claims have to be paid for past-year sales.
Figure 5
New Home Builders
Average Warranty Claims & Accrual Rates
(as a % of product sales, 2003-2016)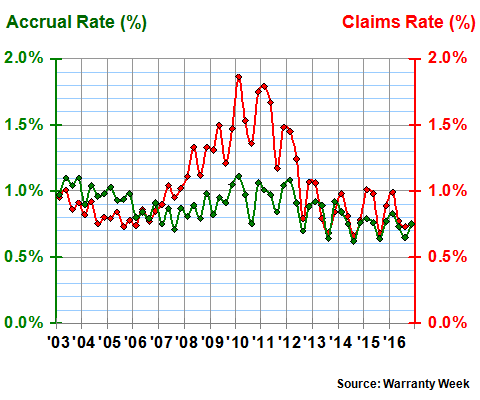 In the past year, Hovnanian saw its claims rate fall significantly, while PulteGroup, Taylor Morrison Home, and NVR saw more modest decreases. All saw double-digit sales gains. At the other extreme, Lennar, Toll Brothers, and M/I Homes saw modest increases in their claims rates, while Beazer Homes saw its claims rate rise from a worrisome 3.6% to a painful 4.4%. Still, the company kept its accrual rate at a steady 0.8%.
Among the dozen largest builders, in fact, accrual rates changed hardy at all. The exceptions were Cavco Industries, which raised its accrual rate from 2.7% to 3.0%, and Hovnanian, which cut its accrual rate from 1.6% to 1.3%. But since sales are rising so quickly for most of them, even if the percentage rates remain the same, the total dollars accrued will rise, as was seen in Figure 2.
Fixtures and Furniture
Finally, we have the building material manufacturers. Sales were actually down by about two percent in 2016, but warranty expense rates remained about the same, close to their 0.7% long-term average.
With expense rates so low, it's hard to see movements of more than a tenth of a percentage point from one year to the next. Still, Masco, HNI, Tempur Sealy, and Pentair saw increases of that magnitude, while Mohawk Industries, Fortune Brands, La-Z-Boy, and Herman Miller saw decreases of that size or better.
Figure 6
Building Material Manufacturers
Average Warranty Claims & Accrual Rates
(as a % of product sales, 2003-2016)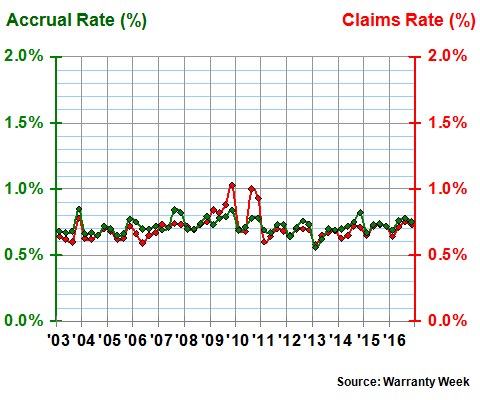 We purposefully drew each chart to the same scale, so readers can see the natural ranges of expense rates in each of the industries. It's clear that appliances/HVAC systems have the highest expense rates, while building materials have the lowest expense rates. And the homebuilders are somewhere in between.
This does not follow the pattern seen in other industries. In automotive and electronics, the suppliers are always lower, and the major component suppliers are always in the middle. Here, the major component suppliers are at the top, and the "OEMs," in this case the builders, are in the middle.
New Construction vs. Replacement Sales
We think that has to do primarily with the dual role the HVAC and appliance makers play. Yes, they supply their products to the builders of new homes, but they are primarily OEMs who sell replacement units to the owners of existing homes through retailers such as Home Depot, Sears, Best Buy, and Lowe's. And they also sell to commercial buildings, and to multi-family homes. We don't have precise breakdowns, but we think the existing home sales market and the sale of replacement units for them is much larger than the contract sales channel is for new construction.
In other words, in terms of warranty and their position within the supply chain, the HVAC and appliance makers are more like GM and Ford, or Apple and HP, than they are like Cummins or Seagate Technology. Meanwhile, the new home builders are more like middlemen, managing their contractors and subcontractors, and finding it much easier to pass their warranty expenses onwards to them. Some of their warranty claims are even reimbursed by insurance companies.