May 11, 2017
Warranty Analytics:
One is an online service. The other is a suite of Salesforce components. Both are attempts by warranty management companies to package their vast expertise into easy-to-use and low-cost warranty analytics capabilities.
Warranty analytics are going mainstream, becoming more available through low-cost and easy-to-use options. And the trend is being led by After Inc. and Tavant Technologies Inc., two longtime sponsors of this newsletter.
After Inc. is rolling out its Warranty Analytics Reporting Portal (WARP), a basic report generating service aimed at warranty managers who would like to timeshare the experts along with the software, paying a monthly fee that's less than half as expensive as hiring a junior analyst. Tavant is introducing its Tavant Manufacturing Analytics Platform (TMAP), an add-on to its Warranty On-Demand claims management solution that also integrates with the wares of Salesforce.com Inc.
It's not the first time companies have pushed warranty analytics, but these are among the first attempts to make it affordable and useful to people that don't have millions to spend on warranty management. Mathematicians and actuaries will continue to be needed by the largest warranty providers, but the middle market can now consider purchasing analytics-as-a-service or analytics-as-a-component instead.
With WARP, clients use file transfers to periodically upload their latest warranty data to After Inc. After's data analytics experts then clean up the data, generate the requested standard reports, and post the resulting charts on a secure website where the client can log in to view, print, or download them. They can also change the scales, or modify the variables to be included.
Packaging Expertise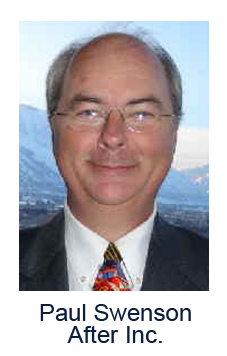 Paul Swenson, After's executive vice president of business development, said the company decided it needed to essentially package up its warranty and service contract expertise into a subscription service to give customers a low-cost opportunity to make sense of their data. That way, he said, they can begin to connect the dots, gain some insights, and decide if they need to go deeper into the world of warranty analytics.
"We've been working on this for several years, doing warranty analytics for a number of OEMs and retailers. One of the things we found sorely lacking in almost all our relationships was creative reporting. Most everybody was using a reporting package that was often-times hard-coded. They've been looking at the same data over and over again, really not having the ability to peel back the layers, and find the nuggets of gold," he said.
"We found a nice niche," Swenson added, "where they might not need the heavy-duty analytics as much as they needed some creative reporting, and we can act as an extension of their team and provide ad hoc analytic hours to help them identify specific problems or opportunities."
Swenson also noted that it's priced affordably to give clients a fast return on investment, especially through time savings. "We find that our warranty managers in a lot of cases are spending hours each month generating charts that they need for their periodic reports that go on up the food chain. We automate a lot of those reports so that they can just print them out, so they can go off and do things that are more productive."
Low-Cost Predictive Analytics
Dan Hulkower, After's senior vice president of business development, said some companies don't have even a basic reporting package in place. Instead, they're using spreadsheets, which work fine -- to a point. And they're now reaching that point. "They're not ready to make that investment into doing the full predictive analytics, but they know they need a better reporting package. And this is a low-cost way to do it," he said.
Normally, part of the investment would need to be in the form of hiring someone to run the reporting package. But this offer avoids that hurdle, according to Nathan Baldwin, After's executive vice president and general manager, by building into the package not only the analytical expertise needed to run it, but also the warranty expertise needed to make sense of the results. "This set of reports that we've created comes out of the best of our thinking, and all the experiences we've had in warranty," he said.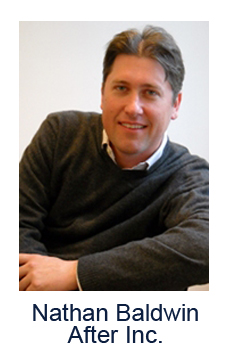 "If you're going to buy any of these other software packages that are out there, you need an expert to run it," Baldwin added. "And that expert should have some background in warranty. It's a very unique business. It has very unique metrics that allow you to dig into why things are failing, or the financial side of why you should reserve they way you do."
A century ago, cars were hard for the average person to drive. They had to be hand-cranked to start, and gears were manually shifted. And protection from the weather wasn't exactly cutting-edge. Then came electric starters, automatic transmissions, heaters and air conditioning. But Baldwin said this analytics-as-a-service approach goes a step further. It's as if After has developed the car and is now willing to rent it out by the day.
Like the car company that advertises "drivers needed," now the company is looking for companies that need to hire a vehicle to take them from here to there. It's not a report generation service. It's the packaging of years of expertise as a service, where reports are the desired output.
"The reporting is really the last step," Baldwin said. First you have to organize your data. Next you have to decide upon the fields to be examined, and how to define the data dictionary. Then you have to decide upon the layout of the results. He said After can help its clients do this, by explaining what has worked for other clients, and how they formatted their data so that their reports were as accurate as possible. With WARP, all that is built into the service.
"We're not asking for unusual types of data," Hulkower said. "However deep they can give us is however good the reporting will be. But there are going to be certain required data fields, that are basic to all warranty analysis, in order for the package to be useful."
"This is not canned software," Swenson added. "We looked at all the available packages, and they don't work, because software will never know what the data won't confess. Instead of canned software algorithms, we have several master and PhD level mathematicians who develop client specific models for frequency and severity forecasts at the deepest levels the data will support. These forecasts have proven to be extremely accurate in every sector we deal, and our clients book directly to our forecasts due to the ongoing accuracy, and this work is the very foundation of program optimization and method improvements."
Half A Single Salary
Baldwin said the WARP service is designed to cost less than half the salary of a single junior analyst. And it's meant to compete with analytics companies selling software licenses that can cost many multiples more, not to mention the salary of the expert staff needed to use it.
"They have complicated it to a point that's very expensive," he said. "And they sell into IT -- not into the business departments. IT departments are used to spending that kind of cash on things like that. But I would say they're not getting the benefit for the dollars they're spending."
WARP clients will pay a monthly subscription fee of approximately $2,500 per month, with no implementation fee, and with a minimum subscription commitment of one year. That fee will pay for up to 25 users logging in to view, print, and download the available reports. It's aimed at warranty managers, quality control staff, accounting, finance, and engineering.
Dan Adelsberg, After's group director of analytics, explained how clients can look through the reports, drilling down for details based on part numbers, geography, time in use, month of sale, and numerous other parameters. Clients can measure both the frequency of claims and the average cost per claim, and claims costs can be further broken down into labor, parts, and other causes.
He demonstrated how reports could be generated to predict claims cost per unit on a product sold with a six-month warranty and a five-year service contract, and how the performance of products manufactured this year can be compared to the output of past years.
Figure 1
Warranty Analytics Reporting Package
Product Claims Report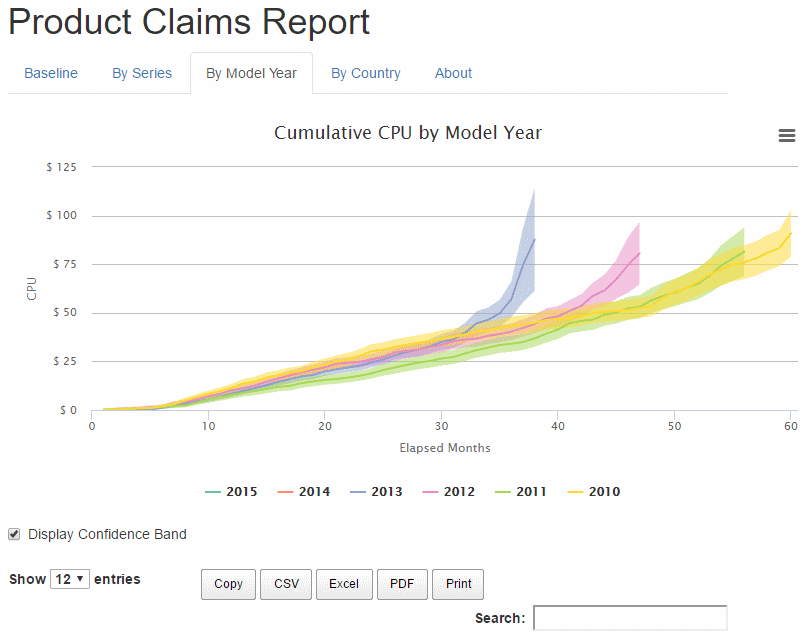 Source: After Inc.
As the projections get further and further into the future, the shaded areas around the lines grow a little wider, reflecting more uncertainty about the predictions.
"These curves are done with what's called a non-parametric statistical model," he said. "So that's a good choice for these kinds of things, because these types of models make no assumptions about the distributions of the claims. So it's often a good starting point for further analysis."
All the reports can be downloaded and exported, Adelsberg added. "Different reports have different purposes," he said. "And we've thought about all the different ways that people will look at data."
Standard & Custom Reports
For that reason, there are a series of standard reports included in the service, based on what clients most frequently request. Some will be used by engineering, telling them which parts fail most often. Others will be used by sales, telling them how many service contracts were sold at what price. Another is aimed at finance, telling them how long the reserves will last in a program that's been put into runoff.
Standard reports in the service include titles such as Unit Sales, which tracks by product or division; Pareto Chart, which tracks failures by component and causal part; Dealer Penetration, which measures service contract attach rates; Paid Claims, which tracks both frequency and severity; Product Claims, which estimates cost per unit; Contract Sales, which takes a deeper dive into service contract sales metrics; and Warranty Heat Map, which tracks product failures by date of manufacture and by date of failure.
Figure 2
Warranty Analytics Reporting Package
Warranty Claims Heat Map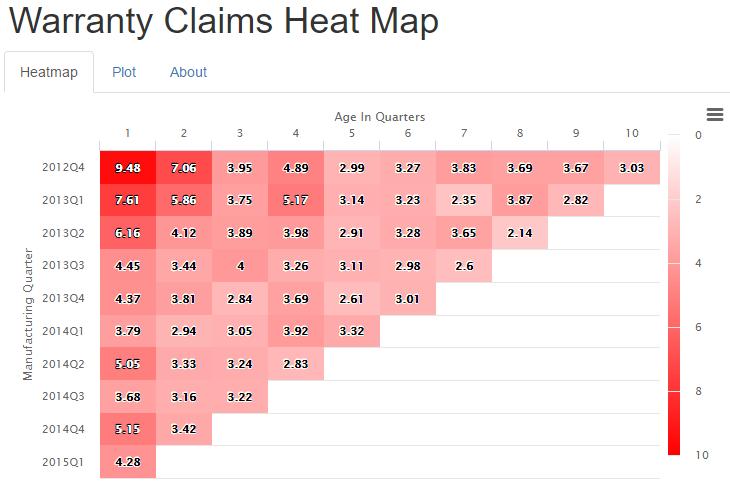 Source: After Inc.
"Some people call this a Nevada chart," Adelsberg said, "because it's in the shape of Nevada." What it tells the client is when a product was manufactured and how old it was when it failed. The brighter the color, the more failures per thousand units manufactured. In this example, the report shows that failure rates in general are highest during the first quarter the units are put into service, but the most failure-prone units of all were the first ones manufactured, in the last quarter of 2012.
If those standard report formats don't quite fit the client's need, they can be customized and modified as required. Data points can be added or removed, time periods can be changed, and the track record of different products or differently-configured products can be compared.
And then there are a series of sample custom reports, including a Runoff Report, which measures the predicted future liability on active contracts; Dealer Claims, which estimates the claim frequency at the dealer level; Dealer Scorecard, which compares a given dealer to regional and national averages; Warranty Work Plots, which counts the top part failures by product, model, build date, or serial number range; Campaign Response, which tracks missed point-of-sale marketing results; and a Dealer Claim Submission Scorecard, which tracks claims submissions and settlements per dealer.
"We've lowered the barrier of entry for lots of people," Baldwin said. "If you need more, it's all available to you. But it lets you play. Time and again we've been asked to find ways to lower the barrier to entry. We think WARP is the answer to a major part of the market that simply needs a straightforward way to measure and provide insights on their warranty programs. It's a tool that any size company can use to analyze and optimize their warranty programs. And once you have clear insight into your warranty business, After's other products and services are available to you."
Tavant's Analytics Components
Meanwhile, Tavant Technologies continues to add to the number of components available in its warranty management software suite, which runs on top of the Salesforce.com cloud computing platform. The Tavant Manufacturing Analytics Platform (TMAP) helps clients find hidden meanings in their warranty data, and the Tavant Product Registration (TPR) package helps warranty managers process and move warranty registration data into customer service and marketing applications.
Bighneswar Sabat, Tavant's senior manager of marketing, said TMAP was developed because some of its Tavant Warranty On-Demand customers were asking for built-in analytics. And in keeping with that solution's modular approach, the company developed an add-on module called the Tavant Manufacturing Analytics Platform, which like Warranty On-Demand, works on the Salesforce App Cloud.
"Customers were interested in understanding what we were doing on the analytics side, which will help them with the product they already have, to get a return on investment on the warranty side," he said. "They wanted a one-stop shop, where they could take Tavant Warranty On-Demand, and they could add the TMAP application on top of it, so they can have both warranty management and analytics together."
Sabat said that because it's using the Salesforce platform and is Lightning compatible, the analytical tools are very user-friendly. There are tools for warranty analytics, fraud detection, early warning, failure rate analysis, compliance reports, warranty reserve optimization, and numerous other tasks and categories, and they're all tied into the Force.com platform.
Figure 3
Tavant Manufacturing Analytics Platform
Source: Tavant Technologies
"The user interface will be pretty similar to what we have in Salesforce," he said. And the components can be added as needed, so a client can first add warranty analysis and later add fraud detection or early warning. "It's pretty similar to what you see in a Salesforce Lightning graphical user interface."
Sabat said the essential characteristic of TMAP is how it takes in existing warranty data as its input and then produces actionable output. "It tells you that these are the things that you should be doing, and these are the things you shouldn't be doing," he said. "In layman's language, it predicts and analyzes, and tells you what you need to do in the future."
TMAP also reduces cost and speeds up decision-making, Sabat added. "Warranty backlog will be a thing of the past," he said. There's also a component that can help a company determine if there are excess funds in the warranty reserve, or if additional funds need to be added to correct for past under-accruals, thus either boosting earnings by freeing up idle funds or preventing a negative earnings surprise in the future when reserves come up short.
"And then on the quality side, it gives you early warning. And it has all the industry-standard quality metrics, and failure rate analysis. It also has social listening skills, where it captures all the social media chit-chat on your particular product, if there is anything that is causing a huge uproar," Sabat said.
TMAP Pricing
Rohit Lohan, Tavant's product manager for service operations, said TMAP will be priced based upon the amount of data it uses, the number of components that are being used, and the number of users. "There will be a price for the base platform that's driven primarily by how much data they are looking to move into the platform," he said. "And on top of that, all of these components will have a price of their own. The default price, based on the amount of data, will come with a set number of user licenses. If the number of users goes beyond that limit, then there might be an additional charge."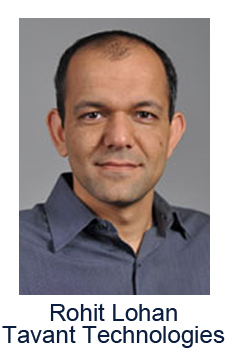 Lohan said this will make the analytics package affordable for both light and heavy usage. Customers that want to use just one component, such as perhaps the fraud detection, can do so, while others can buy multiple components and licenses for multiple users.
"It becomes a very reasonable price for somebody to start using the platform," he said. "Then, as they start growing in, and they have a good understanding of their data, they can buy other components and start using them. The key is to have the flexibility, so that we can come up with a price that works for our customers based on how much and what they will use on the platform."
As with After Inc.'s WARP, Tavant set out to package its expertise into a product customers could buy in small increments. Tavant has been working with manufacturers such as Ingersoll-Rand plc, Doosan Corp., Hussmann Corp., and TransCore to make their warranty management processes more efficient, not only by lowering the cost of transaction processing, but also by increasing the value of the resulting warranty data. TMAP helps customers interpret and explain what that data is telling them.
"The whole domain expertise we have developed over the years is built into it," Lohan said. Yet it's modular as well, so the client can decide which components they need now, and which they might want to add later. But they don't need to learn how to use everything before beginning to use something. "I don't want to sell you a big, expensive package, and you might use only 5% of it," he said. "I want to give you the user the flexibility to decide what parts of the analytics platform they want to use, then they can scale it up from there."
Tavant Product Registration
TPR is a package that helps a manufacturer process and organize its warranty registration data, so it can become more useful to the warranty department as well as to sales and marketing. Registrations can be completed by the customer on a website, using a mobile app, using social media plug-ins, or through text messaging. And then TPR sorts it into a useable format.
"The solution that we are providing is omnichannel, so it reduces the need for the traditional paper-based method," Sabat said. "So it provides multiple ways for registering the product to make it more convenient to buyers of all ages, making life easier for them."
Sabat said the customer can also use a downloadable Android or iPhone mobile app to scan a bar code or a QR code on the product, and thereby avoid having to fill in many of the details they would otherwise have to enter on a web page. Returning customers also need not re-enter their personal information, which remains stored in the mobile app. And the accuracy of the details about the person and the product being registered will help make any follow-up communications from the manufacturer all the more relevant.
With the social media plug-in, Tavant continues to emphasize an effort to help its clients use the online community-building aspects of social media to connect manufacturers with both end user customers and with dealers and retailers. And that, in turn, will help manufacturers reward their most loyal customers, by helping them first figure out who owns what, which sounds simple but becomes very complicated when dealers, retailers, and other middlemen are involved in the sales process.
On the back end, Tavant Product Registration makes use of predictive analytics to determine which customers should be offered discounts, promotions, coupons, and other incentives. For instance, Sabat said, a manufacturer could decide that a customer who owns multiple devices deserves an additional year of free coverage on a service contract they purchased.
"Tavant Product Registration can give you that kind of data, which will help you reward customers that have been coming back to your company again and again," Sabat said. "It's a good way to cross-sell and upsell as well."
Sabat said the mobile app can also be used to send follow-up questionnaires to customers, or to solicit specific comments and feedback on a particular topic. That information, in turn, can be used to help a manufacturer determine what attributes of the product need improvements, upgrades, or redesigns.
Lohan said TPR will be priced based on the number of internal users, with an upper monthly limit on the number of registrations and public connections they can process, he said. "There will be internal people who will be leveraging the platform to analyze the customer data coming in, who will be setting up their warranty promotions, managing their email templates -- all those things they can manage from the platform. When we say product registration, one part of it is capturing the data about the customer and about the product they are purchasing. But the second part of it is how you are using the data and how you are managing the application. So you will OEM users who will need access to the application."
Lohan also noted that TPR uses the Salesforce Cloud and Microsoft Azure as its hosting platform. The benefit of this, he said, is that this component will therefore be compatible with other Salesforce applications such as customer service and marketing. "We solve the puzzle of getting the customer data to them, and then they can use the products and functionality that's present in Salesforce.com to take it to the next level," he said.
Warranty Webinars
Last week, Lohan joined Roshan Pinto, Tavant's senior director for service operations, in a webinar intended to demonstrate the capabilities of Tavant Warranty On-Demand. Replays of the recording are available by clicking here.
Lohan said it was the first in a series of webinars the company intends to host over the next couple of months, he said. Future topics will include supplier recovery; how to use fraud scores to speed up claims processing; how to automate recall campaign management; and how to engage your channel partners in online communities rather than merely running an online portal for claims submission.
"It's a series where we started with an overview, then we are going to add targeted and specific use cases focusing on different problems that people try to solve with warranty management systems," Lohan said. The next webinar in the series is expected to take place in early June, he said.