June 29, 2017
Asian Automotive Warranty Report:
Honda had a bad year in 2016, and this year it was Toyota's turn to report dramatic increases in recall costs. They used to have the lowest automotive warranty costs in the world but now that title belongs to Hyundai, which has yet to see the impact of defective air bags or other rampant problems.
This week we're taking a closer look at the warranty expenses of four of the top automotive OEMs based in Asia. Toyota Motor Corp., which also owns Lexus, and Honda Motor Co. Ltd., which also owns Acura, are based in Japan. Hyundai Motor Co., which also owns about a third of Kia Motor Corp., is based in South Korea. And Tata Motors Ltd., which also owns the Jaguar and Land Rover nameplates, is based in India.
Toyota and Honda filed their annual reports with the U.S. Securities and Exchange Commission last week. Most of the American automakers filed their annual reports in February. Most of the European automakers filed their annual reports in March. And we took a look at those companies in the April 6 newsletter. The only one we're still waiting on at this point is Tata, which probably won't publish its latest annual report for at least another month.
From the annual reports of these manufacturers, we gathered four essential metrics: the amount of claims paid per year, the amount of accruals made per year, the number of vehicles sold worldwide each year, and their annual automotive sales revenue. By dividing the latter two metrics into the first two, we created three additional ratios: the claims rate (as a percent of sales), the accrual rate (as a percent of sales), and the amount of accruals made per vehicle sold.
Missing Several Asian OEMs
As far as we know, no other Asian car manufacturers report their warranty expenses publicly. So we have no warranty data at all from Changan Automobile Group Co. Ltd.; Mazda Motor Corp.; Nissan Motor Co. Ltd.; Renault SA; SAIC Motor Corp. Ltd.; Suzuki Motor Corp.; or Zhejiang Geely Holding Group Co. Ltd. In next week's newsletter, we will attempt to construct estimates for each, based on their vehicle production and revenue data. But what we're dealing with this week are cold, hard numbers.
In the most recent year, all four of the warranty-reporting OEMs saw their claims rate rise, while three of the four also raised their accrual rates. Honda, the sole exception, raised its accrual rate dramatically a year ago (see Warranty Week, July 7, 2016), and so it was able to reduce its accrual rate this year.
Please note that both Toyota and Honda run on a fiscal year that begins on April 1 and ends on the following March 31. That's why their annual reports don't come out until June. Therefore, in the charts below, the figures quoted for 2017 are for the fiscal year that ended three months ago on March 31, 2017, which of course included the last nine months of calendar year 2016.
For Toyota and Honda this week, we're going to keep all the expenses denominated in Japanese yen. We'll convert them all into U.S. dollars in a future newsletter, so we can combine them with the reports of the European and American OEMs we covered in April.
The yen-to-dollar exchange rate has fluctuated from 82 to 120 yen to the dollar over the past 15 years, so that in and of itself has an impact on the changing cost of warranty work done on Toyota and Honda vehicles sold in the U.S. But we'll get to that in another newsletter. This week, let's keep it simple.
Claims Payments per Year
In Figure 1, we're tracking the annual claims payments reported by Toyota and Honda. In the fiscal year ended March 31, 2017, Toyota paid 605 billion yen while Honda paid 341 billion yen. For both companies, it was their highest annual claims cost of at least the last 15 years, if not ever.
Figure 1
Honda & Toyota
Warranty Claims Paid, 2003-2017
(in billions of yen per year)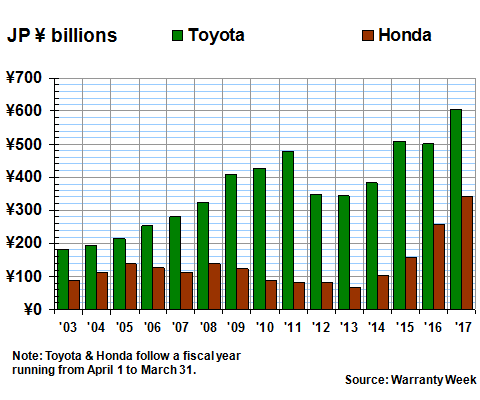 Of course, both Toyota and Honda have also seen their revenue rise over the past 15 years, although from fiscal 2016 to fiscal 2017 both companies did see slight declines in both their automotive and total revenue. And that impacts the claims rate immediately. The size of the expense rises, the sales revenue that finances it contracts, and the percentage rate comparison between them rises dramatically.
And that's what we can see in Figure 2, which takes the claims expense of Figure 1 and divides it by reported automotive revenue totals. For Toyota, it's not as bad as it was with the unintended acceleration and floor mat crises of fiscal 2010 and 2011, but for Honda it's the highest claims rate of at least the past 15 years.
Figure 2
Honda & Toyota
Warranty Claims Rates, 2003-2017
(as a % of product sales)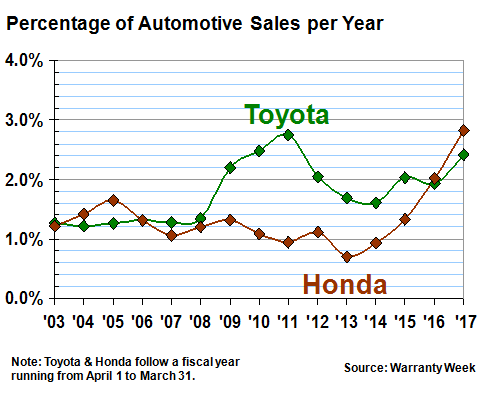 Toyota's claims rate came in at 2.4% last year, its highest since the 2.7% of fiscal 2011. Honda's claims rate came in at 2.8%, which was up dramatically from previous years. That was likely due to the problem the company has had with defective air bags.
Costly Recalls
Toyota announced its recall of vehicles affected by what it called "an unsecured or incompatible driver's floor mat" in November 2009 and then widened the recall to include "a potential accelerator pedal issue" in January 2010. Both of those events happened within fiscal year 2010, in which Toyota's claims rate was 2.5%. Warranty Week first reported upon the cost of the recalls in a June 30, 2011 newsletter, after fiscal 2011 results were announced.
With the air bag recalls, the scope of the problem began to become clear in the early days of fiscal year 2014. In April 2013, Honda and several other OEM customers of Takata Corp. began issuing air bag recalls. And then throughout 2014 several more OEMs began issuing recalls as well. Takata announced a NHTSA defect investigation in June 2014, and Honda announced a voluntary consumer information advertising campaign in March 2015.
By May 2015, the recall had grown to become "the largest auto recall in U.S. history". In November 2015, the Department of Transportation's National Highway Traffic Safety Administration issued a $200 million fine against Takata, and required Honda and 11 other manufacturers to speed up the recalls. This week, Takata filed for bankruptcy protection in the U.S. and Japan.
Warranty Accruals per Year
At least the companies knew it was coming, and had time to prepare for it. In Figure 3, you can see how Toyota amped up its accruals in 2009-2011, in advance of rising claims, and how Honda did so in fiscal 2016, and how Toyota did so again last year. When they can reasonably foresee that claims cost will rise, they increase their accruals in advance.
In Figure 3, we can see that Honda's 2016 accruals were their highest ever, which precisely anticipates their highest-ever claims cost by one year. For Toyota, we're not sure why they set aside 919 billion yen last year. However, it was their highest-ever total, as can be seen in Figure 3.
Figure 3
Honda & Toyota
Warranty Accruals Made, 2003-2017
(in billions of yen per year)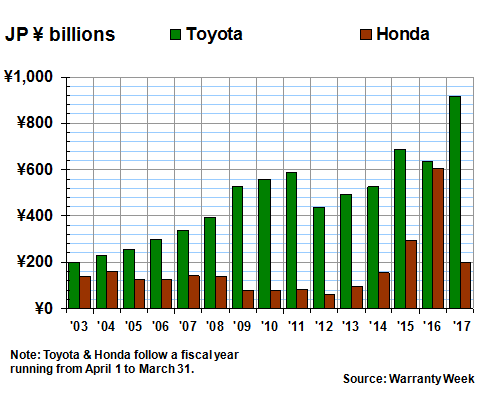 Again, on its own, the amount of the expense doesn't explain much. Rising sales cause rising accruals. So do acquisitions and new product introductions. Accruals have to be compared to product revenue to see if there have been changes in the predicted cost or frequency of warranty repairs. For if there have been no changes in reliability, and there's been no introduction of a particularly warranty-intense new product line, the accrual rate should remain steady from one year to the next.
What's Causing the Record Accrual Rates?
There have definitely been changes in the predicted cost of warranty over the past 15 years, as can be seen in Figure 4. And in this case, the changes map to rising recall expenses. You can clearly see the effect the air bag crisis is having on Honda, and you can spot the precise timing of the floor mat/acceleration problem for Toyota. The still unanswered question is what caused Toyota to raise its accrual rate to its highest level ever? Is this Toyota's response to the cost of replacing the Takata airbags? Or is it something else?
Toyota's annual report was largely silent on the reason behind the sudden increase in accruals. However, the 919 billion yen is listed as a "provision for quality assurances," which Toyota said includes product warranties, recalls, and other safety measures. And then in a separate section, the annual report states that the bill for recalls and other safety measures was 794 billion yen. In other words, Toyota accrued only 125 billion yen for product warranties, while the rest was for recalls. So maybe it is the airbag problem?
Either way, whatever the cause, Figure 4 shows that Honda raised its accrual rate to its highest-ever level in fiscal 2016, while Toyota raised its accrual rate to its highest-ever level in 2017. Neither of these data points are very good news.
Figure 4
Honda & Toyota
Warranty Accrual Rates, 2003-2017
(as a % of product sales)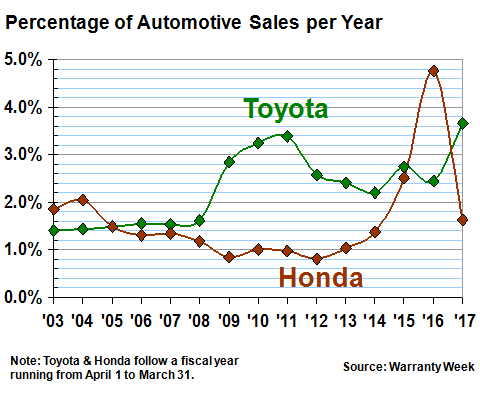 With passenger car, motorcycle, and light truck manufacturers such as Toyota and Honda, it's also possible to measure accruals made per vehicle sold, although their product lines are sometimes not that simple to evaluate. For instance, Honda also has a thriving business in generators and boat engines. Toyota has interests in aerospace, robotics, and has even developed a new type of sewing machine.
But let's set those aside for a moment, and acknowledge that sedans represent upwards of 80% of Honda's revenue, and that automotive products represent upwards of 90% of Toyota's total revenue. So although a comparison of accruals made and cars sold is not a precise measurement, it's close enough to be relevant.
Again, we're keeping this in the native currency, so the results aren't skewed by the relative strength of the yen or the dollar. We'll do that in next week's newsletter, when we add in the euro-dollar and other exchange rates.
Accruals Made per Vehicle Sold
In Figure 5, it's clear that Toyota set a record in fiscal 2017 for the highest amount of accruals made per vehicle, while Honda set its own record in fiscal 2016. From fiscal 2003 to fiscal 2008, their accruals per vehicle were always below 50,000 yen. And then while Toyota went up, Honda went down. Now they're both at the high end.
Figure 5
Honda & Toyota
Warranty Accruals per Vehicle, 2003-2016
(yen per vehicle per year)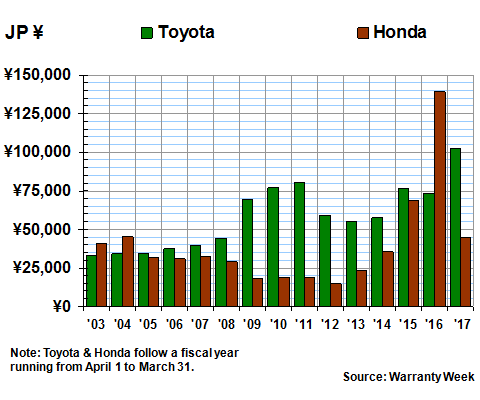 For those who can't take the suspense, the U.S. dollar equivalents for Toyota's 2017 accruals per vehicle is US$920, while the dollar equivalent of Honda's 2016 accruals per vehicle is US$1,327. However, Honda got its accrual rate back down to US$402 per vehicle this year, which is still elevated, but not unsustainable.
Tata and Hyundai
Like Toyota and Honda, Tata also runs on a fiscal year ending on March 31. However, its annual reports aren't published until late July or early August. So we won't have any new warranty data from them for at least another month. Meanwhile, Hyundai's fiscal year follows the calendar year.
Therefore, in the charts below, the data in the 2016 column means different things for each company. For Tata, it represents the fiscal year ended March 31, 2016. For Hyundai, it represents the calendar year ended December 31, 2016. In other words, there's a gap of nine months between them.
Figure 6 makes it look like Tata underwent its own crisis in fiscal 2009, but it was only an acquisition. In calendar 2008, but in fiscal 2009, Tata acquired Jaguar Land Rover from the Ford Motor Company, thereby acquiring for itself something on the order of US$450 million in additional annual warranty costs. And that helped raise its claims rate from 0.7% in fiscal 2008 to 3.6% in fiscal 2009.
Figure 6
Tata & Hyundai
Warranty Claims Rates, 2003-2016
(as a % of product sales)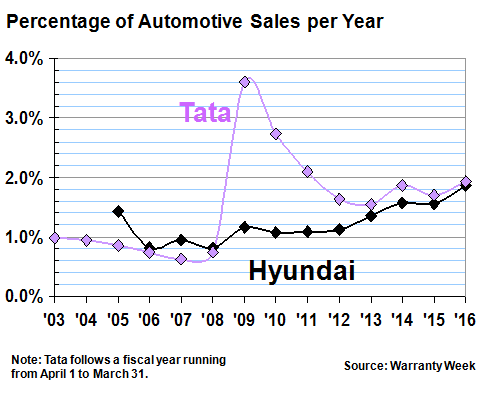 The good news is that since then, Tata has managed to reduce and then stabilize its claims cost, keeping its claims rate under two percent for the last five fiscal years. Of course, we haven't yet heard what the rate was for the most recent fiscal year, so this may or may not still be true.
Still Below Two Percent
For Hyundai, meanwhile, claims cost as a share of revenue has been gently rising for most of the last decade, but has yet to surpass that two percent mark. We wish we could see Hyundai's warranty expense data going back to the days before it introduced the 10-year powertrain warranty in the U.S., but the company did not begin reporting until 2005.
The pattern is similar with accrual rates, which are calculated in Figure 7. In fiscal 2009, Tata's accrual rate rose to 3.4%, after remaining below one percent for four years previously. It was the addition of Jaguar Land Rover to the product line, resulting in a "new normal" accrual rate that has remained close to 2.3% for the seven years since.
Figure 7
Tata & Hyundai
Warranty Accrual Rates, 2003-2016
(as a % of product sales)
There is one mildly concerning aspect of the data in Figures 6 and 7. Although they're nothing to worry about, both companies reported claims and accrual rates that rose modestly. And this means that of the four companies and 12 rates we are measuring this week, all but three increased.
Mostly Increasing Expense Rates
Because we are dealing with both the Indian rupee and the Korean won, we're not going to detail the exact size of the expenses in their native currencies. But that foreign exchange transaction is one of the reasons that we have three annual rate decreases rather than only two among the 12 we're detailing in this newsletter.
The first decrease was of course Honda's accrual rate as a percentage of sales, which fell from 4.8% to 1.6% from fiscal 2016 to fiscal 2017. The second was Honda's accrual rate per vehicle, which we covered in Figure 5. The third metric to decline was Tata's accrual rate per vehicle in U.S. dollars, which we've charted in Figure 8.
Figure 8
Tata & Hyundai
Warranty Accruals per Vehicle, 2003-2016
(in US$ per vehicle per year)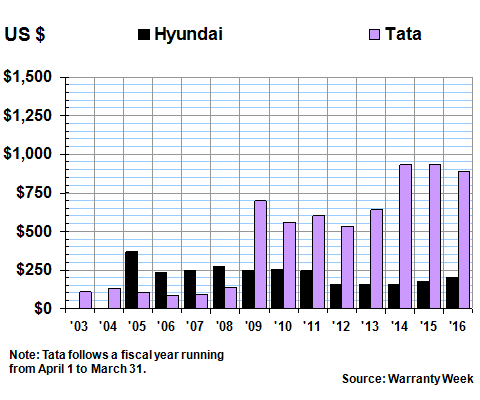 For Tata, in the year ended March 31, 2016, accruals rose by about 7%. Unit sales also rose by about 7%. However, the exchange rate of the Indian rupee versus the U.S. dollar fell by enough to bring about a slight decline in the accruals-per-vehicle-in-dollars calculation. In fiscal 2015, Tata accrued US$937 per vehicle sold. In fiscal 2016, it accrued US$886 per vehicle sold.
Exchange Rates Affect Warranty Expenses
And that's why we try not to convert international warranty expenses into dollars unless it's really necessary. The dollar-yen exchange rate has ranged from 82 to 120 just in the 15 years for which we have warranty data. The dollar-Korean won exchange rate went from 938 to 1,258 won in just one year. The dollar-rupee exchange rate has ranged from 40 to 66 rupees since 2003.
In other words, what we're measuring in Figure 8 could be impacted more by the recent relative strength of the dollar than by any real changes in warranty expenses. But of course, for global automotive OEMs, this does impact their warranty expenses, because those claims are paid in the local currencies of the countries where the vehicles are sold.
So if they sell a vehicle in the U.S., and the strength of the dollar soars for the next few years, the resulting warranty work will be more expensive to their parent companies back in Asia than originally predicted, even if there's no change in the frequency of repairs. We'll have more on this next week, when we revisit the warranty costs of the European and American OEMs and take a closer look at global warranty costs.