August 17, 2017
Construction Equipment Warranties:
While most of the top industry players are diverse manufacturers of a wide variety of products, some make little besides construction and mining equipment. And these "pure plays" can provide us with clues about the typical warranty expenses of those manufacturers that don't include any details about their claims and accruals in their financial statements.
In an effort to continue to leverage all the data that large global manufacturers publish about their warranty expenses, so that we can figure out what the worldwide industry totals might look like, we present a brief analysis of the warranty-reporting portion of the top ten list of construction equipment manufacturers.
The online magazine International Construction ranks the world's 50 largest construction equipment manufacturers each year, and sells the results online in a publication called the IC Yellow Table (a reference to the yellow paint covering many construction vehicles, which is why the products are frequently referred to as "yellow goods"). The latest edition of the Yellow Table, published in April, pegs the worldwide construction equipment revenue of the top 50 manufacturers at US$128.7 billion in 2016, a 3.2% decline from 2015 levels.
After looking over the Yellow Table list, we estimate that roughly 70% of the world's construction equipment is sold by a warranty-reporting company. The remaining 30% is sold by privately-owned companies, government-owned companies, or others that have no duty to report their warranty expenses to investors.
Based on this estimate, we believe the world's construction equipment industry generates somewhere close to $2 billion worth of warranty expenses per year, give or take. We can document about $1.4 to $1.5 billion of that total, and we can then guess the size of the portion that we can't see.
However, before we put more flesh onto that skeletal image of the industry's warranty costs, we should first detail the expense reports of some of the top industry players. Only half the top 50 companies on the list report their warranty expenses. Fortunately, however, most of the larger companies do report. In fact, among of the Yellow Table's top 10 companies, seven do indeed report their warranty expenses. Three are American companies; two are Japanese; and two are Swedish. Let's take a brief look at each of them.
Caterpillar
By any measure, Caterpillar Inc. is the world's largest manufacturer of construction machinery and mining equipment. The Yellow Table assigns them a 16.6% market share, meaning that the publication believes about 60% of Caterpillar's product revenue is derived from sales of construction machinery and mining equipment, while about 40% must be derived from sales of engines and turbines bound for the oil and gas, power generation, marine, and rail industries, which it does not count.
Caterpillar itself states that roughly 40% of its total revenue (which includes insurance and other services) comes from U.S. sources, while about 60% comes from outside the U.S. Total revenue fell by 18% last year, while construction revenue fell by 12%, mining revenue fell by 26%, and energy & transportation revenue fell by 22%, compared to 2015.
Unfortunately, Caterpillar doesn't break out its warranty expense data by either product line or region. So all we have is one set of numbers for all its product lines across all its regions. In Figure 1, we've charted the percentage of product sales paid in warranty claims and made in accruals form the beginning of 2003 to the middle of 2017. As the chart shows, the company's claims rates and accrual rates are now back to where they were from 2004 to 2008 -- not as high as in 2009 or 2010 but not as low as they were from 2012 to 2015.
Figure 1
Caterpillar Inc.
Average Warranty Claims & Accrual Rates
(as a % of product sales, 2003-2017)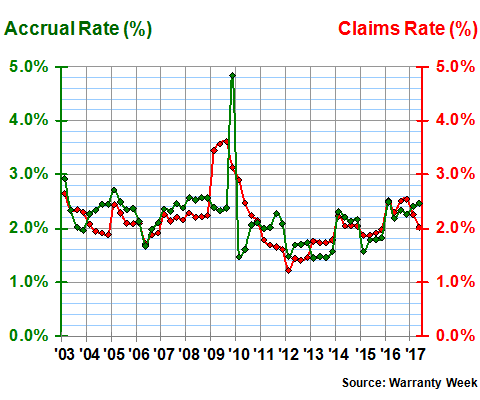 The most curious feature of the chart is the sudden spike seen in the 2009 data. That of course was the middle of the recession, when worldwide sales of construction equipment fell by some 35% and Cat's own sales of machinery and engines fell from $48 billion to $29.5 billion in one year.
In the first three quarters of that highly forgettable year, as sales continued to plummet, claims remained stubbornly steady at a level of roughly $250 million per quarter. But accruals were cut below $200 million per quarter. Inevitably, the company's warranty reserve balance began to shrink. And so, in the fourth quarter of 2009, Cat set aside a record $348 million in warranty accruals, driving its accrual rate up to a record 4.8%, just for that quarter.
Expense rates quickly returned to a more normal range, and have remained there ever since. In fact, the long-term averages for both Caterpillar's claims and accrual rates are close to 2.2%. We have no data on whether the expense rates are higher or lower than average for the company's construction, mining, transportation, or energy machinery. However, it has long been the fifth-largest warranty provider based in the U.S., being outspent only by two car companies (GM and Ford) and two computer companies (Apple and HP).
Deere
According to the Yellow Table, Deere & Company is the world's seventh largest construction equipment company. In the fiscal year ended October 31, 2016, the company reported $23.4 billion in net product sales, plus about $3.3 billion in finance and service revenue. About $4.9 billion of that total came from sales of construction and forestry equipment, while the bulk of it came from sales of agricultural equipment. The Yellow Table assigned Deere a 3.8% share of the worldwide construction equipment market.
In Figure 2, we note that the company's warranty expense rates are highly seasonal, as one would expect of a company so heavily dependent on sales of farm and lawn equipment. However, we also note that in the quarter ended January 29, 2017, Deere's accrual rate shot up to 4.9%. And in the quarter ended April 30, 2017, its claims rate fell to 2.3%. While these machinations somewhat follow the seasonal pattern, they're both larger than usual.
Figure 2
Deere & Co.
Average Warranty Claims & Accrual Rates
(as a % of product sales, 2003-2017)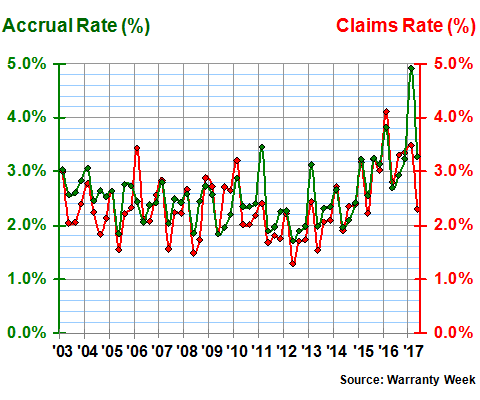 In its most recent fiscal year, Deere paid $783 million in claims and made $758 million in accruals. At the end of the year, its warranty reserve held $1.23 billion. Its average claims and accrual rates over the past 14.5 years are a bit higher than Caterpillar's. However, we face the same problem with Deere: are their construction equipment warranty expense rates higher or lower than their overall company-wide average?
Terex
Terex Corp. is a construction equipment manufacturer that has decided to downsize and refocus its product line. A decade ago, its market share was above 5%, according to the Yellow Table. Now, it's only 3.5%, after numerous divestitures.
Terex left the mining equipment business in 2008, then left the road-building equipment market in 2013. After some additional divestitures, all that was left in terms of construction equipment were the aerial work platforms, telehandlers, utility trucks, concrete mixer trucks, light towers, and lots of cranes. But that radically reduced product line still accounted for more than $4.4 billion in 2016 revenue, and a ninth place worldwide ranking from the Yellow Table.
In Figure 3, the relative steadiness of the 2003-to-2008 and 2011-to-2017 Terex warranty expense data contrasts sharply with the spike in the middle of the chart. But that was just an oddity. For most of the time from 2003 to 2008, Terex was paying between $20 million and $40 million per quarter in claims. But then in the fourth quarter of 2009, Terex paid an unusually low amount of $14.2 million in claims. The problem was, sales dropped to an extraordinary low level of $194 million, so the company's claims rate shot up to 7.3%. And since the company set aside only $1 million in accruals that quarter, its accrual rate dropped to 0.5%.
Figure 3
Terex Corp.
Average Warranty Claims & Accrual Rates
(as a % of product sales, 2003-2017)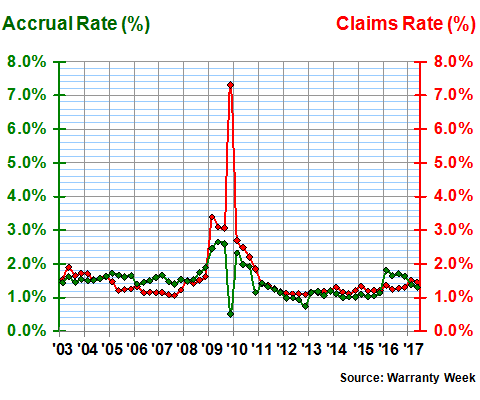 Take those anomalies out of the equation and all that's left is a recessionary bulge in 2009-2010 that's not unlike what happened to Caterpillar. With its slimmed-down product line, Terex is now reporting claims and accrual rates that are actually below its long-term average, although its claims rate during the first half of 2017 has hit multi-year highs. Still, its $58 million claims cost in calendar 2016 was its lowest annual bill since at least 2003, when its claims cost was reported at $68 million per year.
Terex is now focusing its sales efforts primarily on the U.S. and Europe, and is restructuring and integrating its remaining business units and acquisitions in order to reduce cost and increase efficiency. That effort includes improved processes for repair services, spare parts, supplier recovery, sales support, financing, and several other areas that will touch on warranty.
Komatsu
Komatsu Ltd. is the world's second-largest construction and mining equipment manufacturer, according to the Yellow Table. Sales in the fiscal year ended March 31, 2017 were reported at 1,803 billion yen (US$16 billion), of which the company says approximately 1,577 billion yen, or 87%, was derived from sales of construction, mining and utility equipment. That represents roughly a 1.6% decline from the previous year's sales levels.
About 22% of Komatsu's sales are made in Japan, while about 18% are made in the U.S. Europe accounts for about 12% of sales. China represents only 7% of sales.
In terms of warranty expenses, Komatsu has almost always kept its expense rates between one and two percent, as the data in Figure 4 shows. Since the company reports its warranty expenses only once a year, and since its fiscal year ends on March 31 (as many Japanese companies do) the data is charted in sequences of four identical quarters, to keep to the same scale and format as the quarterly charts above.
Figure 4
Komatsu Ltd.
Average Warranty Claims & Accrual Rates
(as a % of product sales, 2003-2017)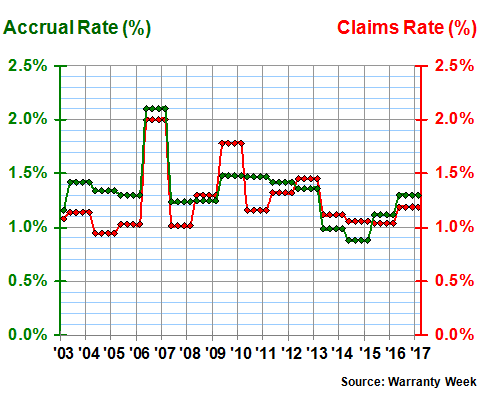 Earlier this year, Komatsu completed the acquisition of Joy Global Inc., a major U.S.-based producer of mining equipment, for approximately $2.8 billion in cash. In its final year as an independent company, Joy Global reported claims payments of $36.4 million and accruals of $28.6 million, making it one of the 100 largest U.S-based warranty providers.
Komatsu said it made the acquisition because it projects that demand for mining equipment will grow over the long term, driven by population growth and rapid urbanization around the world, and, in terms of mining techniques, the use of larger equipment in surface mining as well as further development of underground mining.
Hitachi
Hitachi Ltd. is perhaps the most curious entry of the seven companies we're profiling in this week's newsletter. It is a Tokyo-based conglomerate that makes everything from refrigerators to rail cars. And, oh yes, construction machinery. According to the Yellow Table, Hitachi Construction Machinery Company Ltd. is third on the list, half the size of Komatsu, but slightly larger than the privately-owned Liebherr Group. The $6.6 billion in construction equipment sales it lists for Hitachi translates to a 5.1% market share.
The problem is, that represents less than 9% of Hitachi's total revenue. Much larger percentages of its revenue, and we suspect, its warranty expenses, come from electronics, telecom, information systems, and even automotive systems. And all of those endeavors generate different levels of warranty expense. So if we try to guess what portion of the warranty expenses charted in Figure 5 comes from construction equipment, we could be off by a wide margin.
Hitachi used to report its warranty expenses twice a year, then it began issuing quarterly reports for a few years. But for the past six years it has reverted to an annual pace (except for a nine-month report in fiscal 2011-2012). For that reason, the data in Figure 5 goes from identical pairs to single quarters to four-in-a-row over the course of the past 14 years.
Figure 5
Hitachi Ltd.
Average Warranty Claims & Accrual Rates
(as a % of product sales, 2003-2017)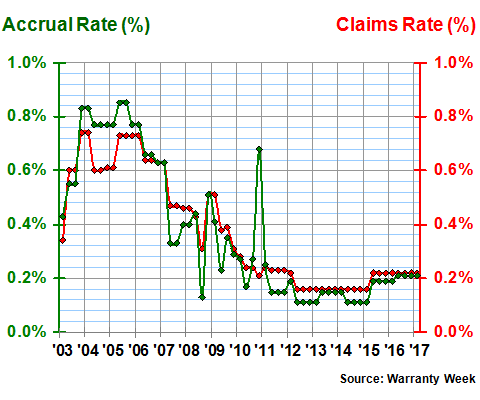 We doubt that Hitachi's construction machinery generates warranty expenses at a rate of only 0.2%. But that what the parent reports for all its product lines. Notably, its warranty expense rates have remained at or near that level for six consecutive years, with little change up or down. Even the spike the company saw at the end of 2010 was muted compared to Caterpillar and Terex.
Volvo
The Volvo Group is another company that is bigger outside than within the construction industry. We reckon only about a sixth of its total revenue comes from the Volvo Construction Equipment operation, with the vast majority coming from on-highway trucks (besides Volvo Trucks, it also owns Mack Trucks, Renault Trucks, and now Terex Trucks).
Volvo sold its passenger car division to the Ford Motor Company in 1999, which in turn sold it to a Chinese company in 2010. That company was among the OEMs included in the Worldwide Automotive Warranty Report published last month.
Still, according to the Yellow Table, Volvo Construction Equipment is the fifth-largest manufacturer of construction machinery in the world, with a 4.6% market share. In Figure 6, we've charted the warranty expense rates of the parent company, which, like Komatsu, are published just once a year. Claims rates average 2.3% over the long term, while accrual rates average 2.7% of revenue. For calendar 2016, however, both rates were at the high end of their range.
Figure 6
Volvo AB
Average Warranty Claims & Accrual Rates
(as a % of product sales, 2003-2016)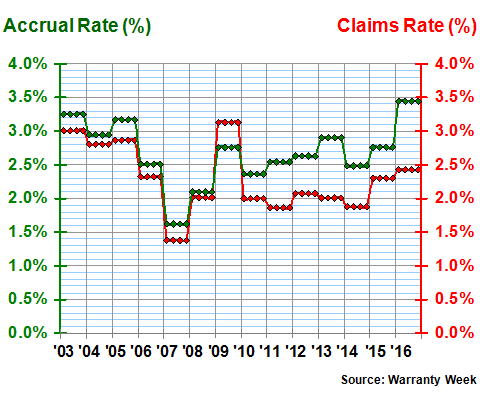 Unlike Hitachi, which makes a wide variety of electronics and appliances, Volvo is manufacturing primarily one thing: large vehicles. And while there are differences between trucks and bulldozers and buses and diggers, in terms of warranty expenses we'd suggest they're similar. Note, for instance, the industry averages we computed for trucks and other large vehicles in the March 30 newsletter.
Therefore, while we are almost certain the parent's worldwide warranty expense rates are not the same as the construction equipment subsidiary's in the case of Hitachi, we could be persuaded that they're at least similar in the case of Volvo Trucks and Volvo Construction Equipment. In fact, they're also similar to Cat's and John Deere's.
Sandvik
Only about a third of Sandvik's total revenue comes from construction equipment, but that's still enough to make them one of the largest manufacturers of construction machinery in the world. The Swedish company also makes metal-cutting tools, welding products, stainless steel, pipes, tubes, wire, synthetic diamonds, and even chocolate processing systems, among other items.
Sandvik's tools and machinery helped dig the rail tunnels built under the Alps, and under the English Channel. Its stainless steel bolts help preserve the restored warship in the Vasa Museum in Stockholm. A new collaboration between Sandvik Mining and Rock Technology and IBM is bringing advanced analytics and predictive maintenance services to the mining and rock excavation industry.
Its own warranty expenses seem to be very much under control, as can be seen below in Figure 7. In the 14 years that we've been tracking Sandvik, their warranty expense rates have never exceeded 0.5%. However, we suspect that a major reason for this is the large quantity of manufactured products the company sells with only minimal warranty cover (and little expense). Like food, apparel, petroleum products and chemicals, most basic materials such as pipes and wires generate little if any warranty expense. If only we could see the warranty cost profile of just the mining and construction equipment. Oh, to dream.
Figure 7
Sandvik AB
Average Warranty Claims & Accrual Rates
(as a % of product sales, 2003-2016)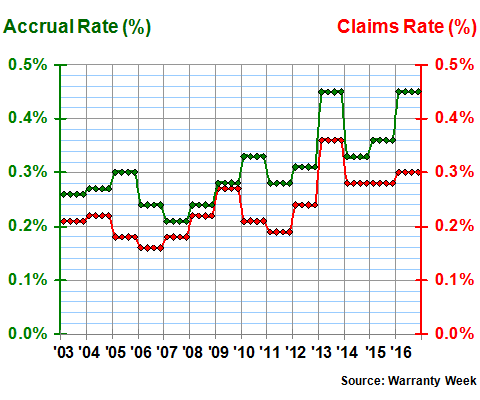 Still, despite all the basic material manufacturing, Sandvik is number ten on the Yellow Table list, slightly smaller in terms of construction equipment sales than Terex, but slightly larger than Sany Heavy Industry, JCB, or Kobelco. And since none of those latter three report their warranty expenses, this is looking like a good place to stop for now.
In the future, we will have to construct estimates for each of these companies and for the many other non-reporters, to complete the assembly of a worldwide estimate for construction equipment warranty expenses. We'll also try to do so for on-highway trucks and buses. And then we will add those to our already completed list of worldwide estimates for the passenger car and aircraft industries.