August 31, 2017
Extended Warranty Conference, Part 1:
Several hundred professionals from the extended warranty and service contract industry are headed to Nashville to talk about how changes in technology and regulations will impact their businesses in the years ahead.
Can you believe it? September begins tomorrow and in two weeks the eighth annual Extended Warranty & Service Contract Innovations Conference opens at the Renaissance Hotel in Nashville.
It's been almost exactly six months since the Warranty Chain Management Conference last convened in Tucson, and with the demise of the Global Warranty and Service Contract Association's annual conference in Chicago, the WCM and this upcoming show in Nashville are left as the winter and summer solstices of the warranty and service contract world. But while the WCM provides a comprehensive, multi-track review of both the product warranty and service contract industries, this event in Nashville is primarily focused on the latter.
Top Industry Concerns
In next week's newsletter, we'll take a closer look at some of the legal and regulatory issues that speakers plan to discuss at the Nashville conference. This week, we wanted to look at some of the presentations that will delve into the technology that's rapidly changing the way service contracts are priced, sold, and administered.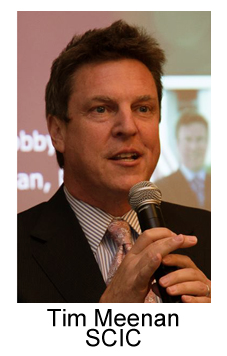 Tim Meenan, the Senior Partner at the Meenan P.A. law firm and the General Counsel and Executive Director of the Service Contract Industry Council, will once again serve as the chairperson of the Nashville conference.
He said he sees two big themes on the schedule. First, there's the question of how the Internet connectivity that's being built into more and more appliances and consumer electronics items is going to change the service contract industry. And second, how will the self-driving car change not only the service contract industry, but more fundamentally, the very question of automobile ownership?
"We're just now seeing more of the connected devices," Meenan said. "And I think that's going to change the claims curve." But at the same time, lots of existing home electronics and appliances will take years to wear out and need replacements. So the transition to connected devices will be lengthy, he added.
Automobiles too, are becoming connected devices, with Wi-Fi for the passengers being the latest must-have option. And in years to come, there may be no need for drivers either, so we'll all be passengers in search of entertainment, information, and communications while we travel. So those systems will need protection plans too. But there's a bigger issue, Meenan said, that's going to have a massive impact on the structure of the service contract industry.
"The issue becomes who's going to own that self-driving car? If the vision of the future is that the owner of that self-driving car will be you and I," he said, "then my sense is that more than ever, you're still going to need a service contract. But if people are going to stop buying cars, because you can get Uber, then clearly fewer people are going to buy service contracts. So the question depends upon which vision of the future is adopted."
Meenan said car ownership is likely to continue for decades. But if the self-driving-car-for-hire vision becomes reality, then the service contract industry shifts into a business-to-business mode, with fleet managers replacing individual consumers as the buyers of protection plans and maintenance contracts. "That's Uber managing their risk across millions of cars, which is different than millions of people managing their individual risks," he said.
David Gregory, the Senior Product Manager for Device Accessories at Amazon.com Inc., will deliver the opening keynote presentation on Wednesday morning. This 35-minute session will provide an overview of Amazon's extended warranty program for hardware devices such as the Fire tablets, the Kindle e-book readers, and Amazon Echo, and discuss some of the unique challenges and opportunities the company faces in the extended warranty space. It will review both the high level approach that Amazon applies to drive customer-focused innovation, as well as specific examples of online merchandising tactics, with the goal of sharing best practices for building a customer-centric innovation culture and selling extended warranties online.
"I plan to give the audience a glimpse into Amazon's unique work culture and how we apply customer obsession (our number one leadership principle) to solve everyday business problems, along with some specific examples from our extended warranty program for Amazon devices," he said "This is my first time presenting at the Extended Warranty and Service Contract Innovations conference, and I'm super-excited to be there!"
Warranty Transformation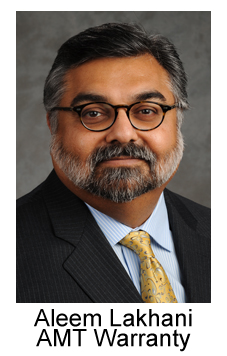 Aleem Lakhani, the Executive Vice President of AmTrust North America and AMT Warranty Corp., follows Gregory with a presentation entitled, "Warranty Transformation: How Embedded Devices Will Transform Our Industry -- Are You Ready?"
Lakhani said the key takeaway will be that the industry needs to prepare for consumers who perform extensive research, employing online resources with their mobile devices, to identify the brands they want to purchase.
"Price, availability, and brand affinity are highly salient (in that respective order) to trigger the act of purchase," he said. And rather than desiring anonymity, today's connected consumers prefer to know and to be known by the retailers they prefer.
"When seeking service, consumers are desirous of online self-help resources, but need the assurance they can obtain conventional support if needed," he added. Also, and perhaps more importantly, "consumers are going to share their experiences. Consumers are motivated to share to genuinely help others, especially sharing positive experiences."
If a merchant executes perfectly, he said, the customers are retained, and more than 70% will stay with the brand and purchase again from them. Equally important, if one drops the ball, many will know, and the merchant has only a 30% probability of retaining them, contingent on the degree of dissatisfaction.
At present, most manufacturers and retailers don't do much to get to know their customers. "We don't see the customer; we see a service contract holder," he said. "We don't typically aggregate to learn the consumer and execute solutions to support the consumer. This approach is not sustainable if you want to survive the digital revolution."
The best advice he has for service contract providers is to begin and to continue collecting more and more data about their customers. "The floodgates for data now open," he said. "We are able to leverage information to improve our business practices to become more meaningful to the customer and optimize our business. It is imperative to collect data, analyze data, and use the data to govern our business and customer engagement. Furthermore, we need to develop algorithms that employ the data to predict behavior and prescribe actions."
Selling Protection Plans Online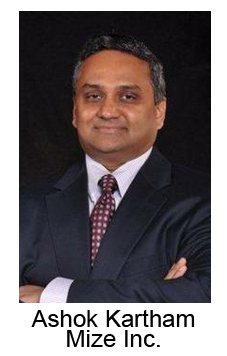 Later on, in the afternoon, Ashok Kartham, the CEO of Mize Inc., will lead a panel discussion on the topic of "Channel Disruption: Strategies to Drive Service Contract Sales on Digital and Direct Channels."
Amazon's David Gregory returns to the stage to join that discussion, along with Larry King, the General Manager of the Extended Service Business at Ford Motor Company, Jim Mostofi, the President of the Global Service Programs Division at AIG, Joseph Pesce, the CEO and co-founder of Over the Edge Corp., and Randy Barkowitz, the CEO of Safe-Guard Products International LLC.
Kartham said he sees at least three strategies that could help drive service contract sales online: configurable programs, enhanced customer experiences, and an improved ability to reach the customer.
"First, companies need to have a value-added configurable service contract offering," he said, "because each industry is different, and customer needs are different. It's not a one-size-fits all product. It's the ability to configure and select not only the basic protection, but also more value-added services that help increase the attach rate.
Number two, Kartham said, is the ability to deliver a better customer experience to the buyer of a service contract. "If I have a service contract, versus another customer that doesn't have one, do I get a preference of some sort? Do I get better access to online information, or something like that? Those things will convince the customer that there is an additional value," he said, above and beyond the break/fix protection.
"Number three is being able to reach the customer at the right time. Even though the best time and place to sell the contract is at the point of product purchase, I think you could also reach the customer at different touch points, such as just before the standard warranty expires, or when they call in for support during the warranty period. It may take two or three tries to engage the customer about the value of the service contract, but that obviously increases the attach rate," he added.
Configurable Platforms
Everything from product registrations to dynamic pricing depends on a configurable platform, he said, and its presence or absence will have a direct impact on service contract sales. "Software plays an important role," he said. If you can't customize and innovate, you can't expect attach rates to rise.
"I think there is a lot that software can do to enable the sales teams and the people that are managing the service contracts to provide for the customers. For example, more and more, customers are going to digital media -- online, mobile, social channels, and customer portals -- and obviously software has a lot to do with how you can connect with and engage that customer," Kartham said.
For instance, he said companies will want to be able to control when email alerts are sent to customers, and what they see when they login to register their products or to request support. "Those are all software-driven," Kartham said. "And we think these are the kinds of things that drive sales."
Kartham noted that Amazon's customer-centric approach lets buyers select which purchases they want covered by protection plans, and sometimes even allows them to select among multiple plan providers. And if they don't buy initially, Amazon.com will ask them again later.
However, he also noted that the problem with online sales of service contracts, which is also becoming a problem with physical sales, is the low attachment rate. Simply put, consumers have learned how to say no to protection plans. But Kartham said he thinks online sales might be more successful in the future, after some fine-tuning of the sales pitches, because the offers will be more consistent and pervasive.
"A salesperson is probably more interested in selling the physical product," he said, "versus the ability to present the value of the service contract. So I think digital can enhance it."
Successful Partnerships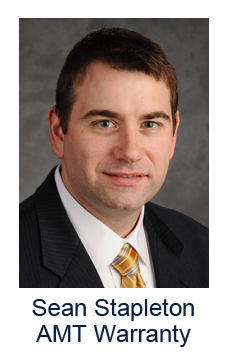 On Thursday morning, Sean Stapleton, the President and CEO of AMT Warranty, will join with Kenneth J. Mac, the Director of Chevrolet-Buick-GMC-Cadillac Protection at General Motors Co., to deliver a presentation on "Successful Partnerships in the OEM F&I Space."
GM spun off its vehicle service contract, insurance, and finance business years ago into what is now known as Ally Financial Inc., but which used to be known as the General Motors Acceptance Corp. (GMAC). Then, of course, the great recession hit, and both GM and GMAC went through bankruptcy reorganizations. Afterwards, GM decided to re-enter the VSC business under its own name, and Mac's Customer Care & Aftersales unit decided to do it in partnership with an outside insurance underwriter.
Stapleton said AMT won the bidding after an extensive vetting process. "The relationship with GM has been truly phenomenal," he said. "We've been in business for many years now." He said they started working together in 2014, after AMT Warranty won the bid in late 2013.
"The program has grown tremendously since then," he said. "And it continues to grow. So I'm really proud of what AMT Warranty and GM have put together." Their joint presentation in Nashville will explain how the relationship works, how they strive for continual improvement and innovation together, and what advice they can offer to others looking to create similar partnerships for their service contract programs.
"It's a unique partnership in so many ways," Stapleton said. "This isn't a vendor relationship with them. We're not order-takers. It's very collaborative. We meet every Monday. We have our quarterly calls. We have update calls. We're living and breathing and looking at the same things."
Fear-Free Communications
Stapleton said he and Mac will outline some of the best practices that seem to work for them in their partnership, while acknowledging that things may be different for other partnerships. First, he said, the partners employ what he called "fear-free communications" between the two teams.
"We empower our teams to build these relationships amongst themselves," he said. "They fight for each other. It's almost like one organization. It doesn't feel like finger-pointing. It feels like we win or lose together."
The teams also are encouraged to ask a lot of questions, particularly around reasons why they're doing something a particular way. "Some of those things are hard to discuss, whether it's personal or professional, but we have that openness. And it's been really beneficial."
Stapleton said the partners started out in 2014 with just a handful of auto dealers selling their vehicle service contracts (most were still loyal to GMAC/Ally). Ally still had rights to the GM name. So the partners decided to sell Buick, Cadillac, and Chevrolet-branded VSCs, and gradually some of those dealers decided to come aboard.
"It was a huge challenge," Stapleton said. "But it was also a pretty exciting time -- to know that we were doing things differently, to do things that were intended to drive retention and loyalty. That's one of the biggest differentiators I think that the program has."
They also offered disappearing deductibles, and introduced a "white glove" level of service within the dealerships to boost loyalty and turn what could be a real negative (getting a defect repaired) into a real positive (cementing the relationship with a phenomenal experience).
"Issues create long-term relationships with these customers," he said. "Their alternator may have blown. And that stinks. But they had a great experience. They were put into a loaner car. And there's a disappearing deductible, so there's no money out of pocket. It makes it a whole lot easier, and it builds that level of trust. Challenges can actually result in longer-term relationships with customers."
GM could have done it alone, essentially remanufacturing GMAC all over again. But instead it decided to work with AMT. Stapleton said this allows the partners to share data about both the products and the risks, with each bringing their expertise to the table.
"We support other large OEM programs," he said. "So we know what's been successful, and we know what's been a failure." And it helps the partners to properly price the service contracts sold for not only for new GM vehicles, but also the used vehicles that dealers have on their lots. "We have a depth and breadth of understanding of this space that's hard to compete with, because this is our core."
Branding for Innovation
Meanwhile, Ally Financial, which is now GM's prime competitor in the VSC market, will also be making multiple appearances at the Nashville conference. Angie Tuglus, the Executive Vice President of Ally Financial's Insurance Operations, will give a brief overview of how venture capital and other sources of funding are changing the playing field in the service contract industry. And then Lisa R. Ray and Kirsten Elsworth, both from Ally, will give their own talk on how to develop partnerships and how to use collaboration to bring your partners to the innovation table.

In addition, Tuglus and Dawn E. Morris, the President of Centricity, are the co-chairpersons of the "Service Support & Operations Add-on Forum," which begins at 1 PM on Thursday the 14th, immediately after the conclusion of the main extended warranty conference, and continues throughout the day on Friday.

Morris has her own presentation to make as well, on Wednesday afternoon, entitled "Branding for Innovation." She said she plans to highlight how some of today's most popular brands and perhaps some of the market's most disruptive companies have innovated their brands over the last few years to prepare for the future. For instance:
Airbnb: After a few dings to their reputation, Airbnb took action and updated their branding to highlight identity and expression. The company took to rebuilding their brand trust and developed a few value propositions. While most see a rental house as just a space, Airbnb wants its customers to have the same sense of belonging they get in their own home. By providing consumers with a variety of choices and flexibility, they are enabled them to create their own experience.



Warby Parker: The eyewear retailer Warby Parker, a company obsessed with experiences, is building its brand on the premise of relationships. Consumers look for a product of value coupled with a great experience and that is where Warby Parker delivers. Their "lifestyle brand" offers the consumer a level of convenience they do not get in a store. They made it possible to buy glasses online and try-on a variety of frames from the comfort of the customers home.



Lemonade: With over 2,000 policies sold in its first 100 days, the Lemonade Insurance Co. positioned themselves as convenient, instant and personal, something the insurance industry was lacking. Lemonade targeted what had been an untouched market for most insurance companies, the millennial. They have since transformed the industry with artificial intelligence and behavioral modeling to provide the millennial generation and beyond with a simple experience while making a social impact.
Customer Engagement
Patrick Scheen, the CEO of Accentf(x) Marketing, is doing double duty at the conference. On Wednesday afternoon, he and Christine Dorton, the Manager of CRM and Direct Marketing at GE Appliances, will jointly detail their "Top Ten Strategies for Optimizing Aftermarket Consumer Direct Campaigns." And then on Thursday morning, Scheen will join with Darius Bullock, the Senior Business Manager of Extended Warranty Service Agreements at Electrolux North America, to talk about "Customer Engagement: Tools and Strategies That Work."
Scheen said both presentations will talk about how the paradigm is shifting from customer service to customer engagement, and how appliance manufacturers and retailers can take advantage of every customer contact, be it face-to-face, through a phone call, or even through email or social media.
"The concept of customer engagement has been around for many years," he said. "The question is whether companies are really embracing it, and looking to provide the tools and service to their customers. And I'd say we're well into it. Many companies are looking to leverage service as a means of differentiating themselves and engaging their customers."
Accentf(x) Marketing is a database marketing company that helps companies execute campaigns to engage with their customers. "We do about a million pieces a mail a week on behalf of our clients," Scheen said, "primarily in extended service plan marketing, but also in consumables (refrigerator water filters) and marketing accessories. We're just engaging customers in a conversation between them and our clients."
For GE Appliances, Accentf(x) has helped to consolidate customer data from nine different legacy systems, and then to help design customized campaigns based on when they made their last purchase, what they bought, and when or if they ever needed service. Accentf(x) also works with the Haier Group, which acquired GE Appliances early last year.
"We have all the ownership data, manufacturing history, service data, and claims data," he said. "And it gives them a tool where they can look into that database and decide when they need to reach out and talk to those customers, providing them a 360-degree view of their customer, and enabling them to leverage that data more effectively across their organization, as they try to build relationships directly with their customers."
Adapting Technology to Client Cultures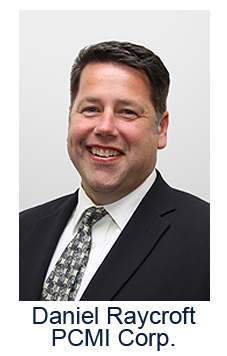 Daniel Raycroft, the Vice President of Business Development at PCMI Corp., is also doing double duty in Nashville. On Wednesday after lunch, he will deliver a presentation on "Using Technology to Optimize a "Best of Breed" Offering for Warranty and Extended Warranty Programs."
And then on Friday morning, during the "Service Support & Operations Add-on Forum," Raycroft joins a panel discussion with Lee Senderov, Vice President & General Manager of YourMechanic and Greg E. Mitchell, an attorney and Chair of the Insurance Industry Group of the law firm Frost Brown Todd LLC, on the subject of "Market Disruptors: Where the Warranty & Service Contract Industry is Going."
Raycroft said the developer of an administration platform has to find a way to adapt the technology to the existing culture of the client, not the other way around. He said he recently met with a client that is extremely protective of their customers' privacy, not even sharing certain details with their call center agents.
"And that impacts what the technology can do, and how easy information can be accessed. And then at the other extreme, you have clients putting things out on the portals, allowing consumers to directly access information," he said. "Our focus is to say how technology can fit into both mindsets."
Many times in the past, people have had to adapt to the technology, which Raycroft said is no longer necessary. "Today, with the ease of APIs, and the flexibility of the technology, you need to look for partners that will work within your culture, and support your go-to-market strategy," he said.
Raycroft said he will examine the different options for the technology: in-house, outsourced, software-as-a-service, platform-as-a-service, etc. But he added that it's not so simple that he can post a list of attributes and quickly match a client to the right option. Instead, he will make a list of some of the strategic considerations that need to be thought through before the right choice is made.
For instance, some clients don't mind sharing servers and infrastructure with others in a cloud computing model. Other clients want a strict isolation of their applications. Another PCMI client insists that all web pages carry their exact corporate branding, right down to their favored color scheme, so that dealers and consumers believe they're dealing with that company alone. Others ask PCMI to run their web portal for them, outlining the broad goals and results they want, but leaving the details up to the designers.
"Everybody has a different mindset, and technology is available today to support those mindsets," Raycroft said. "With good technology partners, you can connect up to the features and functions you want, and get that benefit without getting caught up in analysis paralysis."
Specialized Skill Sets
Raycroft said the increasing availability and affordability of these highly customizable administrative platforms is having a noticeable effect on the diversity of offerings now available to consumers.
"We see a lot of small niche players coming to market with great tools," he said. "I think those niche players are finding a way to come to market, and they're changing the way our industry has been run in the past. We see disruptors coming to market that are allowing you to take advantage of their offering as part of your solution, but you don't have to put your whole business into that one solution."
For instance, there are dispatch systems, payment systems, and even business analytics tools that can be plugged into existing platforms through APIs and other links that add new functionality but don't change everything. Rather than standardizing everything into one way of doing things, this allows originality to flourish.
"The technology is opening up more flexibility in how things are being captured and how things are being done," Raycroft said. "We're seeing offerings that are coming to market to fill in the gaps of what companies want to do, but they're doing it in a way that allows you to pick and choose the solutions you want to work with, versus all or nothing."