October 19, 2017
Recreational Vehicle Warranties:
If the old saying that no news is good news, then there's plenty of positive tidings coming out of the RV manufacturers. Homes on wheels, which fared much worse than either site-built homes or passenger cars during the last downturn, have nothing to say about the timing of the next one.
With the memory of the Great Recession fresh in our minds and the 30th anniversary today of the Black Monday stock market crash, people are speculating that it could happen again. But in looking at the recent sales and warranty statistics of the new home, passenger car, and recreational vehicle industries, it doesn't seem like there's any signs of an early warning.
In hindsight, by the time Lehman Brothers liquidated in September 2008, it was clear that the numbers had been heading south for more than a year. We see none of that in the most recent sales or warranty expense numbers of these industry segments, which were hardest hit during the last downturn. In fact, at least in the recreational vehicle segment, the numbers look unremarkably ordinary.
Claims Cost
Let's start with warranty claims payments. RV manufacturers paid $288 million in claims during the second quarter of 2017, their highest quarterly total since the middle of 2014. Thor Industries Inc., which owns the Airstream, Jayco, and numerous other brands of both towable and motorized homes, saw its claims costs soar to $88.6 million during the first half of the year, but its sales are growing almost as quickly as warranty expenses. Winnebago Industries Inc., Spartan Motors Inc., and Skyline Corp. also saw claims costs soar, but they're also reporting fast-growing sales.
In Figure 1, it's clear the industry peak was in 2013, but that has much to do with the one large RV manufacturer that ran into warranty trouble with its truck engines. Navistar International Corp., which owned the Workhorse brand for several years and supplies many of the diesel engines used by other RV brands, suffered from extremely elevated claims costs from 2012 to 2016 (see Warranty Week, June 21, 2012, for more). It alone accounted for more than half the claims total in 2013.
Figure 1
Recreational Vehicle Warranties
Claims Paid by U.S.-based Manufacturers & Suppliers
(in US$ millions, 2003-2017)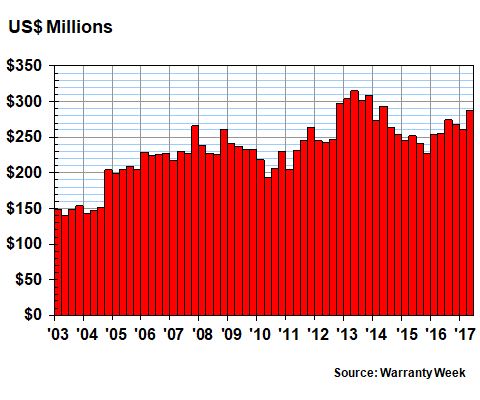 Still, the shape of the data in Figure 1 suggests an industry in which claims rise and fall more gradually than perhaps was the case for the new home builders we profiled in last week's newsletter. In their case, claims peaked in 2006 and then fell dramatically until bottoming out in 2011-2012. Here, for the RV manufacturers, there are downturns in 2010 and again in 2015, but they're both short-term and shallow.
Some RV suppliers are seeing lower claims costs now. For instance, Allison Transmission Holdings Inc. spent $10.3 million on claims in the second quarter of 2016, but only $8 million this year. KVH Industries Inc., which supplies mobile satellite TV systems for RVs and motorcoaches, cut its warranty costs by almost a third. Dixie Group Inc., which supplies floorcovering for luxury motor coaches and yachts, cut its warranty costs by almost a sixth.
Keep in mind that all along there have been companies dropping out of the marketplace because of bankruptcies or other reasons. For instance, we lost National R.V. Holdings Inc. in 2007; Monaco Coach Corp. in 2008; Fleetwood Enterprises Inc. in 2009; and All American Group Inc. in 2010. Back in their heyday, those four companies accounted for more than $160 million a year in warranty claims. Both Fleetwood and Monaco were among the 100 largest warranty providers across all industries before they went under.
Warranty Accruals
With warranty accruals, the story is just as muddled. In Figure 2, there are two clear spikes, first at the end of 2004 and then again at the end of 2012. Both times, the spikes were caused by unusually large one-time accruals by Navistar. The company ends its fiscal year on October 31, so in both cases we're talking about the months of August, September, and October. In those months during 2004, Navistar set aside $299 million in accruals -- between five and six times as much as it did in any other quarter at the time. During those same months in 2012, it suddenly doubled its accruals to $218 million.
Figure 2
Recreational Vehicle Warranties
Accruals Made by U.S.-based Manufacturers & Suppliers
(in US$ millions, 2003-2017)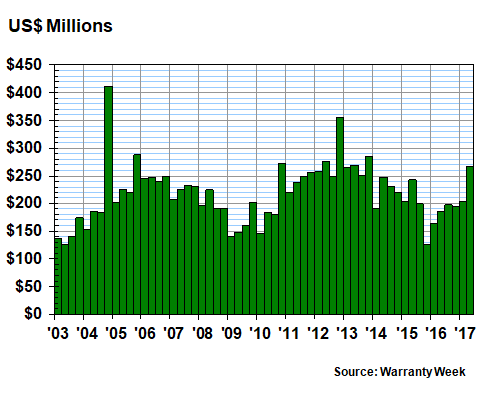 If not for those two sudden spikes, the data in Figure 2 would show an industry gently swinging from boom to bust, with peaks in 2005-06 and 2012-13 and valleys in 2009-10 and 2015-16. Again, especially compared to the makers of site-built homes, this data in no way follows the Great Recession/slow recovery script seen in other industries.
Notice that once again, the latest quarter's total is the highest it's been for multiple years. With accruals, the second quarter of 2017's $268 million total is the highest since the $284 million total seen at the end of 2013. Year over year, it's up 45% from 2016's second quarter. So are we heading into yet another boom?
We measured the sales revenue of our RV manufacturers and suppliers to be up 11% year over year. However, keep in mind that there is quite a bit of non-RV revenue included in those totals, especially from engine makers such as Navistar and Cummins Inc. Cummins, in fact, just reported its highest quarterly accruals total since late 2010, even though sales are up only about 10%.
Winnebago actually more than doubled its warranty accruals in the quarter ended May 27, compared to the same period in 2016. However, sales were up 75% over the same stretch, and since accruals would otherwise grow proportionally with revenue, it's not so bad a number. Thor Industries, for instance, saw sales grow 57% and raised accruals by 49%. Allison Transmission saw both sales and accruals grow by 22%.
At the other extreme, Navistar saw sales fall by 5% and cut accruals by 2%. Skyline saw a 12% sales increase but cut accruals by 7%. And Spartan Motors saw a 14% sales increase, but nevertheless had reason to raise accruals by 71%. Some of that increase may be related to its recent acquisition of a custom fire truck manufacturer, however.
Warranty Reserve Funds
The problem with trying to measure the collective balance in the warranty reserve funds of all the RV manufacturers and suppliers is that just two companies -- Navistar and Cummins -- account for somewhere between 80% and 90% of the industry total. So the trends you see in Figure 3 is really heavily dominated by them.
Towards the end of 2005, Navistar suddenly doubled its warranty reserve balance, and kept it high for more than a decade afterwards. That caused the first plateau in the data, which lasted until 2010. But then Cummins started adding to its balance, piercing the $1 billion mark in early 2011, and racing past the $1.5 billion mark by the beginning of July 2017. That accounts for the second plateau, which so far has extended from late 2013 to the middle of 2017.
Figure 3
Recreational Vehicle Warranties
Reserves Held by U.S.-based Manufacturers & Suppliers
(in US$ millions, 2003-2017)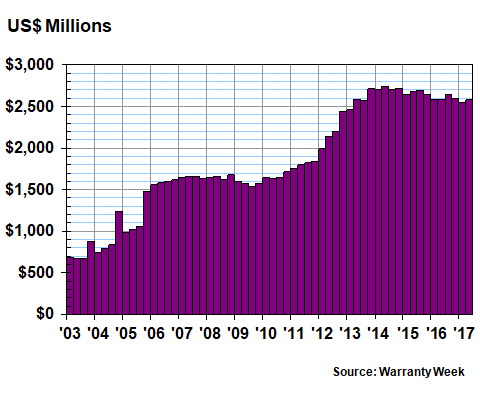 To put this into perspective, there are currently only nine U.S.-based companies that maintain more than $1 billion in warranty reserves. Cummins is fifth on that list. But if we look at those balances as a multiple of current claims payment rates, Cummins is third, behind only Boeing and United Technologies.
In other words, Cummins currently holds the equivalent of 4-1/2 years' worth of reserves, based on a payout rate of roughly $33 million a month. Boeing holds 6-1/2 years' worth, while UTC holds about five. Cummins sells engines for a variety of vehicles as well as for power generators. Coverage extends for one, two, or three years, depending upon whether it's for a generator, a boat engine, and RV, or an on-highway truck. Some components are covered for up to five years.
But is the average duration of all these warranties close to 4-1/2 years? If not, then Cummins is maintaining a thicker cushion than it possibly needs to. Granted, someday everything could come back broken, or the company could face a warranty/design crisis on par with what Navistar has for the past five years. But $1.5 billion? That's a lot of money in the bank.
Outside of Cummins and Navistar, the largest warranty reserve funds in the RV business are held by Thor Industries, Allison Transmission, Winnebago, and Lippert Components, an RV parts supplier and a subsidiary of LCI Industries. All but Allison have let their warranty reserve balances grow somewhat in 2017.
Winnebago, in fact, has boosted its warranty reserves from under $10 million in 2014 to $28 million now. Thor was under $100 million until 2014, but is over $200 million now. Lippert went over $10 million in 2012; over $20 million in 2014; and over $30 million in 2016. Allison, however, has been gradually reducing its warranty reserve balance, from over $150 million in 2010 to under $100 million in 2013 and then onto $55 million in mid-2017.
By way of comparison, Lippert is keeping the equivalent of two years' worth of reserves on hand. Allison is slightly below that, and Navistar is slightly below that. Thor, Winnebago, Skyline and Spartan Motors currently keep between 10 and 15 months of reserves on hand. Cummins is the only major player above the industry average.
Warranty Expense Rates
In Figure 4, we're taking the claims and accrual totals from Figures 1 and 2 and dividing each by the corresponding product sales figures, in order to calculate the percentage of revenue that's going towards warranty expenses. Over the 58 quarterly measurements we've made of each since 2003, the averages have ranged from just below 1.9% to just over 3.6%.

Figure 4
Recreational Vehicle Warranties
Average Warranty Claims & Accrual Rates
(as a % of revenue, 2003-2017)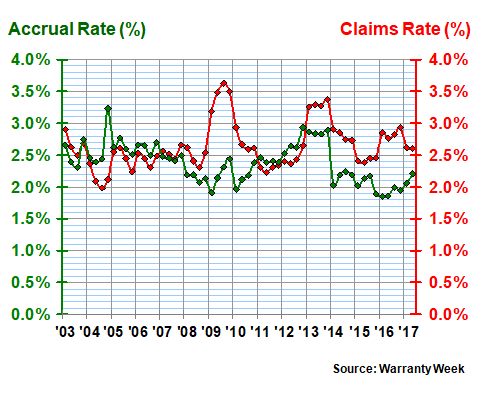 That's quite a spread, and as the chart suggests, there's been quite a bit of deviation from the long-term average. For the claims rate, the average has been 2.6%, with a standard deviation of 0.4%, while for the accrual rate, the average has been 2.4%, with a standard deviation of 0.3%.
During the recession, in 2009, there was a noticeable spike in the claims rate, caused by sales falling significantly while claims remained steady. In 2013, there was another spike, likely caused by Navistar's problems with excess engine emissions. The 2016 spike was smaller, and we can't really pin it on any one factor.
The accrual rate, meanwhile, has remained closer to its long-term average, and in fact has been somewhat below that 2.4% mark for the past 3-1/2 years. And of course, the average set a new low water mark in the first half of 2016. This is very good news for the RV industry, in that is signals that manufacturers believe their future warranty costs will be lower than was the case in the past. And that is a sign of increased reliability and lower repair costs.
Single-Company Expense Rates
Individual companies are doing even better. Navistar still has a relatively high claims rate of 5.6%, and Skyline is a little above average at 3.2%. But every other RV manufacturer and supplier is below average, including Thor, Spartan Motors, Cummins and Winnebago. Allison Transmission pays out only 1.4% of revenue for warranty claims, which is significantly below most other drivetrain manufacturers' expense rate.
And then there's accruals. Again, the accrual rate reflects what each company believes will happen in the future, based on their own internal projections of the frequency and severity of warranty costs. As of midyear, the industry average was 2.2%, and the only manufacturer significantly above that mark was Skyline at 3.3%. Navistar, Cummins, and Thor were slightly above average, while Winnebago was slightly below average.
Allison, Spartan, and Lippert were significantly below average. In fact, once again, Allison set the bar lowest, setting aside only 0.9% of its revenue to pay future warranty costs in the quarter ended June 30.
Therefore, after taking a long and winding road to tell the story, we can conclude that there's not really much of a story to tell. Sales are up, accrual rates are down, and some manufacturers are keeping far more warranty reserves on hand than perhaps they should. But there's no signs of another collapse on the scale of the 2007-2010 downturn, which thinned the ranks considerably and which left the survivors in rough shape.