November 9, 2017
Apple's Warranties & Service Contracts:
Although it is one of the world's largest warranty providers and extended warranty administrators, both programs used to be even larger. Using figures from Apple's just-published annual report, we estimate the size of each.
Apple Inc., manufacturer of both the market-leading iPhone and the innovative Macintosh computer product line, just published an annual report for the fiscal year ended September 30 that suggests both its product warranty and extended warranty programs have peaked. But total revenue is up, and so is net income, so there's nothing to worry about just because expenses are down.
From Apple's financial reports, we collect several essential metrics on product sales revenue, product warranty expenses, and deferred revenue arising primarily from sales of AppleCare protection plans. Then we compare these numbers to calculate some key ratios in the form of percentage rates. For instance, we take the amount of claims paid and compare it to product revenue, to calculate a claims rate as a percentage of sales.
First, let's get to some of the raw totals for the product warranty metrics. In figure 1 we're looking at Apple's quarterly spending on warranty claims for the past 15 years, as reported in its financial statements. Since Apple ends its fiscal year on September 30, the reports for the first three quarters of calendar 2017 represent the last nine months of its most recent fiscal year.
In the most recent quarter, the company reported $1.022 billion in claims paid, up from $932 million in the second calendar quarter but down from $1.156 billion in the year-ago quarter. And it was down significantly from the three-out-of-the-last nine quarters in which the company has spent more than $1.2 billion on warranty claims.
Figure 1
Apple's Product Warranties
Claims Paid per Quarter, 2003 to 2017
(in Millions of U.S. Dollars)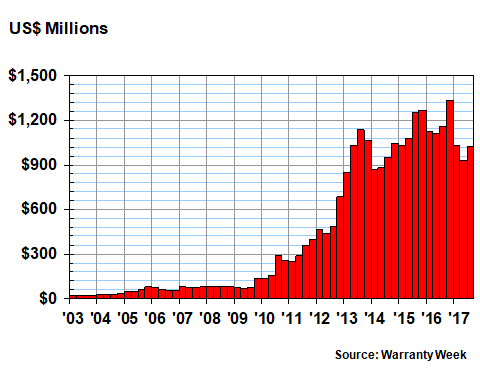 In the entire fiscal year just completed, Apple spent $4.322 billion on claims, down by $341 million from the previous fiscal year, which was a record. The company has reported claims payments of $1 billion or more in 14 of the last 20 quarters, including all but one of the last 12.
Warranty Accruals
Before a claim can be paid, the money must be set aside to finance it. This is usually done at the time a product is sold, based on internal estimates of how much the warranties for those products will cost. Usually, the amount set aside in warranty accruals is proportional to sales. But as can be seen in Figure 2, this is clearly not the case.
In four of the last five fiscal years, Apple has accrued an unusually large amount of funds in its first fiscal quarter, corresponding to the months of October, November, and December. In those months during calendar 2016, it accrued $2.333 billion, a record. It also accrued in excess of $2 billion during those months in both calendar 2013 and 2014, outstripping the before-and-after quarters by a wide margin.
Meanwhile, during the months of April, May, and June, the company accrues the least amount of funds per quarter. This happened in calendar 2017, 2016, and 2013. In fact, last year, the $380 million it accrued in the spring was the lowest total for any quarter going back to calendar 2012.
Figure 2
Apple's Product Warranties
Accruals Made per Quarter, 2003 to 2017
(in Millions of U.S. Dollars)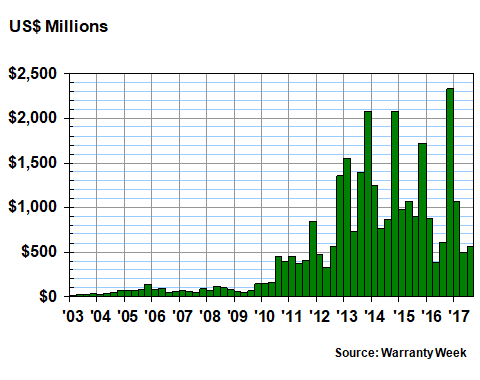 In the months of July, August, and September, which correspond to the fourth quarter of Apple's fiscal year, accruals are usually more moderate. This year, the company accrued $557 million, down from the $603 million it set aside during the same quarter last year.
For the entire fiscal year just concluded, Apple accrued $4.454 billion, up by $869 million from the previous year but significantly below the amounts it accrued in the previous three fiscal years. Therefore, while the nearly $1.5 billion drop in accruals from fiscal 2015 to 2016 seems to have been an anomaly, the general decline of accruals from their $5+ billion annual peak continued into fiscal 2017. This suggests the company also expects claims costs to continue to decline in the future.
Warranty Reserves
Among all U.S.-based manufacturers, General Motors Co. has always had the largest balance in its warranty reserve fund, but Apple took second place away from Ford Motor Co. in late 2013 and held that slot until early 2016. But now, Apple's warranty reserve fund balance is down from its peak, while Ford's is back up again. And so, Apple has gone back to third place for the last six quarters.
At the end of September, in fact, Apple was almost $1.2 billion behind Ford, with a $3.834 billion balance to Ford's $5.031 billion balance. GM is still far ahead, with an $8.479 billion balance as of September 30, 2017.
Figure 3
Apple's Product Warranties
Reserves Held per Quarter, 2003 to 2017
(in Millions of U.S. Dollars)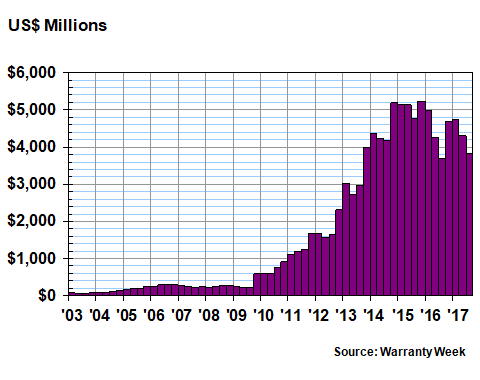 In Figure 3, we can see that Apple's warranty reserve fund balance was at or above $5 billion from late 2014 to early 2016. It's down from those levels now, but it's still $132 million above the balance reported at the end of fiscal 2016 ($3.702 billion).
Extended Warranty Estimates
Before we jump to warranty expense rates, let's begin to take a look at Apple's protection plan sales. AppleCare and AppleCare+ are extended warranties that enhance and lengthen the coverages provided by the product warranties detailed above.
Apple does not report sales amounts for AppleCare plans. Instead, the company reports the amount of deferred revenue it holds at the end of each fiscal year, which arises primarily from sales of gift cards and AppleCare plans.
To separate the two, we have to break some accounting rules. Fortunately, since most of Apple's extended warranties last for two years, those same accounting rules provide us with a solid footing from which we can make our estimates.
Apple makes separate reports for the amount of current and long-term deferred revenue. Gift cards, because they can be used by the customer at any time, are reported as current deferred revenue. Meanwhile, because most AppleCare plans last for two years, as each policy is sold, half the premium is classified as current deferred revenue and half the premium is classified as long-term revenue.
Don't try this at home, and don't tell the accounting police that we did it. But if you assume that all the long-term deferred revenue is AppleCare, and an equal amount of the current deferred revenue is also AppleCare, then the remaining current deferred revenue must be from gift cards. This methodology is far outside of generally accepted accounting principles, but it's good enough for now.
In Figure 4, we've charted the estimated amounts of AppleCare service contracts sold worldwide and the amount of gift cards purchased but not yet used at the end of each of the last 15 fiscal years. And we estimate that once again, AppleCare premiums declined again in fiscal 2017, as they did in fiscal 2016, from a $7.25 billion peak in fiscal 2015. However, the decline this year was only $200 million, far below the 2015-2016 decline of nearly $1.4 billion.
Figure 4
Apple's Protection Plans:
Service Contracts vs. Gift Cards Sales
in Fiscal Years 2003 to 2017
(in Millions of U.S. Dollars)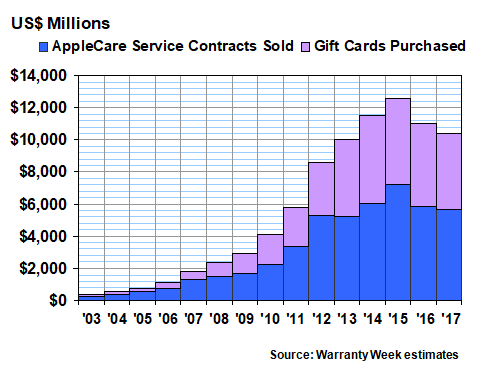 It still means that AppleCare is the largest service contract program in the world, but it also means some of the automakers or possibly one of the rapidly consolidating A-Team insurance companies could reclaim the top spot in the years ahead.
Expense Rates
Normally, manufacturers and retailers have little to say about their extended warranty revenue. But Apple has to disclose some data about the program because it retains most of the risk. AppleCare Service Company Inc. is the administrator of the protection plans, with the American International Group Inc. covering the cost of accidental damage claims.
With Apple, however, since we have exact amounts for claims paid and accruals made, as well as estimates for AppleCare gross premiums written, we can calculate three expense rates: claims as a percentage of sales, accruals as a percentage of sales, and AppleCare as a percentage of sales. And because Apple also does such a good job of segmenting its product and service revenue, we can use just hardware sales to make our percentage calculations for each.
In Figure 5, we've taken the claims and accrual data from Figures 1 and 2 and divided each by the corresponding figures for product sales revenue. And we've added a third line for AppleCare sales as a percentage of revenue. The claims and accrual rates are calculated quarterly, while the AppleCare rate is calculated once a year, at the end of each fiscal year.
Figure 5
Apple's Protection Plans:
Claims Paid, Accruals Made & AppleCare Sales
as a Percentage of Product Revenue, 2003 to 2017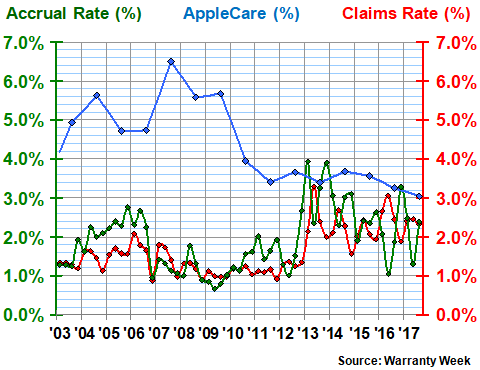 Once again, we note that the AppleCare data is based upon estimates derived with a methodology that would get us kicked out of a Uniform CPA Exam. But the other two expense rates are built upon some exact data taken directly from Apple's financial statements. So while the clear decline of the ratio between AppleCare and product sales is purely a product of our estimation, the erratic nature of the claims and accrual rates during the past five years is mathematical fact.
Note that we estimate that for the past two fiscal years, AppleCare premiums have accounted for a little more than three percent of Apple's product revenue. And that is their lowest level of the past 15 years. Also note that we have no clue as to the profitability of the AppleCare program. This is a measure of only its incoming revenue stream, not its outgoing expenses, nor the difference between them.
Meanwhile, Apple's claims rate ended the year at 2.3%, while its accrual rate was 2.4%. From the end of the previous year, its claims rate fell slightly while its accrual rate rose by half a percentage point. Over the past 15 years, Apple's claims rate has averaged 1.6% with a rather wide standard deviation of 0.6%, while its accrual rate has averaged 1.9% with an even wider standard deviation of 0.8%.
U.S. vs. International
This concludes the defensible portion of our annual estimates of Apple's warranty expenses. But there is one more data point readers have asked us to include, namely, the portion of the AppleCare program derived from U.S. sales of iPhones. To accomplish that, we will need to make even more tenuous assumptions and estimates.
First, Apple provides rather comprehensive segmentation of its revenue based on both geography and product line. However, this does not imply that AppleCare follows the same distribution pattern of the products it protects. But we simply cannot resist the urge to pretend that it does.
Therefore, in Figure 6 we have segmented the AppleCare revenue stream into U.S. and international portions, based on the segmentation data reported for the company in general. In fiscal 2017, Apple reported that about 37% of its revenue came from U.S. sources, up from fiscal 2015 and 2016 levels, but down from levels reported in every other year before that.
For fiscal 2017, we're estimating that the U.S. portion of AppleCare's gross written premiums amounted to $2.1 billion, while the international portion amounted to $3.6 billion. That suggests a very slight gain in U.S. sales, and a $200 million decline for international AppleCare sales. But again, these are only estimates.
Figure 6
Apple's Protection Plans:
AppleCare US Sales vs. International Sales
in Fiscal Years 2003 to 2017
(in Millions of U.S. Dollars)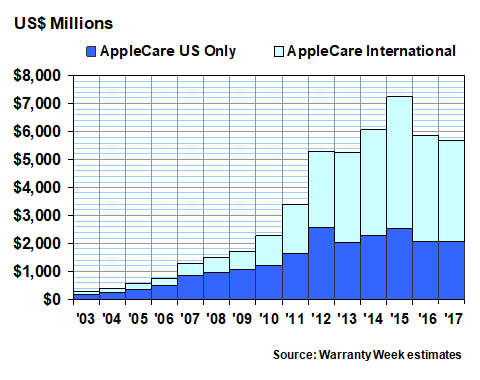 The company does not disclose sales figures for AppleCare service contracts. AppleCare Protection Plans for the Macintosh family are sold in most countries. AppleCare+ Protection Plans, which include accidental damage protection, are sold for the iPhone and iPad in the U.S., Canada, Mexico, and Puerto Rico, in nine European countries, and in Australia, China, Hong Kong, Japan, Macau, New Zealand, Singapore, and the U.A.E.
Some of those international sales are undoubtedly made in countries where AppleCare+ plans for the iPhone are not for sale, but AppleCare plans for the Mac are available. And we don't know what the attachment rates might be in any of the 20 other countries where AppleCare plans actually are for sale. Therefore, there's no way for us to conclude that 63% of AppleCare and AppleCare+ sales are made outside the U.S. just because 63% of product sales are.
There's one major flaw with these estimates, however. The 21 countries in which AppleCare+ plans are sold account for only 55% of the world's GDP. AppleCare+ Protection Plans are not sold in India, Russia, or Brazil, just to name a few. Surely some iPhones are sold there. So if we assume that product sales are made worldwide, then as much as 45% of the units might be sold in countries in which AppleCare+ plans are not available. And while U.S. sales account for 37% of Apple's product revenue, the U.S. accounts for only 16% of the world's GDP. So the calculations in Figure 6 could be way off.
Apple's Product Mix
Apple also provides very good segmentation data for its various product lines. In Figure 7, we're taking this revenue data and converting it into a percentage of 100%. As the chart shows, the iPhone was launched in 2007 and gradually took over the company's entire revenue stream. The iPad is in decline and the iPod music player is no longer reported separately. But the Macintosh revenue stream is actually increasing its share, after bottoming out at 12.5% in fiscal 2015.
Figure 7
Apple's Product Mix
Percentage of Revenue, 2003 to 2017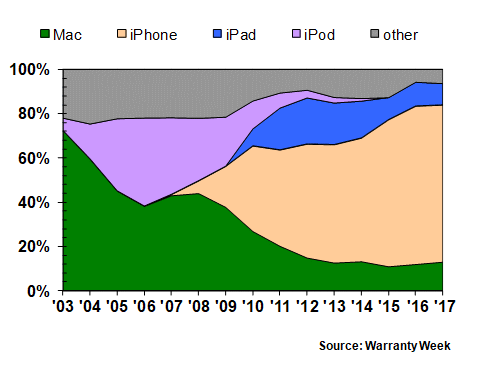 The question is, can we now multiply our assumptions and our estimates to derive an even more tenuous set of figures for U.S.-only iPhone AppleCare sales? The answer is, why not? But we would suggest that the resulting data in Figure 8 is for illustration purposes only. No warranty of merchantability is implied or alleged.
Figure 8
Apple's Protection Plans:
AppleCare US for iPhone/iPad vs. Mac
in Fiscal Years 2003 to 2017
(in Millions of U.S. Dollars)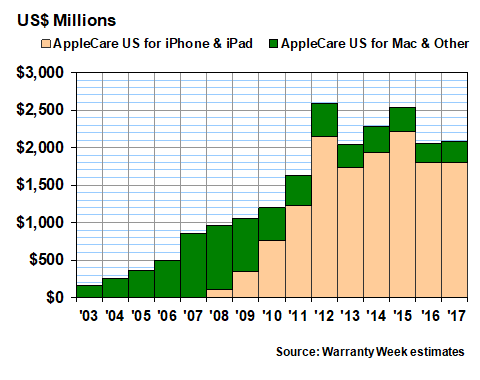 The figures suggest that AppleCare for the iPhone and iPad was a $1.8 billion program in the U.S. in the most recent fiscal year, while the AppleCare for the Macintosh program was a $289 million program. Both estimates are actually up slightly from fiscal 2016 estimates, but are down from previous fiscal years.
Still, $1.8 billion in gross written premiums puts Apple in the lead in terms of U.S. extended warranty programs. We know of no manufacturer, retailer, or insurance company with a larger U.S. program aimed at consumers, though we suspect some of the commercial protection programs in the automotive, computer, and aviation industries might be as large or even larger.
Replacement Market?
However, the primary theme of this exercise is to illustrate a point: not even the largest extended warranty programs grow forever. AppleCare seems to have peaked in fiscal 2015, though it is still of enormous size two years later. We'd suggest that this has lots to do with the shift of iPhone sales from new customers to repeat customers, and also with the perceived decline in the risk of defects, damage, or malfunctions, which occurred as those new users became experienced users.
Compared to Apple's own product warranty program, the peak was actually a decade ago. Back then, in fiscal 2007, when it was mostly Macintosh (iPhone shipments began in June), we estimate AppleCare's gross written premiums at $1.3 billion, while Apple's product warranty accruals were $227 million. The ratio between them declined until fiscal 2013, when they were almost equal. Since then, the extended warranty program's worldwide cash flow has been around 1-1/4 to 1-1/2 times as large as the product warranty program's. And that seems to be a comfortable balance between them.