November 30, 2017
Extended Protection Plans:
Service contracts sold by dealers to buyers of products such as construction equipment can increase resale value, raise customer loyalty, boost uptime, and lower operating costs. But before extended protection plan sales can begin, dealers have several risk management options to consider.

Editor's Note: This column, written by Alexander & Preston
founder Jimmy Bynum, is the latest in an ongoing series of
contributed editorial columns. Readers interested in authoring
a contributed column in the future can click here to see the
Guidelines for Editorial Submissions page.




By Jimmy Bynum, Founder & Chief Executive Officer of Alexander & Preston.

Any consumer who has purchased an electronic device -- whether it is a television, a refrigerator, or even a car -- will hear a sales pitch to purchase an extended warranty on the product. This warranty may cover parts and labor for a designated period of time ranging from several months to several years. Such extended warranties are commonplace for retail consumer products.

On the commercial side, extended protection plans provide coverage and reimbursement for failures due to defects in material and workmanship beyond the standard warranty. Regardless of the value you place in extended warranties for consumer products, business-to-business extended protection plans, when fully optimized, can increase company profits and strengthen customer loyalty.

A key difference between extended protection plans for commercial goods and extended warranties for consumer goods is planning. An extended warranty will cover parts and labor for a period of time, but will ultimately expire. An extended protection plan ensures a plan is in place to account for any defects or failures, and it can be renewed. To ensure that a plan makes the most business sense for your company, extended protection plans require professional help.

My firm, Alexander & Preston LLC, partners with manufacturers and distributors to develop, deploy, and administer extended protection plans by using real-time analytics and actuaries to calculate risk and quantify quality and reliability issues. Establishing an extended protection plan allows manufacturers and distributors to focus on their critical goals of building, selling, and servicing products.

As an example, consider construction equipment. There are multiple opportunities for dealers and customers to interact over the life of a machine (see Figure 1 for the typical life of a machine). Durable products, such as construction equipment, have multiple lives: First as a new machine, then as a used machine, and eventually as a rebuilt unit. At some point over the course of its life, this machine will need to be repaired. Given the reality of risk management, a dealer has several options.



Figure 1
The Life of a Machine
Construction Equipment Protection Plans

First, the dealer can choose to absorb any risk onto its balance sheet. While this allows the dealer to control cash, keep pricing flexible and simple, and defer revenue, there are some notable disadvantages. Such risk management may not be a core competency of the company. Additionally, this option would retain risk, while creating additional compliance risk, and open the company up to insurance accounting issues.
Second, a dealer can elect a third party to manage the risk. While this transfers the risk and recognizes revenue, there are several disadvantages. A third party managing risk will require the dealer to surrender cash, reduce its margins resulting in limited profit, and expose the dealer to claims decisions and data and intellectual property sharing issues. It will also preclude the dealer from participating in the investment income generated with the reserves.
Third, a dealer can establish a captive insurance company to manage the risk. Such a move has useful benefits. Establishing a captive allows the dealer to control cash, resulting in a simple structure, including by setting pricing flexibility and managing claims decisions. It is also the most profitable option for the dealer, as it allows investment income. Challenges of a captive include exposing the dealer to risk, regulatory filings to ensure compliance, and revenue recognition.
Integrated extended protection plans (EPPs) are the best option. Developing, delivering, and supporting integrated product life cycle solutions via extended protection plans with a coordinated maintenance agreement is critical to achieving the lowest owning and operating cost for customers. It is also the best way for dealers and original equipment manufacturers, or OEMs, to have visibility to their quality and reliability data throughout the product life cycle, while capturing profitable parts and service revenue.
An extended protection plan will change the calculation for dealers from being reactive to proactive. Importantly, an EPP will also shift the customer's operating expenses from a variable cost to a fixed cost. Extended protection plans are valuable risk management mechanisms that not only help manage the cost of ownership, but support a more integrated relationship between the dealer and customer.
A Circular Economy
Well-managed extended protection plans create a circular economy, providing both direct and indirect value for manufacturers, dealers, and customers. Such a plan will enable a customer to prepare for the cost, while providing peace-of-mind that the equipment they use will be repaired correctly, by trained mechanics, with genuine parts. The benefit to the dealer is that they are going to get the repair business -- driving profitable parts and service revenue through their organization. Not only does this help the customer and the dealer, but the manufacturer gains visibility to the quality and reliability data for a longer period of time, helping build the baseline for quality improvements.
Developing extended protection plans for manufacturers and distributors of commercial and industrial products focus on five elements of the circular economy:
Design by providing failure data back to the manufacturers to design better machines over the long-term. Quality is critical to all equipment, and by using a full product life-cycle approach -- new, used and rebuilt -- the manufacturers gather data well beyond the standard warranty.



Maintenance as it is required for protection plans to remain in effect. If the customer does not maintain the equipment as prescribed, the EPP can become invalid. Utilizing integrated maintenance packages to support prescribed regular service not only ensures the equipment is running optimally, but also provides additional parts and service revenue for the dealers. EPP does not cover regular maintenance, just those items that fail due to defects.



Repair, covered under EPP, for failures due to defects in materials or workmanship. Managing repairs quickly with the right parts and by trained mechanics ensures the machine will be returned to working order if a failure occurs. Given modern telematics, early indications of failures and scheduling the repairs is much easier today than even five years ago.



Remanufacturing, commonplace for larger industrial equipment, resulting in a new machine warranty, at which point a new EPP is also available. Most large equipment is designed to be rebuilt, which is very efficient and can provide a machine or major component with the same life and durability as a new one.



Sustainability, a need for any company today, by promoting the responsible use of materials and lowering the negative impact on the environment. Data generated from a well-managed EPP will increase efficiency and productivity, including by finding more sustainable ways to use and re-use resources, specifically by enhancing the life of machines. There is less landfill waste and lower energy consumption through remanufacturing -- all of which contribute to lower emissions. See Figure 2 for an overview of Caterpillar's sustainability impacts associated with onsite customer support offerings from its most recent report.



Earnings, by utilizing a more sophisticated approach to risk management, the dealers and manufacturers can keep the revenue and earnings associated with EPP in their pocket.
Figure 2
Caterpillar Sustainability Overview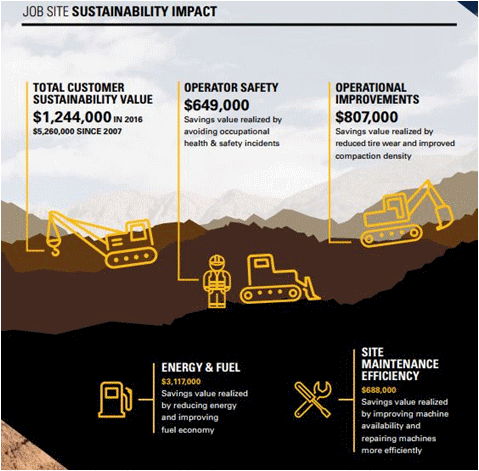 To further break down the value in extended protection plans and show how risk management can create a circulate economy, see below.
Higher Returns for Dealer
For the dealers, extended protection plans lock in revenue from parts and service, including by guaranteeing revenue from product support.
These protection programs achieve these gains through predictive analytics. Data is critical for success. It is a key element of the process of establishing extended protection plans and integrated risk management solutions. Dealers need to know when the equipment will have failures, so that they can make sure the parts are available in the territory where the equipment is located. Data will drive and support this effort, and longer-term extended protection plans are at the core of gathering this data. The data collected via the extended protection plan can be relayed to the original equipment manufacturer who may ultimately use this valuable data to redesign the product.
Additionally, extended protection plans can increase the resale value of well-maintained products.
Lastly, they strengthen customer loyalty.
With Alexander & Preston embedded in their organizations managing the EPP programs, dealers and manufactures can focus on their core competencies: sales, repairs, and customer support. Warranty and extended protection plans are often not given the attention they deserve. But once they are recognized, the value of a well-run EPP program absolutely increases loyalty. Customers can rely on their dealer, and the dealer can rely on their customers to call when something happens.
Better Customer Experience
Meanwhile, for customers, extended protection plans lower owning and operating costs, and increase machine uptime following repairs.
Oftentimes, extended protection plans result in increased trade-in value of equipment.
Such plans also drive purchasing decisions and meet their desire to reduce risk in their operations. We've all heard the adage that a happy customer is a repeat customer. A 2015 study published by Hyster-Yale Materials Handling found that aftermarket support, such as warranties, dealer support, and services and parts availability, are important to a customer's purchase decision and all-around satisfaction. Specifically, customers ranked warranty behind reliability, safety, and quality as very important to their purchase decisions, earning a 5 out of 6 score. Extended protection plans are therefore a key component of overall customer satisfaction, building brand loyalty for the original manufacturer and the dealer.
In summary, extended protection plans keep money circulating throughout the businesses.
Improved Products and Services
The analytics and data generated by administering an extended protection plan will not only help to refine risk management for the dealer, but also provide value to manufacturers regarding quality improvements and parts consumption.
A proper EPP will house and structure data for easy analysis, create customer profiles, easily integrate with existing customer relationship management software (CRM), and provide enhanced reporting to drive improved program results. Such analytics will reap enormous rewards for dealers and are critical to long-term success.
Risk Management Options
In additional Warranty Week columns during the coming weeks and months, I will include other industry leaders' input and elaborate on the value of extended protection plans for business to business dealings by further detailing risk management options, such as establishing a captive insurance company and the opportunity data provides for quality improvements. Administering a structured approach to risk management provides both a direct and indirect benefit for dealers and customers. A well-managed EPP program will directly impact a dealer's bottom line and, over the long term, will build brand loyalty.
About the Author: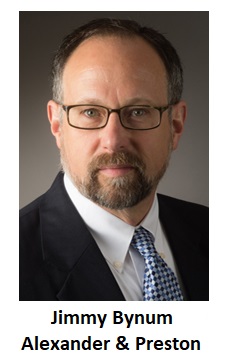 Jimmy Bynum founded Alexander & Preston in 2014 following a career specializing in extended protection plans and warranty. The company partners with OEMs and distributors of commercial and industrial products to optimize their risk management solutions. A&P services are available to commercial and industrial manufacturers of heavy equipment, agricultural equipment, medical devices, aerospace, and information technology equipment.
Prior to forming Alexander & Preston, Jimmy spent 12 years with Cat Financial Insurance Services, the extended protection plan (EPP) and captive insurance division of Caterpillar, the global leader of industrial equipment, most recently as Global Marketing Manager where he led efforts to integrate the Insurance organization into the Finance team.
Jimmy is active in the Nashville community and within the industry by serving as Vice Chair of the Board at Oasis Center, past Board Member at the Texas Captive Insurance Association, and Vice President of the Global Warranty and Service Contract Association from 2011 to 2017.
Jimmy can be reached at Jimmy.Bynum@AlexanderPreston.com or +1 832-699-7911 ext. 101.