January 18, 2018
Commercial Service Contracts, Part 2:
Though the terms extended warranty and service contract are used interchangeably, in a commercial setting a service contract can mean much more than an insurance-like agreement. It can include maintenance and product support, with a focus on response time and cost, and may have only incidental ties to the repair of defects or malfunctions.
Before we can measure the size of the commercial service contract industry, we have to decide what it includes. As we suggested in last week's newsletter, the term "service contract" can have a variety of meanings, many of which are far away from any kinship with warranties.
If I agree to mow your lawn whenever the grass needs cutting, we have entered into a landscaping service contract. If I agree to clean your office and take out the trash, we have entered into an office maintenance service contract. If my phone company agrees to provide you with dial tone and texting services, we have ourselves a telecom service contract.
One can say those are service contracts but not extended warranties. There is no fortuitous event; no contingent liability. Warranties and extended warranties cover events that may or may not happen, and hopefully won't happen. Lawn mowing is something that certainly will happen, unless the planet is plunged into endless winter (but that would be covered by weather insurance).
To illustrate the problem, we're going to look at the commercial service contracts of three high-tech electronics manufacturers: International Business Machines Corp., Eastman Kodak Company, and Extreme Networks Inc. We didn't pick them at random; they're three of only a handful of manufacturers that make any coherent attempt to disclose the accounting behind their service contract revenue streams in their annual reports.
In the charts below, it looks like the contributions of the respective extended warranty programs are small, medium, and large. Or to look at it another way, IBM is good, Kodak is better, and Extreme Networks is best, based upon the relative contribution of their extended warranty programs to their bottom lines.
However, this assumes that the terms extended warranty and service contract are interchangeable. And while this might be true for retail service contracts sold to consumers, it may or may not be true for commercial service contracts sold to businesses. The latter frequently includes not only what we'd call extended warranties, but also what we'd call maintenance, technical services, or product support.
IBM Extended Warranties
IBM, in its financial statements, doesn't have much to say about the nature of its extended warranties, beyond the fact that the revenue raised from their sale is initially recorded as deferred income, and is subsequently recognized on a straight-line basis over the period of the contract. But it does use the term "extended warranty," as opposed to service contract, and it positions them as the next step up from what it calls "standard warranty."
In Table 1 below, we've reproduced the chart IBM included in the Notes to Consolidated Financial Statements section of its annual report for the year ended December 31, 2016. But we've altered the color of some of the entries to make it easier to correlate them to the lines in the chart that follows.
Table 1
Commercial Service Contracts
Deferred Revenue Table Format
From the Annual Report of: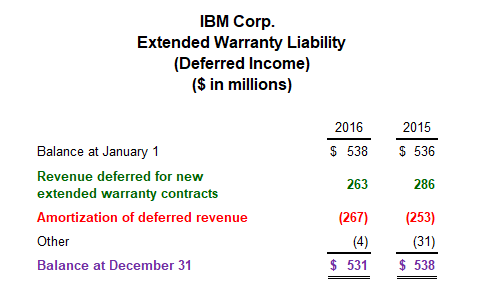 IBM calls the amount associated with new extended warranty contract sales its "Revenue deferred for new extended warranty contracts." This amount, in green, is the total amount of premiums paid by customers at the starting point of their extended warranties.
As time goes on, IBM would recognize the revenue on a straight-line basis. For instance, if a customer paid a $100 premium for a four-year extended warranty, that full amount would initially be deferred, and then recognized, or earned, at a rate of $25 per year for four years. That revenue recognition, or earned premium, which IBM calls the "Amortization of deferred revenue," would always be a negative number since it would always subtract an amount from the total. In the above example, it's coded in red.
And then there is the resulting balance, which is the amount of revenue that's still deferred and still needs to be recognized. In the above example, it's coded in purple.
In the chart below, we've taken the corresponding figures from IBM's last 10 annual reports and compared them to what the company calls its systems sales. This is the computer hardware that also is covered by product warranties, unlike the revenue IBM derives from financing or sales of services. Comparing the figures results in a series of percentages, representing the relative size of the extended warranty program, compared to sales of the hardware it protects.
The green line corresponds to new contract sales. The red line corresponds to revenue recognized from previous sales, or as the insurance industry would call it, earned premium. And the purple line corresponds to the amount of revenue still waiting to be recognized at the end of each year -- the ending balance in the deferred income account.
Figure 2
IBM Commercial Service Contract Sales
As a Percentage of Product Revenue
(in percent, 2007-2016)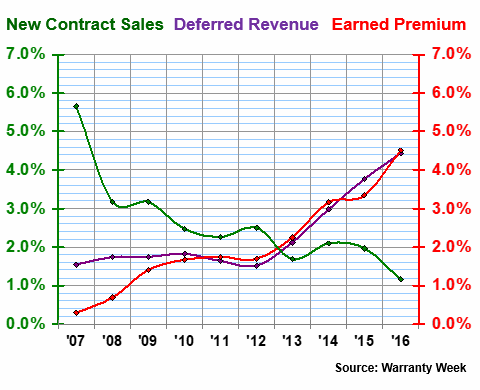 Note that while new sales (green line) posted a steady decline over the decade, the recognition of past sales (red line) steadily increased as a percentage of hardware revenue. Meanwhile, the balance remaining, still to be recognized, also rose from 2012 onwards, after remaining flat from 2007 to 2012.
This suggests that while IBM is selling fewer new commercial service contracts, they're written for longer periods, in that there are more years of revenue to defer. And because of the longer durations, there is more revenue recognized from previous sales than there is new revenue deferred from recent sales.
Also note that most of IBM's extended warranty metrics are in the same 1%-to-5% range as most companies' standard product warranty metrics. In other words, extended warranties seem to account for a reasonable share of IBM's revenue, compared to the revenue raised through the sale of the products they protect. The extended warranty liability is comparable in size to the standard warranty liability.
As mentioned, in its financial statements, IBM doesn't have much to say about its extended warranties beyond the fact that it sells them, and defers the revenue raised from their sale. So we took a look at the product line, and shopped for products that have extended warranties associated with them. For instance, the IBM 1725 System Storage DS6000 Series Model 2EX has a two-year extended warranty available for it in the U.S., Mexico, most of the Caribbean, Central America, and South America. The McData Corp. Intrepid Enterprise Fibre Channel Directors and Sphereon Fibre Channel Switch offerings, which are resold by IBM, include additional one-year extended warranty options sold and supported by IBM.
IBM China sells both a 60-month extended warranty that can be added to a 12-month product warranty and a 36-month extended warranty that can be added to a 36-month product warranty. Both contracts, it notes, change the warranty service level from next-day to same-day response time, even during the initial year when the product warranty is in force. Other documents that we found on the company's website outline the three-year extended warranties IBM sells to Walmart and the four-year extended warranties IBM sells to Verizon to complement the standard one-year product warranties IBM provides to them for their tape hardware components.
Suffice it to say that IBM's extended warranties seem to be associated with its systems sales, and those systems sales seem to be aimed squarely at commercial customers. Some of the language in the terms and conditions outlined for extended warranties in Australia and New Zealand refers to consumer laws and consumer protection groups, but this may be outdated.
In years past, IBM may have sold extended warranties to consumers, but it sold its personal computer product line to the Lenovo Group in 2005, and spun off its printer manufacturing into what became known as Lexmark International in 1991. Nowadays, we can't find anything resembling a consumer product in what remains in the IBM product line.
Kodak Extended Warranties
Eastman Kodak, in its annual report, identifies the deferred revenue derived from sales of extended warranties in a table that's part of Note 10: Guarantees. However, it also cautions that because it is not practicable to separate extended warranty revenues and costs from routine maintenance service revenues and costs, it has not done so.
Kodak does go a step further than most companies in a different direction, however. Most companies simply provide figures for new contract sales and earned premium. But they don't talk about program expenses or profits. However, Kodak provides figures for both new sales and recognized revenue, and also provides a separate figure for costs incurred along the way.
Therefore, anyone with a calculator can figure out their loss ratio and profit margin. For instance, in 2015, Kodak recognized $177 million in extended warranty and maintenance arrangement revenue, against $125 million in costs. In 2016, Kodak recognized $168 million in earned premium against $112 million in costs. In other words, its extended warranty program is pleasantly profitable.
In Figure 3, we are not including any measures of profitability. Instead, we are looking only at newly-deferred revenue, recognized revenue, and still-not recognized revenue, in the form of the green, red, and purple lines. But keep in mind that this includes both extended warranty revenue and maintenance service revenue, because Kodak does not separate them.
Readers will notice the huge gap between the purple line, which tracks the still-not recognized revenue left at the end of each year, and the green and red lines, which track recent sales and recently recognized revenue. In past years the gap had remained close to 9% or 10%, but in 2013-16 the range widened to 11% to 12%. And it widened primarily because the year-end balance (purple line) dropped. This suggests that while sales of extended warranties are increasing, most of them are short-term plans, which leave little unrecognized revenue behind at the end of each year.
Figure 3
Eastman Kodak Commercial Service Contract Sales
As a Percentage of Product Revenue
(in percent, 2007-2016)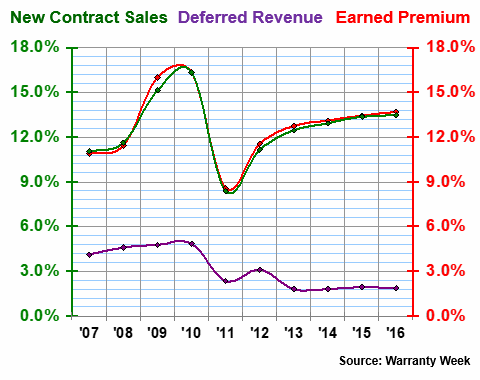 For most of its 130-year history, Kodak has engaged in both commercial and consumer sales of cameras and film. Up until 2007, Kodak was also in the medical equipment business, but it sold that product line to Onex Corp. for $2.35 billion. But following its 2012 bankruptcy, the company refocused itself on commercial sales of film and imaging/printing equipment. In 2016, the segment referred to as "Consumer and film" accounted for less than 14% of total revenue, down from 15.5% in 2015.
In fact, most of the digital cameras are now manufactured by JK Imaging Ltd., which licenses the Kodak name. Most of the rest of the "Consumer and film" segment is actually film, as well as ink and other chemicals. In other words, it's consumables, not hardware that gets warranties. The main revenue generator for Kodak and the primary source of warrantable products is the "Print Systems" segment, accounting for almost two-thirds of all revenue in both 2015 and 2016.
Meanwhile, by our estimates, extended warranties comprise upwards of 13% of the revenue in the three product segments we're counting as warrantable, and therefore extended-warrantable. Besides the "Print Systems" segment, other sources of warrantable hardware include the Versamark printing systems and the Micro 3D Printing and Packaging segment. In recent years, that's comprised 70% to 80% of the company's total revenue (although it unavoidably includes some non-warranted consumables and services as well).
For each of its printing systems, Kodak provides an array of what it calls "support plans" that include parts, onsite repairs, telephone support services, preventive maintenance, and software upgrades. Kodak states that the primary value of a support plan includes:
Maximum uptime,
Committed response time,
Operational efficiency,
Predictable expense, and
Minimum cost exposure.
These are values that appeal largely to commercial customers. In fact, in all of the online brochures and promotional materials for the various Kodak support plans, repairs are more or less assumed, with the speed of repairs open to negotiation. Some support plans provide for four-hour onsite response times, though most specify a next-business-day target. Buyers of its NexPress and Digimaster printing systems can optionally purchase onsite support plans that escalate all the way from the basic weekday 8am-to-5pm coverage up to 24-hour-by-7-day coverage that also includes holidays.
Even if the extended warranty total includes some routine maintenance service revenues, it is many times larger than the basic product warranty program. In 2015, Kodak reported only $8 million in claims, compared to $177 million in extended warranty and maintenance arrangement revenue. In 2016, the company stopped reporting its product warranty expenses entirely.
The point is that at Kodak, extended warranty and maintenance contracts are a big part of the company's revenue, and commercial customers account for most of the extended warranty and maintenance contract purchases. So these are commercial service contracts.
Extreme Networks Maintenance Contracts
Next, let's look at a data networking company that has an even larger amount of deferred revenue on its books from the sale of extended warranties and maintenance contracts. Since 1996, Extreme Networks has sold an array of networking hardware and software to a worldwide group of commercial customers. Major competitors include Cisco Systems and Juniper Networks.
Unlike IBM and Kodak, Extreme Networks ends its fiscal year on June 30, so the data in the chart below is six months fresher than either the Kodak or the IBM data. However, there won't be a new annual report from Extreme Networks until September 2018, while we're going to get new data from IBM and Kodak in March.
However, much like Kodak, Extreme Networks mixes together extended warranties and maintenance contracts. However, even after accounting for that fact, the difference in scale between IBM, Kodak, and Extreme Networks is, well, extreme. At IBM, extended warranties account for 5% or less of revenue. At Kodak, extended warranties and maintenance plans together account for 14% or less of revenue. But at Extreme Networks, new extended warranty and maintenance contract sales account for nearly 28% of revenue, and the amount of deferred revenue sitting around at the end of fiscal 2017, waiting to be recognized, exceeded 21% of current revenue.
At the end of fiscal 2017, Extreme Networks reported $598.1 in total revenue, and $97.3 million in still-deferred revenue, of which $72 million was current (expected to be recognized within one year). During the year, it sold $125.5 million in new service contracts (extended warranty and maintenance), against $451.5 million in product revenue. That's nearly a 28% ratio!
Figure 4
Extreme Networks Commercial Service Contract Sales
As a Percentage of Product Revenue
(in percent, 2007-2017)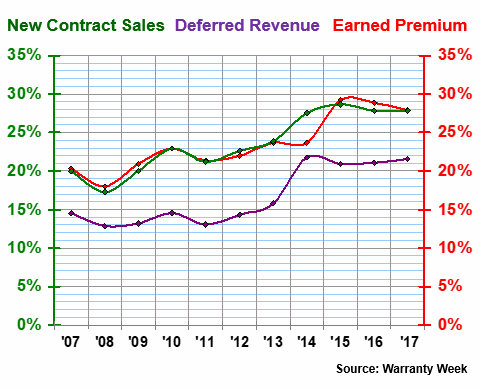 Extreme Networks describes itself as a global networking solutions provider serving customers in over 80 countries. The company states that its customer base includes "tens of thousands of organizations," "from small towns to high-profile sports leagues," "and enterprises of every size in between." So it's safe to say that most of its sales are commercial in nature, as opposed to consumer-oriented.
The company calls its extended warranty and maintenance service agreements ExtremeWorks. Customers can buy whatever response time fits their needs. Hardware replacements can be either next-day or four-hour. Replacement parts can be installed by the customer or installed by an Extreme Networks field technician. Phone support is available 24x7. Software updates are also included.
Fortuitous Events?
The point is, there is very little uncertainty in the package. ExtremeWorks is designed to maximize uptime, but it's primarily a maintenance service, not some sort of product insurance. Yes, extended warranties and service contracts are technically not insurance. But no matter what the lawyers and lobbyists say, they're still insurance-like, in that they will pay for events and outcomes that may or may not happen. Maintenance services are more or less expected, like a lawn-cutting contract or an office-cleaning contract.
Warranties, and by association, extended warranties, protect against unexpected and undesirable events: defects, malfunctions, damage, etc. Maintenance contracts cover expected events: cleanings, upkeep, monitoring, upgrades, management, etc.
And that's the problem with any attempt to size the market for commercial service contracts. Unlike consumer service contracts, the whole question of whether there is a contingent liability is removed. As Kodak states, it is not practicable to separate extended warranty revenues and costs from routine maintenance service revenues and costs.
And if there's no contingency, there's no good fit for an insurance underwriter, because the odds that service will be required are exceedingly high. It would be like selling an extended warranty to customers when every customer is expected to file a claim. There's no uncertainty in that.