February 8, 2018
ServiceBench Signs Cross Country:
While the appliance service contract and home warranty businesses have remained separate and distinct, the products they protect are frequently the same. Now, the crossover between the two is increasing, with home warranty companies linking to the network used by many service contract administrators, and retailers selling home warranties in their stores.
ServiceBench, part of Asurion LLC, is expanding its reach into the home warranty industry through a partnership signed with Cross Country Home Services, part of the Cross Country Group. This may be a sign that the traditional wall of separation between the retail service contract and the whole home warranty is beginning to break down.
For decades, ServiceBench has served as the communications hub for a diverse group of major appliance manufacturers, retailers, service companies, parts vendors, and others involved in warranty work and repair activities. Later, it added consumer electronics and heating, ventilation and air conditioning companies to the mix. Now it's adding home warranty companies such as CCHS into the network, further diversifying its roster of clients.
ServiceBench already links to tens of thousands of independent field service technicians in both the appliance and electronics industries. When consumers initiate a warranty claim, the ServiceBench network helps schedule a home visit to perform a repair. Many of these service technicians already work with the administrators of both retail service contracts and home warranties. But now, some of the home warranty administrators are also beginning to work with ServiceBench.
Cross Country Home Services is part of the Cross Country Group, a privately-held company which also includes Agero roadside assistance services (formerly called Cross Country Automotive Services), and Financial Recovery Technologies, a company that helps institutional investors collect funds from securities-related class actions and antitrust settlements. The Cross Country Group was founded in 1972 and remains headquartered in the suburbs of Boston, while CCHS is centered in Fort Lauderdale, Florida.
ServiceBench began spinning its web for consumer product manufacturers, retailers, service companies, and extended warranty administrators back in 2000, when Frigidaire signed on to create a data network for its appliance dealers, retailers, and independent service providers. They were then followed by Whirlpool, Sony Electronics, Goodman Manufacturing, Sears, Panasonic, and many others, with the value of the network rising every time a new partner signed on. In early 2008, NEW Customer Service Companies Inc. acquired ServiceBench, and then a few months later Asurion LLC acquired NEW.
Deeper Into the Residential Trades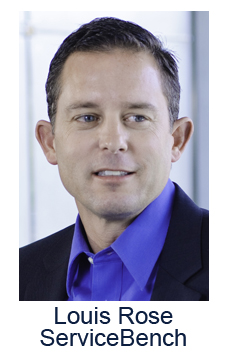 Louis Rose, the vice president and general manager of ServiceBench, noted that the company he helped co-found has been in the appliance, HVAC, and consumer electronics verticals for many years. "In an effort to address the needs of both our clients and their consumers, we've expanded our Business Management System user base to include the plumbing and electrical industries," he said. "And with all those residential trades under one umbrella, it just made sense for us to promote our service delivery platform to companies that need all those trades to satisfy their consumers."
Rose noted that ServiceBench doesn't perform the service itself. Instead, it simply acts as the hub, helping to schedule the service event by seamlessly connecting the administrator, manufacturer or retailer, and the consumer, to the client's service provider via its cloud-based service management systems.
"This aligns with our vision of providing our proven service operations platform to this industry to seamlessly connect all parties in order to maximize the customer service experience. With this increased visibility, core functionality, client specific customizations and their management of the service experience, ServiceBench clients can expect to see a decrease in overall claim costs, a reduction in turn time, and an increase in customer satisfaction," Rose explained.
"We focus mostly on providing technology-based field service and claims solutions to our clients to allow them to manage service events for service contracts, warranty and COD events," he said. "We facilitate onsite and depot, maintenance, repair and installations for well over 10 million events annually, and the corresponding claims or invoices that may arise from those."
Figure 1
The ServiceBench Network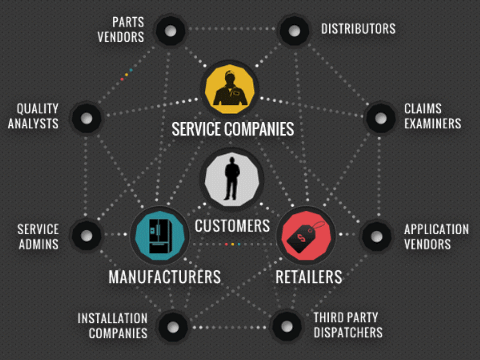 Source: ServiceBench
Rose suggested that all ServiceBench clients share roughly 70% to 80% of the platform's functionality. But then there are custom features and functions that relate to specific ways they operate their businesses, and how they work with their field service networks. "They each get their own personality," he said. This allows each client to provide a premium, custom offering to their respective customers.
So what took ServiceBench so long to enter the whole home warranty industry? Rose said it was simply a matter of getting it right. "We built ourselves on the ability to satisfy the needs of the service companies. There are different needs for a major appliance service company versus an HVAC, an electrician, or a plumber. So it takes a lot of time to do that without losing focus on your existing clients. There are nuances in each of those that would benefit the other areas too. What you learn in electrical might fit nicely into appliances in the future. So it's advantageous to blend some of those capabilities and enhance both," he said.
Rose also said several other home warranty companies have already or will soon roll out the ServiceBench platform. "We've been working with them for about two years," he said. But he is not at liberty to say their names. And while CCHS is a U.S.-based company, Rose added that ServiceBench processes transactions from almost every country in the world on behalf of its clients.
"Our partners are primarily U.S.-based, although many have a global presence," he said. "Therefore, our cloud-based applications are currently available in many different languages, currencies and other localizations now, and we are aggressively expanding into others."
For appliances, home warranties work a bit differently from the product warranties offered by manufacturers and the extended warranties sold by retailers and manufacturers. Typically, a homeowner pays around $400 per year for the home warranty policy, and then around $60 per service event (the deductible) for each claim they make. And then the plan covers all of their major appliances, whether they're new or old.
Three Home Warranty Plans
Cross Country offers customers the option of paying a monthly premium instead of annual. And its plans come in three sizes. The Appliances Plan covers kitchen and laundry appliances. The Systems Plan covers heating and cooling systems, water heaters, plumbing, electrical, and gas systems. And then the Combo Plan covers both. Customers can choose their deductible as well, but a lower deductible means a higher monthly premium.
In the end, at least for items such as refrigerators, washers and dryers, it's a different way to cover the units with a protection plan, compared to buying an extended warranty from the retailer when the unit was first purchased. The costs are different but the coverage is the same. And the same repair company might be given the job to respond to the request for service, wither the work is going to be paid for by the manufacturer, a retailer, a home warranty company, or the customers themselves. Most or all are likely to use ServiceBench to communicate.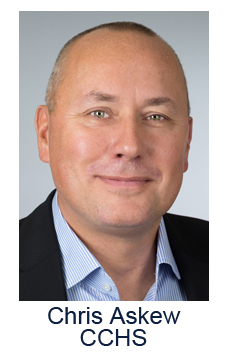 CCHS Chief Operating Officer Chris Askew said ServiceBench is a much more modern technology than the homegrown system it replaces. For instance, Askew said the old system didn't include customer relationship management functionality beyond customer profile and claims history. Also, the automated approval functionality was more narrow than what we need to provide our service partners in 2018 and beyond. The new system has both.
"What all that means is that we're moving to delight our customers, because we're compressing the time to resolution, and we're delighting our service providers, because we're enabling them to be more efficient, more productive, and to run more jobs," he added. "ServiceBench is our service delivery platform from point of entry by our customers through our internal service delivery processes, out to our service providers, and into the homes of our customers to provide resolution."
The initial cut-over to a full implementation took place during the first weekend of November last year. CCHS previously opened a functional test system in June. "We did various pilots of the program and then launched a progressive rollout to ensure we remained focused on delivering on the customer service experience," Askew said.
Technology Transformation
When Steve Upshaw first took over as CEO of CCHS in 2015, he immediately embarked on a digital transformation of the company's organizational structure and culture while creating a long-term vision for CCHS dedicated to supporting the company's stakeholders: service partners, channel partners, homeowners, and employees. His vision is for CCHS to become the preeminent player in the home services market, leveraging digital tools to take the company into the future. For instance:
Digital/Technology Transformation: Upshaw's digital roadmap led the company to launch one of its biggest technological advancements in 10+ years.



Attracting and Retaining Top Leadership: Upshaw has rebuilt CCHS' executive team, hiring a new CFO, COO, CHRO and several new Senior Vice Presidents.



Growing Revenue: CCHS is in its fourth year of strong double-digit top-line earnings growth.



Customer Service: CCHS has implemented improved business processes and technology that improved both its customer service level average and escalation service level average scores during the peak summer season of 2017.
Numerous additional digital innovations are also becoming available to customers. For instance, CCHS deployed a capability where a consumer can tell their Amazon Alexa device that an appliance or electronic item needs to be repaired. The device would then leverage the ServiceBench platform to schedule an appointment with a service technician from one of CCHS' network of service providers.
"I believe the best way for Cross Country Home Services to continue to grow is to transform the consumer experience," Upshaw said. "We've broken out of the pack by leaning into technology advancement opportunities. And so, this is an example where by integrating technology we've developed at CCHS or elsewhere with the ServiceBench platform, the result is our customers having a more simplified interaction," he said.
Upshaw said that customers consistently report in surveys and other research that they want CCHS to make use of advanced technologies like mobile phone apps and Alexa to make things easier for them. "We are giving them control over their experience by making it simple to choose a service provider, pick their appointment and more. And, we're partnering with the most capable organizations, like ServiceBench," he said. "Our customers want simple and seamless. They are not focused on what needs to happen behind the scenes. What they want is when something goes wrong in their home, they want it to be resolved the first time with the least amount of interaction and effort on their part."
"We are seeing tremendous organic growth and expect that to continue," Upshaw said. "We are now in our fourth year of strong double-digit top-line earnings growth. And, we believe by pursuing our transformation efforts, and leaning into technology opportunities, that we can accelerate that growth."
The company is also looking to expand its distribution channels beyond the traditional linkage to the sale of an existing home. Upshaw said CCHS already has a strong retail presence through its relationship with Sears, whose Sears Home Warranty Plans provide coverage for up to 20 major appliances and household systems, regardless of their age, brand or where they were purchased.
"We believe that continuing to grow our existing channels is important," Upshaw said. "But we also believe that other retailers, big box or otherwise, represent terrific opportunities for us. And we're very focused on expanding our distribution channels in a variety of different verticals."