March 1, 2018
Managing Servicers and Dealers with Data:
After, Inc. uses state of the art modeling techniques combined with industry know-how to help manufacturer's navigate the sometimes challenging relationship between manufacturers and TPAs with servicers and dealers. Implementing cost control changes with minimal friction is the goal.

Editor's Note: This column, written by After, Inc.'s Kevin Rigg,
Dan Hulkower, and Paul Swenson, is the latest in an ongoing series
of contributed editorial columns. Readers interested in authoring
a contributed column in the future can click this link to see the
Guidelines for Editorial Submissions page.




Dealer and servicer networks are key parts of any manufacturer's connection with their end users. In most cases they are the most important or sole touch point with customers, providing sales and or service -- either at the point of sale or when a product needs repair -- and they are a critical driver of satisfaction and loyalty.

In the case of dealers, manufacturers perform a balancing act -- they are dependent on their dealer network for some or, in some cases, all of their sales -- but they wrestle with them when it comes to managing service. If there is a service policy or systemic gap, the commonly held belief is that dealers will find and exploit it.

Manufacturers are wary to challenge them because of their direct relationship with the customer, franchise contract language, and state legislation protecting dealers from onerous oversight by manufacturers. Ensuring customers' service needs are handled properly is critical because nearly 70% of customers will not return to dealership after the warranty has expired, leaving only a 30% customer retention rate.

If a dealership can obtain a higher percentage of returning service customers they are more likely to consider purchasing another new product from their servicing dealer. Mishandling of customer service issues can eliminate that brand from future purchase consideration. How does a manufacturer work with its franchised dealers to ensure loyalty, maximize customer satisfaction, and ensure reserves are not overextended while staying within the specified guidelines for what is and isn't covered?
Critical Touchpoint
The same question can be asked for third-party servicer networks. Although the sales channel relationship isn't present, servicers are the critical touchpoint for customers at a key moment of product ownership – the point of repair. And the commonly held belief on claims submission with servicers is similar to dealers – if there is a loophole, it will be found and exploited.
In the service industry competing business priorities can cause conflicts between manufacturers and dealers or third-party administrators and servicers. For example:
Dealers or servicers want to maximize the cost per repair (CPR)
Dealers or servicers want to increase the number of repairs through their facility
For warranty work, manufacturers or third-party administrators want to minimize both
The key for manufacturers or third-party administrators (TPAs) in managing this conflict while ensuring high customer/dealer satisfaction and fulfilling their fiduciary responsibilities, is to have high quality automated claim reporting and analytics. This technology will sort through thousands or millions of claims. It will identify high CPR, high frequency repairs, and which dealers and servicers trying to "game the system."
Controls can then be tailored and targeted to problem areas or dealers and leave good dealers or servicers with minimal controls. All dealers can still be monitored for potential future issues.
After, Inc. works with manufacturers to develop industry and company specific sets of metrics to measure dealer performance and support dealer communication to increase engagement and loyalty. By analyzing claim data and making the measurements objective, costs can be contained, and friction reduced. But where do you start?
After, Inc. begins the process exactly where you'd expect – by evaluating the data and first establishing benchmarks and then identifying where servicers deviate from the norm nationally, regionally, by model/sub-model, by repair type, and much more. For example:
Parts and labor costs,
High cost vs. low cost repairs,
No fault found claims, and
Repair efficiency.
Next, they do text analysis to look for inconsistencies between the comments and the repairs performed. The goal is to find patterns that are clearly outside the norm, taking regional differences into account.
Issues Uncovered
Analyses by After, Inc. consistently uncovers issues such as:
Replacing an engine or transmission assembly vs. performing a repair or overhaul,
Pre-existing conditions on used vehicle resulting in repairs being performed under a service contract vs. being repaired prior to the vehicle and contract sale,
Replacing wear parts prematurely under a maintenance contract that covers wear items,
Submitting for multiple days rental reimbursement on repairs that should take less than one day, and
Over-repair of a home HVAC -- replacement of non-defective parts.
Below are some examples of how the data drives After, Inc. to identify the issue.
The cumulative cost per unit (CPU) chart below shows a rapid increase in claim costs for Model 1 & Model 2.
Figure 1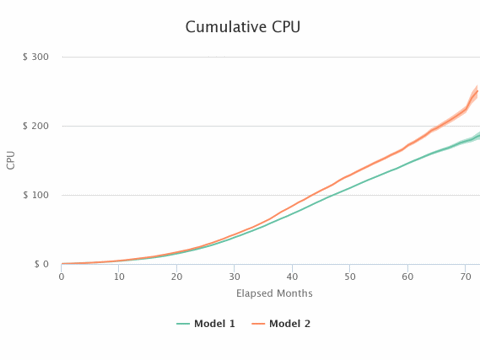 As soon as a variation in performance is identified, the digging begins. Typically, parts failures are the first place to look. The Pareto chart below shows the top 10 parts replaced by cost and their relative spend for Model 1 and Model 2. Part A is over 300% greater than Part B and it accounts for over 28% of the total claim costs.
Figure 2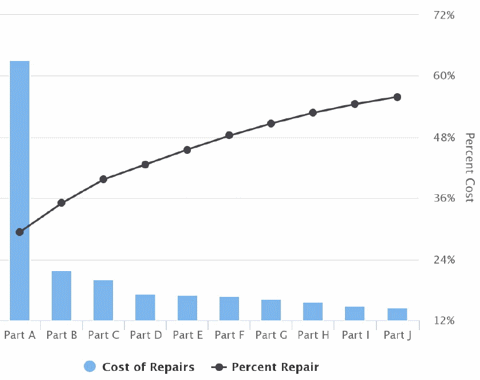 Further analysis of Part A is the next step. The data below shows the 24-month trend of the top 10 parts and claim volume. Part A, has an upward trend in claim volume and expense and has a very prescriptive diagnosis and repair procedure. Controls should be reviewed to ensure dealers are following the specified diagnosis and repair routines.
Figure 3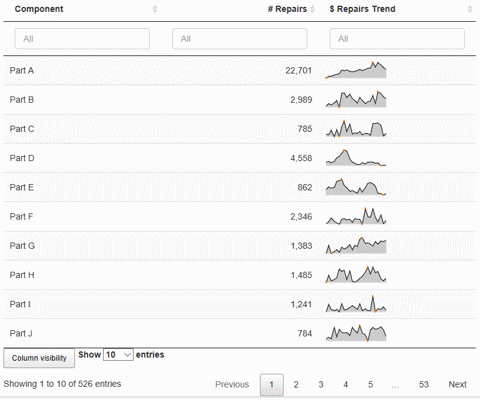 Upon further investigation it was discovered that technicians were not following the appropriate diagnostic and repair steps prior to replacing Part A. Technicians were by-passing important service procedure steps and jumping to the inappropriate conclusion of replacing Part A. By doing so, repair claim volume was inflated, which caused the extraordinarily high expense for Part A. If technicians followed the repair procedure a much simpler and less costly repair could have been performed.
There are several control options available to manufacturers to help control this over-repair. For example:
Review diagnostic fault codes electronically via dealer diagnostic equipment (if available) prior to claim payment,
Have technicians document and provide diagnostic fault codes along with claim submission,
Place a prior approval requirement on this repair type. Technicians must contact the manufacturer prior to completing and submitting the claim in for payment, or
Have the dealer return Part A to a part return center for inspection after the repair is completed.
Once a pattern of abnormal claim expense has been identified and it's been decided a control action is necessary, it is vitally important that dealers or servicers are informed in writing prior to implementation. This communication will need to:
Clearly define the problem,
Provide the business case (for manufacturers and dealers) if a control is not implemented, which should also explain why a control is necessary,
Instruct dealers what they can do to self-correct,
Allow dealers some time to self-correct, and
Explain the consequences if correction is not implemented.
Communicating these details can support positive relations with dealers or servicers. While there may be some initial push-back, this will be minor compared to implementing a control and "blindsiding" dealers.
Self-Correction
To minimize negative reactions the business case justification for the control should be made clear. In addition, the manufacturer will benefit by communicating with dealers or servicers because a large percentage of dealers will implement self-correcting actions. This self-correction will very quickly lower claim costs and minimize the number of dealers that need additional controls.
We all recognize that dealers and servicers are not all the same. There are many outstanding dealers and servicers around the globe who manage warranty claim expense as if it was their own money. As a result, all dealers or servicers should not be handled in the same manner.
The initial tendency will be to tighten controls on all dealers or servicers and impede the repair process at good dealers who don't need additional oversight. Having controls such as 100% claim pre-authorization will damage the brand because of lengthy repair times, and negatively impact dealer or servicers repair shop throughput and satisfaction.
Using claim data to create informative reports and analytics to identify the root cause of high claim expense is a necessary in controlling claim costs. Without reporting and analytics and knowledgeable people interpreting the data, manufacturers will be left guessing where controls are needed. Many will resort to 100% claim pre-authorization, which will have a negative customer repair experience and potentially damage the brand.
About the Authors:
Kevin Rigg, strategic consultant After, Inc.; KAR Warranty Consulting. Kevin is a cost control expert with nearly 40 years of experience in the auto industry.

Dan Hulkower, senior vice president After, Inc. Dan is a warranty industry veteran with more than 20 years of experience. He's been with After, Inc. for more than three years.

Paul Swenson, executive vice president After, Inc. Paul has been with After, Inc. for more than 10 years and was a customer before joining the company. He has more than 30 years of industry experience.