March 8, 2018
US Automaker Warranty Report:
GM takes the lead as its warranty cost per vehicle dips below $300, allowing it to take a whopping $1.3 billion out of its reserve fund. Ford remains steady while Tesla still has unusually high warranty expenses. And GM is now third on the list of top warranty providers based in the U.S.
The 2017 annual reports have been streaming in for the past few weeks, with manufacturers and retailers reporting their product sales, warranty claims, and accrual totals for the year gone by. But roughly three dozen companies aren't scheduled to file their annual reports with the U.S. Securities and Exchange Commission until later in March. So this week, while we wait for those procrastinators to give us their warranty expense data, we're going to take a deep dive into the latest filings from the top U.S.-based passenger car and light truck manufacturers.
Claims Proportional to Sales
Overall, warranty expenses seem to be keeping pace with vehicle sales. General Motors Co. saw its worldwide automotive revenue fall by about 15% in 2017, and its claims cost fell by 16%. Ford Motor Co. saw a 3% increase in sales, and a 5% increase in warranty claims. Sales revenue at Tesla Inc. soared by 53%, and its warranty claims payments rose by 55%. So there's not much that's unexpected in this latest round of data.
However, because of the order of magnitude difference in size between GM and Ford on the one hand and Tesla on the other, it's difficult to find ways to compare them on the same chart. For example, Figure 1 details 15 years of quarterly claims payments by GM and Ford, and nine years of claims totals for Tesla. GM is in red, Ford is in blue, and Tesla is in fuchsia.
Figure 1
US Automakers' Product Warranties
Claims Paid per Quarter, 2003 to 2017
(in Millions of U.S. Dollars)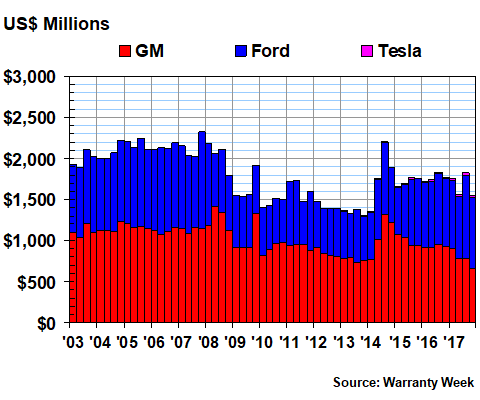 Can't see the Tesla data? It's on top to the right, like a fine layer of pink snow sprinkled on the roof. In 2017, GM paid a net $3.13 billion in warranty claims, while Ford paid nearly $3.46 billion. Tesla paid $122.5 million -- not even 4% as much as either of those.
But let's not skip over the fact that Ford paid more in claims last year than GM did. It also reported more automotive product revenue than GM, though it sold fewer vehicles. But for the full year and for the fourth quarter of 2017, Ford is the second-largest U.S.-based warranty provider, behind Apple Inc. and ahead of GM. That's worth noting.
Worldwide Warranty Costs
Later this month and early next month, the European carmakers will file their annual reports, providing us with a glimpse of how warranty expenses have changed at Fiat Chrysler Automobiles and other OEMs such as BMW and Volkswagen. All sell their products in the U.S. and some even manufacture them here. But we're not yet ready to enumerate the worldwide warranty expenses of the entire auto industry, as we did in the July 7 newsletter last year. For that to happen, we first need to hear from the Japanese automakers, and their fiscal years don't end for three more weeks. Their annual reports usually come out in late June.
So let's focus just on the U.S.-based automakers, keeping in mind that Chrysler will be included with the Europeans next month. As mentioned, warranty expenses rose and fell more or less in proportion to sales, so it should come as no surprise that the ratio between claims and sales changed only slightly. When we compare each company's claims rate at the end of 2017 compared to their levels at the end of 2016, we find that GM's fell from 2.4% to 2.3%; Ford's rose from 2.3% to 2.4%; and Tesla's remained the same at 1.4% of product revenue.
Figure 2
US Automakers' Product Warranties
Warranty Claims Rates, 2003-2017
(as a % of product sales)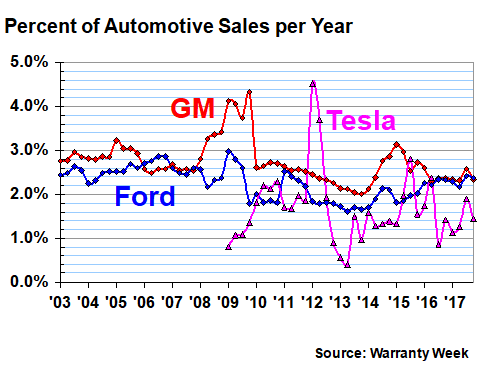 As Figure 2 details, recent claims expense rates have been fairly stable, and close to the long-term averages of each company. GM and Ford had their bad days during the recession, with GM enduring a secondary peak in 2014 because of its ignition switch problem and other unexpected warranty costs. Tesla once cut its claims cost from 4.5% of revenue to 0.4% of revenue in only 18 months, from early 2012 to 2013. Now all three companies are in the middle of their range.
Warranty Accruals
The problem with warranty claims, particularly in the U.S. car industry, where warranties can last five or more years, is the lag time between when a vehicle is sold and when it needs warranty work. GM, for instance, had to repair vehicles that were a decade old in 2014 and 2015. And in 2009, when its sales slowed to a trickle, it was still paying claims on cars sold two, three, or four years before. This takes away from the value of comparing claims to sales, because only a small portion of the expense is coming from current year products.
In contrast, the automakers traditionally make their warranty accruals at the time a product is sold. First they figure out how much they can expect to pay on average for the vehicle's warranty in the years ahead, and then they set aside that amount in a warranty reserve fund. As the claims get paid, they take the money out of the reserve fund. If their predictions were right, they should pay exactly as much in claims as they set aside in accruals.
The point is, if there's no change in product quality, then warranty accruals should remain proportional to sales, and the percentage rate we get from comparing them should remain relatively unchanged. When an unexpected expense such as the 2014 ignition switch problem arises, the company can make an additional accrual to cover the increased expense.
In Figure 3, we can see it happen at GM during two successive quarters in that year. It's as plain as day. But in the fourth quarter of 2017, GM accrued only $620 million -- its lowest quarterly total since early 2010. Ford actually accrued more than GM in the fourth quarter, though it accrued less for the year as a whole. But as the chart below shows, Ford endured its worst warranty pain in the years before the recession, and has remained relatively steady since it ended.
Figure 3
US Automakers' Product Warranties
Accruals Made per Quarter, 2003 to 2017
(in Millions of U.S. Dollars)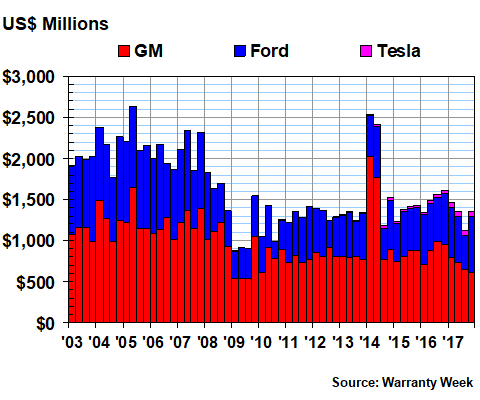 For 2017 as a whole, GM accrued $2.8 billion while Ford accrued $2.26 billion and Tesla accrued just under $250 million. Once again, it's hard to see the dusting left by Tesla on top of the columns stacked high by GM and Ford. But it is included.
In Figure 4, we're talking the data from the chart above and dividing it by the corresponding amount of product revenue. As was mentioned, absent a meaningful change in product quality or some other factor such as repair costs, the accrual rate should remain about the same over time. This seems to be the case at Ford, which has remained incredibly close to its 1.55% average since 2009. In fact, it ended 2017 with its accrual rate at precisely that level. However, GM had that big spike in 2014, and Tesla has still not settled down to a steady accrual rate.
Figure 4
US Automakers' Product Warranties
Warranty Accrual Rates, 2003-2017
(as a % of product sales)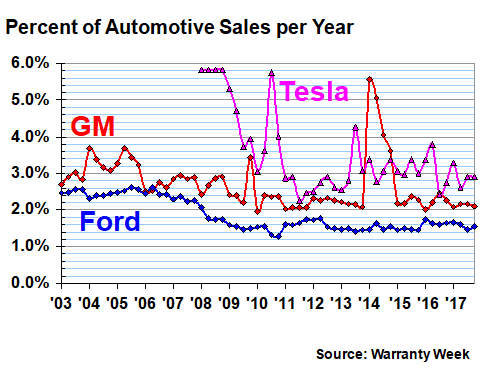 Note that at least in recent years, the lines representing the accrual rates of each company hardly ever cross. Ford is always lowest, while Tesla is always highest. They used to explain it away by pointing out that Ford didn't used to include recall costs with warranty expenses, but they began doing so in 2011 (see Warranty Week, April 5, 2012 for more). Now, the main difference seems to be the success that GM is having selling inexpensive cars in China and elsewhere. The sticker price is lower but the warranty cost per unit is similar, resulting in somewhat higher percentages when the two metrics are compared.
Warranty Cost per Vehicle
In fact, let's jump right into such a comparison. These automakers, besides being quick to publish their warranty expenses and product revenue figures, are also industrious about disclosing how many vehicles they sell. GM reported 9.6 million units sold in 2017, while Ford reported 6.6 million units sold. Tesla, meanwhile, sold 80,000 units last year, which represented a 58% increase but is two orders of magnitude away from GM and Ford.
With these figures in hand, we can measure warranty costs not only as a percentage of sales revenue, but also per vehicle sold. As was mentioned, it makes little sense to measure claims this way, because there's a lag time between when a vehicle is sold and when it needs warranty work. But with warranty accruals, the correlation is perfect, because the money is set aside precisely when the units are sold.
In Figure 5, we're looking at the annual accruals of GM and Ford for the past 16 years, divided by the number of vehicles sold. Back when Warranty Week launched in late 2002, an auto executive in Detroit told us (off the record) that a good rule of thumb was to expect about $500 in warranty expense per passenger car sold.
Back then, that was a really good rule of thumb. GM and Ford accrued between $500 and $580 per vehicle from 2002 to 2007. But for the past nine years (except for that anomalous year of 2014), the rate has been inching ever closer down to $300. And, here's another headline: GM accrued less than $300 per vehicle sold last year, and now accrues $50 less per vehicle than does Ford.
Figure 5
GM & Ford's Product Warranties
Accruals Made per Vehicle Sold
(in US$, 2002-2017)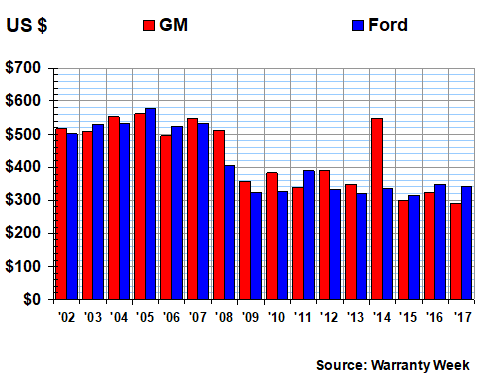 It's the third year in a row that GM set aside less money than Ford as an initial warranty accrual per vehicle sold. Ford accrued less for seven of the eight previous years. However, keep in mind that these accrual rates are merely predictions -- they can turn out to be overly optimistic forecasts, requiring additional accruals in the future to make up for unexpected shortfalls.
And like biggest budget deficits or most underfunded pensions, perhaps we shouldn't praise companies for setting aside the least amount of accruals per car sold. But if it's a signal that warranty costs have declined to the point where it makes sense to cut accruals from $500 to $300 per car, why not celebrate it? As we will show in our European and Asian automaker warranty reports in the months ahead, GM and Ford are now at the top of the list when it comes to reducing warranty expenses.
The Problem With Tesla
And so we come to Figure 6. By now, astute readers will be asking what happened to Tesla. In Figures 1 and 3, the problem was that Tesla's data was barely visible. In Figures 2 and 4, Tesla's data was highly variable. But the problem with Tesla's accruals per vehicle data is that they're an order of magnitude ahead (or behind?) GM and Ford, requiring a chart of their own.
In Figure 6, we expanded the scale up to $4,000, and reduced the time period to six years, to show that Tesla still has a problem with warranty cost per unit sold. Yes, their vehicles cost more. And as was shown in Figures 2 and 4, they spend a higher percentage of sales revenue on warranty expenses. But in Figure 6, it's the GM and Ford data that's hard to see, because Tesla is setting aside ten times more per vehicle.
Figure 6
US Automakers' Product Warranties
Accruals Made per Vehicle Sold
(in US$, 2012-2017)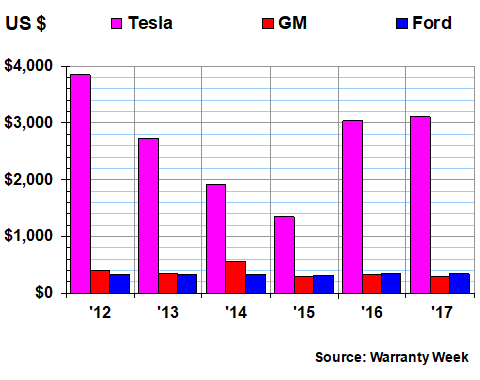 Tesla has a lot of unknown quantities to consider, such as the frequency and severity of battery replacements as their products age in the 2020s. Three thousand dollars per vehicle over the long term might be exactly the right amount, given the product and the customer. So it makes perfect sense that Tesla's accrual rate has been an average of 1.6% higher than its claims rate. There has to be a cushion, just in case.
Warranty Reserves
We have one more metric to present, and that's the ending balance in the warranty reserve funds of these three U.S.-based automakers. As one would expect, because Tesla is accruing far more than it's spending on warranty work, its warranty reserve fund is growing quickly in size. It ended 2017 at $402 million, up 51% from the end of 2016. But once again, that fuchsia data is hard to spot in Figure 7.
Figure 7
US Automakers' Product Warranties
Reserves Held per Quarter, 2003 to 2017
(in Millions of U.S. Dollars)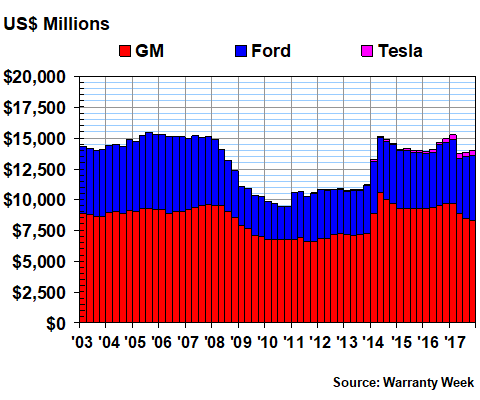 In contrast, GM and Ford together had $13.6 billion in warranty reserves at the end of 2017, almost a third of the total for all U.S.-based manufacturers. Ford increased its warranty reserves by $336 million to $5.3 billion -- it's highest-ever level. But GM cut its warranty reserve balance by more than $1.3 billion last year, to its lowest level since before the ignition switch problem became an issue. So there's yet another warranty headline for you to digest, while we await the last few dozen manufacturers to file their annual reports.