April 12, 2018
Automotive Supplier Warranty Report:
Of all the companies that supply parts and components to the car and truck manufacturers, those making engines, axles and transmissions pay the most claims and see the highest warranty expense rates. Last year, in fact, they broke records for claims paid, accruals made, and reserves held.
Every year since 2003, U.S.-based automotive suppliers have disclosed the amount of warranty claims they paid, along with figures for the amount of accruals they made and the amount of warranty reserves they kept on hand. Over the past 15 years, a total of 120 suppliers have reported their warranty expenses, which we have collected and entered into a database, along with corresponding product sales figures.
This week, we're cutting the list into two parts based on product type. Of the 120 companies, 24 manufacture powertrain components such as engines and transmissions, while 96 manufacture other components for cars, trucks, and other vehicles. But while the powertrain suppliers are outnumbered, in recent years they have paid more than half the total warranty expenses, and they also spend a higher percentage of their revenue on warranties.
Part of the reason is the nature of the product, and the higher failure rates and average repair costs associated with items such as engines and transmissions. But part of the reason is the structure of the industry -- specifically the way engines and transmissions are sold and warranted for trucks, buses, and recreational vehicles.
Unlike the car industry, in which the nameplate's warranty covers the entire vehicle from bumper to bumper, with trucks and buses the engines and transmissions are usually sold separately to the customer and therefore carry separate warranties. In these cases, manufacturers such as Cummins Inc. and Allison Transmission act more like OEMs than like suppliers, issuing warranties directly to the end user customers rather than reimbursing their OEM customers for a portion of their warranty expenses. So they end up paying more warranty expenses and also do so at a higher rate.
Claims Totals
Let's start with claims. Of the $1.636 billion in claims paid by all U.S.-based automotive parts suppliers in 2017, we have determined that $868 million, or about 53%, was paid by the 24 powertrain component suppliers, and $768 million, or 47%, was paid by the 96 suppliers of other parts and components. That represents an increase of $49 million for the powertrain suppliers and an increase of $79 million for the other suppliers.
Figure 1
Auto Parts Supplier Warranties
Claims Paid by U.S.-based Companies
(in US$ millions, 2003-2017)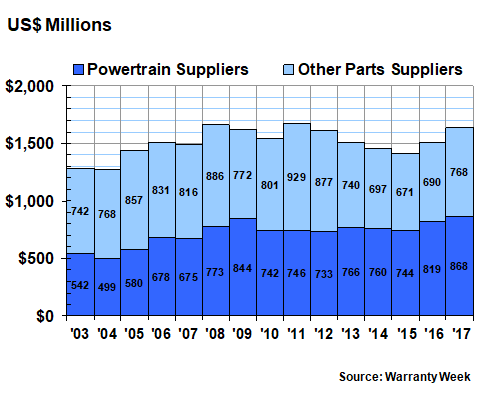 In Figure 1 above, it is obvious that the powertrain suppliers, in a darker shade of blue, paid a record amount of claims past year, eclipsing the previous high of $844 million in 2009. That may have been a recessionary year, but in the commercial vehicle business, such a slowdown brings out the claims, as customers take better care of their assets and try to hold onto them longer.
As for why claims were up so much in 2017, we can only point to the individual companies rather than say it was part of a trend. Eaton Corp. saw claims rise by $26 million. Visteon paid out $20 million more. And Cummins saw claims rise by $13 million. On the other side of the ledger, BorgWarner saw claims fall by $9.5 million, while Allison Transmission paid out $4.9 million less.
Among the other suppliers, the newly renamed Aptiv plc (formerly Delphi Automotive) saw its claims costs soar by $58 million (a two-thirds increase), which earned it a place on a top 10 list in the March 15 newsletter. Westinghouse Air Brake paid out $10 million more last year, and Lear Corp. paid out $9.2 million more. On the down side, one of the largest drops was the $6.4 million decline reported by Carlisle Companies, which makes brakes and clutches for heavy equipment. Tenneco reported a $5.0 million decline in claims, Titan International reported a $4.3 million decline, and Goodyear reported a $2 million decline.
Warranty Accruals
Warranty accruals were up sharply. However, that increase was caused primarily by the powertrain suppliers, and more specifically, by Cummins. The entire group of suppliers raised accruals by $254 million to $1.7 billion. But that was a result of a $275 million increase by the powertrain suppliers offset by a $21 million reduction by the other suppliers. And that, in turn, was fueled primarily by a $223 million accruals increase by Cummins.
Figure 2
Auto Parts Supplier Warranties
Accruals Made by U.S.-based Companies
(in US$ millions, 2003-2017)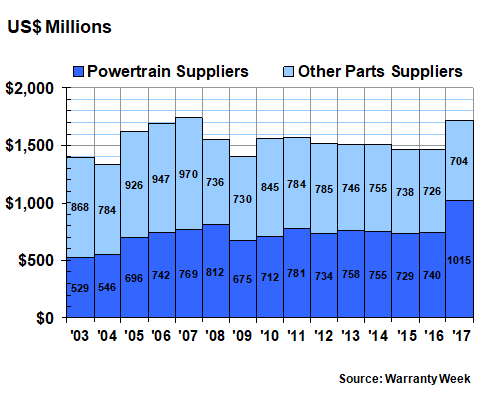 To be sure, other powertrain suppliers also raised their accruals. Eaton added $46 million. BorgWarner added $11 million. Dana Inc. added $7 million. And then there were some accrual reductions as well. For instance, Wabco Holdings cut its accrual total by $16 million.
Among the other suppliers, accrual reductions dominated. Aptiv cut its accruals by $15 million. Lear cut its accruals by $14 million. Goodyear cut its accruals by $7 million. And there were a few increases as well, led by Westinghouse Air Brake, which raised its accruals by $21 million.
The result, as can be seen in Figure 2 above, is a record year for overall supplier accruals and more specifically for powertrain supplier accruals. Last year stands alone as the only year in which the powertrain suppliers set aside $1 billion or more, and second place is a long way back. And as was mentioned, it's primarily caused by Cummins.
In its annual report, Cummins said the increase was "primarily due to campaigns in the engine, components and power systems segments," but it didn't elaborate, and it certainly didn't mention how massive the accrual hike really was (the $223 million increase took accruals from $334 million in 2016 to $557 million in 2017 -- a two-thirds increase).
Warranty Expense Rates
The better way to measure these increases and decreases is as a percentage of revenue. Among the 120 suppliers we're examining this week, there are plenty of smaller companies that also reported proportionally huge changes in their warranty expenses. For instance, Gentherm Inc., which suppliers temperature control systems for car seats, cut its accruals from $2.1 million in 2016 to $507,000 last year -- a 75% reduction. Commercial Vehicle Group Inc., which suppliers seats for trucks, nearly doubled its accruals from $1.8 million to $3.5 million.
The size of those changes are dwarfed by the amounts reported by the likes of Aptiv and Cummins. But as a percentage of sales, they rise to the top. Gentherm, for instance, cut its accrual rate in half, from 0.2% to 0.1% of revenue. Commercial Vehicle Group saw its accrual rate nearly double, from 0.3% to 0.5% of revenue.
In Figures 3 and 4, we're taking the claims and accrual totals from Figures 1 and 2 and dividing them by the corresponding sales totals, to calculate the average claims rate and accrual rate for both powertrain suppliers and other suppliers over the past 60 quarters (15 years). Note that while most of the data points for the powertrain suppliers are between 0.6% and 1.2%, most of the readings for the other suppliers are between 0.4% and 0.6%.
Figure 3
Powertrain Component Manufacturers
Average Warranty Claims & Accrual Rates
(as a % of product sales, 2003-2017)
In fact, the gap between the groups is noticeable. For powertrain suppliers, the long-term averages for both their claims and accrual rates has been 0.9%, with a standard deviation of 0.2% for the claims rate and 0.13% for the accrual rate (the difference was caused by the magnitude of the recessionary spike in the claims rate in 2009-2010). For other suppliers, the averages have been closer to 0.5%, and the standard deviation only 0.07%, which reflects the relative flatness of the lines in the chart below.
Meanwhile, the gap between them has averaged 0.4%, though it became as wide as 1.0% during the recessionary spike in 2009. Over 15 years, and 60 pairs of measurements, the gap has been closed only once, at the very end of 2005. In other words, 98% of the time, the powertrain suppliers have reported higher warranty expense rates than other automotive suppliers.
Figure 4
Other Auto Parts Suppliers
Average Warranty Claims & Accrual Rates
(as a % of product sales, 2003-2017)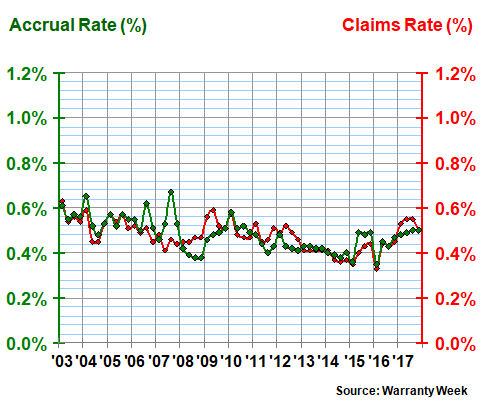 Furthermore, there really isn't much good news to report in terms of the trend. Powertrain suppliers have seen four years of generally upward-trending expense rates since they hit their recent bottom of 0.7% for claims and 0.6% for accruals in early 2014. Other suppliers are in their second year of upward-trending expense rates since bottoming out in early 2016. If there were downward trends in the post-recession data for both groups, they have now reversed themselves.
Warranty Reserves
The year-ending balance in the warranty reserve funds of these 120 automotive suppliers is the final metric we're measuring this week. As can be seen in Figure 5 below, the trend has been upwards for the industry as a whole as well as for just the 24 powertrain component manufacturers. In fact, the cumulative balance for the powertrain manufacturers hit a new record high by the end of 2017. For the 96 other suppliers, however, 2017 saw their cumulative reserves plunge to a new record low.
Figure 5
Auto Parts Supplier Warranties
Reserves Held by U.S.-based Companies
(in US$ millions, 2003-2017)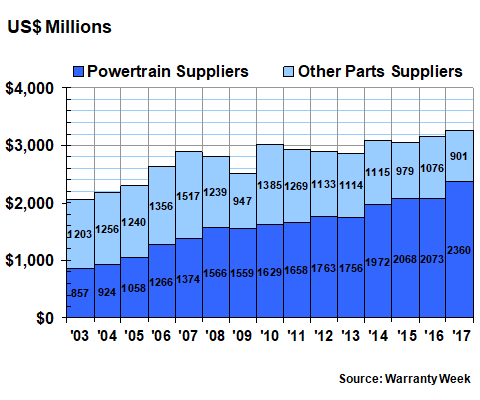 In 2017, powertrain manufacturers added $287 million to their reserve balances, bringing the total up to $2.36 billion. Once again, Cummins was the main cause, boosting its reserve balance by $273 million to $1.69 billion. But others contributed as well. BorgWarner added $16 million; Dana added $10 million; Eaton added $8.0 million; American Axle added $6.6 million; and Meritor Inc. added $5.0 million to its balance.
Meanwhile, the other suppliers cut their balance by $175 million, to a new low of $901 million. A major contributor to that trend was Aptiv, which reduced its balance by $103 million. Smaller reductions were seen at Standard Motor Products and Lear Corp. Meanwhile, one of the few large balance hikes was reported by Westinghouse Air Brake, which added $14 million to its reserves.
Ability to Pay Claims
Taken together, the reserve balance for all suppliers grew by $112 million to $3.26 billion, which was also a new record high. Some companies, such as Brunswick, Cummins, Lear, Meritor, and Tenneco, have built up especially large reserve funds, when compared to their current claims payments. Others, such as Aptiv, Goodyear, LKQ Corp., Regal-Beloit, and Standard Motor Products, have allowed their reserves to dwindle to the point where they have well under a year's worth of claims payments on hand. The industry average is closer to two years.
In summary, the powertrain component manufacturers pay more claims and make more accruals than other automotive suppliers, and also spend a higher share of their revenue on warranty expenses. In fact, powertrain manufacturers set new records in 2017 for claims paid, accruals made, and warranty reserves held. But both groups have seen their expense rates, when measured as a percentage of revenue, rise steadily in recent years.
Next week, we will look for a possible cause of this trend, by comparing the OEM warranty metrics contained in last week's newsletter with the supplier metrics included in this week's newsletter. We suspect that OEMs have increased the amount of reimbursements they get from their suppliers, reducing their net costs as it increases supplier costs. But there could be other factors at work as well.