May 10, 2018
Computer Industry Warranty Report:
The warranty costs of the top U.S.-based computer manufacturers are declining, but not at the expense of their suppliers. Instead, their costs seem to be declining together in parallel, with their expense rates now roughly half as high as they were 15 years ago.
In the computer industry, warranty costs are falling steadily. That's true for both the OEMs that put their brand names on the units and the many suppliers that contribute parts and components. It's different from the automotive industry, where suppliers report they feel squeezed by the OEMs for increased reimbursements.
To back this picture up with data, we began with a list of 330 companies that were reporting warranty expenses and were involved in one of four related industries: 26 computer manufacturers, 44 data storage manufacturers, 170 makers of semiconductors and printed circuit boards, and 90 computer peripherals manufacturers. All 330 companies were assigned to only one of the four groups.
To make the groups more representative of their industries, we pulled in a handful of companies that would otherwise be classified in other industries. For instance, we pulled in Honeywell International Inc. from the aerospace industry, and Agilent Technologies Inc. from the medical & scientific instruments industry. That will necessarily change some of the totals reported in Figure 6 of the March 22 newsletter.
We also are including all of the dearly departed warranty providers, who dropped off the list because of acquisitions (Sun Microsystems, Harman, EMC & Lexmark), going private (Dell Inc.), or simply not feeling like reporting their warranty expenses any longer (Microsoft). Some of those departures had a noticeable effect on the industry totals detailed below.
By far, the largest warranty provider of all these companies is Apple Inc. The company's warranty and extended warranty metrics were covered in detail in the November 9 newsletter last year, so we won't repeat it again here, except to say that the Macintosh is still the company's second-largest product line. And although the iPhone is more of a consumer electronics item or a piece of telecom equipment, here we're classifying it as a small hand-held computer.
Warranty Metrics
For each of the companies on these lists, we collected four warranty metrics: the amount of claims paid, the amount of accruals made, the amount of warranty reserves held, and the amount of product sales reported. With the claims, accruals, and sales totals, we calculated two additional metrics: claims as a percentage of sales (the claims rate), and accruals as a percentage of sales (the accrual rate).
What we wanted to find out is whether there is any pattern in the warranty expenses reported by the computer manufacturers and their suppliers. In the automotive industry (see the April 19 newsletter), the customer-facing OEMs pay the vast majority of the warranty expenses, and also spend a much higher percentage of their sales on warranties than do their suppliers. In the aerospace industry (see the April 26 newsletter), the plane and helicopter manufacturers pay much less in total on warranties than do their suppliers, but they all do so at a similar percentage rate.
In the computer industry, we find that the customer-facing manufacturers pay the most and pay the highest rates. But we also find that the industry's warranty expenses have declined together, partly because of those dearly departed dropping off the list, but partly because those who remained did a better job of reducing their costs.
Claims Totals
Let's start with warranty claims. In Figure 1 we are totaling the amounts of claims reported each year by all of the 330 companies on the list. In calendar 2017, they reported paying a combined $6.9 billion in claims, most of which was paid by the computer manufacturers.
Three of the groups paid less in 2017 than the year before. However, semiconductor and printed circuit board makers paid $901 million, about $130 million more than in 2016. On balance, that increase and the three other contractions worked out to a $1 billion decrease in claims paid, attributable to big declines reported by both Hewlett Packard Enterprise Co. and HP Inc., as well as by Apple, NetApp Inc., and Seagate Technology, among others.
Figure 1
Computer Industry Warranties
Claims Paid by U.S.-based Companies
(in US$ millions, 2003-2017)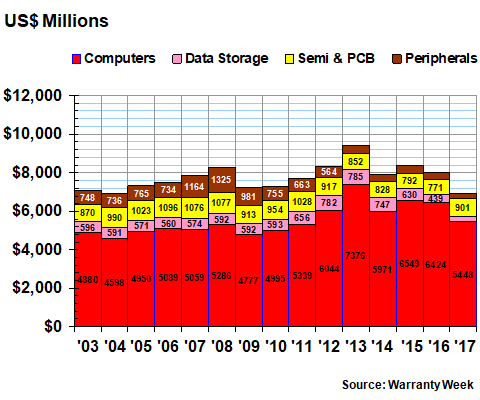 Not all the reported claims totals were smaller, however. Proportionally, there were some hefty increases. For instance, semiconductor test equipment maker Teradyne Inc. nearly doubled its claims payments. Coherent Inc. was up by $15.4 million. Lam Research Corp. paid out $35.8 million more. And Honeywell paid out $52 million more in 2017 than it did in 2016. But all these increases were swamped by the $764 million reduction in claims cost reported by Apple, and the $148 million reduction reported by HP.
For companies whose fiscal years end on dates besides December 31, we are assigning the reported quarterly totals to the calendar years in which they are reported. In other words, for a company whose fiscal year ends on June 30, we would assign the expenses reported in the first half of their fiscal year to one calendar year and the second half to the next calendar year.
For Apple, which ends its fiscal year on September 30, one quarter's totals go into one calendar year while the next three quarters go into the following calendar year. For companies whose fiscal years end on weird dates, we map their fiscal quarters to the calendar quarters in which they end. For instance, October 31 is in the fourth calendar quarter and January 31 is in the first quarter.
Warranty Accruals
The warranty accrual totals reported by the computer manufacturers and their suppliers was also down sharply. Once again, Apple was the prime suspect, cutting its accruals by more than $600 million in calendar 2017. But there were proportionally larger decreases reported by Cree Inc., Diebold Nixdorf Inc., Dover Corp., Hewlett Packard Enterprise, and Honeywell, among others.
At the other extreme, some of the largest proportional increases in accruals were reported by Advanced Micro Devices Inc., Applied Materials Inc., Coherent, IBM, KLA-Tencor Corp., and Lam Research Corp. But on balance, accruals for all these companies were down by $817 million last year, to $6.6 billion in total.
Figure 2
Computer Industry Warranties
Accruals Made by U.S.-based Companies
(in US$ millions, 2003-2017)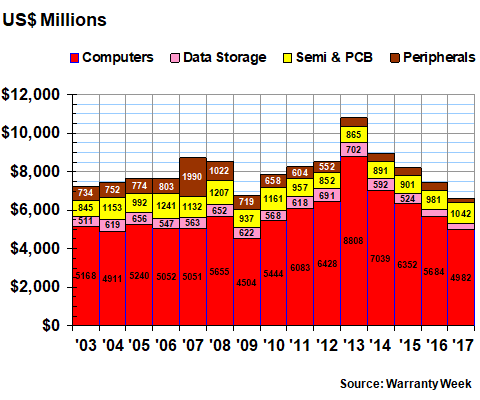 Once again, the semiconductor companies were the only group to see an increase. Peripherals manufacturers saw the greatest proportional decrease, but this was primarily caused by the departure of Harman International Industries Inc., which was acquired by Samsung Electronics last year. And since Samsung does not report its warranty expenses publicly, Harman falls off the list.
Data storage manufacturers also saw a decrease in accruals, and it too was partially linked to a few major departures. EMC and SanDisk were acquired in 2016, and dropped off the list mid-year. However, Western Digital Corp., Seagate Technology, and NetApp Inc. all reported decreased accruals and increased sales, so there's some cost-cutting involved as well. We'll say more about that in the next section.
Warranty Expense Rates
While mergers and acquisitions have a noticeable effect on the totals in Figures 1 and 2, they don't matter much to the percentage rates in Figures 3 through 7. That's because in these charts we're comparing claims and accruals to sales. So when there are no sales to count, as when a company goes private, there are also no claims or accruals.
The reason we mention that is because in at least two and maybe three of these charts, there is a noticeable decline in the expense rates of the manufacturers. For the computer and data storage companies, the decline began in 2003 and hasn't stopped since. For the semiconductor manufacturers, the bottom was struck in 2012 or 2013 and expense rates have crept up more recently.
In each case, what we've done is taken the total amount of claims and accruals reported in Figures 1 and 2 and divided them by the corresponding amount of product sales to calculate the average claims and accrual rates for each group. But because the data is available quarterly, we've made 60 calculations for each rate for the past 15 years. Unfortunately, one of the side effects of doing so is the way the averages oscillate from one quarter to the next -- sometimes in a seasonal pattern and other times in no pattern at all.
Still, the inescapable conclusion is that warranty expense rates have been declining over the past 15 years. In Figure 3, we can see that the average accrual rate of the computer manufacturers has declined from around four percent in 2003 to around two percent in 2016 and 2017. The data is a little noisy, but the low water mark of 1.7% was set during the second quarter of 2016.
Figure 3
Computer Manufacturers
Average Warranty Claims & Accrual Rates
(as a % of product sales, 2003-2017)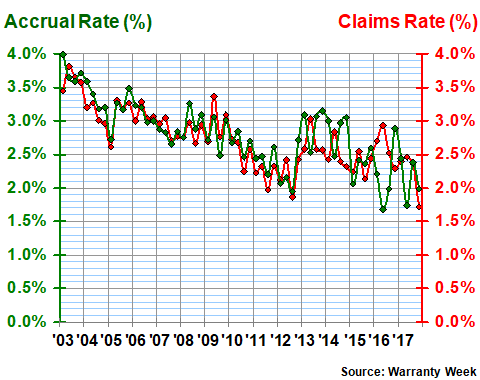 Claims rates have also declined. Though the most recent low water mark for the red line in Figure 3 came in 2012, notice that in the final quarter of 2017 the claims rate set a new low of only 1.7%. A big part of the reason is of course Apple, which drove its claims rate down from 1.9% at the end of calendar 2016 to only 1.2% at the end of calendar 2017. But both parts of HP also drove down claims by large amounts, as did IBM.
Over the long term, the average claims rate for these computer manufacturers has been 2.7%, while their average accrual rate has been 2.8%. The standard deviation, which measures the variation in the data, was 0.4% for claims and 0.5% for accruals.
Data Storage Expense Rates
NetApp was among the top warranty cost-cutters included in the March 15 newsletter. No other data storage companies made any of those top 10 lists, but Seagate did reduce its claims rate and Western Digital reduced its accrual rate.
In Figure 4, we can see that the group as a whole has also cut their warranty expense rates more or less in half, from the two percent range back in 2003 to around one percent in 2017. But the averages have actually ticked slightly upwards since the end of 2016.
Figure 4
Data Storage Manufacturers
Average Warranty Claims & Accrual Rates
(as a % of product sales, 2003-2017)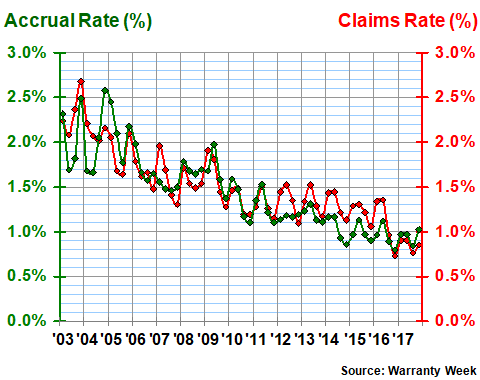 Part of the reason for that is a slight uptick in accruals by Seagate, and a massive increase by NetApp. Yes, although the company made two top 10 lists, one was for claims rate cutting while the other was for an accrual rate increase from 0.1% to 0.9%. That in turn was caused by a numerical increase in accruals from $1.0 million to $7.0 million in the fourth quarters of 2016 and 2017, respectively. However, that $1.0 million figure was artificially low, so what the company was doing was returning to normal.
The long-term averages for the data storage companies was significantly lower than it was for the computer manufacturers. The average claims rate was 1.5%, while the average accrual rate was 1/4%. For both metrics, the standard deviation was 0.4%.
Smaller Cost Reductions
In Figure 5 we're tracking the expense rates of the semiconductor and printed circuit board manufacturers, which we will do in more detail in next week's newsletter. But among the top warranty providers within this group, only Applied Materials managed to reduce both its claims and accrual rates last year. Coherent and Teradyne saw both rates increase, and the others saw one rate go up while the other went down.
Figure 5
Semiconductors & Printed Circuit Boards
Average Warranty Claims & Accrual Rates
(as a % of product sales, 2003-2017)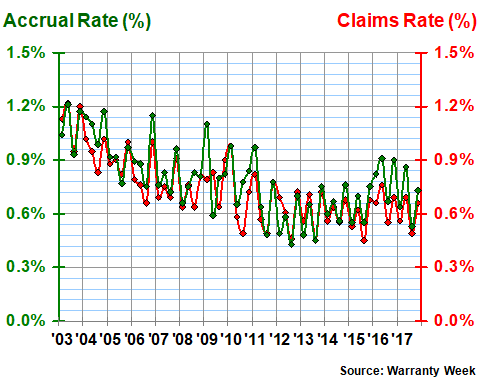 Overall, these manufacturers have also managed to cut their warranty expense rates more or less in half over the past 15 years, from the 1.2% range in 2003 to the 0.6% range in 2017. But the lowest rates were seen from 2012 to 2015, and in 2016 the rates were noticeably up. Still, the 0.5% accrual rate calculated in mid-2017 was the lowest in four years, while the 0.5% claims rate calculated at the same time was the lowest in two years.
In Figure 6, the pattern is less clear. First of all there is a noticeable seasonal pattern in the data, which is likely linked to the inclusion of several consumer electronics companies that are making monitors, speakers, or other peripherals for the computer companies. Second, because we're including all of Microsoft's available data, and because of the Xbox 360 debacle of 2007-2009, there's a tremendous spike in the data as the company worked off its billion-dollar warranty expense.
Figure 6
Peripheral Manufacturers
Average Warranty Claims & Accrual Rates
(as a % of product sales, 2003-2017)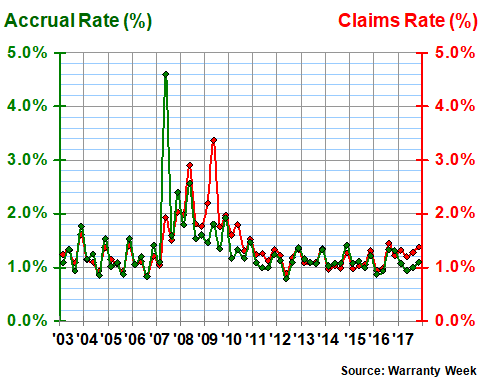 However, Microsoft stopped reporting its warranty expenses in early 2012, and since then the remaining peripheral manufacturers have stayed within a range of 1.0% to 1.4%, more or less. Long term, their average claims rate has been 1.4% with a standard deviation of 0.5%, while their average accrual rate has been 1.3% with a standard deviation of 0.6%. But during the past six years, after Microsoft left the list, the standard deviation has been closer to 0.2%.
Warranty Reserves
The final warranty metric to detail is the closing balance in the warranty reserve funds of the 330 companies. As was the pattern with claims and accruals, the computer manufacturers account for the vast majority of the reserves. And as was the pattern in Figures 1 and 2, all but the semiconductor companies saw a decrease in their reserve totals in 2017.
The overall reserve total fell by $687 million to $8.3 billion. The computer manufacturers were down by $494 million, and the peripheral manufacturers were down by $233 million. But the semiconductor manufacturers were up by $56 million, to their highest-ever total of $1.62 billion.
Figure 7
Computer Industry Warranties
Reserves Held by U.S.-based Companies
(in US$ millions, 2003-2017)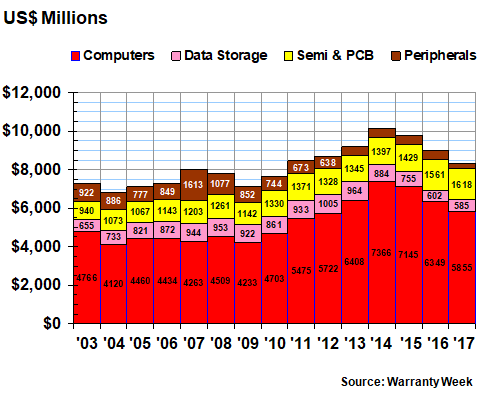 Six of these companies made a top 10 list in the March 15 newsletter, reflecting the proportionally large changes in their warranty reserve fund balances. Diebold Nixdorf, Dover, and NetApp made the top 10 balance reduction list, while Lam Research and Teradyne made the top 10 balance increase list.
Yet there were some significant changes in reserve balances that didn't make those lists. For instance, Applied Materials added $46 million to its reserves. HP subtracted $82 million. Honeywell subtracted $79 million. And Apple let its reserves fall by a whopping $375 million. But since it had $4.7 billion to begin with, the decline was proportionally smaller than those others.
Steady Cost-Cutting
Out of the four groups, the data storage companies have the steadiest record of warranty cost-cutting, followed by the computer manufacturers themselves. And while the same patters seen in the automotive industry (OEMs spending the most and at the highest rate) are also present here, the pattern seems to suggest that the warranty costs of the OEMs and their suppliers are declining together, rather than one group shifting expenses to the other.
We'll have to take a closer look at the semiconductor industry to get a better picture of what's happening there. But that pattern, where warranty costs seem to bottom out in 2012 and then gradually rise back up, has been seen in other industries and seems to be present in the overall industry-wide pattern as well.