May 17, 2018
Semiconductor Warranty Report:
In this industry, the makers of the factory machinery that fabricates and tests the actual products seem to have much higher warranty expense rates than their customers. But they also have reduced their expense rates significantly over the past 15 years, while the expense rates of the device makers have remained more or less the same.
In most industries, when we think of suppliers we think of the manufacturers of parts and components that are incorporated into the finished product. But in the semiconductor and printed circuit board industry, there is another kind of supplier: the companies that manufacture the equipment that fabricates and tests the finished products. And they seem to end up paying a far higher share of the industry's warranty costs.
To reach this conclusion, we began with the same list of 170 U.S.-based semiconductor and printed circuit board manufacturers we used in last week's newsletter. But this week, we're dividing them into two groups: 146 that make the actual devices and circuit boards, and 24 that make the capital equipment that those device makers use to manufacture and test the finished products.
It's an expanded list, in that it includes not only the 161 companies that make nothing but semiconductors or circuit boards, but also some others such as Agilent Technologies Inc., Honeywell International Inc., and Roper Technologies Inc., which might have a better fit into other industry categories, but are nevertheless in the semiconductor business. As such, the totals may be slightly different than was the case in past years.
For each of those 170 companies, we collected three essential warranty metrics: claims paid, accruals made, and reserves held. And we collected product sales data, which we used to calculate claims as a percentage of sales, and accruals as a percentage of sales.
When we began collecting this data back in 2003, we noticed that a small subset of the 170 companies were spending a much higher percentage of their sales on warranty expenses than were the others. It was then that we noticed that most of these high-cost companies were manufacturing the capital equipment and machinery that is then used to fabricate and test the actual printed circuits and semiconductors, while most of the low-cost companies were their clients doing the actual manufacturing.
Back then, the capital equipment companies were spending 2.5% to 3.0% of their revenue on warranty expenses, while their clients were paying warranty expenses at rates in a range of 0.6% to 0.7%. In other words, the companies that make the production machinery and test equipment -- the suppliers, if you will -- were paying high warranty costs while their customers were paying less. That pattern continues to the present day.
Even today, after cutting warranty costs dramatically over the past 15 years, there remains a gap between the expense rates of the two groups. Top semiconductor device makers such as Advanced Micro Devices Inc., Cree Inc., Electro Scientific Industries Inc., TE Connectivity Ltd., and Teradyne Inc. continue to spend roughly 0.5% to 0.6% of their product revenue on warranties. And top capital equipment and test equipment companies such as Agilent, Applied Materials Inc., Coherent Inc., KLA-Tencor Corp., and Lam Research Corp. continue to spend roughly 1.5% to 2.0% of their product revenue on warranties.
So while the gap has narrowed, it continues to exist. And over 15 years, after comparing 120 pairs of measurements, the groups have never closed the gap completely. They've come awfully close, but never closer than three-tenths of a percentage point.
Warranty Claims
Let's begin with warranty claims paid per year. In Figure 1, the two groups seem to have split the industry totals in half. Of the $901 million in claims paid last year, the capital equipment makers paid about $432 million while the device makers paid about $469 million.
Figure 1
Semiconductor Industry Warranties
Claims Paid by U.S.-based Companies
(in US$ millions, 2003-2017)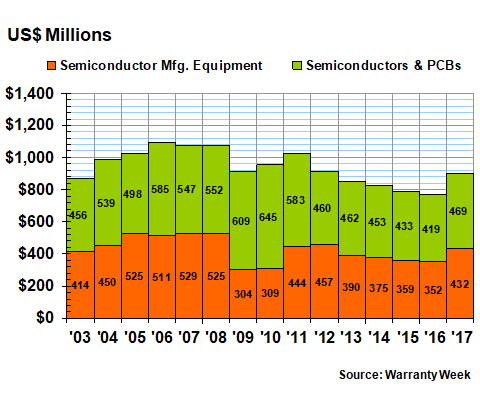 In all of the past 15 years, the 24 capital equipment makers have paid less than their clients. But the spread has been all over the place, from nearly 50/50 in 2012 to better than 2:1 in 2009 and 2010.
In 2017, both groups saw an increase in claims, but while the capital equipment makers saw an $80 million increase, their clients saw a $50 million increase. That helped drive the two totals the closest they've been to 50/50 since 2012.
Some of the companies driving those increases include Honeywell, which paid out $52 million more in 2017 than it did in 2016. Lam Research paid out $36 million more, Applied Materials paid out $25 million more, and Coherent paid out $15 more. Meanwhile, TE Connectivity, a Tyco International spin-off, saw claims double from $7 million in 2016 to $14 million in 2017.
Among the decliners, Nvidia Corp. was the leader with a drop of $9 million in claims payments per year. Roper saw a $4.3 million decline in claims, while Cree saw a $1.9 million decline. Among the smaller warranty providers, Brooks Automation Inc. saw a $1.7 million decline, while Axcelis Technologies Inc. saw a $1.6 million decline. But they were greatly outnumbered by the companies reporting increases.
Warranty Accruals
In terms of warranty accrual trends, the two groups parted ways. The capital equipment group saw a big increase in accruals, going from $424 million in 2016 to $568 million in 2017. But the device makers saw a big decline in accruals, from $557 million in 2016 to $475 million in 2017. Added together, the entire industry saw accruals rise by $61 million, surpassing the $1 billion mark for the first time since 2010.
Figure 2
Semiconductor Industry Warranties
Accruals Made by U.S.-based Companies
(in US$ millions, 2003-2017)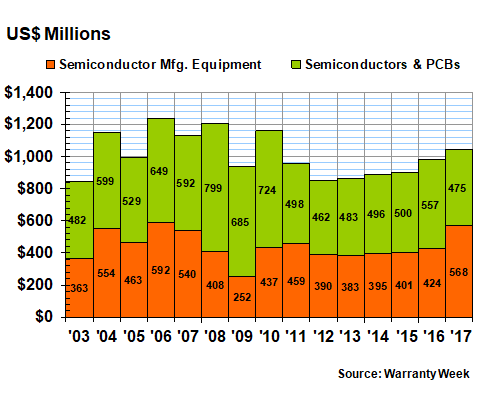 Also, in 2017, for the first time ever, the capital equipment companies made more accruals than their clients. Since accruals are made on the basis of warranty costs predicted in the future, this signals an expectation on their part that higher warranty expenses are coming soon.
It's a dramatic turnaround from 2008 to 2010, when the accruals of the device makers soared and those of the capital equipment makers plummeted. In 2009, the former accrued almost three times as much as the latter. Last year, the capital equipment makers accounted for the majority of warranty accruals for the first time ever.
Three companies more than doubled their accruals last year: Electro Scientific Industries Inc., Kulicke and Soffa Industries Inc., and Nvidia Corp. Three more raised their accruals by 50% or more: Coherent, Lam Research, and TE Connectivity. In contrast, Honeywell was one of only a handful to cut their accruals, but boy what a reduction: $215 million, down by $111 million.
Warranty Expense Rates
The problem with Figures 1 and 2 is that while they track the warranty metrics, they don't track their relationships to sales. For if sales double, of course there will be higher warranty costs.
In Figure 3, we're going to correct that deficiency. What we've done is to take the data from Figures 1 and 2 and divided it by corresponding sales data. We've also increased the frequency of measurement from once a year for fifteen years to four times a year, for 60 pairs of quarterly data points per group.
What the data shows is that the capital equipment manufacturers have always had higher warranty expense rates than the device makers. Over 60 quarters, the gap has averaged 1.5% in size. But it's been as wide as 2.6% and as narrow as 0.3% during that period.
Figure 3
U.S.-based Semiconductor & PC Board Manufacturers
Average Claims & Accrual Rates
(as a % of product sales, 2003-2017)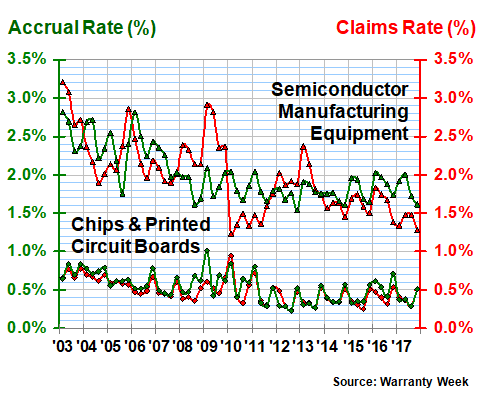 The capital equipment companies in particular have covered quite a bit of ground. Notice that in 2009, their claims rate spiked, as product sales slowed to a trickle but warranty work continued. And then as the recovery took hold, their claims rate plummeted in 2010 and 2011 to a range they've only recently reached again.
Over the long term, the average claims and accrual rates of the capital equipment companies has been very close to two percent. But reflecting the volatility of their expense rates, the standard deviation for the claims rate has been 0.5% and the standard deviation for their accrual rate has been 0.3%.
In contrast, the average claims and accrual rates for the device makers has been close to 0.5%, and their standard deviation has been 0.2%. But just from a look at the shape of the lines in the chart in Figure 3 suggests that their expense rates have remained about the same for most of the past 15 years. it's the capital equipment companies that have cut their costs considerably.
Recently, however, only a select few companies have demonstrated a high level of volatility with their warranty expense rates. In the March 15 newsletter, only three out of these 170 companies made any of the top 10 lists: Coherent and Teradyne for their claims rate increases, and Honeywell for its accrual rate decrease.
Warranty Reserves
We have one more metric to examine. The combined balance in the warranty reserve funds of the 170 companies was $1.62 billion at the end of calendar 2017, up $56 million from year-end 2016. But once again, there was a split in the direction of change between the capital equipment and device makers. The capital equipment makers raised their combined balances by $125 million to $521 million. But their clients cut their reserves by $68 million to just under $1.1 billion.
Figure 4
Semiconductor Industry Warranties
Reserves Held by U.S.-based Companies
(in US$ millions, 2003-2017)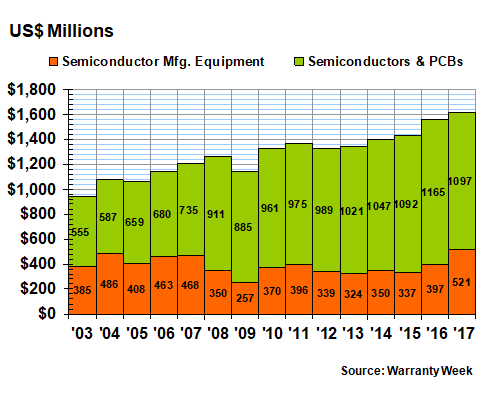 Notice that the relative size of the balances of the two groups has not been close for more than a decade. Back in the years 2003 to 2006, though, the ratio was 60/40 or even 55/45. But now, it's closer to 70/30, although it dropped last year because of the size of the balance increase by the capital equipment makers.
Some of the companies most responsible for the rise are Applied Materials, Coherent, and Lam Research, which each increased their reserve balance by 30% or more in 2017. But three of the smaller warranty providers on the device size managed to more than double their reserves: Nvidia, Teradyne, and Kulicke and Soffa. The latter company, we should note, recently announced an internal investigation into what it called "misstated warranty accruals."
On the negative side, only a handful of companies reduced their warranty reserve fund balances last year, but a few did so spectacularly. Honeywell cut its balance from $487 million to $408 million, and Sanmina Corp. cut its balance from $52 million to $36 million. Those alone were more than enough to account for the drop in reserves for the group.
Supplier Recovery?
In the automotive industry, we tracked the ebb and flow of the effort by vehicle manufacturers to shift more of their warranty expenses back to their suppliers. We didn't find much of this pattern in either the aerospace or computer industries, however.
But in this industry, what we've found is a pattern under which the actual semiconductor and printed circuit board manufacturers enjoy relatively low defect rates and warranty costs, because they're shifting nearly half of the warranty costs of their industry onto the makers of the equipment they use to manufacture and test their devices.
In other words, the reason so few defects get to leave the factory is because the factory's machinery is looked after so carefully that it hardly ever lets a defect go by unnoticed. If by suppliers we mean the suppliers of the capital equipment, then supplier recoveries in the semiconductor industry are at an advanced stage. This is not a pattern we've seen in any other industry.